Norway is home to some of the most stunningly beautiful backdrops in Europe. And there's no better way to explore Norway than on a motorcycle. This expert guide will show you three very different biking routes that take in the best sights and experiences Norway has to offer for adventure bike riders…
Why motorcycle travel in Norway
Norway is a spectacular country and I'm not just saying that because I'm from there! If you love being immersed in jaw dropping natural beauty, then you're in luck because you'll find it everywhere you go in Norway.
And it's not just the stunning scenery, you'll find a blend of incredible roads that are well suited for every rider, no matter what style of bike you ride.
So, because Norway is such a versatile country with something for everyone – whether you're a road based tourer, off-road nut or like mixing it up on adventure bikes – it'd be a shame to nail this down to specific step-by-step routes. Plus, there are infinite variations to Norway's routes as every time you ride one you'll spot a new road that's begging to be explored. So instead, think of these routes as 'general directions'. They're all very different, but have one thing in common – beautiful views. 
This guide won't describe them in detail either, because the best part of motorcycle touring in Norway is discovering its hidden gems and exploring little secret roads you find along the way.
You'll find three incredible routes (general directions) below with a start and end point, top tips, where to stay, what to look out for and what not to miss on the way. The journey between the two is the adventure and that's down to you. Enjoy!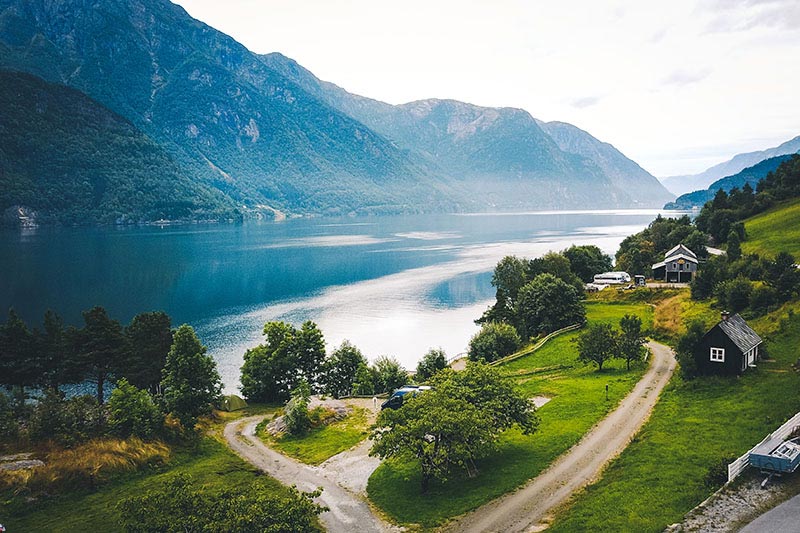 The 3 Best Motorcycle Routes in Norway
Quick info
Start: Lindesnes fyr
End: Trondhiem
Distance: 2,000-2,500km dependent on if you stick to the main or side roads.
Days: 5-8 dependent on how many hours a day you want to ride. I would recommend as much time as possible so you can stop and enjoy the sights.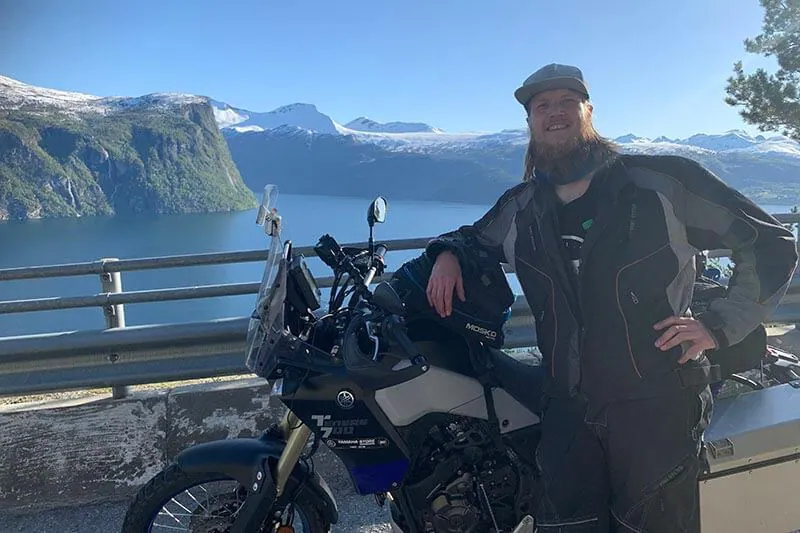 The West Fjords Norway motorcycle route
This route shows off some of Norway's most special views – the ones you see on postcards. Starting at the most southern point of Norway, you ride through the fjords like Lysefjorden and Hardangerfjorden, over the mountains and through national parks. In the south you start off by going through a very rocky and windy landscape along the coast up to Egersund. Then you'll head up to the mountains and come down to the famous Lysefjorden on a gorgeous curvy road before taking the ferry through the fjord.
Later you'll see the amazing Hardanger fjord (if you go in May you'll see all the apple trees in bloom) and up to the Hardanger National Park where you might encounter musk oxen. Then you'll ride across the Stryn Mountain and get down to see the most picturesque view in Norway, the Geiranger Fjord, before heading north along the Atlantic Ocean Road and through Trollstigen road and Åndalsnes on your way towards Trondhiem.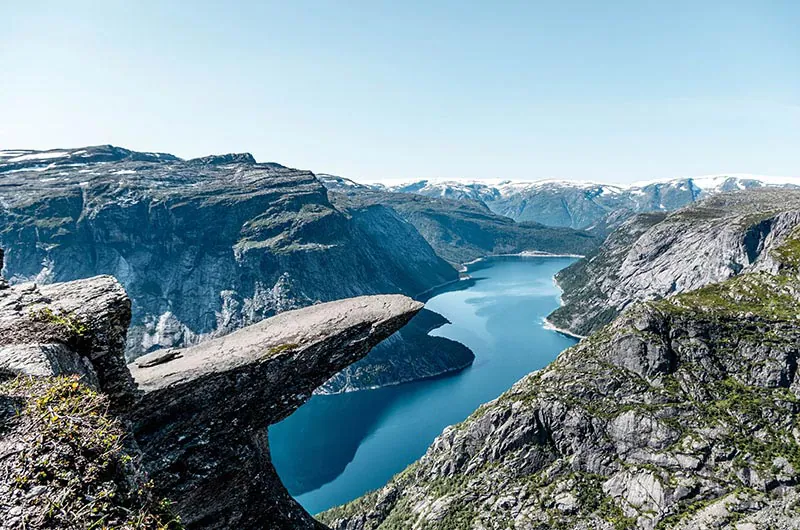 Dangers
This route is mostly, if not fully, paved but depending on the season watch out for ice on the roads in the morning.
Don't miss
Along this route there are so many highlights, but a few things you won't want to miss are the view from Dalsnibba above Geiranger. From here you have one of the most stunning views in all of Norway and the ride through the Olden spring and across Stryn Mountain. Absolutely worth the visit!
I could give a hundred examples, but here are a few stops you shouldn't miss:
Vestkapp
Gamle strynefjellsvei
Trollstigen
Åndalsnes
Sogndalstrand
The ride to Lysebotn
Jæren landscapes
Where to stay
There are no shortages of accommodation along this motorcycle route and there are plenty of hotels and campgrounds. But since you are in Norway, why waste the money?
We have the 'Right to Roam', meaning you are allowed to camp wherever you want as long as you respect nature. So, when it's time for camp, look on Google Maps for a wooded area and just head to it and set up camp! Easy.
READ MORE
Top tips
This route is good for any style of motorcycle. It is mostly paved and is full of wonderful curves. I rode this route with Mitas E10s looking for dirt, but didn't find much. So, street or 80/20 tyres are good for this route.
The ride is doable in 4-5 days, but if you want to really make the most of it, then I'd take 8-10 days.
Quick info
Start: Rotneblikk
End: Røros
Distance: 1,000km
Days: 5-8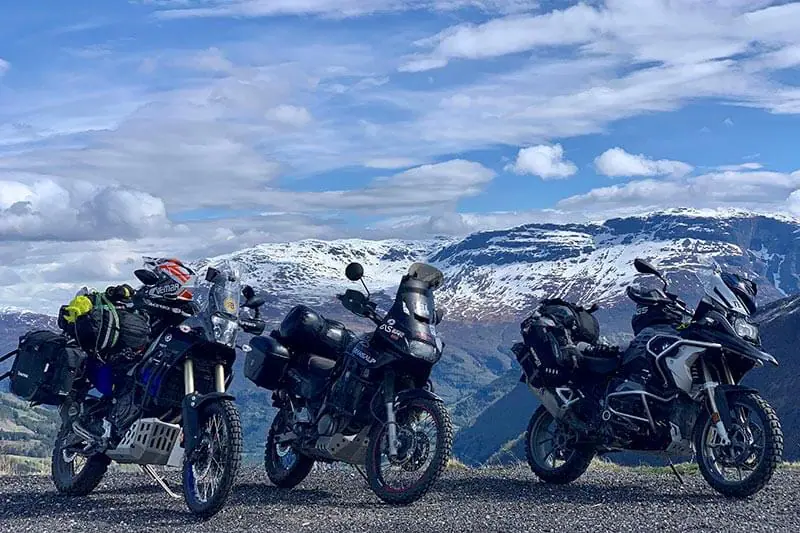 Gravel Adventure Norway motorcycle route
This route is the most fun. Like the first one, I don't have a specific route in mind, but I use the Trans Euro Trail route as a starting point. On the west side of Norway there aren't many gravel roads, but on the east side there are plenty. So, every time I'm in the area, I'll find a new road to take.
Starting at the famous Shelter at Rotneblikk, we follow the TET for a while towards Elverum. You can choose to stay on the actual TET or try out other roads along the way. Most of this is gravel with some small tricky parts here and there. But doable for most people.
From Elverum you have to head north along the river Glåma on paved roads for a while. The main roads go on the left side of the river, but if you cross over to the other side, you'll find the more fun, twisty and partly gravel roads. Follow this up to Osedalen where you can re-join the TET until you get to Alvdal and Folldal. Once there, you can choose to spend a few days exploring the mountains and national parks. This is a paradise for all off-road riders in Norway.
From here you can choose to stay on the TET for the rest of the way to Røros or you can take smaller or bigger roads in the same direction.
The fun part about this route is that it can be the same but different every time you ride it dependent on where you chose to change roads.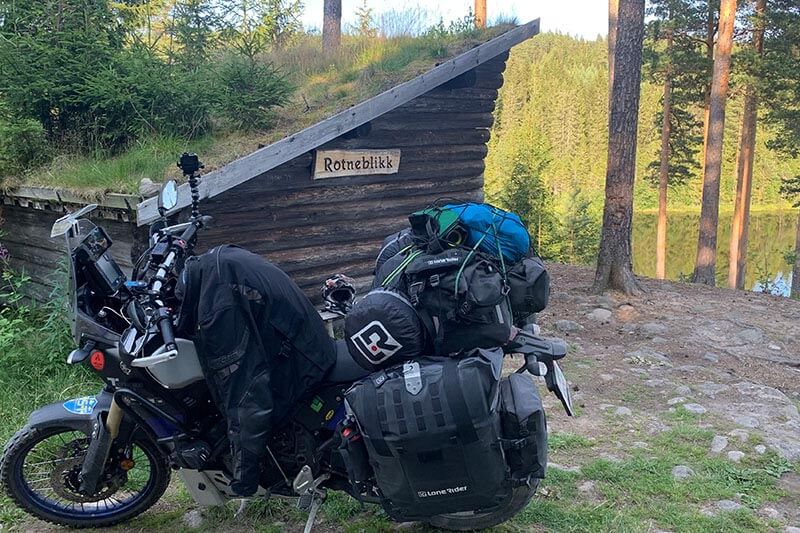 Watch out for
Dangers here are the same as on any off-road adventure. Just be careful and concentrate. And also watch out for toll roads, as many dirt roads are private and they'll want you to pay a few Euros for using it. And of course, be respectful of the local people and nature.
Don't miss
If you do this route you will have to take a picture at Rotneblikk. You can't say you've ridden in Norway without a picture at the famous shelter here.
In Folldal there are so many amazing roads and views. So just pick a road, follow it and you'll quickly see something amazing!
Visit the copper mines in Røros to learn about its history of copper production.
Where to stay
I won't recommend paying for accommodation in Norway as I would always choose free wild camping over any hotel. But, if you absolutely have to, the campground in Grimsbu is great. It's a really cool place and you will most likely meet other motorcyclists there.
And the Bergstaden Hotel in Røros is pretty good too.
Tips
This route is more suited for adventure bikes or smaller off-road capable motorcycles.
The ride is like a puzzle. I have ridden it over ten times and made it different every single time. It's perfect if you just want to explore and enjoy yourself.
Quick info
Start: Trondhiem
End: Nordkapp
Distance: 3,000 – 3,500km
Days: 4-8
Northern Norway motorcycle route
Starting in Trondhiem, head north along the Trondhiem Fjord and out towards the coast where you follow the small windy roads in and out of the coastline all the way up to Mo I Rana.
From there, cross the Salt Mountain and head towards Bodø where you'll take a ferry towards Å in Lofoten. Here you'll ride back in towards the mainland while passing beautiful views until you get to Narvik.
From Narvik you can choose to either follow the coast in and out all the way up to Alta, or cut through Sweden and Finland on partly gravel roads to join the TET for the last parts from Finland to Alta. Then from Alta you'll have some amazing roads and views all the way up to the North Cape.
Dangers
In this part of Norway, the weather can change five times a day. Be prepared for all kinds of weather. It is also really windy, so I recommend a heavier bike and pack your waterproofs!
Don't miss
The ride from Å in Lofoten and back to the mainland is spectacular! Also, the last bit towards the North Cape is really special too.
Where to stay
For the most part I would recommend camping here too. But in the Lofoten area they have a big problem with tourists leaving their garbage and faeces in people's yards. So, this is the one part of Norway you probably shouldn't wild camp. But there are plenty of camp grounds and hostels along the way. If you have the money, I would recommend staying at the Scandic hotels. They do a really good breakfast.
And if you want the best breakfast in Norway, start your trip at Scandic Nidelven in Trondhiem. They have won the award 13 times.
Tips
This route is partly on and partly off-road so I'd recommend a bike that is capable off-road. It is not very challenging, but the views are out of this world and well worth the trip. If you prefer tarmac, then follow the road along the coast in the north as it is paved.
And if you want to start off with some good coffee, I would recommend visiting Langøra Coffee Roasters in Strørdal, half an hour from Trondhiem. Here you can taste some of the best coffees in the world.
Kenneth Robertsen
I'm from Trondhiem, Norway and am passionate about combining my love of riding with my love for coffee as I travel around meeting people and exploring nature. While I enjoy riding, I also enjoy stopping and talking to people just as much. And I try to share those experiences on my YouTube channel Ride the Bean. When I travel, I never plan a specific route – instead I like to plot a direction and then see which roads look the most interesting when I get there. That way I never know what I'll come across and the journey becomes more exciting.
Follow Kenneth's awesome adventures as he chases the coffee bean here:
And check out Kenneth's brilliant Mad or Nomad Column in Thoughts From the Road where he discusses how coffee can bring people together on motorcycle adventures.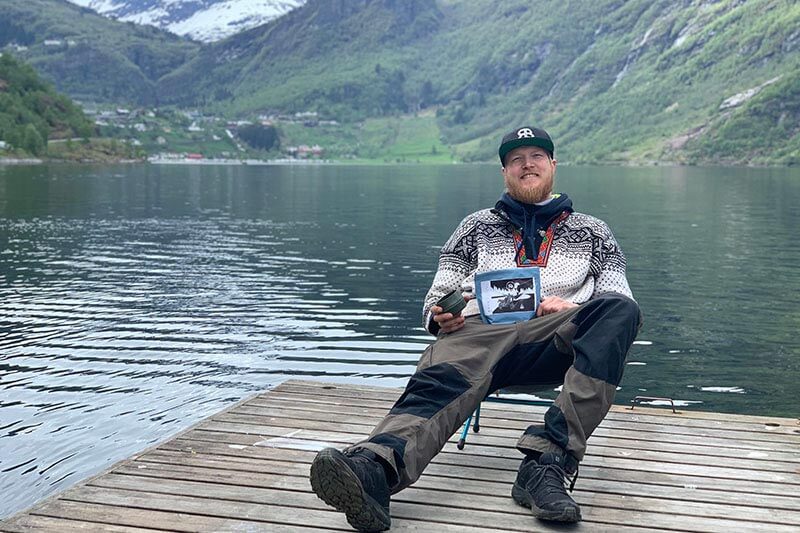 Read more on motorcycle touring in Europe
Thanks for checking out The 3 Best Motorcycle Routes in Norway Guide. We hope you enjoyed it! Here's a few more articles on motorcycle touring in Europe that we recommend you read next. 
Are you planning a motorcycle tour in Norway? Do you have any questions or tips to share? Let us know in the comments below.