On a motorcycle camping trip, getting your sleeping bag and camping mat combination right will be the difference between a cold and uncomfortable night with a stiff back in the morning or a sound sleep. Here's everything you need to know about choosing the right setup…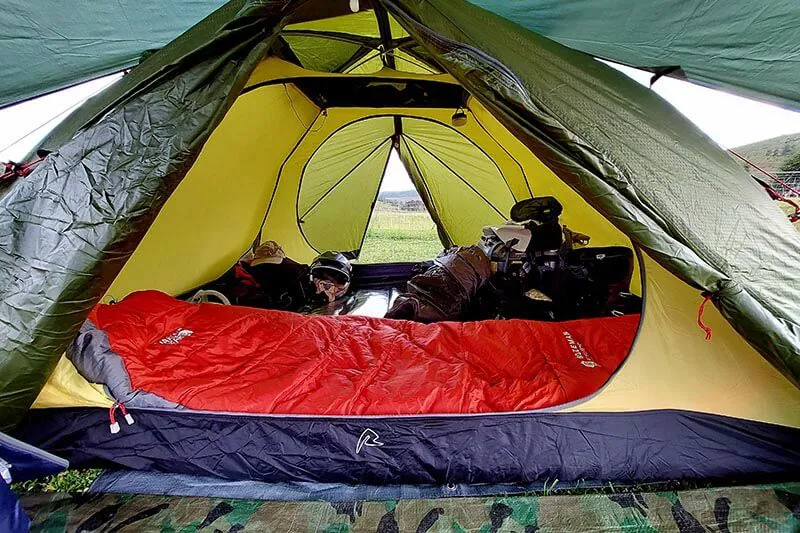 Motorcycle Sleeping Bags and Camping Mats
Motorcycle camping is a brilliant pastime. There's nothing like going on a biking trip, pitching up your tent and sleeping under the stars after a long day in the saddle. But it can turn sour pretty quick if you don't have the right gear setup as you'll be in for a cold and uncomfortable night.
It's easy to spend all your time thinking about the best tent and then just chucking an Argos sleeping bag and foam mat in your pannier as an afterthought. But while the tent will keep you dry and protected, it's the camping mat and sleeping bag that ensures you're comfortable, warm, insulated and will sleep well.
That's not to say you need the most expensive gear going – far from it. But you do need to choose the right gear for the job and get the combination right.
Lots of folk spend big money on super warm sleeping bags and often overlook the importance of the humble camping mat. A cheap mat may not have any heat retention properties and cause you to feel cold, even in an expensive big four-season sleeping bag.
So, it's the combination that counts.
This guide will look at all your choices and options, break them down and give recommendations and examples so you'll have a better idea of what's on offer and choose the right sleeping gear for your motorcycle camping trip.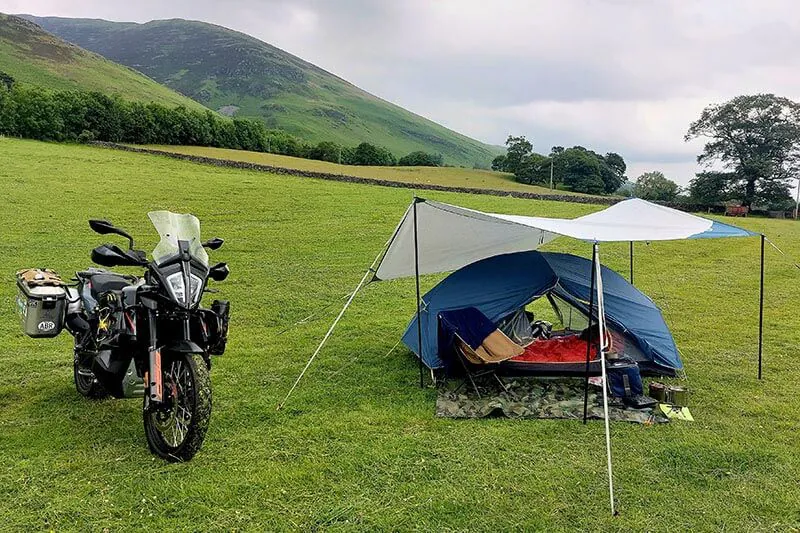 Motorcycle Camping Sleeping Gear: Camping Mats
What is a camping mat and what does it do?
A camping mat is your bed. It's simply a mattress that you lay on while sleeping. You'll hear loads of different terms for them: mat, pad, mattress, lilo, roll mat, foam mat etc. But they're just the different types.
However, the mattress in your bedroom has one job: to keep you comfortable. But a camping mat has two: to keep you comfortable and stop heat loss into the cold ground below. This is because they're the barrier between you and the floor while your bedroom mattress is suspended by your bedframe.
So, while there are loads of different types of mats out there, how well they perform these two jobs is what's important when choosing the right one.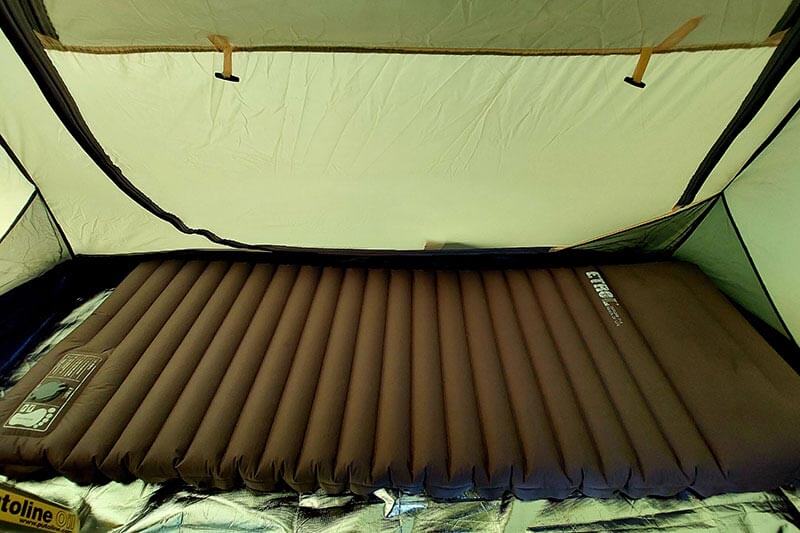 Sleeping mat options for motorcycle camping
For a motorcycle camping trip, you have three sleeping mat options: foam mat, self-inflating mat (SIM) and an inflatable air mat.
We'll go into what they are in more detail, their pros and cons and what they're suitable for below.
Foam mat
Foam mats are the big thick roll up mats made out of foam you probably used in the Scouts as a kid. They're incredibly cheap and you can buy one for as little as £5. Posher ones (perhaps in the £10 price bracket) may come with a reflective side to help prevent heat loss. These are very basic and do not offer much in the way of comfort or heat loss prevention. They're also very large, so you will need to consider where you're going to pack it on your bike. Their main plus points are durability and the price tag.
Pros
Cheap as chips
Can be used to sit on outside or work on the bike without worrying about damaging them
Durable and the least likely to break
Cons
Big, bulky, voluminous and hard to pack
Not comfortable
Not warm
Motorcycle camping with a foam mat
A foam mat would be a great choice if you don't camp often or at all. But, if you're off on a camping trip for a day or two with some mates (you'll likely have more space on your bike if it's a short trip) and are unlikely to camp again for some time (and can grin and bear it for a night), then a foam roll-up mat is a good choice. If you're camping regularly or if comfort or warmth are important, then pass on this one.
Foam mat examples
Here's a selection of foam mats that either we have tested, owned or have proved highly rated from members of the motorcycle camping community.  These will give you an idea of what's on offer and the price range involved. 
Self-inflating mat
A self-inflating mat is made up of a air chambers and open-cell foam. Think of a rectangular sheet of foam and imagine piercing holes through the length of it. When you roll it up you're squishing all the air out of those holes. When you unravel it, air rushes back into them and fills the pad. Translated, that means as soon as you unravel it and open its valve, air rushes in and the mat inflates itself over a few minutes – you might just need to add a few top up blows.
Pros
Self-inflating mats are quicker to inflate and deflate than air mattresses and require next to no work when setting up
They tend to be thinner than an air mat, so that makes them firmer
Comfortable and compact (but not as compact as air mats)
Tougher and more durable than air mats
Cons
They are heavier than foam and air mats, and not as compact as air mats either, but many people opt for an electric pump to inflate air mats, so take into account that the pump will add weight and space too while it's not needed with a self-inflating mat
Motorcycle camping with a self-inflating mat
Self-inflating mats are an excellent choice for motorcycle camping. They're tougher than air mats and you're less likely to get a puncture, they are quicker to inflate and deflate, don't require an electric pump or any manual inflation, are comfortable, warm and easy to use. These are well suited to regular campers who want minimal fuss and an easy to use, comfortable and durable system.
Self-inflating mat examples
Here's a selection of self-inflating mats that either we have tested, owned or have proved highly rated from members of the motorcycle camping community. These will give you an idea of what's on offer and the price range involved. 
Inflatable air mats
Inflatable air mats are the crème de la crème of motorcycle camping sleeping mats. If you haven't camped in a while and remember big, heavy and squishy air mats that took hours to blow up and would leak air during the night – this is not them. Technology has advanced massively and they're now quicker to inflate, have lock valves so they don't leak and are supremely comfortable.
Pros
Air mats are the most lightweight camping pads you can buy and they're also the most compact
You can get thin or thick models and they tend to all come with added insulation and reflective panels to prevent heat loss
Air mats are the most comfortable for sleeping on because they're thicker than the other options and you can fully adjust the amount of air inside for a soft or firmer bed
Cons
Good quality air mats are often more expensive than their counterparts. And the lighter and more compact you go, the higher the price tag
Many air mats come with an integrated foot pump or bag that you can use to catch air and fill with. These are important because blowing in air using your mouth could create mould inside the bag in the long run. But a lot of people still opt for a small electric pump. So, take this into consideration if going for an air mat.
Electric pumps 
I carry a small rechargeable air pump on my motorcycle camping trips. It inflates the pad quickly and lasts a long time between charging. Some of these pumps now double up as a torch and power bank and are super handy. But carrying one and going for an air mat will depend on how much weight you want to carry and how much space you have.
Motorcycle camping with an air mat
Air mats are the most comfortable, lightest and compact of the bunch. It's a winning combination and that makes them excellent for motorcycle camping trips. The draw backs are that they can be more expensive if you want super light options and that you may need to carry an electric pump, which you will need to rely on in remote areas. These are well suited to those who require a higher level of comfort.
Air mat examples
Here's a selection of air mats that either we have tested, owned or have proved highly rated from members of the motorcycle camping community. These will give you an idea of what's on offer and the price range involved. 
Camping cot
There is another ( more luxurious) option out there and that is the camping cot. These are fantastic devices which completely elevate you off the ground and massively help prevent your precious body heat from soaking away into the cold ground.
The drawback is that they're heavier than the sleeping pads (although you can get super lightweight versions at around 1.2kg), they take longer to put up, will inevitably take up more space in your motorcycle luggage, are expensive and you'll still want an air, roll or self-inflating mat to go ontop of it. 
But, if you struggle with comfort and need the extra warmth and aren't on a very long-term trip where every ounce of weight and cubic centimetre of space is invaluable, then these may be an option for you.
Camping cot examples
Here's a selection of camping cots that either we have tested, owned or have proved highly rated from members of the motorcycle camping community. These will give you an idea of what's on offer and the price range involved. 
How to choose your camping mat
We've covered the different types of sleeping mats available, but within those three categories there are hundreds of makes, models, shapes, sizes, prices, thermal ratings and options to choose from. So, here's our advice on narrowing down your choices.
The main factors to take into account are: cost, packability, thickness and how easy they are to set up.
Cost
There's a huge range of camping sleeping mats on offer from the cheap foam roll mat to light as a feather expedition air mats. Cost is a personal factor and dependent on your budget and how often you will be using the mat.  
Packability, size, weight and volume
There is a trade-off here. The lighter in weight and more compact you go, the more expensive it will be. If you want to go ultra-minimal and light, then an air mat might be the way for you. You can opt for an electric pump too as they are tiny these days, or just inflate it manually. If space is no problem and you won't camp often and just need a mat for the odd weekend trip, then a foam mat might do. If you want the middle ground then go for a self-inflating mat.
Insulation
This one is very important as it is one of your mats primary jobs. It needs to keep you insulated from the ground. You can find out how insulative your mat is by checking its R-value. This is a number assigned to each mat to represent its level of insulation and how well it stops your body heat from escaping into the cold ground. The higher the R-value the more your pad will resist heat loss and the better insulated you'll be.
Thickness and comfort
The most comfortable mats tend to be high-quality air mats. Personally, I am a side sleeper, so a deep and soft air mat is perfect for me. But if you sleep on your back, then a thinner camping mat might be all you need as your body mass is distributed more evenly. If you already have a comfortable mat and you don't want to change it, then to upgrade its cold weather performance, simply place a foil blanket or foam roll mat under it. This will act as a base layer and will help enormously.
Motorcycle Camping Sleeping Gear: Sleeping Bags
What is a sleeping bag and what does it do?
Think of the sleeping bag as your duvet or blanket, except it's a padded bag that you get in and zip up to trap body heat and keep you warmer. Again, there are plenty of different types of sleeping bags out there of varying warmth, size and price. What you get will be dependent on factors like where you're going to be riding, the climate and how much space you have in your motorcycle luggage.
READ MORE: Motorcycle Luggage Guides
Sleeping bag options for motorcycle camping
Looking for a sleeping bag is a daunting task with so many on offer and a vast range of different prices. Down filled or synthetic? Mummy or envelope? 1,2,3 or 4 seasons? Here in the UK, a 3-season sleeping makes the most sense and can always be upgraded with a sleeping bag liner. But again, it depends where you're headed, how often you'll be camping and how much you feel the cold.
Synthetic sleeping bags
Synthetic bags are normally a bigger pack size, bulkier and larger but are in most cases cheaper and still perform well when wet.
Down sleeping bags
Down bags are normally more expensive and do not perform as well when wet but do pack away very small and tend to be lighter.
I personally have a 4 season Mountain hardware mummy bag for the winter and a 3-season budget bag for the spring and autumn. If you're on a long term trip this may not be an option for you, but for those going on frequents tours and trips at home and abroad, this is great system.
How to choose a sleeping bag for motorcycle camping
Seasons
First up are seasons. There are four seasons and sleeping bags can cater for each one. A one-season sleeping bag is going to be wafer thin and for the heights of summer only. Two-season should be able to handle summer and late spring to early Autumn in the UK. Three-season bags can take on Autumn, cold nights and early winter so long as there's not much frost out. And a four-season bag is for the coldest temperatures.
Temperature ratings
Sleeping bags use 'comfort', 'limit' and 'extreme' ratings to signify how cold they can go. The level you choose will depend on what you find comfortable. Bear in mind, an Extreme rating doesn't mean you'll be comfortable at that temperature, it's to signify you could last 6-8 hours in the bag at that temperature before succumbing to hypothermia.
Comfort rating – the ideal temperature the sleeping bag should be used in.
Limit rating – the lower temperature limit that the bag should be used in.
Extreme rating – the minimum temperature the bag should be used in.
Shapes
The two main sleeping bag shapes are envelope (rectangular) and mummy.
Envelope bags have a lot more room and aren't as restrictive on your feet. They also tend to have a zip which goes the entire way around the bag so you can undo it completely and use it as a blanket. But, the downside of this is that they are not as warm as mummy bags.
Mummy bags get smaller towards the feet but are far better than rectangular bags at retaining heat. They also tend to weigh less and are more often used as lightweight sleeping bags for motorcycle camping.
If you're travelling as a couple, then consider that some bags (both mummy and envelope style) have zip openings that allow them to attach to one another. 
Down vs synthetic
We mentioned the differences above. Your choice here will be based on budget, how likely you are to get your bag wet, how warm you need it to be and how often you use it because if you like to wash your bag often then remember that down (made of feathers) isn't easy to clean and takes ages to dry. This is where a silk liner comes in very useful (more info on those further down).
Size and volume
Sleeping bags can be very bulky and voluminous and so you'll want to take this into account when choosing a bag. It can make it harder buying one online without physically handling the product. So, make sure you get the measurements, look at how much space you have in your motorcycle luggage and ensure it comes with a decent and strong compression bag with tough straps.
READ MORE: How to Pack for a Motorcycle Adventure
Sleeping bag examples
Here's a selection of sleeping bags that either we have tested, owned or have proved highly rated from members of the motorcycle camping community. These will give you an idea of what's on offer and the price range involved. 
Motorcycle Camping Sleeping Gear: Your System
It's easy to look at what sleeping systems other riders use, but it varies enormously.
Some prefer quilts to sleeping bags and cots to airbeds and mats. Others follow the military route and buy heavy and bulky arctic bags and bivvy bag setups, but I've found that not all the ex-military gear is that good. As with all these things, personal choice varies from person to person. But whether you're a survivalist or luxury camper, the one thing you can be sure on is there's plenty of kit options out there for you to try and choose from. And remember, there isn't a right or wrong answer because it depends on your personal wants and needs.
My sleeping mat setup
My current camping sleeping mat is an Etrol air mat with built in pillow. I've found it to be the best in comfort and overall compactness. It also has a thermal rating of four, which is quite good especially for the UK. I have tried multiple self-inflating mats, but for me personally, the Etrol air mat is the way to go. For the sleeping bag I'm using a Bozeman -15C.
Sleeping mat and bag setups for round the world travellers
RTW trips require more thought. What season will you be travelling through each country in is important. And so is pack size as you have to weigh up the rest of your kit and luggage for your travels. If I were starting off now and heading into warm conditions then I would pack a down two-season sleeping bag and take my Snugpak Jungle Blanket for an extra layer, which doubles up as an extra groundsheet in the tent too. If the weather is going to be cool, then taking my down jacket, pants and booties would also boost the performance of my sleep system. And a woolly hat in bed makes a huge difference too.
The trick is to plan to be in warmer countries when the winter hits the colder countries – unless you particularly want to visit colder countries at that time. With ever changing weather conditions, it's best to have a versatile system that you can shave down or add to. So having a few layers (like your adventure riding gear clothing system) makes sense rather than taking one big winter bag.
READ MORE: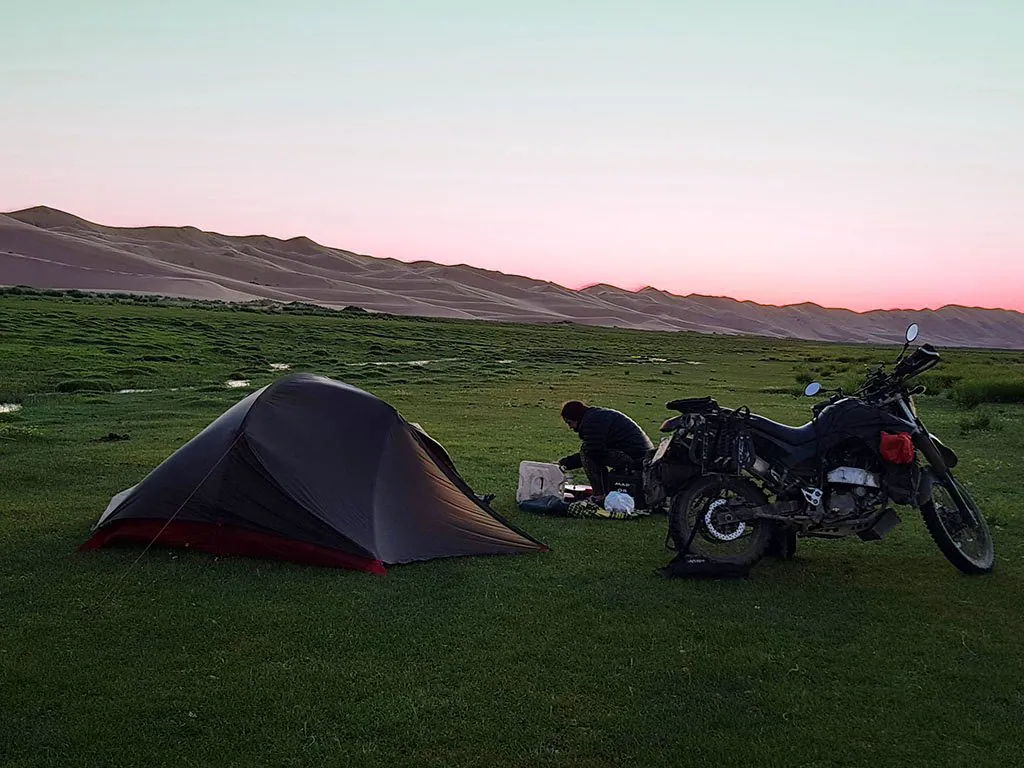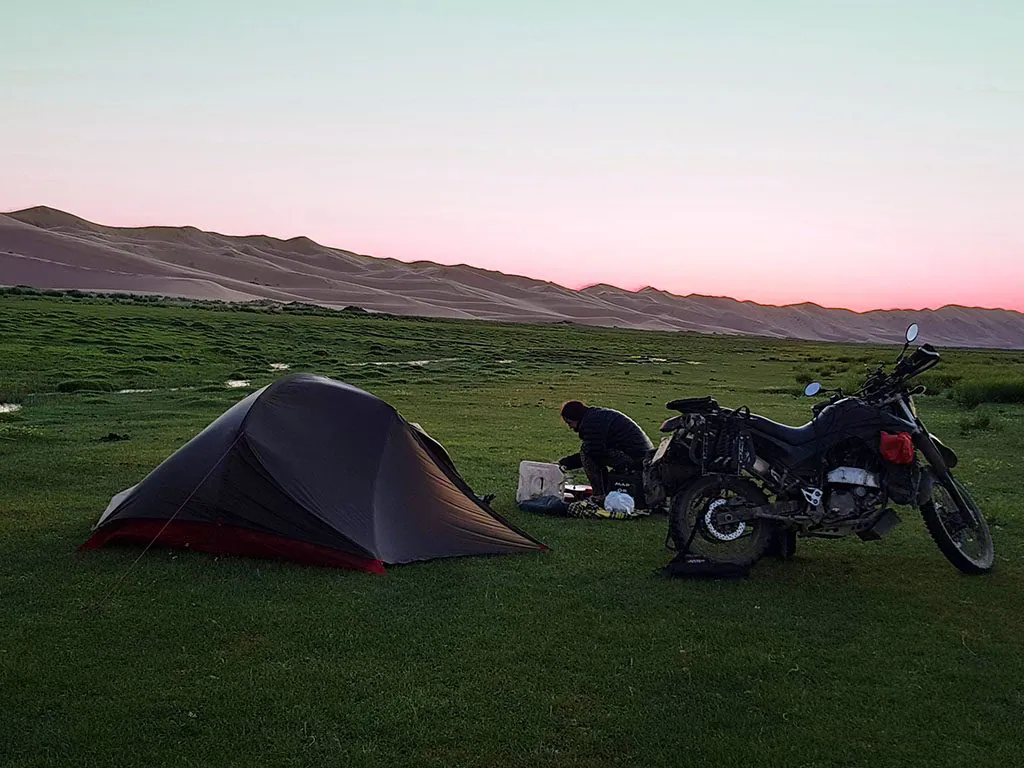 Top tips
The secret is to not over inflate your sleeping mat. I tend to inflate mine just enough to suspend me off the floor.
Don't forget your pillow! Some mattresses come with integrated pillows, if not you can go for an inflatable one for space saving.
Get a silk sleeping bag liner because they make a world of difference. They will protect your sleeping bag so you don't have to wash it as often, can be used on their own in hot climates to keep you cool (or in a dodgy hotel room) and they'll keep you warm as an extra layer in winter too.
As mentioned above, a proper camping blanket can make a big difference to your warmth levels and has multiple uses.
There are men and women sleeping mats. They have a different shape, more insulation in the core and feet areas and tend to be shorter in size. So, take that into account when looking for one.
If you move around a lot in your sleep, go for a pad with a textured or grippy surface so your sleeping bag doesn't constantly slide off.
Rob Burden is a hugely experienced motorcycle traveller and tourer. He's 61 years old and knows the two-wheeled world well after working in the motorcycle trade for 30 years. He's travelled most of Europe, some of Africa and Turkey and is a seasoned motorcycle rider and camper.
Check out Rob's section on the Contributor page for more of his articles including motorcycle route guides for the Pennines, Lake District, How to Go Camping in the UK and more. 
ps. We may receive a small commission, at absolutely no cost to you, if you purchase any products using the links on this page. We're not sponsored by anyone, are completely impartial and don't run ads. So this helps us keep the site running. Thank you for your support.
Read more on motorcycle camping
Thanks for checking out The Motorcycle Camping Sleeping Bag and Camping mat Guide. We hope you enjoyed it! Here's a few more articles on motorcycle camping that we recommend you read next. 
Are you planning a motorcycle camping and trying to figure out your sleeping gear arrangements? Let us know in the comments below.