"Afghanistan's dangerous, don't go, what are you thinking?" As we approached the border and saw the heavily armed guards, I wondered if they were right…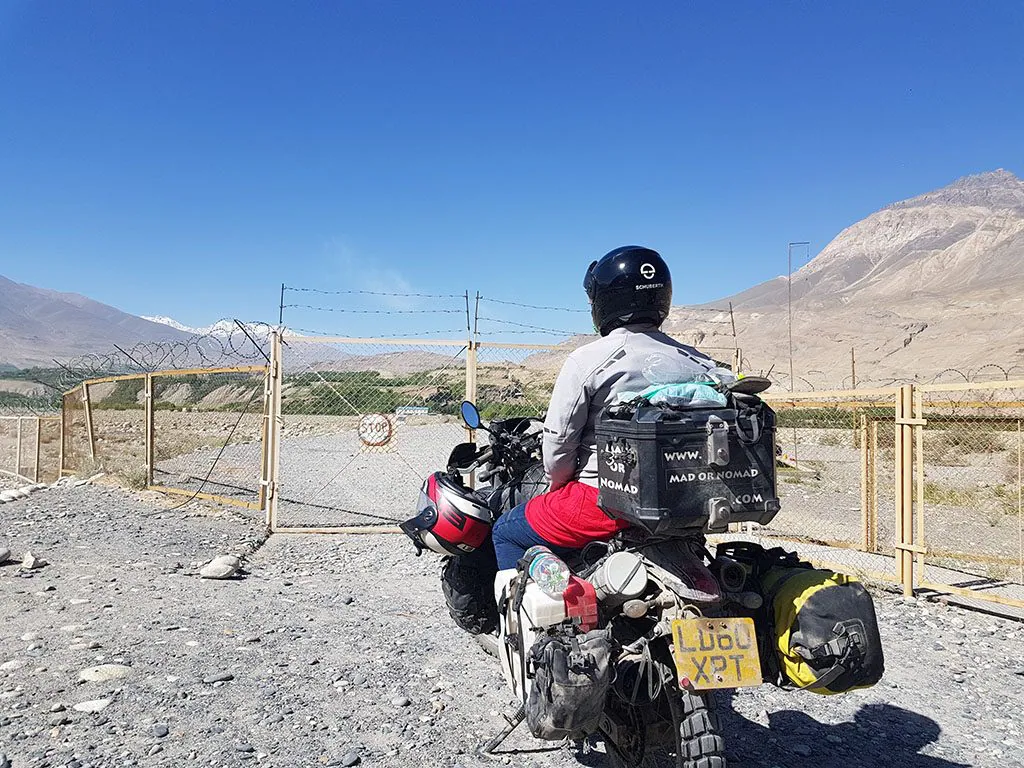 An Afghanistan Motorcycle Adventure 
I'm going to faint. My body's shaking and my heart's pounding. A scary man is walking towards me. Does he have a gun? He has a long beard… he must be dangerous. Sweat and heat builds inside my helmet but I can't take it off in front of him. The online warnings circle inside my baking brain: 'cover your entire body and face at all times, don't look at or talk directly to men, only communicate through your partner and never shake a man's hand … under any circumstance'. What was the rest of it? I can't remember, he's getting closer and there's nowhere to hide. "Welcome to Afghanistan!" He stands in front of me with a beaming smile and an outstretched hand. Is this a test? I hesitantly lift my hand and he shakes it with a gentle grasp. "Would you like some tea?"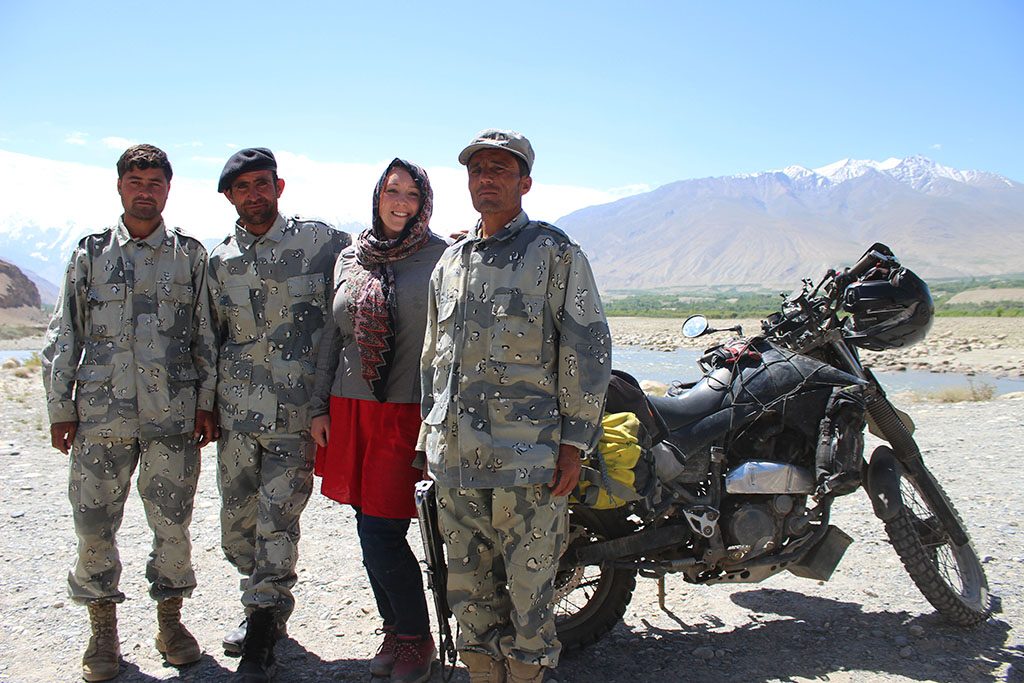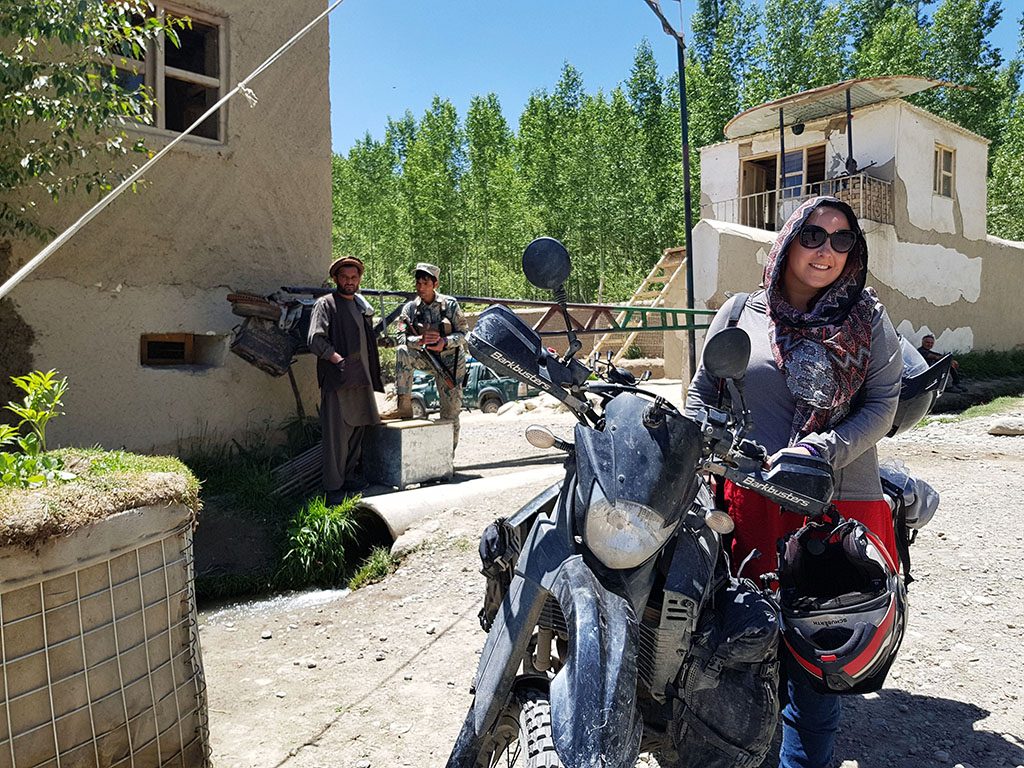 After four hours of laughing, joking and hot tea at the Afghan border, our passports and paperwork are finally stamped and we're free to ride to the closest village – Sultan Eshkashim. Our next task is to register with the local authorities and get permits to ride into the Wakhan Corridor.
Butterflies find their way back into my stomach as we enter the old town. Andy parks the motorcycle to ask for directions and within seconds we're surrounded by so many staring people that I can't get off the motorbike. Luckily, a local school teacher speaks good English and tells us the police chief is out on a picnic and we can't get our permits until tomorrow. There's no choice but to find accommodation, dump our stuff and explore the town.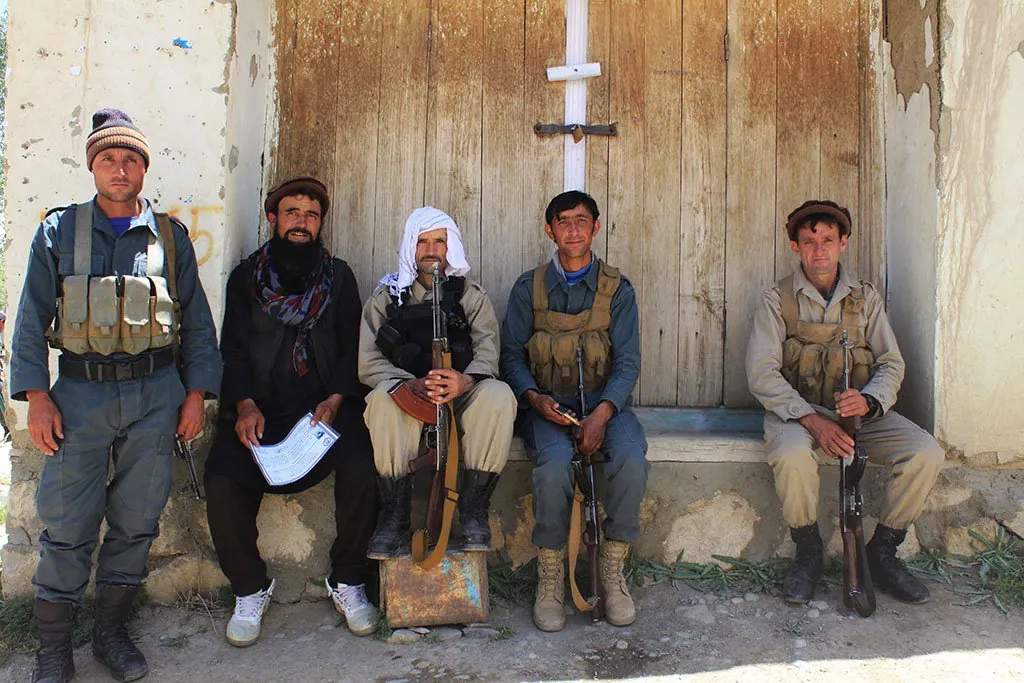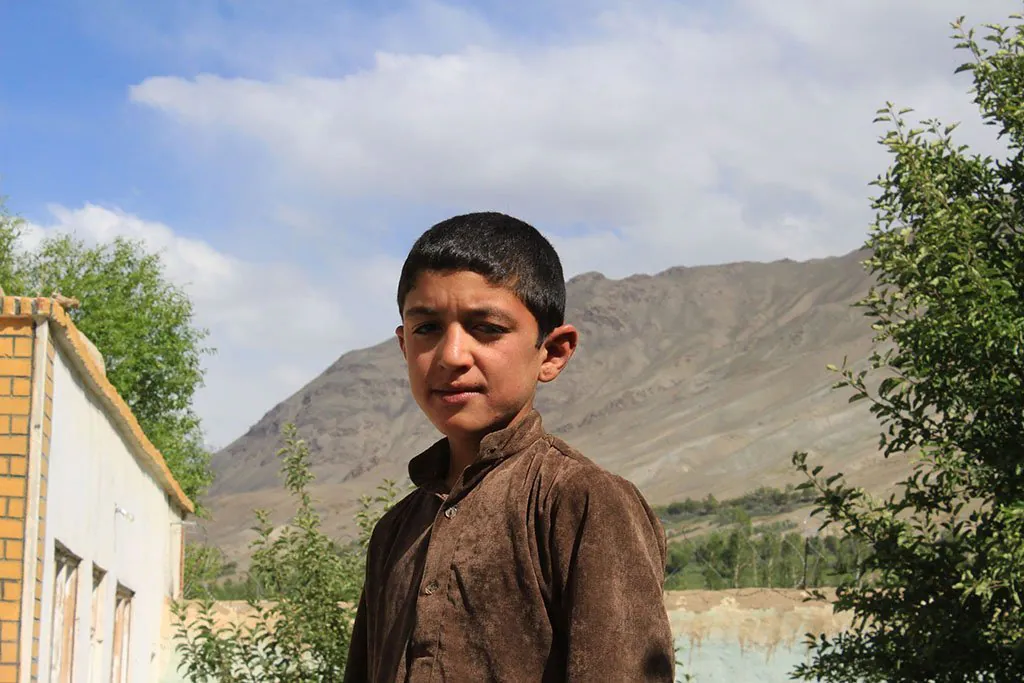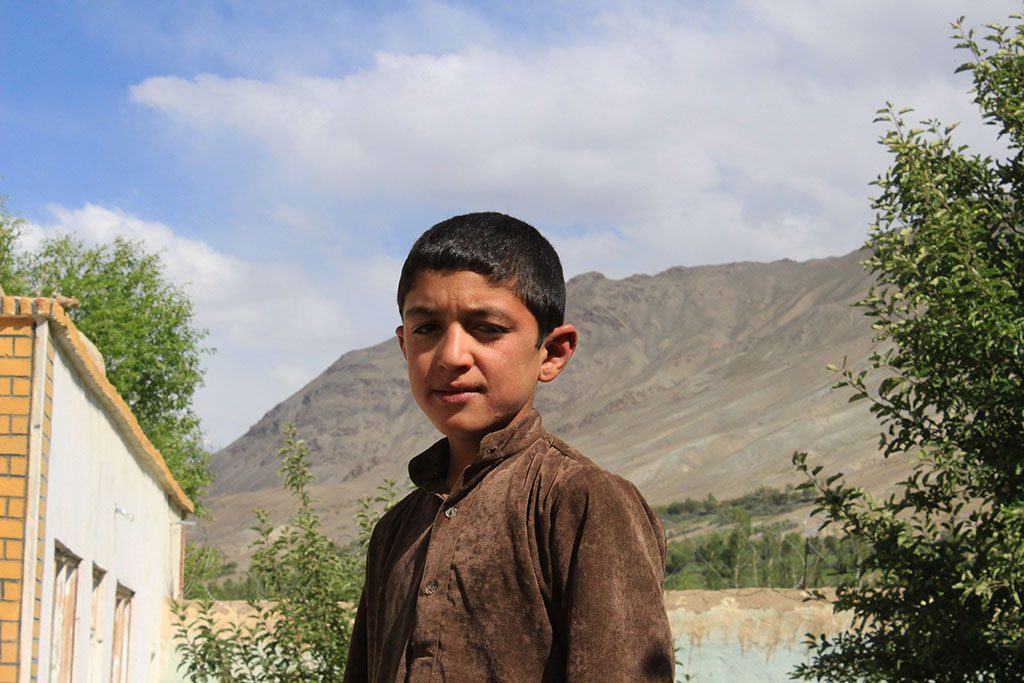 Burqas and hand shakes in Sultan Eshkashim
The dusty town of Eshkashim is filled with rickety wooden shacks bursting with colourful clothes, pots, pans and jewellery. It's like walking through a scene from Aladdin. And I may as well have a genie above my head the way hundreds of eyes fix on me. I still don't know how to act or where to look so I keep my head down in case I accidently make eye contact.
A quick glance up and a man is waving, shouting and beckoning me to visit his stall. He speaks good English, explains how happy he is to see a tourist and proudly asks me to take a picture of him and his shop. After our chat I turn around to leave, only to find my exit is blocked. It takes fifteen minutes to take pictures of the queue of people who all want their photograph taken too.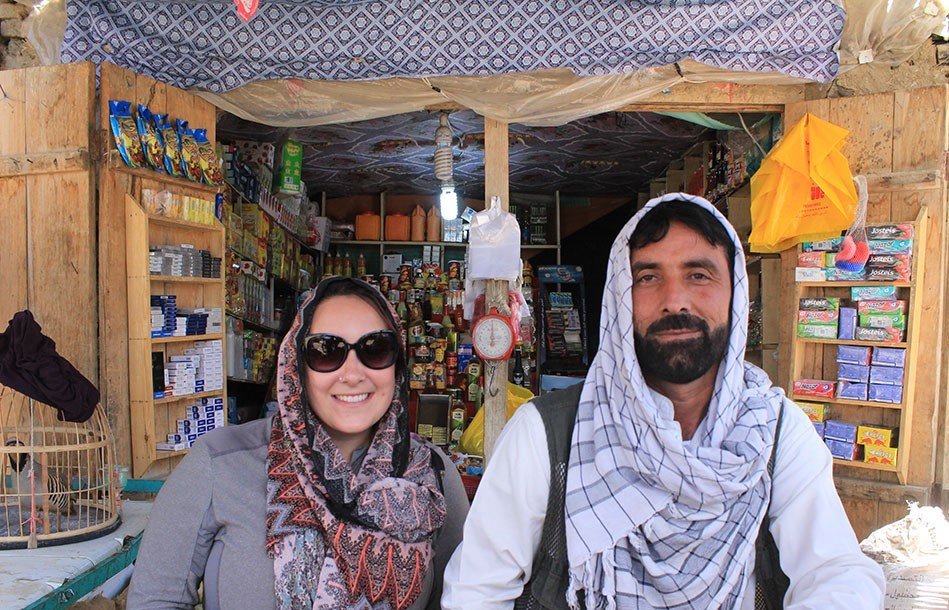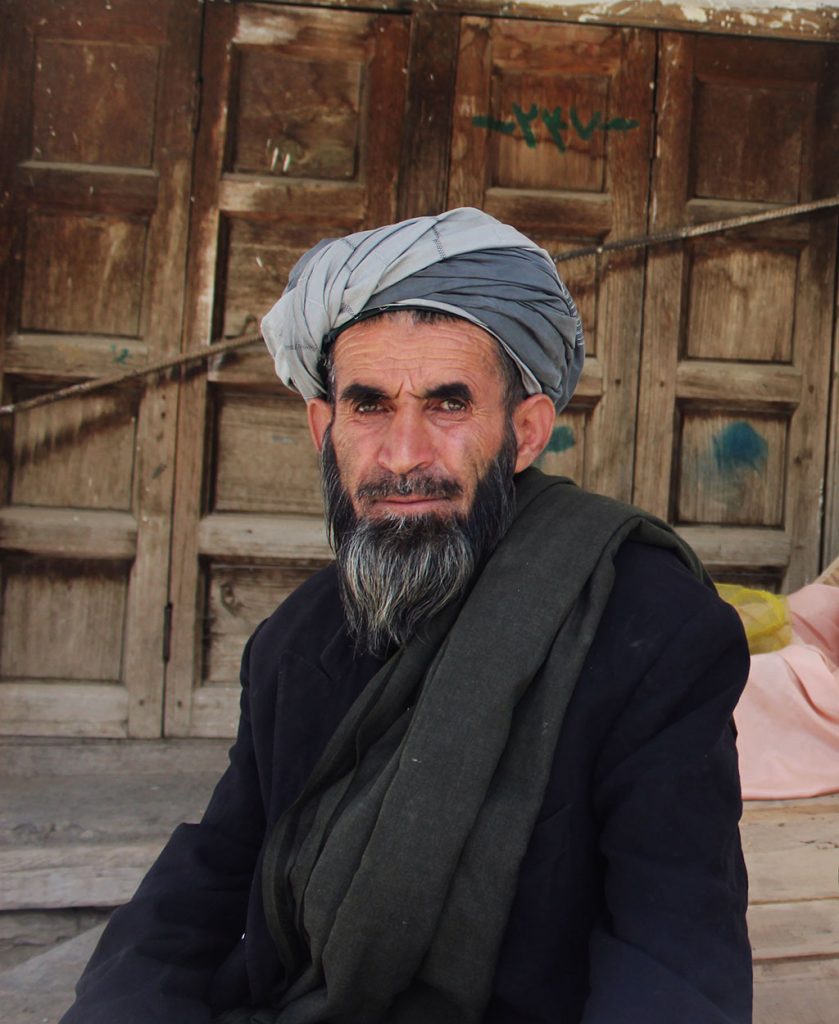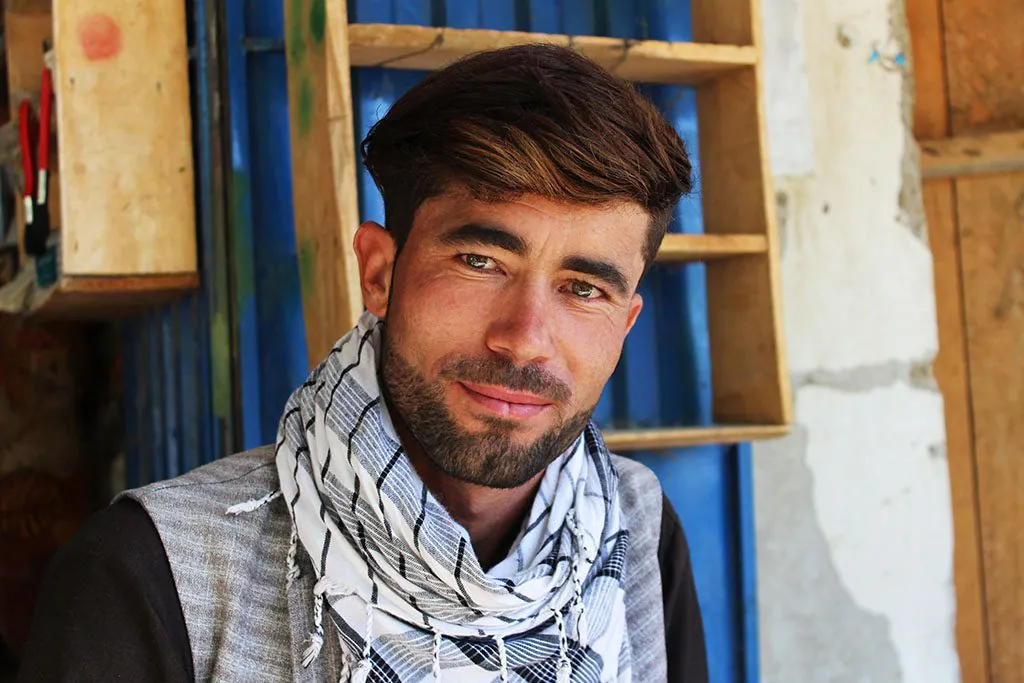 The town takes me by surprise. Once I stop looking at my feet, I realise everyone's smiling and happy to see us. Some people speak English and want to practise with us, others ask for their photo to be taken and some just want to say hello, but nearly everyone wants to shake hands.
We're ushered into a large room filled with men sat crossed legged and eating huge bowls of rice, meat and salad. The room falls silent as we enter, but a quick smile and 'Salam' greeting and the room returns to its noisy lunchtime bustle. I assumed that I'd have to eat in a separate room, but there's no issue here so I sit with everyone and dig in.
As a foreign woman I can't comprehend the warm welcome I'm receiving. And I also can't help but notice the local women too… floating around the town like ghosts in their iconic blue burqas. I can't help myself but ask a woman if I can take her picture. I can hear her laughing behind her veil, but she nods, posing as best as she can with her child in arms for the camera.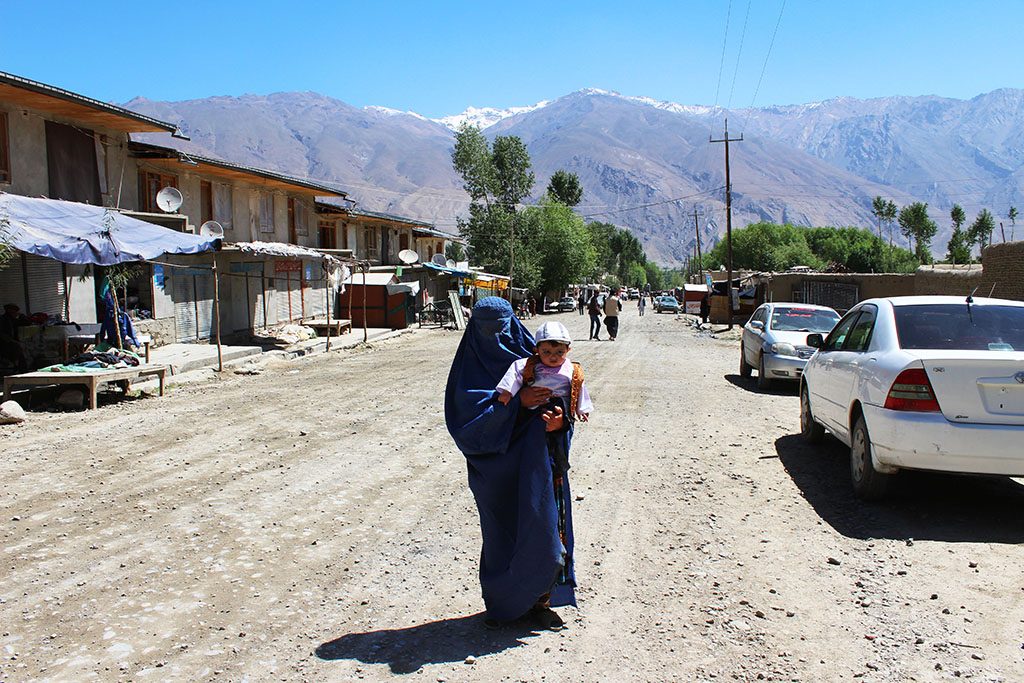 It's not only the men and women who stand out. There are children everywhere doing the jobs of adults, from building work to stripping motorcycle engines.
They're inquisitive, playful, shy and friendly all wrapped up into one. Those who speak English flex their vocabulary with great happiness while others simply walk with us, with beaming smiles and asking for nothing (unlike in many central Asian countries where – understandably – children ask for sweets or money). One child walks with Andy for twenty minutes, offering to share fruit from the shopping bag he's carrying home. When Andy offers him a bracelet he's terrified at first, but once he realises it's a gift his face lights up like a Christmas tree.
Welcome to the Wakhan Corridor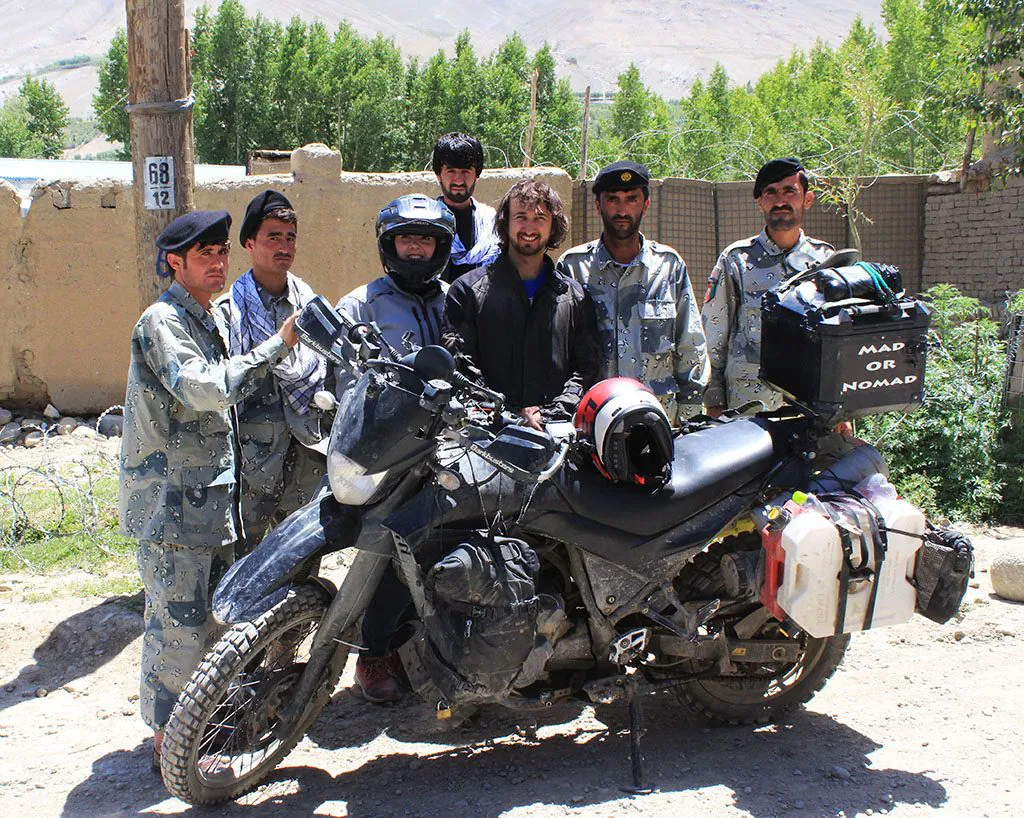 We came to Afghanistan to ride into the legendary Wakhan Corridor, otherwise known as the 'Roof of the World'. But before we are allowed to go, the Eshkashim border guards have to sign us out of the town and check our Wakhan paperwork.
Three hours pass by before our official looking document is finally swapped for a hand-written note. A few more phone calls, eight more selfies later and we're allowed to leave. Wakhan Corridor here we come!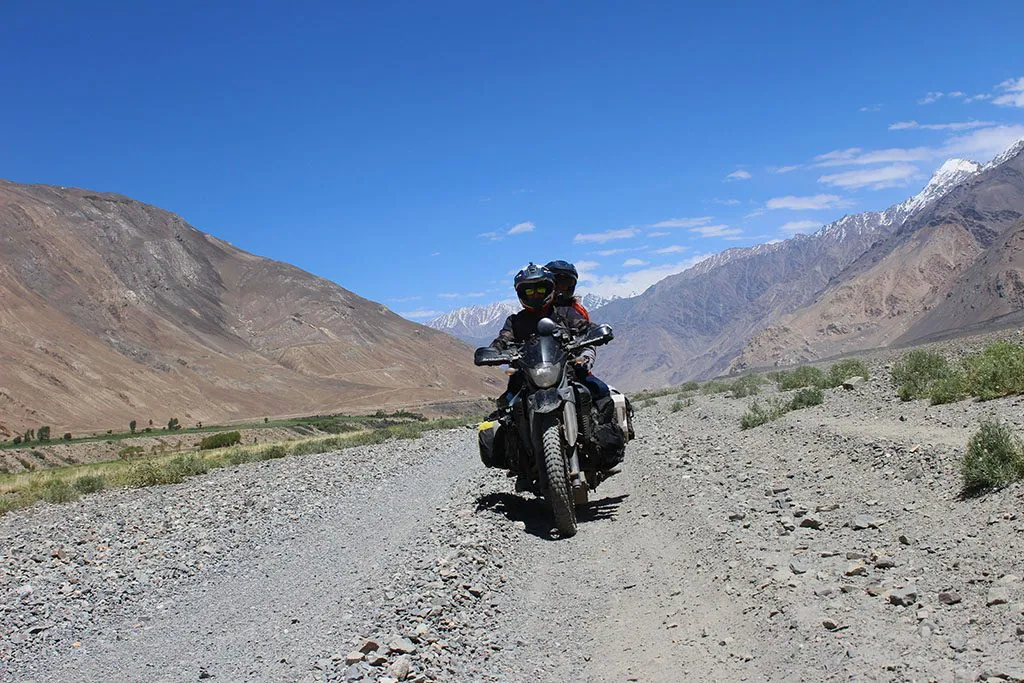 Okay, so the riding is not what I expected. I knew it was going to be rough but I didn't think it'd be like trying to hang onto a jet ski pounding its way through a tsunami. To my left is a steep drop off a cliff, to the right are jagged rocks, underneath us is sand, gravel and boulders. In front I can see a beautiful picture; emerald green rivers, soaring snow-capped mountain tops and sweet greenery.
We're finally out of the steep mountain passes and on long stretches of 'road'. Gravel tracks veer off for miles into the distance with nothingness on either side. We're well and truly in the Corridor now as mountains tower either side, fortifying us into the long straight stretch. We have no choice but to go forward; through river crossings, deep sand and rough gravel.
Sore bum aside… the views are incredible. The sheer nothingness is spectacular and standing on top of the mountain we've just ridden up takes my breath away.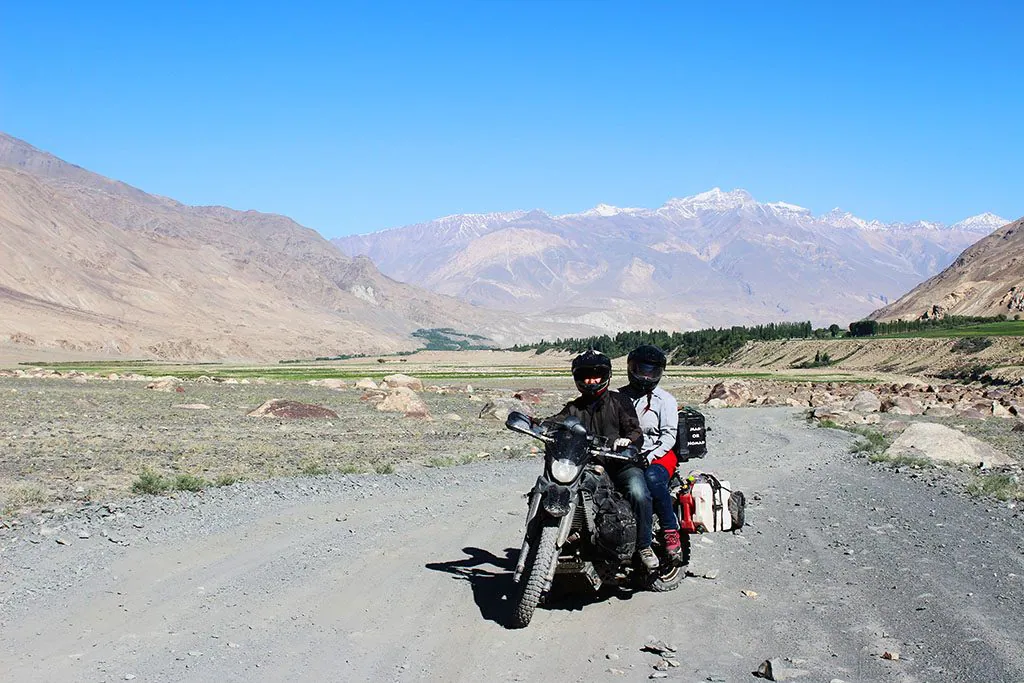 As we pull into Qazideh village and park the motorcycle, men with guns approach. We explain that we want to camp the night, they check our paperwork and show us to a beautiful green garden with a stream.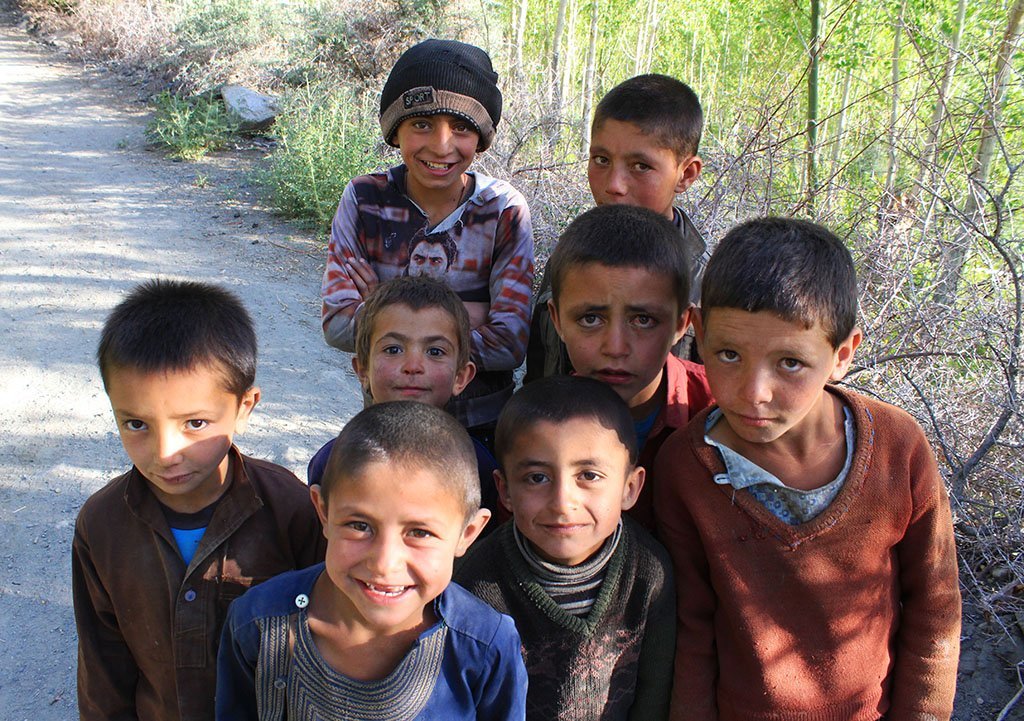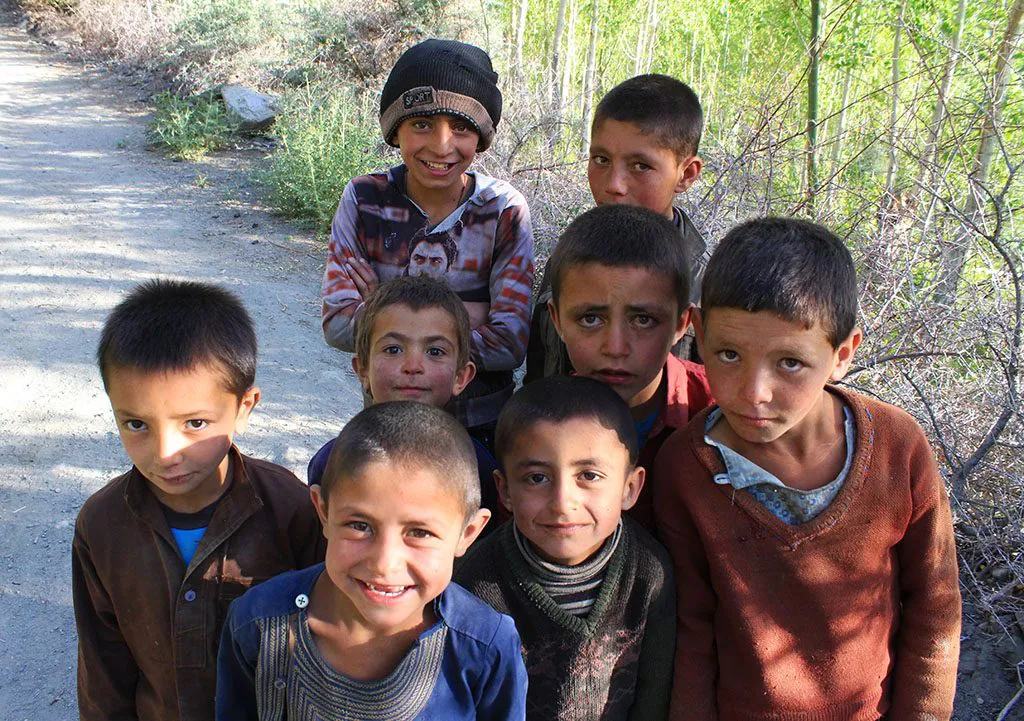 One sweet 12-year-old girl offers to show us around her village and takes us to meet her family – and then what feels like every other family home in the village. The people welcome us in like honourary guests, proud to show us round their homes.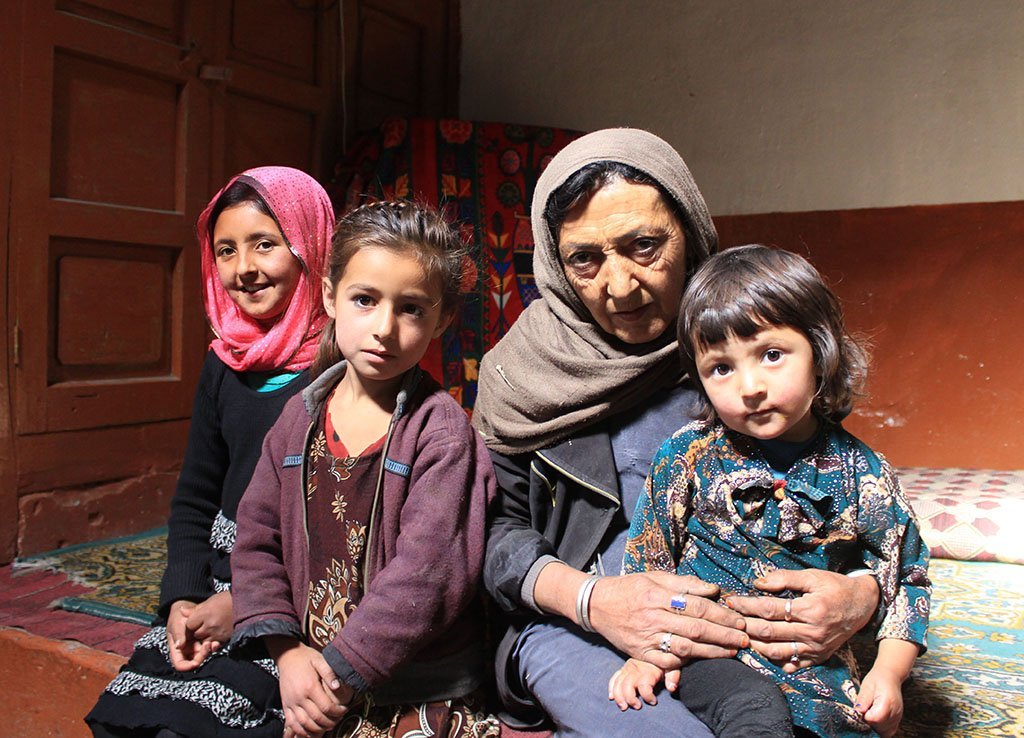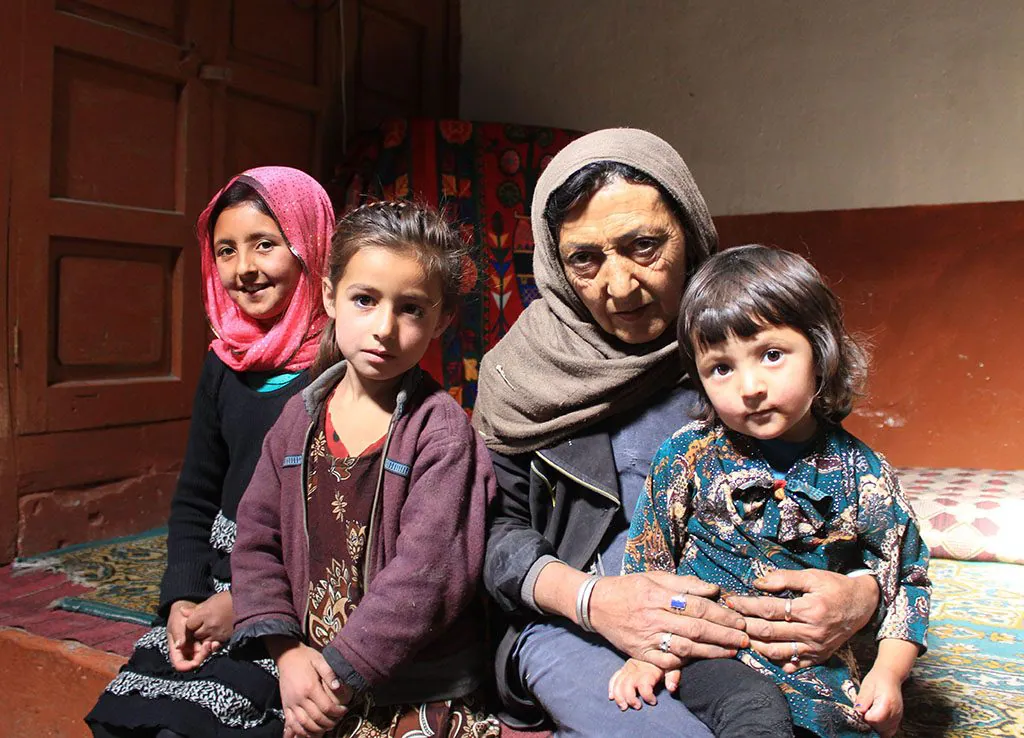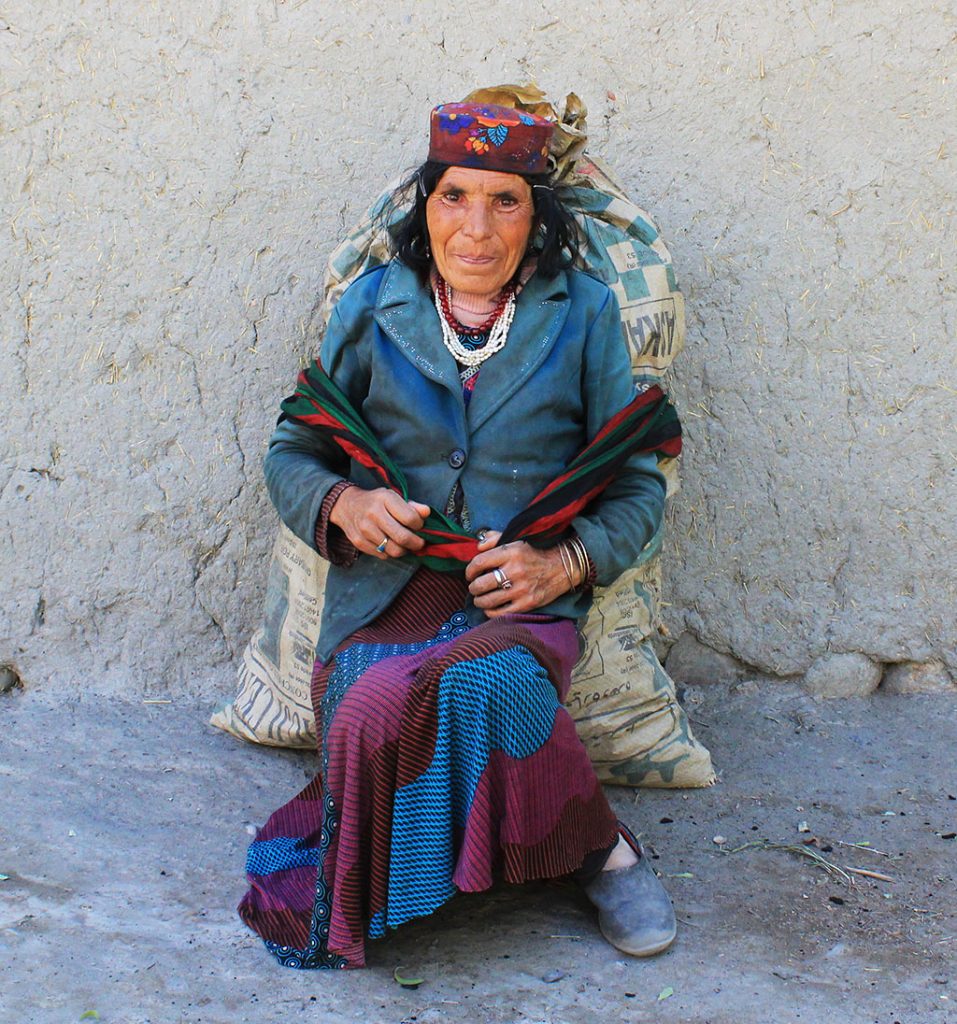 As we hike down to see the raging river, which acts as a border between Afghanistan and Tajikistan, we stroll through lush green fields scattered with brightly coloured flowers and children playing.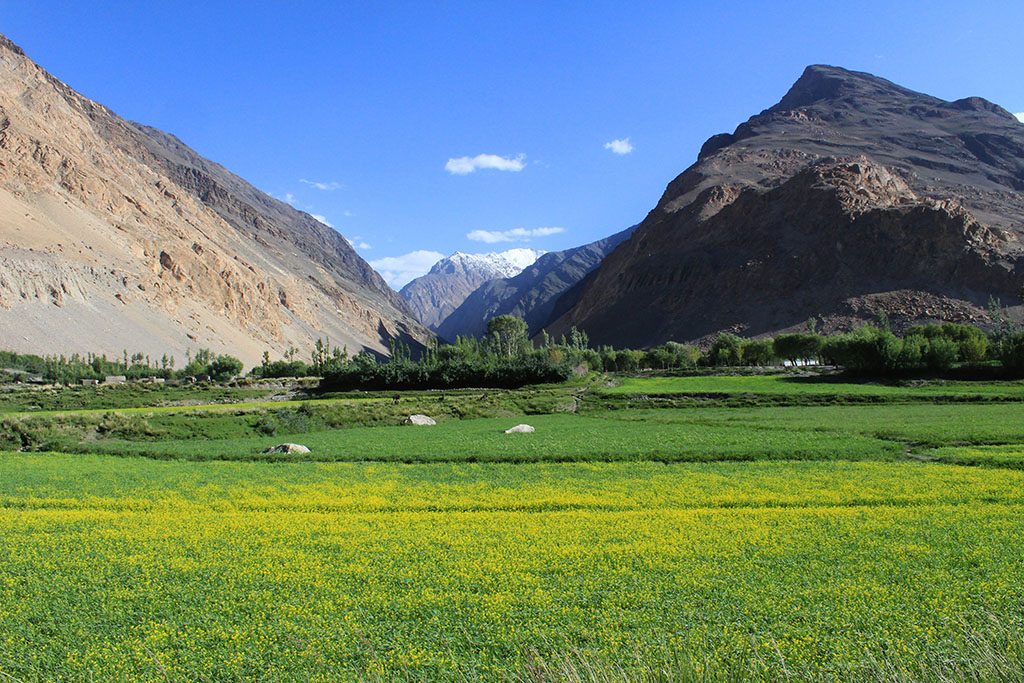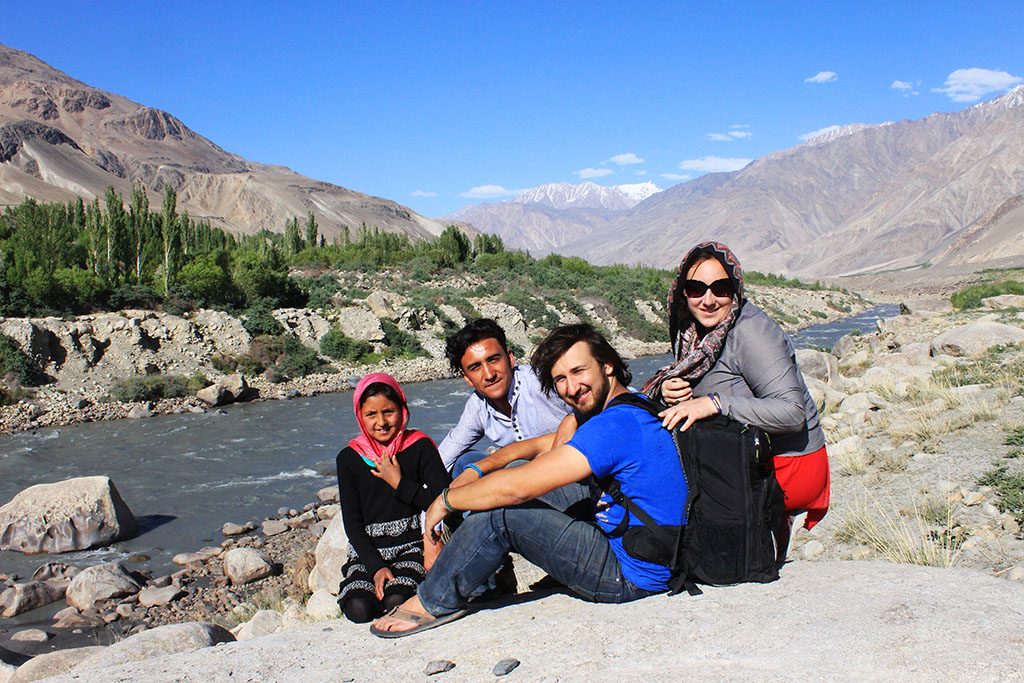 My mind drifts back to the day we got our visa. Cold feet took over and I said I wasn't going (for the second time). I was torn, excited about going but worried about my safety. I couldn't make a decision. Andy went and got his visa anyway and I was going to wait on the Tajikistan side.
As he came back from the embassy, I saw his visa clutched in hand and changed my mind again. He made a last-minute dash to the embassy, explained apologetically to the consul that I changed my mind (again) and pleaded for an exception.
I'd spent the last two days reading reams of negativity plastered all over the internet. Everything online was well out of date and I couldn't find any information on safety in the Wakhan Corridor. I don't actually know why I wanted to go so badly. I guess it was curiosity and the fear of missing out.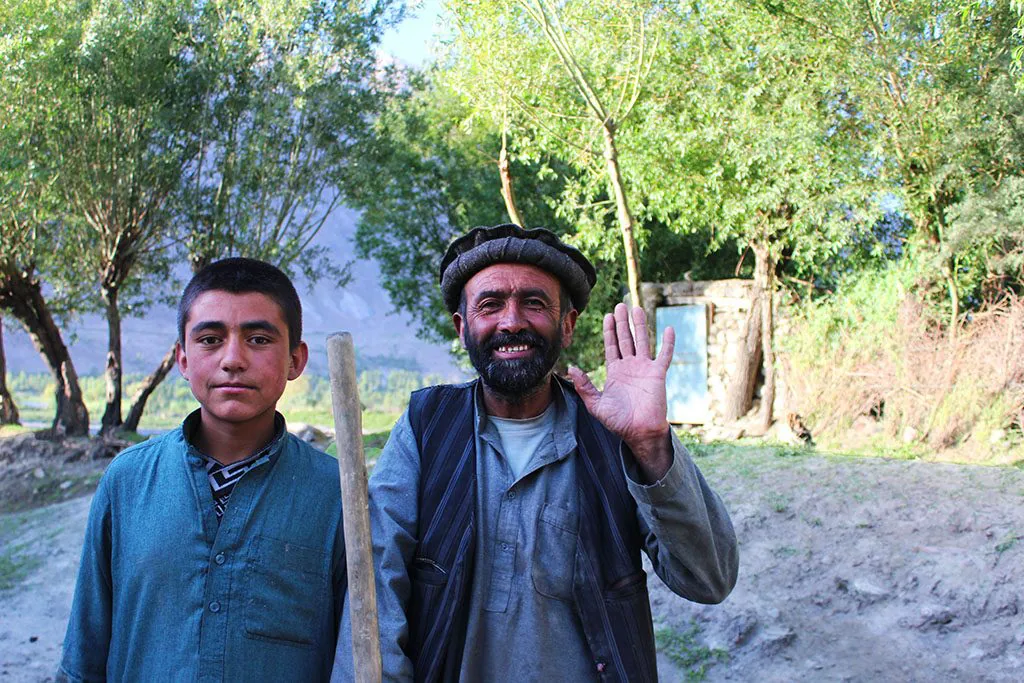 Back at our campsite Andy cooks dinner on our little stove. But we're not alone, during the night villagers bring us food, fresh yoghurt and tea and just sit with us, smiling.
The hospitality is incredible. These people barely have enough food for themselves yet they're here, sharing. I can't help but feel humbled … and so glad I came.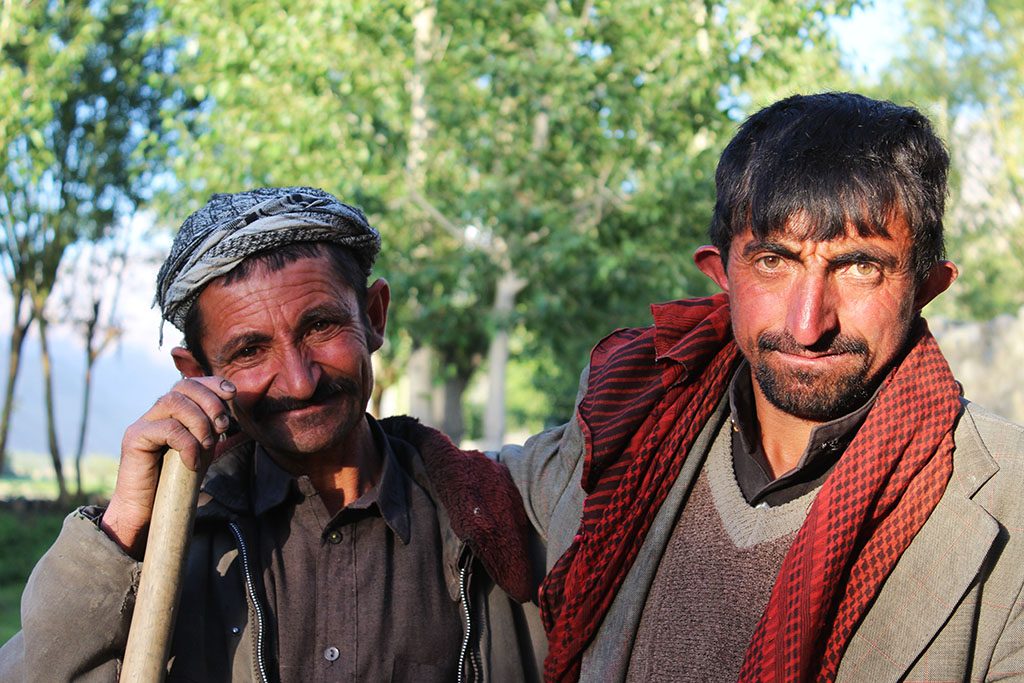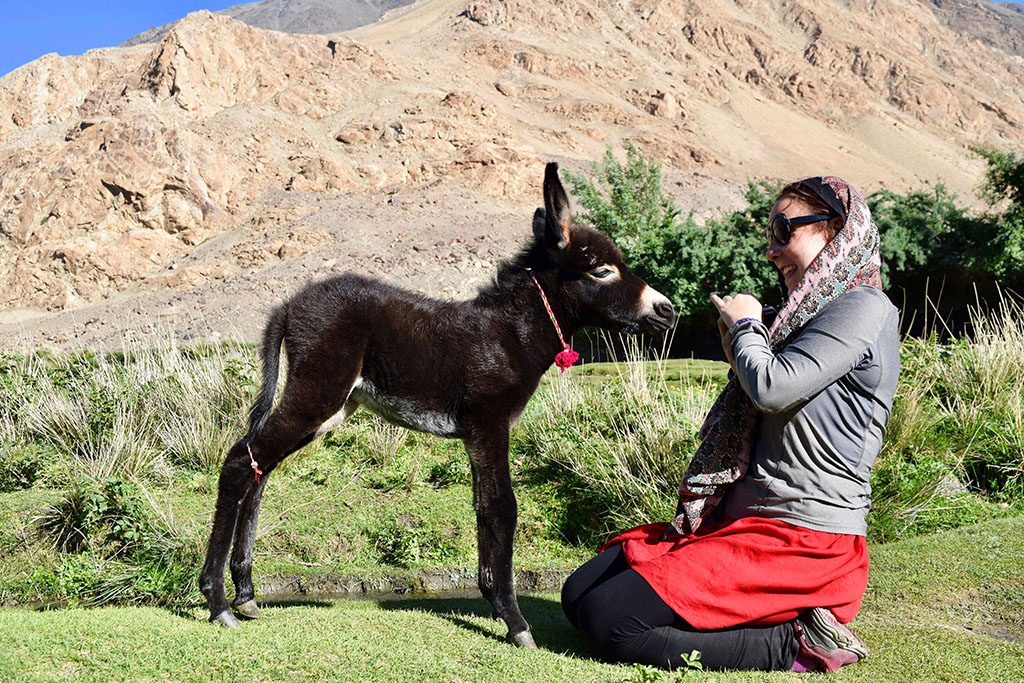 You're not going anywhere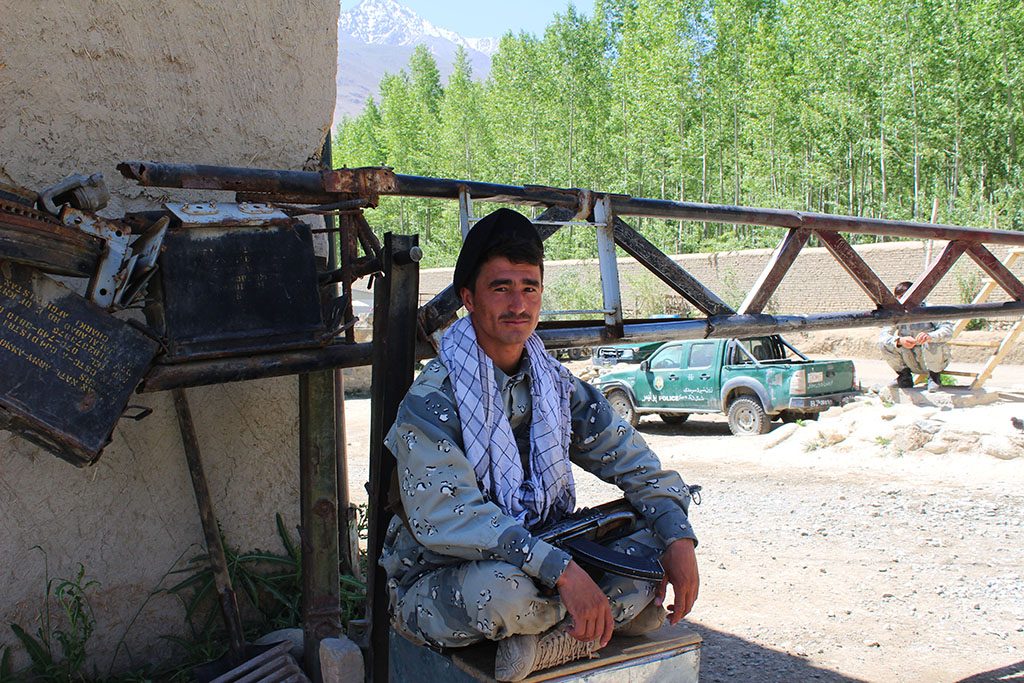 "The Tajikistan border is closed" said a villager as he flagged us down "You can stay at my house instead if you like". The border can't be closed, we triple checked the opening times when we arrived. We thank him for his offer but go and check anyway. We're stopped at a military checkpoint one kilometre before the Afghan and Tajik borders. The chain is up, we're not allowed through and the guards are saying the border is closed, maybe come back tomorrow. As much as we'd love to stay longer, our bike has some serious problems and we're on a tight timescale. Andy persisted for half an hour, making jokes with the guards about how the Tajiks are sleeping and he'll go wake them up. Eventually, one of the guards agreed to let Andy go through and ride to the Afghan border with him on the back of his bike. Once he got there the Afghan guards recognised Andy from the tea party we had when we arrived and agreed to phone the Tajik guards and get them to come and open up.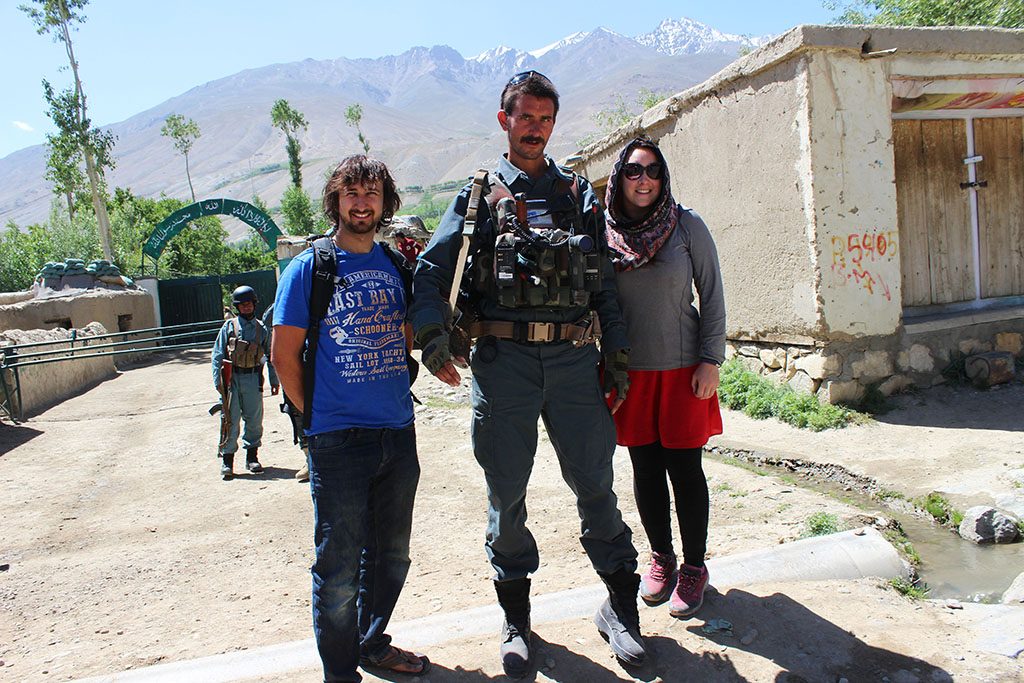 It's not what you think…
Afghanistan has been ravaged by war for decades. We only hear of war, destruction, the Taliban and their inhumane behaviour towards women. It is a dangerous place. There's no denying that. But the people of the Wakhan Corridor, in the north eastern part, say they are cut off from the rest of Afghanistan; are remote and have remained conflict-free for years. 
The people here are farmers, left to their own devices, practise a more moderate form of Islam and are incredibly happy to see tourists. I can honestly say that visiting Afghanistan's Wakhan Corridor was one of the best and most unexpectedly beautiful experiences of my life. 
The people were so warm and welcoming. I learnt that although their country is associated with war and terror it doesn't mean they are. They love to laugh, drink tea and take the odd selfie. Life certainly isn't easy for them and they do everything they can to keep positive, teach their children about the greatness of life and goodness of people. They don't judge, and neither should we.
Read more on Motorcycle Travel in Afghanistan
Thanks for checking out our Welcome to the Wakhan, Afghanistan Blog post. We hope you enjoyed it! Here's a few more articles on motorcycling in Afghanistan that we recommend you read next. 
Liked that? Try these next…
We'd love to hear from you! Please post your comments here…