This packed guide explains everything you need to know about riding a motorcycle to Mount Bromo in East Java. It's one of Indonesia's main attractions and 99.9% of travellers visit on a busy sunrise jeep tour. Going alone on a bike means you'll have the place all to yourself. Here's how to ride there…
The Mount Bromo Motorcycle Guide
No trip to East Java is complete without a visit to the legendary Mount Bromo. One of Indonesia's 130 activate volcanoes, Mount Bromo lies in the Tengger Massif region and is part of Bromo Tengger Semeru National Park.
But to get to it and peer inside, you've first got to cross the 'Sea of Sand' that surrounds the volcano like a black moat. This guide explains how to travel to Mount Bromo with a motorcycle – DIY style.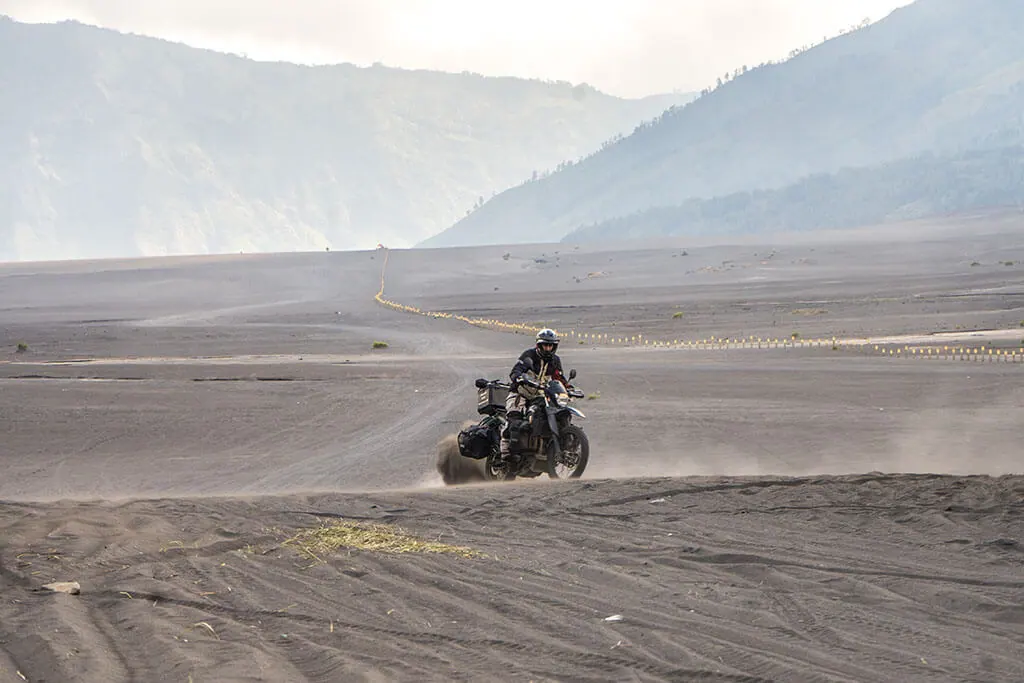 Why ride a motorcycle to Bromo
If you're up for the challenge, riding your own motorcycle to Mount Bromo will be an incredible experience. You can choose the time you go and get there when it's completely empty and have the place to yourself. It'll be like your very own moonscape. And riding there through the Sea of Sand will be an adventure itself!
For our experience there, check out our Indonesia blog post.
READ MORE: Java and the Land of Volcanoes
Mount Bromo sunrise tour
We reckon 99.9% of the 500,000 tourists that visit Mount Bromo each year do so on a sunrise tour.
The sunrise tour involves a 4×4 jeep picking you up from your accommodation in the early hours of the morning, driving you to Bromo National Park and then to one of the viewpoints so you can watch the sunrise over the craters and volcano before taking you back.
Sounds good. But, the entire area will be absolutely flooded with hundreds upon hundreds of these jeeps. They'll all be battling to find a viewpoint to unload their tourists so they can clamber out and snap a photo shoulder to shoulder with everyone else. They then join the queues to walk up the stairs to peer inside the volcano and wait an hour for people to move out of their way so they can snap a shot that makes it look like they're the only person there (which for some reason is very important?). They're then ushered back inside their jeep and driven back to the hotel.
Friends of ours had done the sunrise tour a few days before we rode there and described the above situation. For some, that might be the only way to get there and that's fair enough. But if you're reading this article, then I've got a hunch you're not interested in that and you're going to go it alone.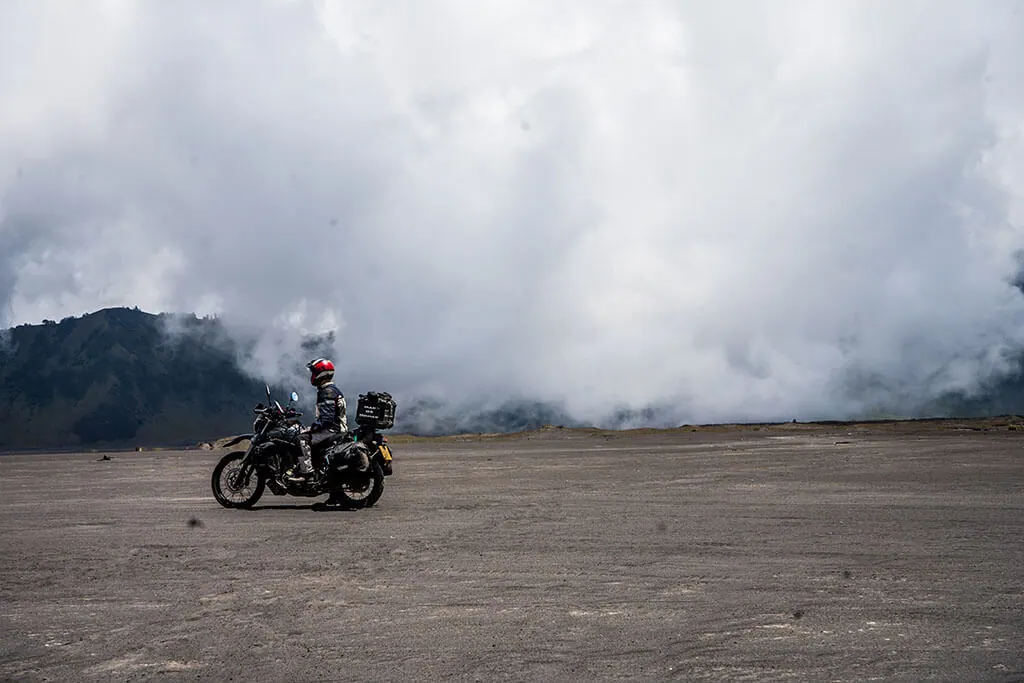 Where to stay near Mount Bromo
The two best places to stay when visiting Mount Bromo are the towns of Malang and Probolinggo.
If you stay in Malang, we highly recommend Inni Homestay on booking.com
If you stay in Probolinggo, we highly recommend Clover Homestay on booking.com
Which one you stay in depends on which direction you're coming from.
But, importantly, the ride from Malang will involve riding around 3 miles through thick black sand to reach the mountain. Dependent on how much luggage you have and how heavy your bike is, this can be a hard ride.
If you ride in from Probolinggo, you'll have less than one mile in sand. The tarmac road brings you directly onto the crater area and you're at the entrance to Bromo almost immediately. This is a far easier ride than entering from Malang and is something to bear in mind if you're riding in.
How to Ride a Motorcycle to Mount Bromo
Mount Bromo on your own motorcycle
The sand is thick and there are not many compact sections. An enduro bike is definitely the best way to go. But you can ride a smaller or even a bigger bike here – it all depends on your skill level. Some sections will be like riding in a desert and the trick is to keep your weight back, don't fight the handlebars and keep on the gas.
You'll find locals whizzing through the sand on scooters and little 125s with bald tyres. They're very used to riding on the sand here, so don't feel embarrassed and try and keep up if you're not up to it.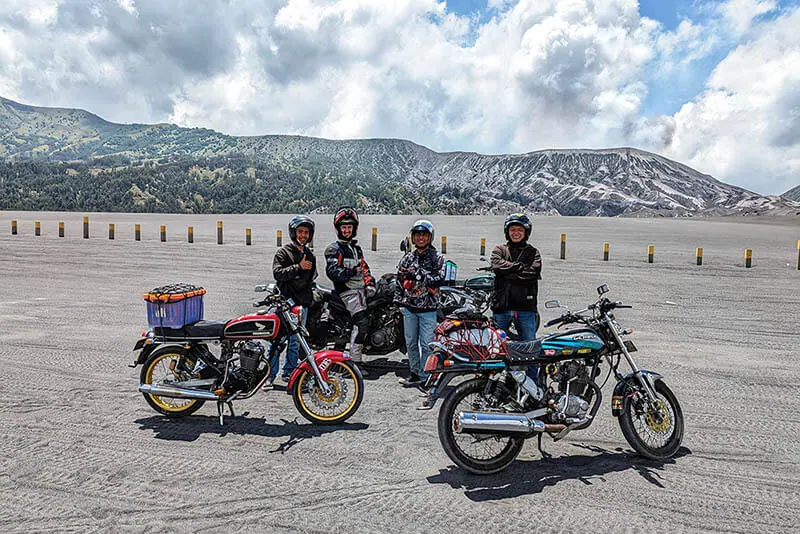 Renting a motorcycle or scooter to visit Bromo
Of course, if you're not travelling through Indonesia with your own motorcycle and are the adventurous type and want to visit Bromo by renting a small scooter or 125cc motorcycle then it's still doable. Your feet will be closer to the ground, you can take it easy and put your legs out to act as stabilisers and power your way through. You'll still have a lot of fun!
Renting a scooter is easy from the accommodation we recommended in Malang. It's worth taking a bigger scooter as the main road to get there is full of steep inclines.
From Probolinggo, you will need to do a bit of searching around for a rental company. But they do exist there.
Join an organised Bromo tour
Alternatively, you can join a motorcycle tour to Bromo. These are enduro based adventure tours and typically run from Bali. For more info, check out our recommended companies. 
Or, if you just want to join an organised jeep tour, then take a look at these suggestions from Viator.
From Malang
It's very easy to take the wrong road from Malang to Bromo and end up on impassable tracks and meet dead ends. This Google Map route details the best way to get there.
From Probolinggo
You can't really go wrong getting to Bromo from Probolinggo. There's one direct route and it's very easy to follow. But just in case, here's the Google Map route to get there.
Road conditions on the way to Bromo
Whichever way you go, as long as you take the correct road the road conditions are very good, and the closer you get to the Sea of Sand the better the roads become (until you reach the Sea of Sand!).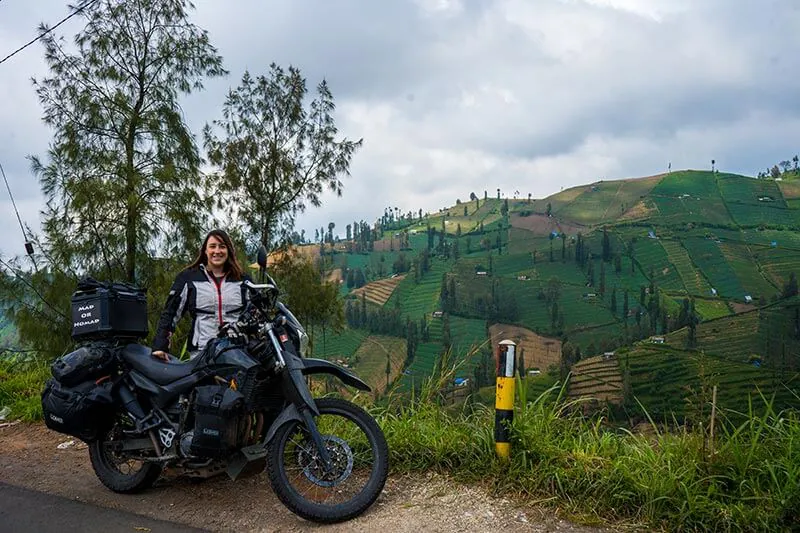 Entrance fee
There is a fee to enter the national park. It's a lot more expensive for foreigners than it is for Indonesians. You'll need to pay for a ticket as you enter the national park area and it's priced at around £11.90 per person for a weekday and £17.31 for a weekend ticket. The booth will be clearly marked and there will be staff flagging you down.  
What to do in Bromo
Once you've reached Bromo, you'll find a long row of little shops and bollards. You can ride through the posts and up towards the volcano where you'll find a designated motorcycle parking area. You will need to pay to park, but it's not much. There are toilets and snacks available here too. You can leave all your gear on your bike and make the walk up to the stairs. It's then around 200 steps to the top of the crater. Locals do offer horse rides up to the stairs, but it looks cruel in our opinion. 
There is a Hindu temple right next to the volcano called Pura Luhur Poten Gunung Bromo. Bromo in Hindu means creator god and the entire park is sacred ground for the local Hindu Tengger group. That's why you'll see people carrying flowers and food to the top of the volcano.
The best Mount Bromo view point
The best viewpoint in the park is called King Kong Hill because it's the highest viewpoint on Penanjakan Hill. That's where the jeeps will drive in the early hours of the morning. From this height you will be able to get a shot of the entire park region. 
When to visit Mount Bromo
Mount Bromo sunrise
You can visit in the morning to catch the sunrise, but you will be met with hundreds of jeeps driving into the park and charging through the sand. It'll be very busy. Another option is to go late morning around 10-11am. This is better as it'll just be you and a few locals.
We got there for about 11am and the place was empty. When we climbed up Mount Bromo there was one other tourist at the top who was just leaving. We had the entire place to ourselves. It depends how important seeing the sunrise is to you.
Time of year
The best time to visit Mount Bromo on a motorcycle is in the dry season between April and October. We visited in December and the weather was perfect. The park is open all year round for visitors though.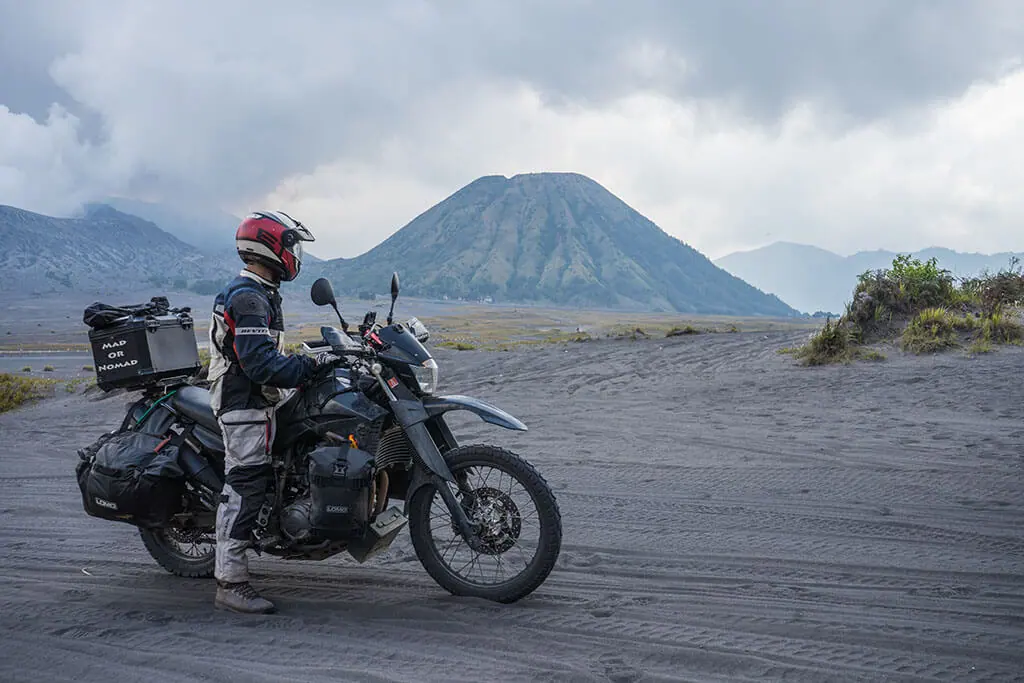 Motorcycle riding gear and what to take to Bromo
Riding gear
If you are going to ride in the morning you'll be met with freezing temperatures. As soon as the sun comes up it gets boiling hot, so you'll need to pack accordingly. At the very least you need decent riding footwear.
If you are on your own bike then you will most likely already have motorcycle gear. Summer textiles are the best option with a warm jumper underneath.
If you are renting, then pack warm clothes and a waterproof throwover as this will take the brunt of wind chill.
If you are on an enduro tour then you will more than likely have riding gear included.
What to take
There are food and drink stalls at the foot of Bromo. But it's always worth taking your own snacks and water just in case. Other than that, pack warm clothes if you're going in the morning, decent footwear, cash and camera gear. 
READ MORE: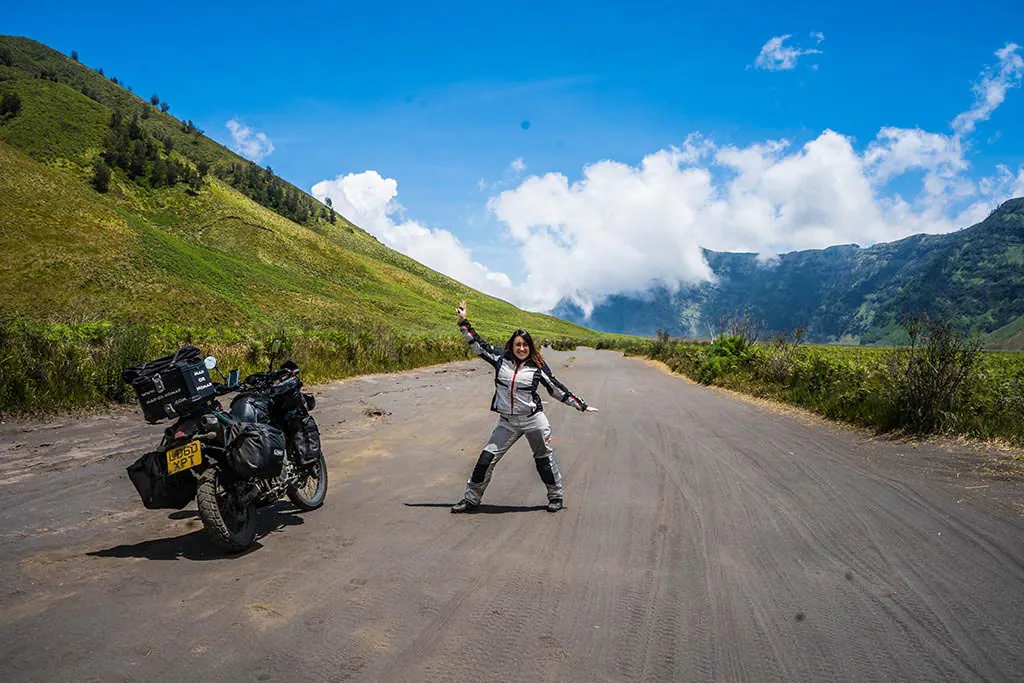 Mount Bromo dangers
There are three main dangers when visiting Mount Bromo.
The jeeps
If you're riding to Bromo in the dark early hours of the morning for the sunrise, you'll be battling with jeeps the whole way. This can be even more dangerous in the sand.
If you're riding there late morning around 10-11am then you'll find hundreds of jeeps driving past you in the opposite direction and be warned, they are lethal. Many of the roads leading to the national park are narrow and winding with steep drops either side and the jeep drivers do not care if you are in your lane or have nowhere to go, they will take up the entire road and force you off it. Be careful and don't assume they'll politely move over or even stay on their side of the road. 
Riding experience
Riding a motorcycle in sand does take experience and skill. This trip isn't recommended for novice riders. You don't need to be a dune racer to do it, but it can be dangerous for the inexperienced. Be careful of your surroundings, watch out for other riders and drivers and be honest with yourself on your skill levels. Motorcycling is inherently dangerous and you attempt this ride at your own risk. 
Eruptions
Mount Bromo is an active volcano that does erupt. But it is closely monitored and if its activity reaches a certain point then officials won't allow visitors to enter. Of course, you need to do your own due diligence here and check current reports, ask locals and assess the situation for yourself before visiting.
Semeru volcano is located 11 miles south of Mount Bromo, and that erupted two weeks before we visited (in December 2022). Luckily nobody was killed, but the year before (2021) it erupted and killed 50 people.
Read more on motorcycle travel in Indonesia and Southeast Asia
Thanks for checking out this Bromo Motorcycle Guide. We hope you enjoyed it! Here's a few more articles on motorcycling in Indonesia and Southeast Asia that we recommend you read next. 
Are you planning a motorcycle trip to Bromo or Indonesia? If you have any questions or tips to share? Let us know in the comments below.