If you're heading out on a motorcycle adventure and love cooking good food around a campfire, then this packed guide is just for you. You'll find loads of info on motorcycle camping food, gourmet cooking equipment for proper foodies and three mouth-watering recipes for motorcycle travellers.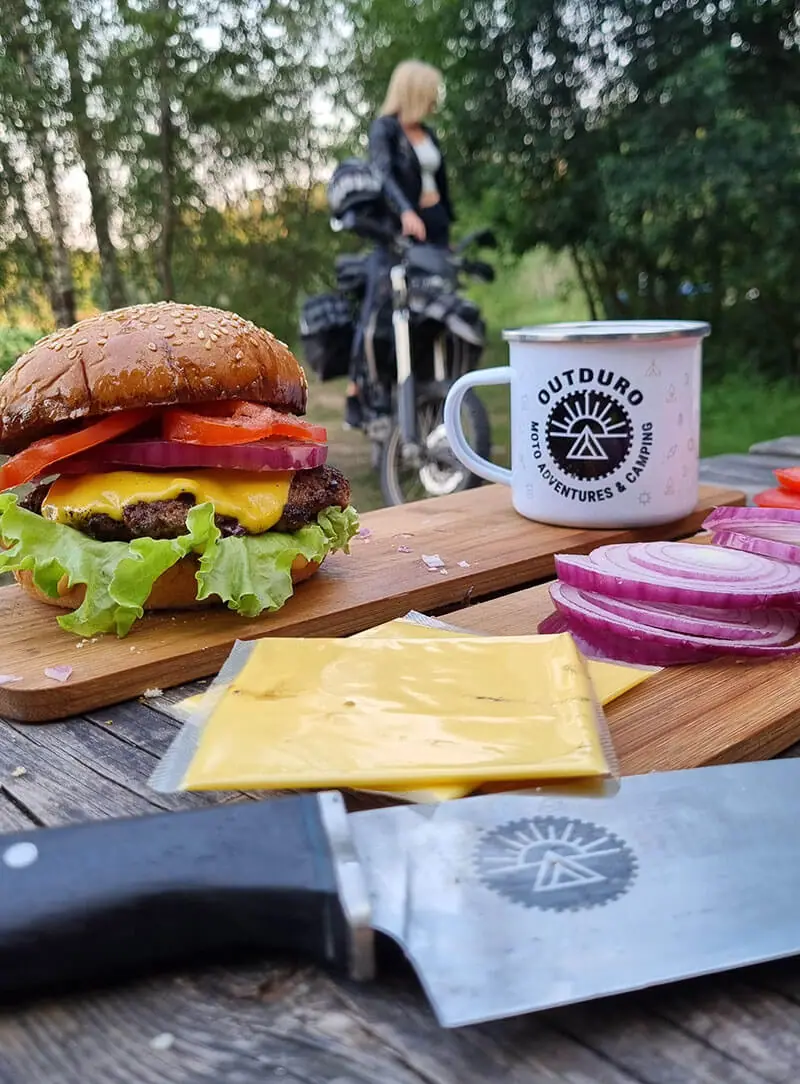 You already know that taking your own food and cookware on your motorcycle camping trips and preparing a meal for yourself or your riding companions is a great way to save money! Especially when compared to constantly dining in expensive restaurants, but does that mean it has has to be cheap and limited to dehydrated motorcycle camping food or canned tuna with macaroni? No way! 
My name is Rihards and I'm a self-proclaimed wannabe forest food chef who goes on motorcycle adventures and takes a cooking set for maximum gastronomical pleasure.
I've been cooking many different types of meals while out in the forest doing bushcraft. One day, while working on my wooden hut, I thought to myself why not take my cooking set which consisted of a cast-iron skillet, a wood-burning stove and some kitchen utensils on my motorcycle adventures?
Then in the summer of 2021, I went on my first long motorcycle journey around my home country border of Latvia. It's then that I understood the power of making a proper meal over a campfire with my companions and why it's so important.
After my great summer adventure, I continued to travel locally with most of my cooking equipment, but this time I took my video camera with me and tried to create a video on the whole process – riding, camping, and cooking. It's something that I enjoyed very much even though it is a lot of work if you're doing it solo. But I just wanted to share the experience and perhaps inspire more people to get out and cook more on their motorcycle adventures!
So, I hope this article will help encourage you to get cooking on your biking adventures. Happy riding and bon appetite!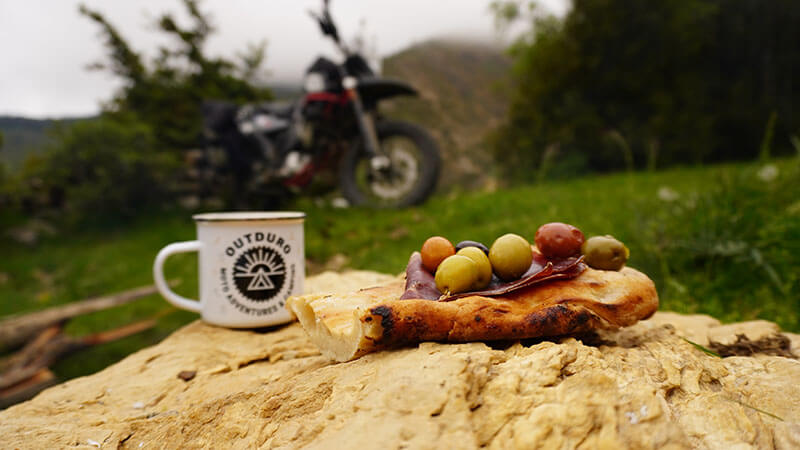 Why cook proper food on motorcycle trips?
Of course, it depends on what type of journey you're going on. If it's a fast-paced "see as much as you can" type of motorcycle ride then, obviously it's more convenient to take a light weight outdoor cooking set that might consist of just a pot, gas stove and a spork. All you have to do is boil the water, pour it over your dehydrated motorcycle camping food and you're done! Sit by your campfire and eat away – the whole process taking less than 5 minutes.
But what are you missing? It's the food-making love that you can share with your travel buddies, the bonding during the cooking process, the team effort and the delicious tasting reward that you all prepared together at the end.
Anything cooked over a campfire or live fire tastes better. And it tastes even better when you put some love into – studies even confirm it!
Think back to how your mother used to prepare food for you and your family on holidays. That oh so good wholesome feeling… remember that? Yeah, that's what I'm talking about here!
It's a great way to make new friends
It's also a great way to learn more about the culture of the country you're travelling through and make new friends. If you're staying over as a guest with locals then they probably will treat you to their cuisine, so why not return this favour in making something that's traditional in your country and serving to your host family? It doesn't even have to be complicated but it's going to be different and interesting to them.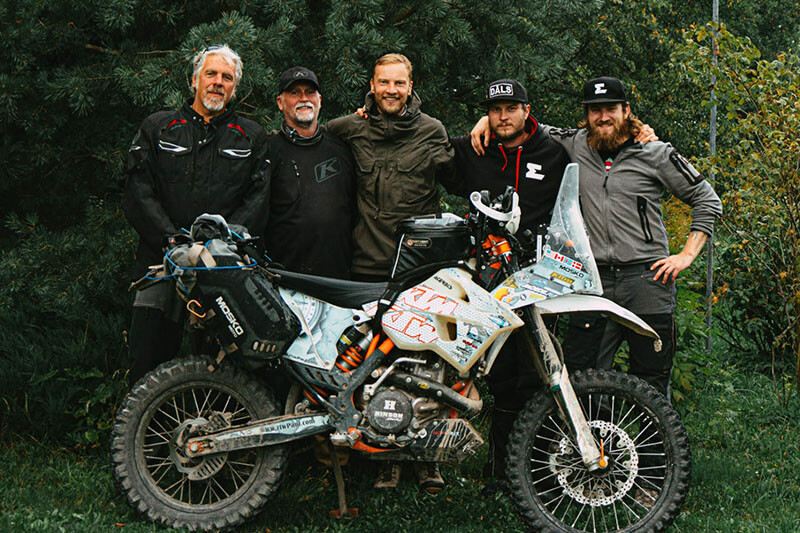 The best motorcycle camping cooking equipment for gourmet food
In the early days of my motorcycle adventures, I only carried a cast iron pan so wherever I went I could cook up something tasty. My friends even got used to the fact that I always carried a pan and knew that quick noodles weren't needed on our trips because we're going to eat burgers or anything else that we decided to cook in the pan.
However, since then my cooking knowledge and interest to try out new things have grown, so I've added more interesting things to my inventory. You'll find some of my gear below, these are the creme de la creme of campfire cooking equipment: 
Take only what you need for your motorcycle trip
I don't always take every item from above with me. For example, if I'm going on a weekend trip near a lake where I'm going to do fishing then I'll only take either the smoker or the pan.
It depends on the type of journey, how many days you're going for and how many companions you will have with you.
Making a fish soup will feed you and your riding partners, smoking fish will make a snack with a beer but you're still gonna be hungry if you don't have a proper meal.
So, as with all motorcycle trips and adventures, planning and packing is crucial. If you're going to try out proper camping food and want to do some gourmet cooking (you won't regret it!) then plan your journey out beforehand and take only what you plan on using.
READ MORE: 
What other cooking equipment is there?
If you're going on a solo motorcycle adventure then you might not need a big heavy pan, pot, or a big volume coffee kettle. Maybe all you need is a compact pot/pan/kettle combo and you can still cook on a pan and boil water or soup. I have one of those sets and I used it to make a hobo soup for myself when wandering around solo. It's compact and doesn't weigh much.
If you're motorcycle camping alone, then you probably don't need a big campfire so instead, take a foldable wood-burning stove. You can make your meal over it and keep it burning as a comforting fire without creating a big mess to the environment.
READ MORE: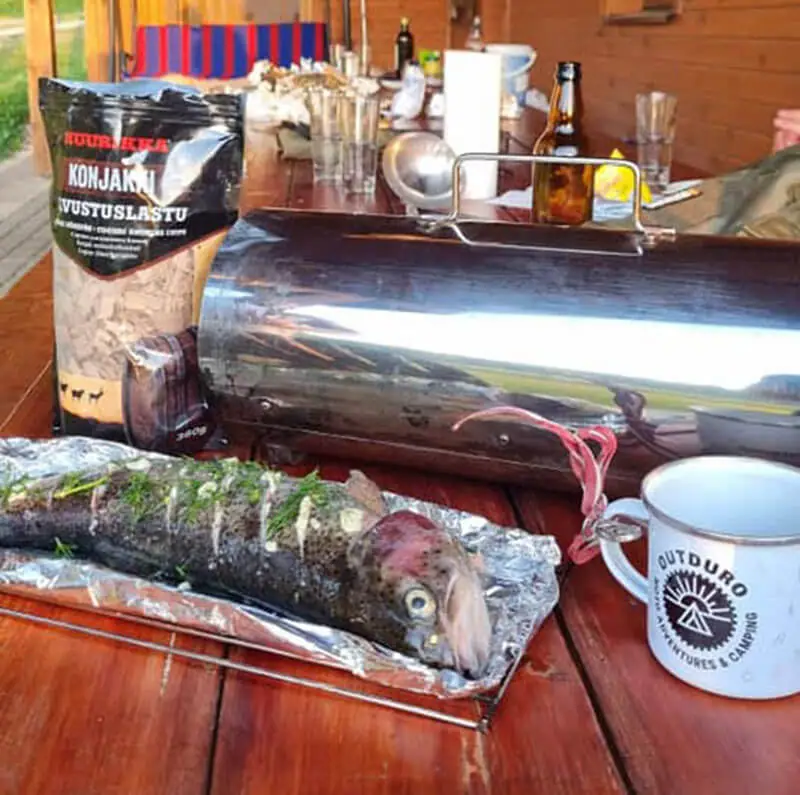 More motorcycle camping kitchen equipment
Tupperware – great for storing food leftovers or taking fresh meat or something that you don't want to crush.
Egg case – card egg boxes crush easily, so if you still have some miles to go after your shopping then put them in a hard case.
Tinfoil – great not just for baked potatoes or other food in a campfire but you can also create things like a lid for your pot and can use it to keep your food warm.
Collapsible plates/bowls – these are light and take less space in your bag. 
Camping grinder – there are two types. You can grind coffee beans or crush peppers and create spice mixes.
Ziplock bags – I use the ones that are meant for freezing because they are more durable, great for storing food, take up no space, weigh nothing and has many uses.
Washing set – iron scrubber, sponge, dishwash soap refilled in a small bottle – after use I dry these items and then store them in a ziplock bag.
A pack of paper kitchen towels – these go quickly, you're probably going to make a mess. I always put the paper towels in close reach!
Meat thermometer – if you are cooking meat then you want to make sure you've cooked it enough to kill the nasty things in it. The last thing you want is diarrhoea on your motorcycle adventure. Carrying a thermometer is a sure fire way to make sure your meat is safe to eat without having to cut into it on the grill. 
My favourite motorcycle campfire meals
So, if you've decided to give this a try and want to create a proper gourmet meal with your buddies then here are 3 simple cooking recipes for a cast-iron pan, smoker, and a pot. This is the ultimate motorcycle camping food!
Motorcycle camping food 1: Burgers
This is the easiest meal and one that I love the most! You don't need too many ingredients and you can get them in a local store, you can involve other companions in the food-making process and the best thing is that you can improvise with all the ingredients or add whatever you can find from the local store.
Ingredients
Beef meat – best if it's 20% fat and 80% meat, you can try other meat as well just make sure you cook it well
Bread buns – proper burger buns work best but you can replace this with whatever sandwich bread you can find
Lettuce – any leaf veggie works
Red onion – Red is for eating raw, white onions are best when cooked
Tomatoes – the bigger the better
Cheese – Cheddars always works best, at least for me
Burger sauce – You can buy ready-made sauces, create your own or improvise with other stuff like horseradish. I've tried horseradish and it wasn't so bad. Had me a real Slavic burger!
Method
Prepare the meat in a bowl or plate, you can mix it with chopped onions, add spices, or even a fresh egg, create patties that are are larger than the bun, the meat will shrink when you start cooking it
Toast the insides of the buns on the iron pan while there is no oil, put them aside
Heat the cast-iron pan so that the oil sizzles, that's when you can put your patties on, if you can fit more than one patty then put them close together, around 1 – 2 minutes on each side depending on how thick your patties are, don't make them too thick otherwise they won't be cooked in the middle
Stack your burger the way you want it! This is like the biggest debate about this food… In what order should the ingredients be stacked… I'll leave this to you.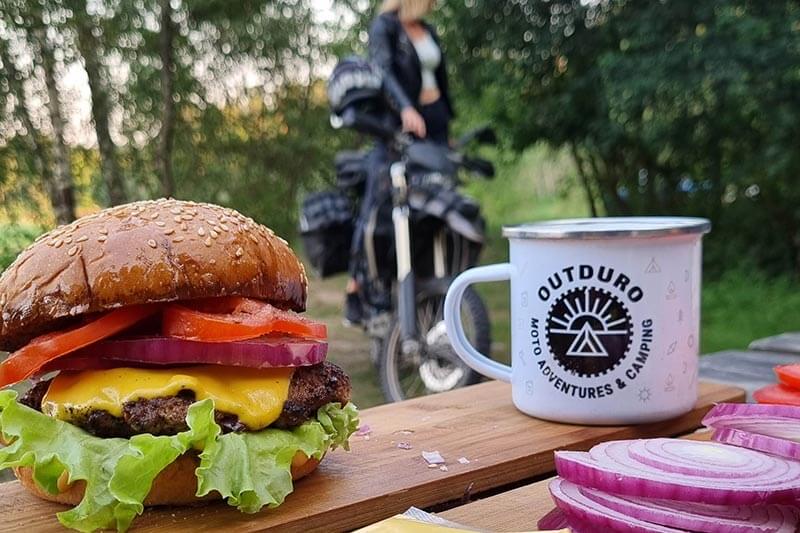 Motorcycle camping food 2: Smoked fish
This is one of my favorite beer snacks, especially if you've caught the fish yourself! It's not enough to feed you so don't count on it as your main meal, it's just a snack, especially if you are with companions. To do this, you will need a smoker and the best that I've found is from MUURIKKA.
Ingredients
Fish – any type of fish that you can smoke will do! It's super nice if you can catch the fish yourself because that makes it more worthwhile.
Lemons – if life gives you lemons then you better make good use of them
Fresh herbs – dills, parsley with stems
Red onions (optional) – used for stuffing
Sweet Peppers (optional) – red, yellow, green is used for stuffing
Spices – pepper and salt are the easiest. You can experiment with other spices.
Beer – the darker and stronger the better! This will make the taste just so much better!
Wood chips for your smoker – the best for fish are sweet, mild woods like apple, cherry, or alder
Method
Get the campfire going – make sure your fire has enough large embers, the more even the fire is the better too big fire will just burn the fish, too small will leave the inner parts still raw and you don't want that.
Put your wood chips in water for 20 minutes, so it soaks ups the water and smoked better
Cut open the fish – remove all intestines and bones
Sprinkle spices on the inside
Put a whole dill or parsley with stems inside
Cut lemons, peppers, and onions and stuff them inside
Close the fish and put it on an aluminium foil bed
Put the fish on the grill and insert it in the smoker, add the wood chips, close everything up, and put it on the whole smoker in the campfire for at least 20 minutes.
Enjoy the fish snack with your dark beer!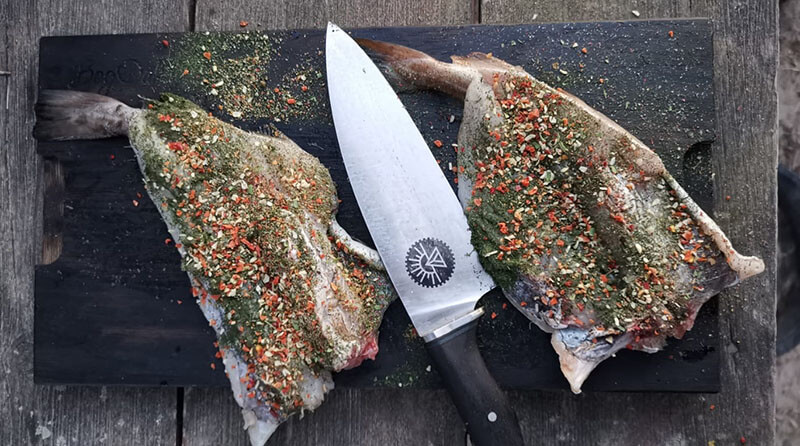 Motorcycle camping food 3: Hobo soup
This is an easy-to-make soup that makes your belly feel full and your taste buds satisfied. It's also a great soup if you're hungover! There are many recipes for this and all of them have variations but this is the one that I've used before. Why is it called hobo soup? Well, it's because you make the soup out of what you have to hand! So, that's why you'll never find an exact recipe.
Ingredients
Game meat – You can use beef instead
Potatoes
Fresh carrot
White onions
Butter
Beef broth
Can with tomatoes or tomato paste
Coriander or Parsley
Pepper
Salt
Bay leaf (optional)
Fresh chili pepper (optional) – if you like your food spicy
Here's a video where I bake my very own bread for the first time and make this exact Hobo Soup recipe in a bushcraft shelter.
Method
Cut the meat and potatoes into bite-size pieces, cut the onion in small squares, and cut the carrot into rounds.
Put the pot over the fire and put a spoon of butter in it
Fry the meat and onions in the butter until the onions are yellow and the meat has some crust on the sides, add some salt and pepper
Add water with potatoes and carrots
When the water is boiling add the beef broth, can with tomatoes or paste, bay leaf, and chili pepper
Now let everything simmer on slow to medium fire until the potatoes are soft or you can leave it for longer if you want the soup to be thicker. 
Eat it with a slice of bread and butter on it.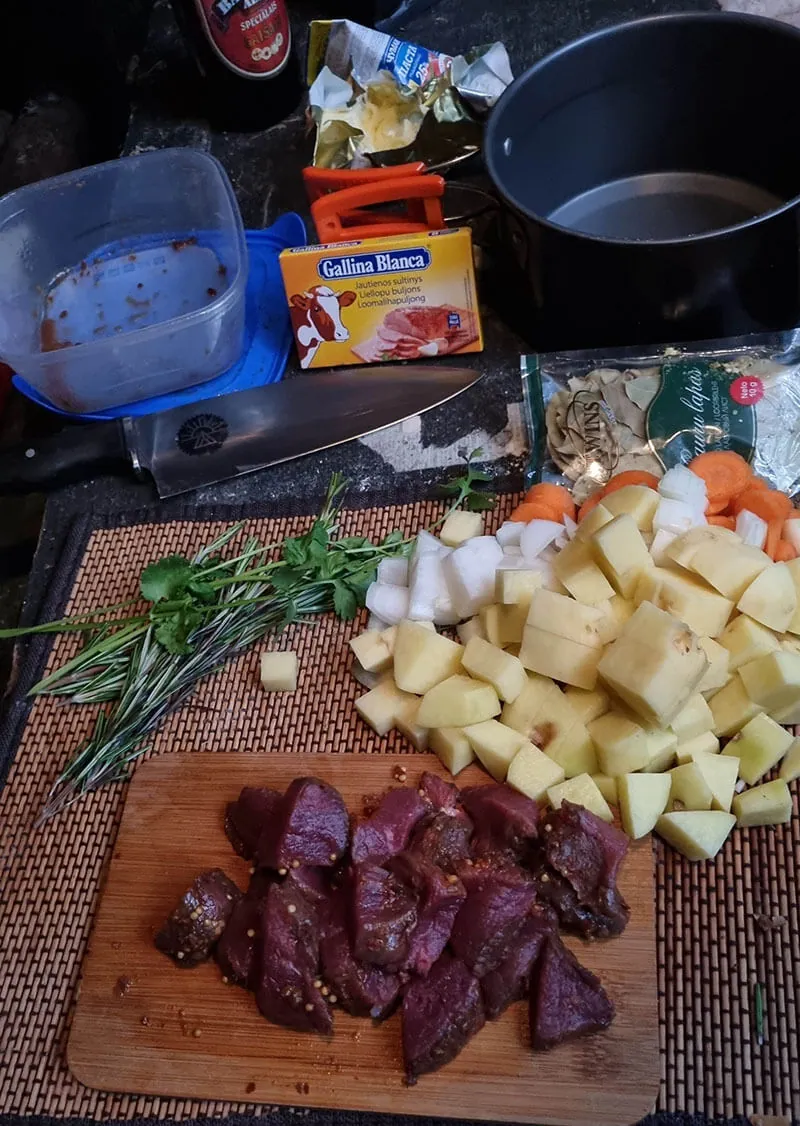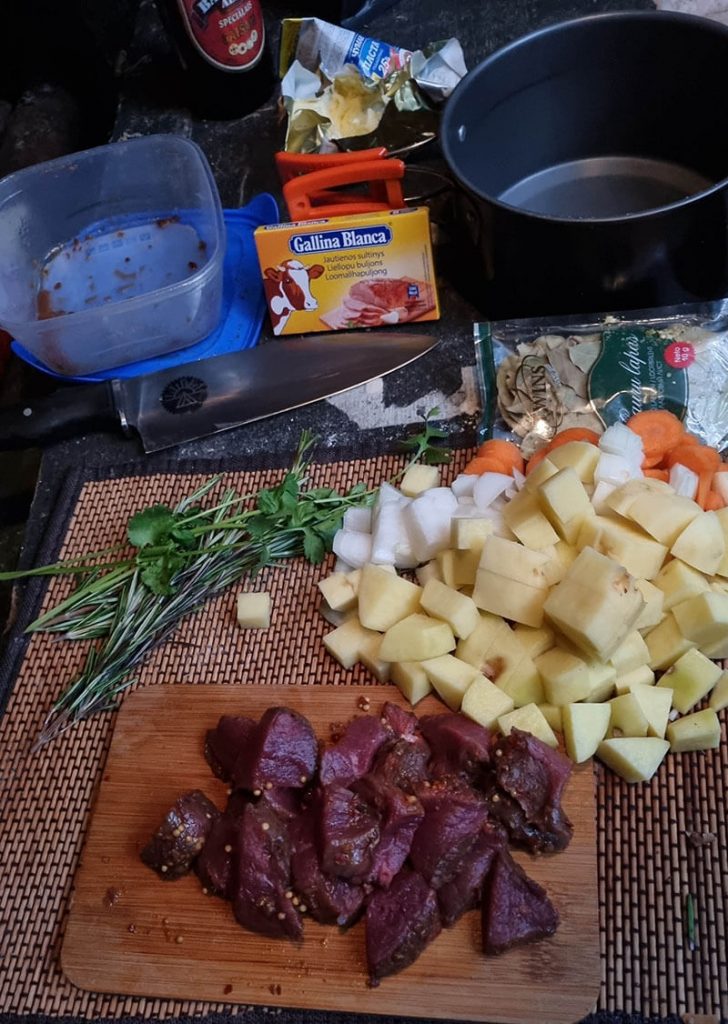 Your turn…
As you probably already got from the recipes, there is no exact amount or exact ingredients that you have to take or add. This is the beauty of making food in the wild.
Everything is going to taste great if you put a little bit of your own ideas into it and cook over a campfire. Feel free to experiment with ingredients and spices. Make the process enjoyable for yourself and your riding friends and make not just beautiful, but also tasty memories together!
Rihards Grunte
Rihards is a Latvian forest food chef and adventure bike rider and traveller. Rihards, goes on awesome biking adventures and cooks up incredible meals while he's at it from smoking fish to towering burgers. You can follow more of his culinary adventures on his awesome website and check out his YouTube channel too. And if you're interested in riding in Latvia, take a look at his Motorcycle Travel Guide for Latvia on Mad or Nomad below as well. 
ps. We may receive a small commission, at absolutely no cost to you, if you purchase any products using the links on this page. We're not sponsored by anyone, are completely impartial and don't run ads. So this helps us keep the site running. Thank you for your support.
Read more on Motorcycle Camping
Thanks for checking out this Motorcycle Camping Food Guide. We hope you enjoyed it! Here's a few more articles on motorcycle camping that we recommend you read next. 
Do you enjoy preparing delicious motorcycle camping food? Or do you have any questions or tips to share? Let us know in the comments below.