Welcome to the Best Round the World Motorcycles Guide. Here's a selection of the best RTW bikes currently in production in 2023, with a pick of excellent older models and more in-depth guides on adventure bikes.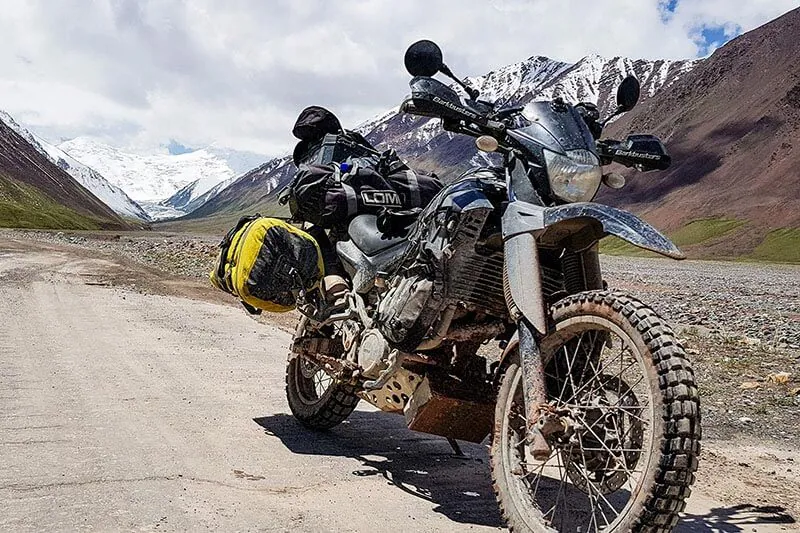 What we mean by 'Round the World Motorcycles'
You can travel round the world on any motorcycle. Any bike is an adventure bike – we're big advocates of that. Just take a look at the Motorcycle Travel Stories section where we showcase awesome adventures on mad bikes from riding a Yamaha R1 to the North Pole to a Royal Enfield Bullet round the world to the mighty Honda Cub's crazy adventures in Africa.
But if we open this article up to every bike in the world, we'd break the website. So, we've stuck with conventional RTW motorcycles for this list.
By that, we mean bikes that can easily be ridden off-road, are tough and can take a beating, are comfortable over long distances, have decent ground clearance, with spare parts available worldwide and can be easily fixed anywhere.
Why we chose new models
There are a hundred and thirteen motorcycles missing from this list. You're right – the Suzuki DRZ400 is a great round the world bike too, and so are all the rest of them.  
But this article's job is to show what we reckon are the best motorcycles to ride round the world on today. Meaning, current bikes that are still in production and being sold in 2023. We've chosen to focus this list on new models to make it more accessible as newer bikes are more widely available and easier to source the world over.
How we chose these RTW motorcycles
We selected these bikes based on the considerations set out in our How to Choose an Adventure Motorcycle for Travelling article. The comprehensive guide is designed to help readers pick the right type of motorcycle for their  trips – specifically long-distance overlanding adventures – and is built up of questions to ask yourself to help narrow down your choices. The motorcycles here satisfy those requirements the best and that's why they've made this list.  
Choosing your adventure motorcycle
If you're in the market for a new bike for travelling, take a look at the Choosing Your Motorcycle guide first. If you're after an adventure bike, but not necessarily to ride round the world on, then have a look at our Best Adventure Motorcycle Guide and visit the Adventure Motorcycle Guides page for all our bike guides in one easy to find place. 
The Best Round the World Motorcycles of 2023
Here's our selection of the best round the world motorcycles in production and on the market in 2023. This article will be updated yearly and discontinued bikes will be dropped into the 'Older Models' section below. Let's get to it!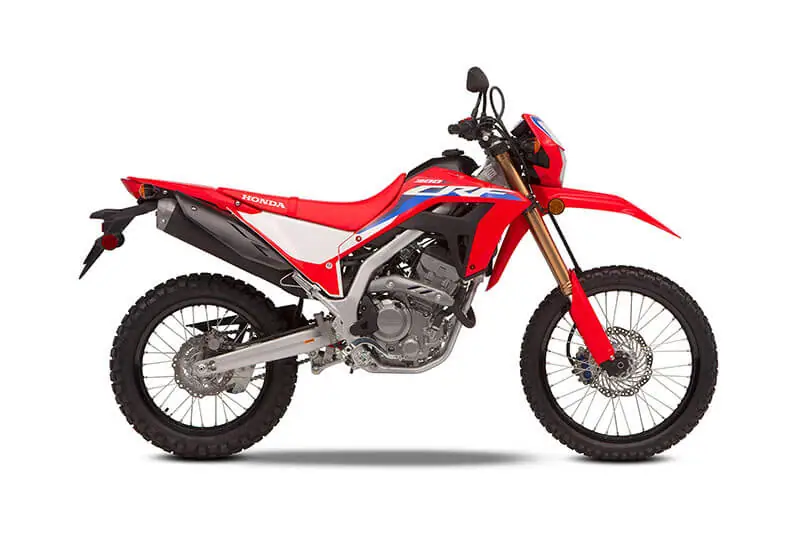 Specs
Released: 2021, Engine: 286cc single-cylinder, Power/ torque: 27bhp/ 26.6 ft-lb, Tank: 7.8L, Seat height: 880mm, Weight: 142kg, Suspension: front 43mm USD forks non-adjustable/ rear monoshock preload-adjustable, Tyres: 21/18
Why ride round the world on a CRF300L
Lightweight, simple, easy to work on, a doddle to ride and fun. These attributes make the CRF300L an excellent choice for a round the world motorcycle and our top pick. 
But let's break it down first. One of the most important attributes in a RTW bike is reliability because nobody wants to break down on a dusty road in Uzbekistan. You can count on Honda reliability and that's a major plus point for this little bike. The 300L's predecessor (the CRF250L) has been going since 2012 and has amassed a worldwide following. Parts and mechanics are readily available and the motor is dogged, proven and easy to work on.
Next up is size and weight – another huge win for this bike. The 300L weighs in at a lean 142kg. You'll notice more and more riders are opting for lighter machines – a sort of return to overland motorcycling's routes – because unless you're a pro off-roader, lugging a 250kg+ machine with all your gear on around is hard work. 
With a smaller bike like this, you'll be far more confident taking the road less travelled, won't be as worried about picking it up on your own and more likely to tackle difficult terrain. 
It's also a very forgiving and easy bike to ride. When riding round the world, you're going to be with your motorcycle day-in, day-out and that's what you need. 
Finally, it's got some decent improvements over the outgoing 250 model such as an engine capacity, power and torque increase, reworked gearing for smoother sailing in sixth and an improved chassis for off-roading. Win. 
The CRF300L is a trailie bike that's going to be a blast off-road and the perfect RTW companion.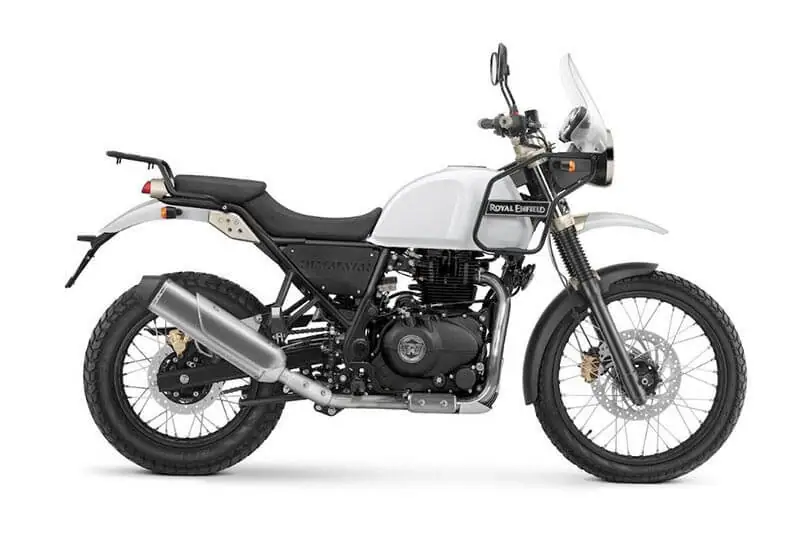 Specs
Released: 2016, Engine: 411cc single-cylinder, Power/ torque: 24bhp/ 23.6 ft-lb, Tank: 15L, Seat height: 800mm, Weight: 185kg, Suspension: front 41mm forks / rear monoshock, Tyres: 21/17
Why ride round the world on a Royal Enfield Himalayan
Think of the Royal Enfield Himalayan as a back to basics adventure bike. It's simple, inexpensive, easy to work on and novice friendly. It's never going to bite your hand off if you yank the throttle and that inspires confidence when riding this bike – especially off-road. 
There's a lot to be said for easy-going travel bikes, and this is one of the easiest out there. The Enfield has no complicated gizmos or rider modes. The forks and spring are simple but sturdy enough, the motor is basic but with enough poke and there are very few additional features. It has a low seat height, decent 15 litre tank, comfy upright riding position, big 21 inch front and there's already a huge range of bolt-on extras to help get it kitted out for big adventures.  
It's a simple, easy going machine, will go pretty much anywhere you want to take it and will put a smile on your face while you're at it.  
READ MORE: Royal Enfield Himalayan Review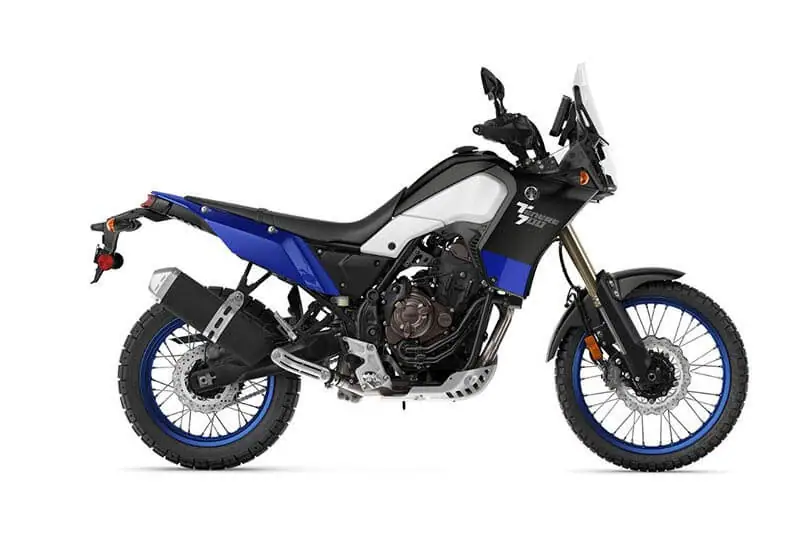 Specs
Released: 2019, Engine: 689cc parallel-twin, Power/ torque: 72bhp/ 50 ft-lb, Tank: 16L, Seat height: 880mm, Weight: 205kg, Suspension: front 43mm KYB USD forks / rear sachs monoshock, Tyres: 21/18
Why ride round the world on a Yamaha Tenere 700
This bike needs no introduction. The Tenere 700 was one of the most hyped up and marketed bikes in years – and for good reason too. Yamaha clearly aimed this bike at off-road adventure riders and that criteria ticks all the boxes of round the world bikes too. 
Finally, a middleweight adventure bike that isn't bloated with electronics and has a healthy weight of 200kgs. We need to appreciate Yamaha's move here, at a time where manufacturers are injecting every rider-aid and gizmo they can and ramping up the price of their new stock, Yamaha took a courageous step back and pointed the Tenere towards the simplicity of original pure adventure bikes and with an affordable price tag too.
This bike has been built for off road adventure riders. But as it uses the MT-07's pokey twin motor making it a great road bike too. Yamaha fine-tuned the engine and draped it in off-road focused clothing including off-road chassis, long travel, excellent adjustable suspension and gave it plenty of power and torque. So, if you're after a middleweight bike because a single-cylinder just won't cut it power wise, then the 700 is an excellent option. It's a blast on road and will put a much bigger smile on your face than a single-cylinder could when scratching corners.
This versatile machine is perfect for those who want to predominately ride the rough stuff but also want a great (and comfortable) road bike, are happy without all the electronics, are after something reasonably affordable. It's a proper adventure bike and does its Dakar Tenere ancestors proud.
READ MORE: Yamaha Tenere 700 Review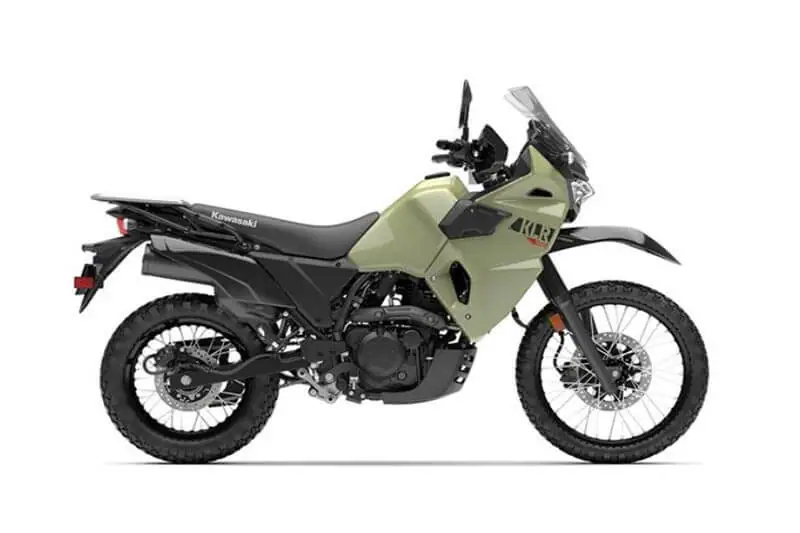 Specs
Released: 2022, Engine: 652cc single-cylinder, Power/ torque: bhp not provided by Kawasaki, but we estimate 40bhp/ 39.1 ft-lb, Tank: 23L, Seat height: 871mm, Weight: 208/213/220kg (dependent on model), Suspension: front 41mm telescopic forks / rear Uni-track monoshock – preload and rebound adjustable, Tyres: 21/17
Why ride round the world on a Kawasaki KLR650
Loved by American adventure bike riders, the Kawasaki KLR650 is the US's answer to the UK and Europe's Yamaha XT660R. Unfortunately for us Brits, the KLR isn't offered to the UK market, so this one is just for American, Canadian and Australian riders.
Built in the 1980s, the KLR had a 30-year streak with pretty much zero changes. During that time, it built up a huge 'dual-sport' following in the US. Why? Because, like all the other proper round the world motorcycles – it's utilitarian. The KLR is a simple machine and there's nothing over the top about it.
Think of the Suzuki DR650: basic, but that's what makes it so rugged. Simple telescopic forks, single twin-piston sliding caliper, steel frame and nothing to write home about. But that's a good thing for a round the world motorcycle, because there's less to go wrong and it's easier to fix when it does.
But in 2022 the legendary Kawasaki KLR650 was finally been brought back to life and given a makeover. Updated and upgraded for '22, the KLR gets an LCD dash, an ABS option, fuel injection, one piece frame, new fuel tank and fairings, clutch updates, more mid-range power, new seat, wider bars and pegs, screen and a few more tweaks. There's a lot of new changes, but none of these are special. Instead they just bring a very outdated bike up to the minimum level of today's bikes.
So, while before it was like the DR650, it's now a more modern, emission compliant, acceptable and more comfortable version of that.
And another massive plus is its competitive price tag. You can get a new model for £5,124 / $6,699… that's a lot of adventure for a brand-new bike.
The KLR650 falls into the same bracket as the Royal Enfield Himalayan. If you're after a back to basic, reliable, simple, easy to work on adventure bike, but with more power, a larger tank, more comfort and an all-round larger motorcycle, then this one's for you.
Honda CRF1100L Africa Twin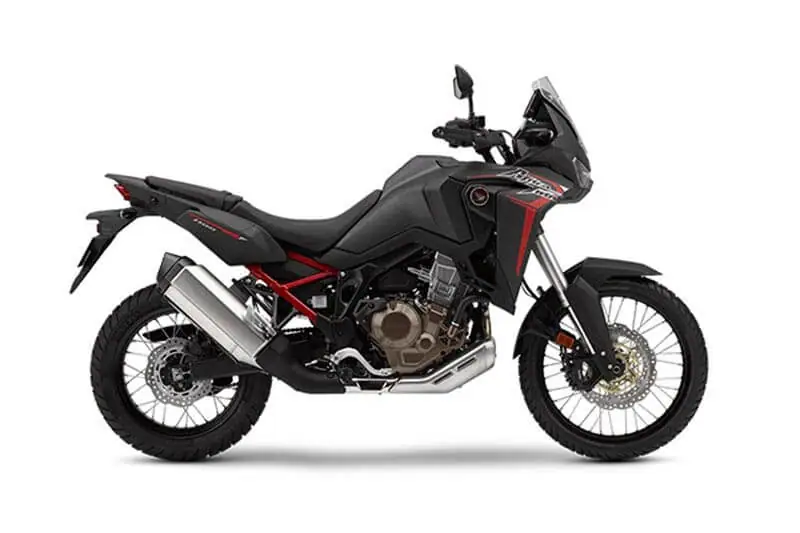 Specs
Model: 2020, Engine: 1084cc parallel-twin, Power/ torque: 100bhp/ 78 ft-lb, Tank: 18.8L, Seat height: 850mm, Weight: 226kg, Suspension: front 45mm Showa USD forks – fully adjustable / rear Showa monoshock – fully adjustable, Tyres: 21/18
Why ride round the world on a Honda Africa Twin
Why is a 1000cc motorcycle on this list considering all of its lightweight competitors? Because it's the best option on the market today for those looking for a heavyweight machine. There are so many reasons why you might want to go for a bigger bike. Not all round the world riders crave the road less travelled, or want to ride endlessly off-road, some might be on a two-up trip and need something capable of carrying more gear, you might want to take in more road miles or you might just be a bigger person and need the comfort and space of a larger motorcycle. Whatever the reason, people travel on larger motorcycles and if you're after a 1000cc+ machine, this is our recommendation and here's why…
The Honda Africa Twin takes a step back from the conventional heavyweight adventure bike spec sheet. We're now up to Honda's third iteration of the Africa Twin since its 2016 CRF1000L re-launch. Now as the 1100L, Honda have taken the bike even further down the off-road route (for a list of its changes, check out the Best Adventure Motorcycles article).
But overall, the Honda Africa Twin is a lighter and more off-road focused motorcycle than its competitors in the heavyweight division. It's well suited for those who like to ride off-road just as much as on road and aren't after the touring focused luxuries of the GS. It's a capable adventure bike with a more balanced mix of capabilities from off-roading and trail riding to touring and carving up mountain bends. If you need a larger bike for your round the world adventures, you can't go wrong with the Honda Africa Twin.
The Shortlist
More New Bike Options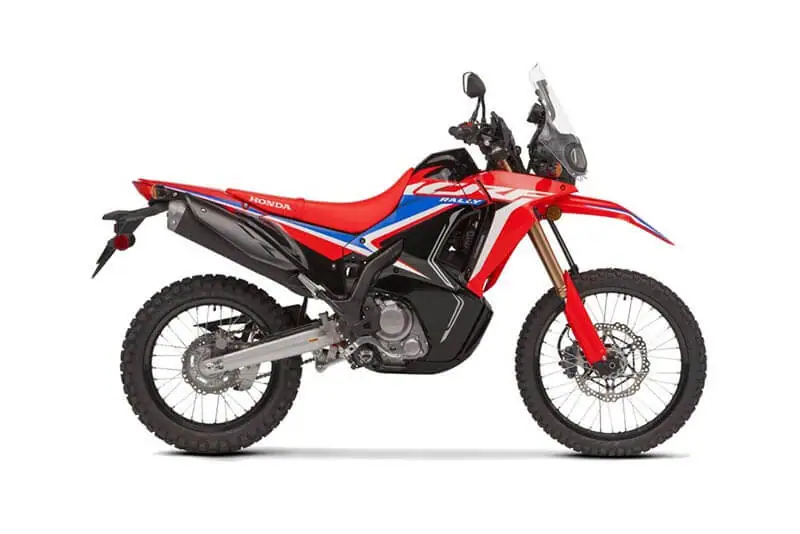 While the 300L is geared more towards off-roading, the Rally version takes on long-range riding and comfort. It's beefier and bigger with a larger tank, wider seat, stronger brakes, higher ground clearance and also gets treated to its own set of goodies like a proper alloy bashplate and a 4kg diet.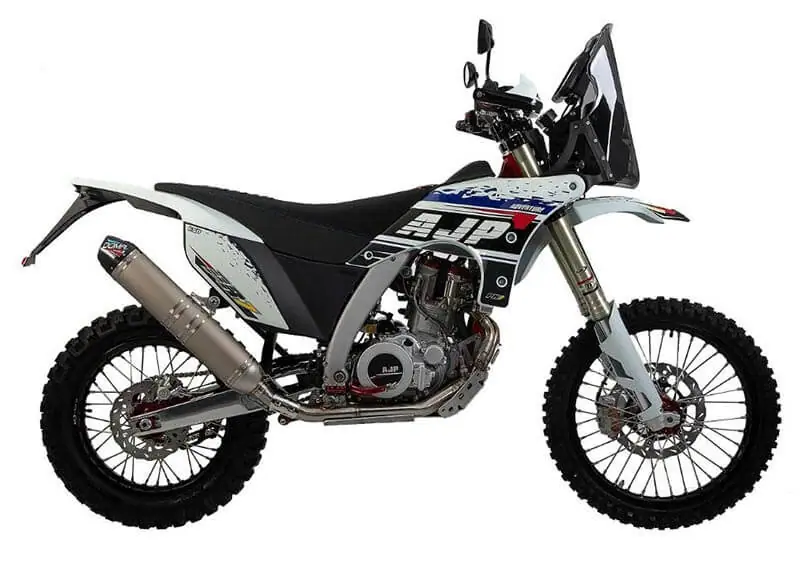 The AJP PR7 Adventure is a no-nonsense adventure bike and the most off-road focused machine in this list. The AJP is packed with dirt riding goodies like the fully adjustable front and rear Sachs suspension, Dakar rally style setup and there's no unnecessary for off-road electronics like traction control. 
READ MORE: AJP PR7 Adventure Review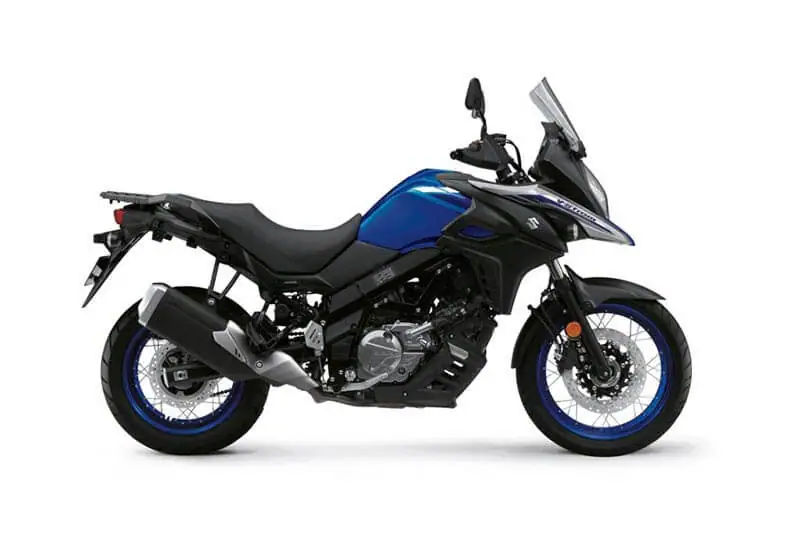 The Suzuki V-Strom is not going to knock your socks off. Instead, you've got an incredibly easy to use and simple machine that does everything well. It's well priced with a proven engine, excellent fuel consumption and big tank. It's a versatile workhorse and if you're after a bigger bike for predominately road miles, this makes a reliable round the worlder. 
READ MORE: Suzuki V-Strom 650 Review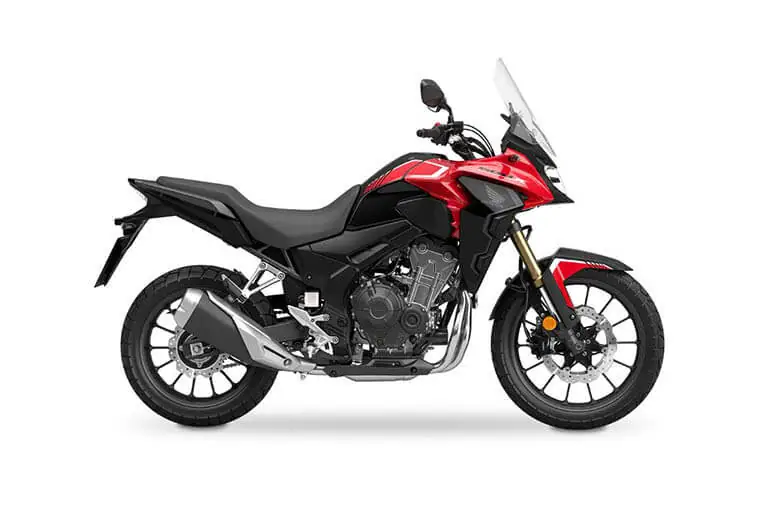 The Honda CB500X is gaining popularity in the adventure bike scene. The twin has been around since 2013 and, due to its popularity, was revamped in 2019 and 2022. Like the V-Strom, the CB is a fantastic road bike, but lighter, smaller, more nimble. If you want to go full on, there's the option of a (pricey) Rally Raid kit too.
READ MORE: Honda CB500X Review
Discontinued
Older bikes no longer in production
Honda CRF250L / CRF250 Rally
The Honda CRF250L and Rally only ceased production around 2020. Their successors are bigger and better but that doesn't stop these from being formidable options. Lightweight, easy to ride, reliable, simple to fix and a lot of fun to ride. These make for great round the world machines. 
READ: CRF250 Rally Review
The Suzuki DR650 is much loved by adventure bike riders and round the world riders. They're cheap, solid and dependable machines that pack enough of a punch to keep a smile on your face. They're massively outdated now compared to the current crop, but too legendary not to include on this list. 
READ MORE: Suzuki DR650SE Review
Ancient but bullet proof engine, fuel injected, easy to work on, ultra simple, reliable and tough. These bikes will go anywhere, do anything and take whatever you can throw at them. The Yamaha XT660 makes for a brilliant round the world motorcycle. 
READ: Yamaha XT660R Review
More on Adventure Motorcycles
Thanks for checking out the Best Round the World Motorcycles Guide. We hope you enjoyed it! Here's a few more articles on adventure motorcycles and round the world bike travel that we recommend you read next. 
Liked that? Try these next…
Are you looking for a round the world motorcycle or planning a RTW trip? If you have any questions or would like to share your thoughts, then leave us a comment below. We'd love to hear from you.