Welcome to the Best Motorcycle Touring Destinations of 2023. This guide lists our top selection of countries to go on a motorcycle tour this year. You'll find a bunch of awesome routes based on our personal travels, why they're so good and what you need to know about riding there…
Motorcycle Touring Destinations 2023
What is a motorcycle tour?
Motorcycle touring simply means to go on a motorcycle trip. However, the term 'touring' also tends to lean towards and focus more on tarmac road trips – as opposed to 'adventure' trips, which tend to lean more towards a mixture of road and off-road riding. So, we've specifically written this article with great road routes in mind. If you'd prefer a mix of gravel and off-road riding, check out the Best Adventure Motorcycle Destinations of 2023 instead.
How to get to these destinations?
The countries we've picked can be accessed via flying in and renting a bike, joining an organised or self-guided tour, or taking your own bike there. We'll cover your options in each section below.
How and why did we pick these destinations?
We chose the following countries for 2023 based on our own personal experiences riding motorcycles there. We've ridden there, had an incredible time and reckon you will too. We also based the decisions on ease of access and current prices. Of course, there are hundreds of places, roads, routes and countries that can be added to this list – it's by no means exhaustive. These are just a few of our top picks for this year and we will add to the list regularly and update it each year.
For more info on other countries including ride reports and our travel guides, check out the Destinations page. 
The Best Countries for a Motorcycle Tour in 2023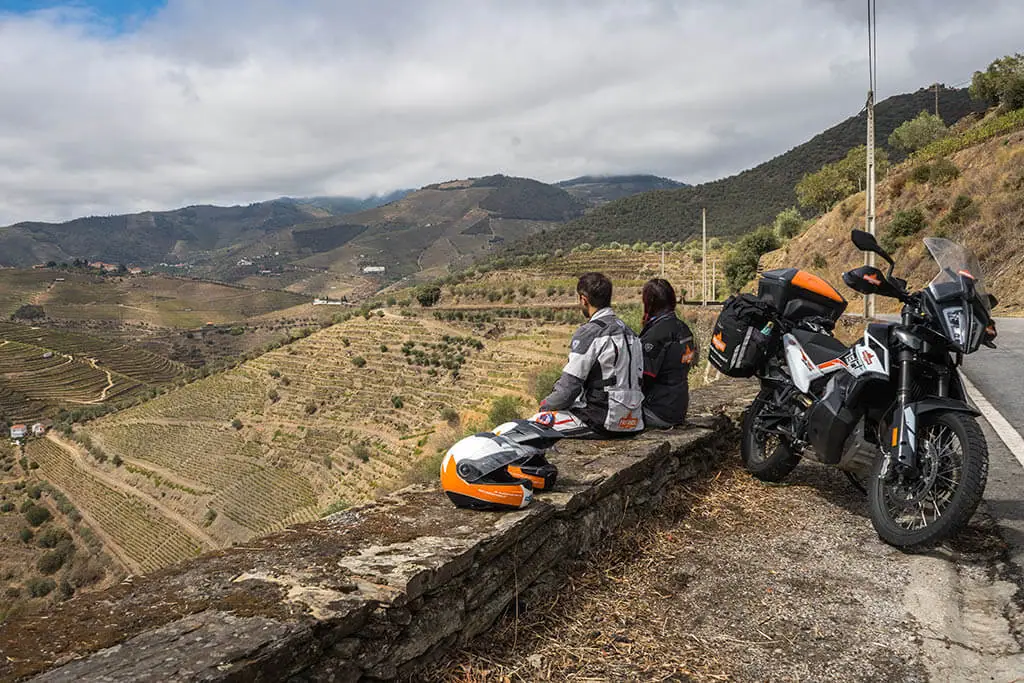 Best route: Porto and the Douro River.
The route: We recommend starting in Porto, head for the Douro River and chase it along the legendary National 222. You'll find insanely twisty mountain and forest roads alongside the river that lead deeper into the country, up and over gargantuan dams and along sun drenched vineyards.
How to get there: Either ride your own bike to Portugal, fly to Porto and rent a motorcycle or join a guided or self-guided tour.
Rentals and tours: Portugal makes it easy to rent a bike or join an organised tour. It completely depends on how long you've got, what you want to see and how you like to ride. If you're strapped for time and want everything pre-arranged, we'd opt for a self-guided tour. A company will book all your hotels in advance and give you a loaded GPS with daily routes to each hotel already plotted out. All you have to do is turn up and ride.
Taking your own bike: Taking your own bike into Portugal is also very easy. If you're from the UK or Europe, then it's worthwhile. Otherwise, it may be easier to fly in and rent or join a tour.
Why it's so good: Portugal is both on this touring list and on the best adventure motorcycle destinations list. And that's because it's a slice of motorcycling paradise. It has something for everyone from adventurous off-road routes cutting their way through the countryside to endless twisty black top roads that weave and carve their way up and over mountains, through forests, along gorgeous rivers and chase the coast and sparkling rivers. You can easily stick to asphalt in Portugal as it has some of the best road riding in Europe.
Portugal is also very easy to access and cheap to get to and from, making it an ideal country for a motorcycle tour.
We headed to Porto for our honeymoon, rented a KTM 790 Adventure as part of a self-guided tour and headed off to explore one of the most romantic spots in Europe – the gorgeous wine vineyards of the Douro River. Delicious food and wine, wonderful people and gorgeous towns. You've got to be careful here, it's easy to stay way too long.
More info: For more info on joining a tour, our ride through Porto and our detailed motorcycle travel guide on Portugal, check out the below guides.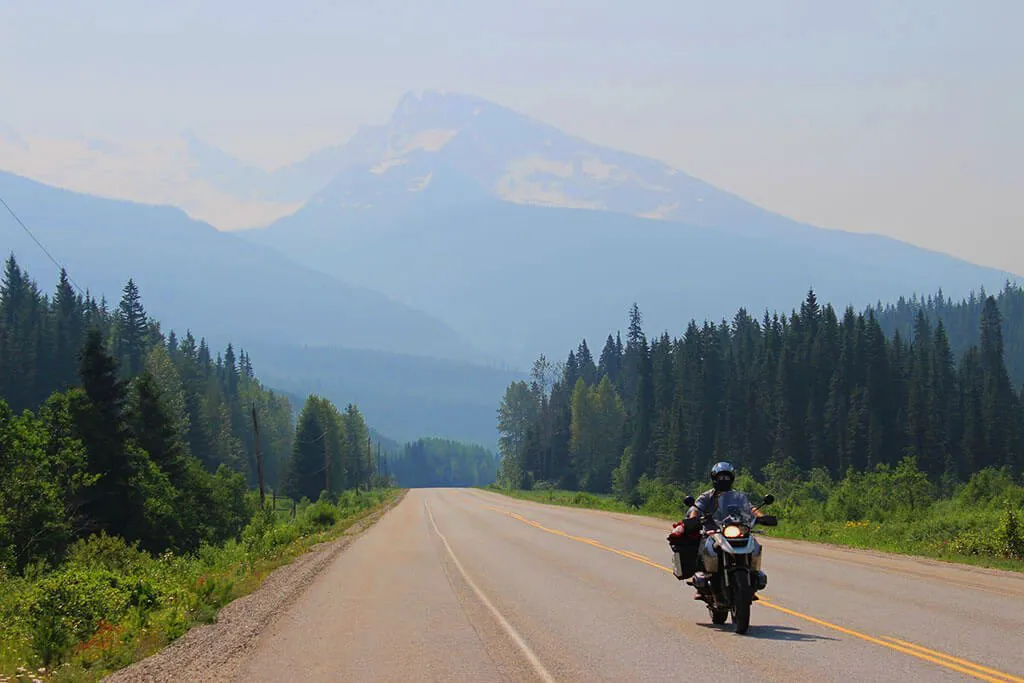 Best route: Western Canada.
The route: The route starts in Vancouver, BC and heads up to Alberta, the Icefields Parkway, onto Mount Robson and loops back around via Kamloops to Vancouver.
How to get there: Get to Vancouver with your own motorcycle or fly in and rent one or join a tour.  
Rentals and tours: Renting a motorcycle in Vancouver is easy and so is joining a guided motorcycle tour. Which you choose depends on how much time you have and how you like to ride. We have a dedicated guide on how to rent and our recommended companies below. 
Taking your own bike: Unless you live in Canada or the USA, taking your own bike to Canada just to ride this loop is going to be very time consuming and expensive. But it can be done if you want to ship your motorcycle there. Visit our recommended shipping companies page for more info.
Why it's so good: Riding a motorcycle on in Western Canada is unbelievable. British Columbia and Alberta are serene, unspoilt and brimming with wildlife, incredible views and some of the most intensely beautiful nature in the world. Slinging a leg over a saddle and heading into the Canadian Rockies will be one of the most memorable rides of your life and needs to be right at the top of your bucket list.
Specifically, the Icefields Parkway will make your jaw drop onto your handlebars. Glaciers and pristine blue water line the roadside, long stretches of asphalt lead to the highest mountain in the Rockies and bears and moose cross the road in front of you. It's a beautiful place to ride and you'll love it.   
More info: For more info on joining a tour, renting and our ride through Canada, check out the below guides.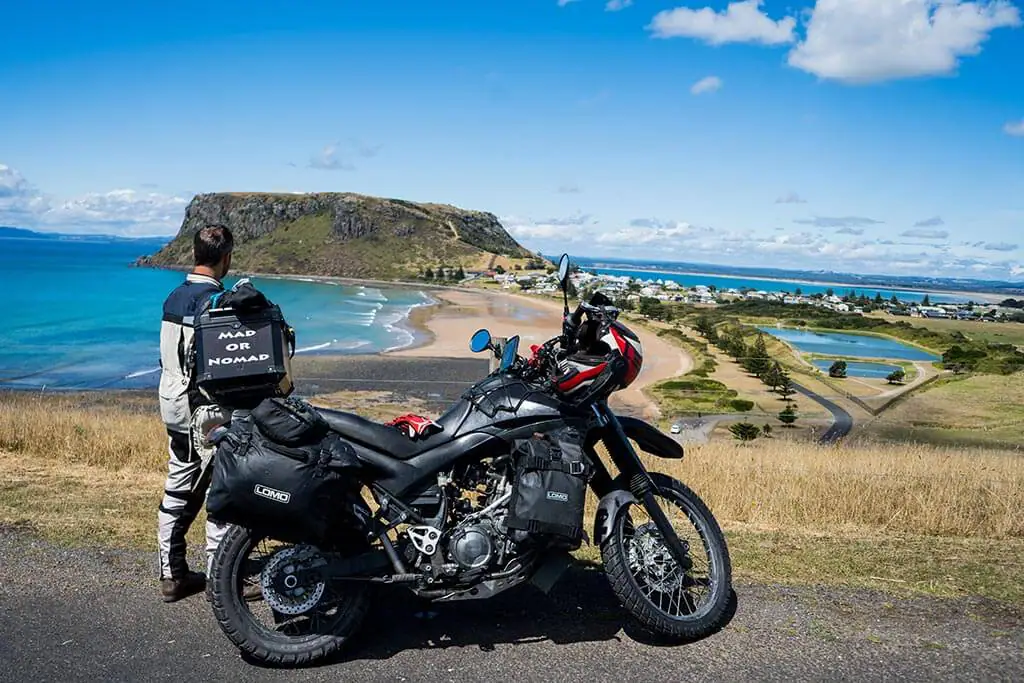 Best route: Tasmania island loop.
The route: The route starts in Devonport and can either go clockwise or anti-clockwise around the country. The main points to hit are Stanley, Zeehan, Queenstown, Gordon Damn, Hobart, Bruny Island and Binalong Bay.
How to get there: If you're coming from Australia with your own motorcycle you will need to get the ferry from Geelong or you can fly to the island and rent.
Rentals and tours: Unless you already have a motorcycle in Australia, renting a bike or joining a tour in Tasmania is the way to go. You can then bypass the rough 10-hour ferry crossing from Geelong, fly to Tasmania, pick up your bike and go.    
Taking your own bike: To get your motorcycle to Tasmania you will need to cross the Bass Strait on the Spirit of Tasmania Ferry from Geelong in Australia. There are regular sailings, but book in advance. The crossing is around 10 hours and you can ride your bike on and off the boat.  
Why it's so good: Tasmania is wild, unpredictable and raw. There are incredible off-road routes slicing through the island, but you can ride spectacular tarmac roads all day long for weeks on end here and not scratch the surface. The twisty black stuff weaves through ancient forests, up and over mountains and along rugged coastlines. Penguins waddle across the beaches, platypuses swim in rivers, old gold mining towns serve up delicious tea, cakes and pies and you'll want to stay just keep exploring.
And you will not be alone. Tasmania is an Australian motorcyclist mecca. You'll find packs of cruisers, adventure bike riders, tourers, enduro riders and sports bikes enjoying this incredible little island at the end of the world. It's far away from pretty much everywhere else on earth, but it's riding is like nowhere else on the planet.
More info: For more info on joining a tour, renting and our ride through Tasmania check out the below guides.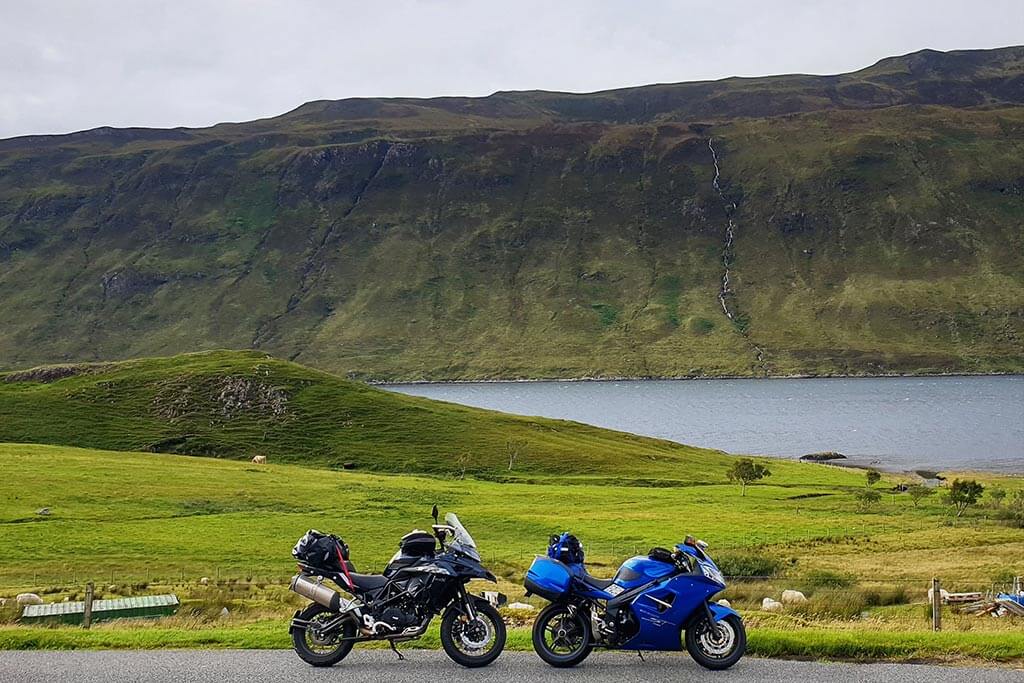 Best route: United Kingdom tour
The route: You're spoilt for choice in the UK. It's a small country but there are hundreds if not thousands of spectacular routes packed into England, Scotland, Wales and Northern Ireland. So, we suggest checking out our Six Best Routes in the UK article to help pick your next motorcycle tour.
How to get there: If you're already in the UK, then these routes are easily accessible. From Europe you'll need to use the Channel Tunnel or ferry and from further afield, it makes sense to fly in and rent or join a tour.  
Rentals and tours: There are some fantastic motorcycle tour operators in the UK and you can rent or join a guided tour in England, Wales, Scotland Northern Ireland with ease.  
Taking your own bike: Assuming you're already in the UK, then it's easy riding to these routes. If you're coming from Europe you can transport your motorcycle using a van service or use international shipping if you're coming from outside of Europe.
Why it's so good: Even though the UK is small, our roads and routes are world class. Sure, there's a fair bit of riding to link them up, but once you take them on you'll love them. Some of our top picks are: the epic North Coast 500, Snake Pass, Black Mountain Pass, the Antrim Coast, Cheddar Gorge and Snowdonia.
Where you ride and which routes you take on depend on your timeframe and the time of year you're touring. Have a read through our UK guides for more info on UK ride reports.
More info: For ride reports, routes, how to guides and our favourite tours in the UK, check out the below guides.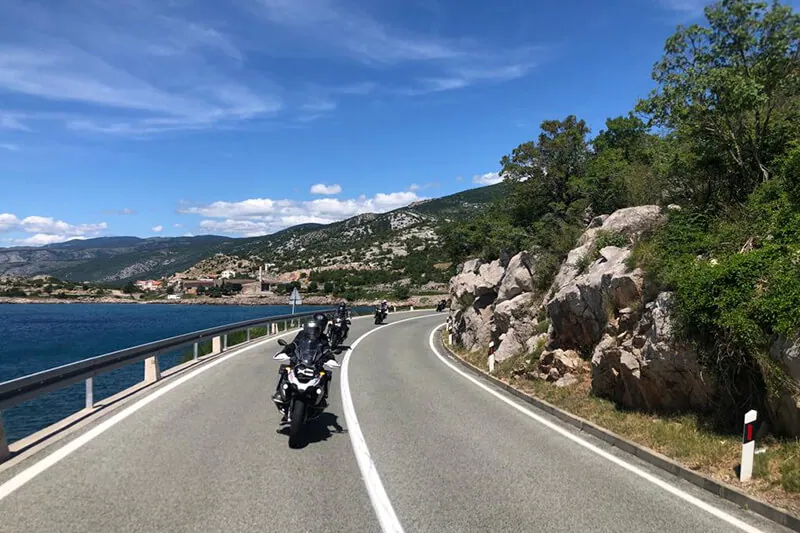 Best route: The Croatian coastline
The route: Ride the Croatian coastline along the sublime Adriatic Sea from Zagreb to Dubrovnik.
How to get there: Croatia borders Slovenia, Hungary, Bosnia and Herzegovina, Serbia and Montenegro. You can also use a ferry service from Italy.
Rentals and tours: Croatia has plenty of excellent motorcycle rental and tour companies to choose from offering a wide range of bikes.
Taking your own bike: Riding your own motorcycle from Europe to Croatia is easy and straightforward, especially as there are plenty of borders in all directions and the ferry service from Italy.
Why it's so good: Croatia sits at the top of the touring list for European riders because of its awesome roads, the stunning Adriatic coastline, gorgeous scenery, mountains, lakes, islands, friendly people, beautiful architecture and delicious cuisine.
But one of its absolute best highlights is the coastal road down towards Dubrovnik – one of the world's most perfectly preserved medieval cities. Have a read of our Motorcycle Travel Guide: Croatia as it's packed with info on this route as well as a selection of Croatia's best riding roads.
More info: For more information on riding in Croatia including the best routes and how to ride them, check out the below guides.
Read more on motorcycle touring
Thanks for checking out The Best Motorcycle Touring Destinations of 2023. We hope you enjoyed it! Here's a few more articles on motorcycle touring that we recommend you read next. 
Are you planning a motorcycle tour? Do you have any questions or recommendations? Let us know in the comments below.