You're going to love riding in Kielder Forest, it's a bucolic wonderland of gorgeous nature and fun roads. This article shows you our favourite route and one of the best motorcycle tours you can do in Northumberland with a map and step by step guide.  
Why motorcycle tour in Kielder Forest, Northumberland?
Kielder is home to England's largest forest. It's a stunningly beautiful part of the UK, has the biggest man-made lake in Northern Europe, is brimming with wildlife, epic roads, architecture, history and quintessential towns. What better reason do you need to go on a motorcycle tour there!
And a run to Kielder Forest is one of my absolute favourite ride outs from home. It's a place of stunning scenery and tranquillity and is also home to the Dark Sky Observatory at Black Fell as well. And importantly, the entire area surrounding Kielder Forest is incredible for riding, so I know you'll love it too. 
Where is Kielder Forest?
Kielder Forest is located in Northumberland, England and surrounds Kielder village and the Kielder Water Reservoir. And the village of Kielder itself is only a few miles from the border with Scotland.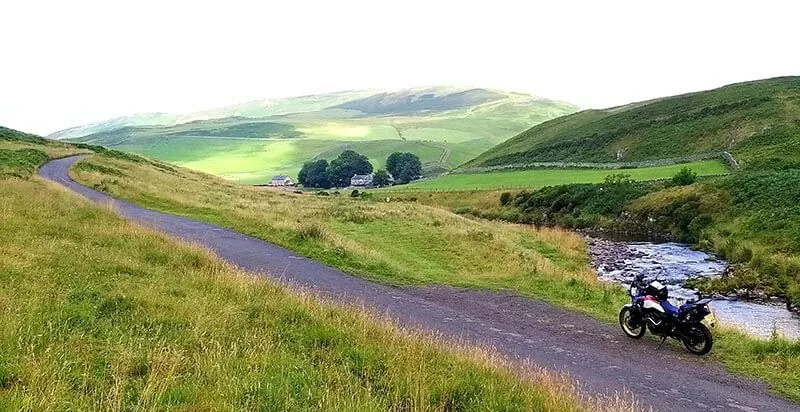 The Best Motorcycle Tour in Kielder Forest, Northumberland
On my last visit, I started out from the lovely Hadrian's wall campsite near Haltwhistle, so we'll start this motorcycle tour route guide from there.
Here's the baseline Google route map. You'll find the start to end of the main route here, however, there are a number of ways you can end the last section of this tour to complete the loop. We've included our favourite option in this map below, but you'll find other suggestions in the step-by-step guide below. 
To save this map to your phone, click the 'More options' button underneath the pin in the top left hand corner. 
The Kielder Forest Motorcycle Route Guide
Head into the town of Haltwhistle and cross the A69 to pick up the Penmeller road to Bearsbridge. From there, turn left onto the A686.
Follow this road past the Handsome Langley Castle. Cross the A69 to Hayden Bridge and follow the B6319 reaching Fourstones.
Turn left, still on the B6319 until you reach a T-junction and turn right onto the B6318.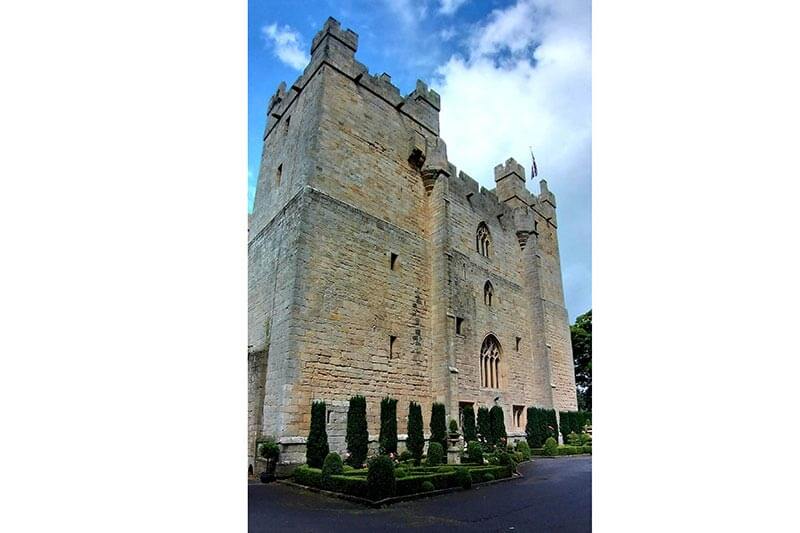 This eventually meets the B6320 where you turn left at the roundabout. Follow this road until you reach the lovely little village of Bellingham. Here you will turn left onto the Kielder water road. Soon you will reach Kielder water at Falstone and will find a lovely stop off for a coffee, beer or meal.
Moving north to the village of Kielder, we take the Forest drive which is a 12-mile-long ride through the forest and mainly on gravel. It's worth the ride as you'll instantly feel like you could be motorcycling anywhere in the world.
There's an interesting sculpture halfway (Blakehope Nick), and it's an ideal place for a packed lunch break. The ride itself in the summer is easy to do and any motorcycle should be capable of negotiating the terrain. But if you don't want to get the odd stone chip on your paintwork, then it's best to keep the speed down to the 20mph limit.
I have done this ride several times and have only seen a few cars on it at any one time. There is a £3 voluntary fee payable at the Kielder Castle end. I don't mind paying it as it goes to the upkeep and patrolling for the price of a coffee these days!
The drive can be ridden both ways, either starting or finishing at Kielder Castle or the A68 near Byrness.
Once completed, turn left on the A68 and cross the Scottish border at Carter bar. Make sure you stop here for a pic and a coffee.
Head north a few hundred yards and take the A6088 Hawick road. Once at Cleugh, turn left onto the B6357. And then at Slaughtree you can turn left back to Kielder if you want to, or carry on ahead towards Canonbie and meet the A7.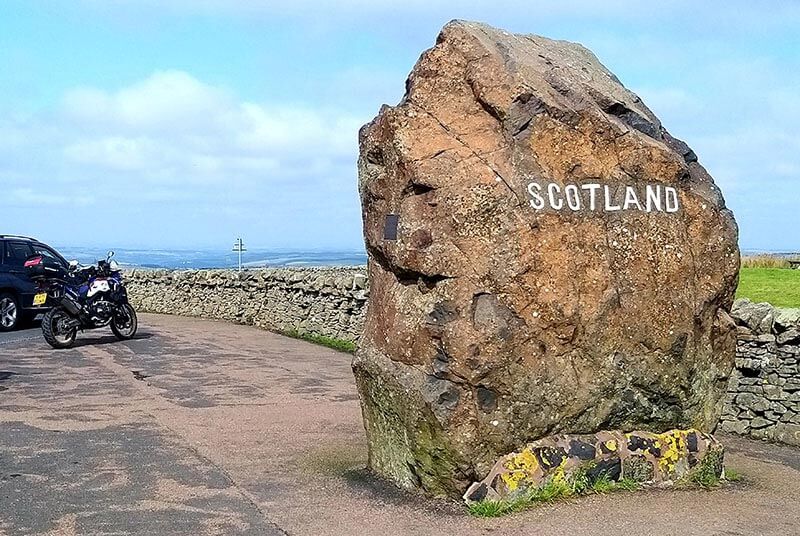 Take a left towards Longtown, and left again into Netherby street towards Catlowdy. Follow the road to the T-junction (Pentonbridge inn) and turn right onto B6318.
Chasing the B6318 makes for a brilliant and interesting twisty ride shadowing parts of Hadrian's Wall all the way back to Haltwhistle.
Fuel
The best fuel stops en route are in Bellingham, Kielder and Fourstones service station north of Hexham.
Accommodation
Camping
There are plenty of great campsites in the area. As mentioned earlier, the Hadrian's Wall campsite is where I started this tour from and I can thoroughly recommend it. However, if you'd like to search about, take a look at the below two guides. 
READ MORE: The Best Motorcycle Friendly Campsites in the UK
READ MORE: The Motorcycle Camping Guides
Hotels
There are a few hotels scattered around the area and it's best to book in advance. To give you an idea of where they are and their prices, take a look at the booking.com map below, which has a dropped pin on the Kielder Forest area.
More local routes
There are other routes that can be added to this little circular one like the Otterburn ranges. And the ranges are a great ride through the MOD firing area, but you will have to check with UK Gov website first to make sure they are open when you plan on visiting.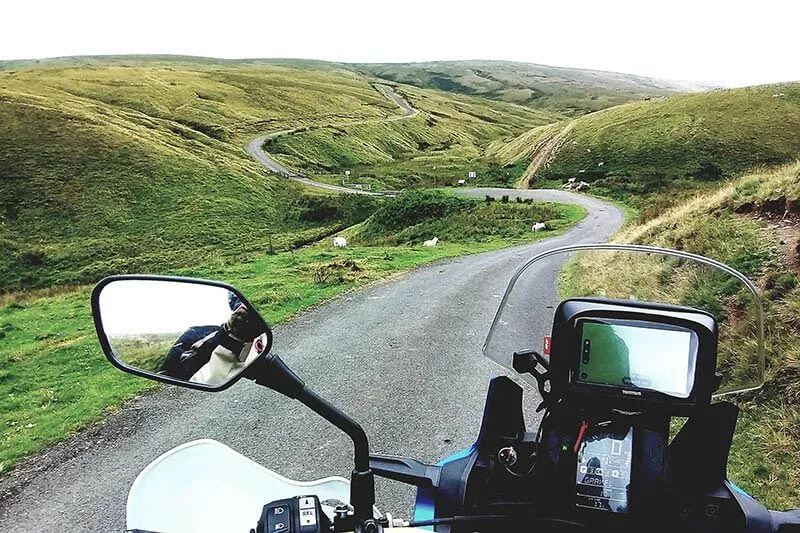 About the author
Rob Burden is a hugely experienced motorcycle traveller and tourer. He's 61 years old and knows the two-wheeled world well after working in the motorcycle trade for 30 years. He's travelled most of Europe, some of Africa and Turkey. And as well as non-stop motorcycle travel, he's also a seasoned traveller on foot with 3 Himalayan treks and climbs of over 20,000ft under his belt. 
Check out the UK Motorcycle Destinations page for more of his ride reports and motorcycle tour route guides. 
Read more on motorcycle touring in the UK
Thanks for checking out The Best Motorcycle Tour in Kielder Forest, Northumberland Guide. We hope you enjoyed it! Here's a few more articles on motorcycle touring in the UK and Europe that we recommend you read next. 
Are you planning a motorcycle tour in Kielder Forest or somewhere else in the UK? Do you have any questions or tips to share? Let us know in the comments below.