Here's a selection of the very best motorcycle top boxes for adventure bikes on the market today. This article showcases our top picks, all their pros, cons, features and the winners to help you choose the right luggage system for your adventure!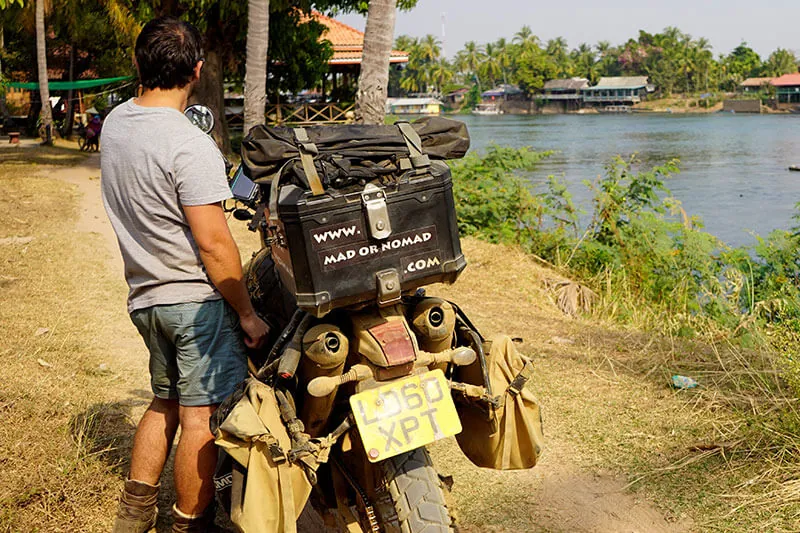 Why Choose a Motorcycle Top Box?
The top box is a brilliant and versatile way of securely carrying luggage on your motorcycle. It's perfect for so many different setups too, from commuters to tourers to round-the-world travellers and adventure riders. You can quickly and easily store important gear, valuables, your electronics or even a helmet if needed.
Adventure riders who like to ride off-road may want to opt for soft panniers over hard panniers as they're safer in case of a crash, but might still want the added security of a lockable box when off the bike. So instead of compromising on safety, you can opt for soft side bags and a hard lockable top box and get the best of both worlds.
Touring riders will often go for a top box for similar reasons, except for instead of off-road worries, eliminating hard panniers and going for sleeker plastic panniers or soft bags will mean they don't add any extra weight and width to their bike which can massively affect handling on twisty asphalt roads.
RTW travellers often go for a top box and soft luggage setup for much the same reason as adventure riders. It makes life so much easier having at least one lockable box for your camera and important paperwork.
Matching top box and hard panniers
You'll find top boxes often have matching hard panniers to complete the set. If you're going for a full hard luggage system, then go for the same brand and model as they're made to go together and fit the same pannier and top box mount and you can match the same key to all the locks. All of these top boxes have matching hard panniers available. You can check them out in our best hard panniers guide below.
READ MORE:
Have a read of our considerations below and then check out our top picks. These are some of the very best top boxes for adventure bikes on the market today. 
What to look out for when choosing a top box
You'll get caught out in the rain on your rides. No doubt about it. Luckily, the vast majority of top boxes worth their salt are waterproof. Whether you opt for an aluminium top box – which is usually waterproofed with welds and rivets – or a plastic top box, your kit should stay dry. Always do test runs and if necessary opt for waterproof inner bags for your box. 
Size isn't as big a deal with top boxes as it is with panniers. Sure, you need to make sure you can fit all your stuff in your top box, but the top box isn't going to make your bike any wider. You just have to decide how you want to distribute your equipment, so you can choose the appropriately sized top box.
However, how much weight you put in your top box is very, very important. Never overload your top box, especially if riding off-road. The constant vibrations and excessive weight over the rear of your bike will cause your mounts to snap and in the worst case scenario – your rear subframe. 
We found this out the hard way after our rear shock broke riding through Afghanistan. It ended with our top box snapping off and breaking the rear subframe, which left us with a hell ride from Tajikistan to Kyrgyzstan through no-man's land. 
READ MORE: Welcome to Afghanistan
READ MORE: The Legendary Pamir Mountains
Most adventure motorcycle luggage is made from aluminium of varying thickness and strengths. There are several reasons for this. First, aluminium is relatively light, so won't add unnecessary weight. It's also incredibly strong. But even if you take a tumble and damage an aluminium top box, it can simply be hammered back to shape. Plastic top boxes tend to be used more by road riders, and if damaged they will most likely crack, rather than dent.
The Best Motorcycle Top Boxes for Adventure Bikes
SW Motech Trax top box
Quick info: from £331, powder-coated
The SW Motech Trax Adv top box is fully waterproof thanks to a welded 1.5mm aluminium construction, and features fibre-reinforced plastic corners for strength, as well as powder coating to help battle oxidation and abrasion. Available only in 38 litres, the Trax Adv top box fits SW Motech racks, and can even be used with Givi racks with an optional adaptor plate.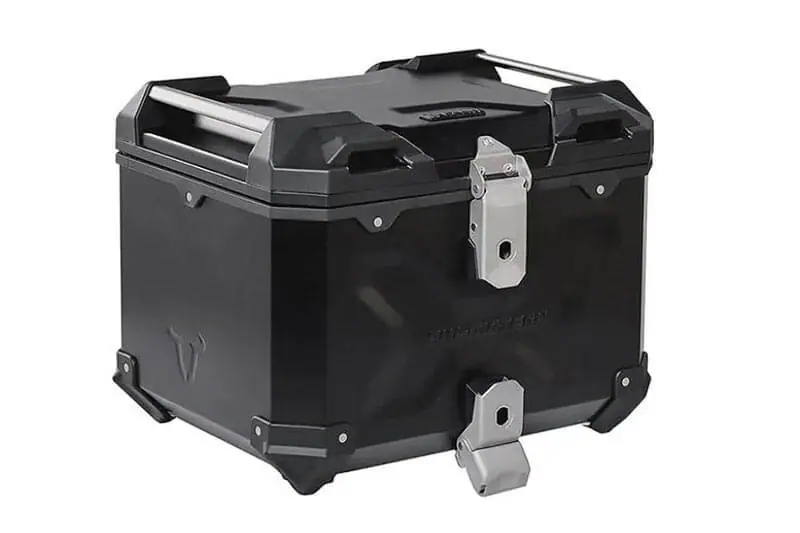 Features
Waterproof: Yes
Construction: 1.5mm aluminium
Extra features: Replaceable seal, will fit on racks from other brands with adaptor plates
Sizes: 38 litre
Colours: Black, Silver
Pros
Cons
Prices and varients
Touratech Zega Evo Pro top box
Quick info: from £284.72, one-hand locking system
Made from 1.5mm sheet aluminium at the Touratech factory in Germany, the Zega Pro top box is a tough and practical top box perfect for adventures. The case is waterproof and dustproof, and the plastic corners can be replaced if necessary. The Zega Pro top box is available with an anodised finish, which prevents aluminium rubbing off inside the case.The Zega Pro top box comes with Touratech's Rapid-Trap system, which means the top box can be removed from the mount in a matter of seconds, without opening the lid.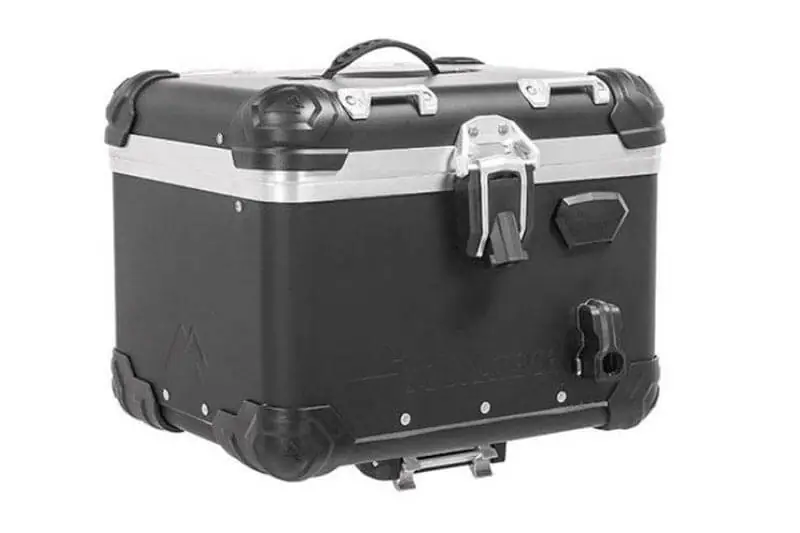 Features
Waterproof: Yes
Construction: Aluminium
Extra features: Replaceable corners, optional anodised finish, Rapid-Trap system
Sizes: 38 litres
Colours: Black, Silver, And-S, And-Black
Pros
Cons
Prices and varients
Givi Trekker Outback top box
Quick info: from £224.50, 42 or 58 litre options
The Givi Trekker Outback top box is made for one thing; to carry lots of gear. Even the smallest available size – 48 litres – can fit a full face helmet. Constructed from 1.5mm thick aluminium, they're reinforced with techno-polymer inserts and feature tie down points on the lid, as well as a soft mat, which when placed in the bottom of the case will help reduce vibration.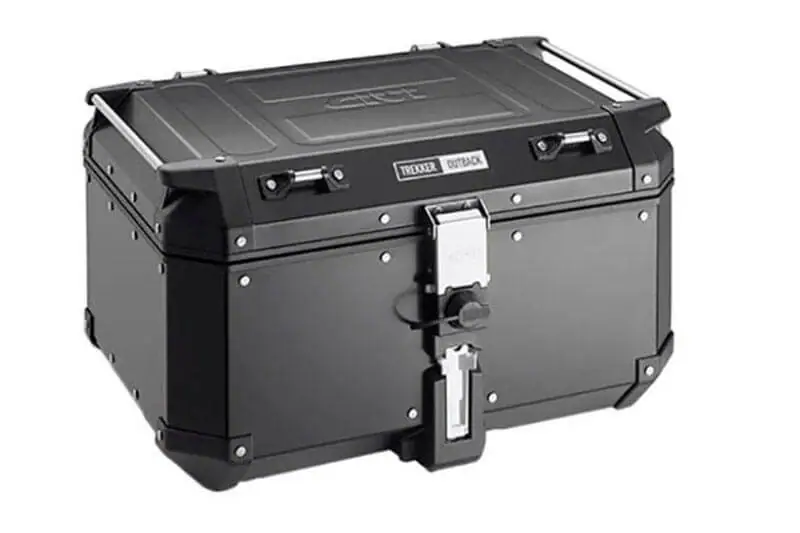 Features
Waterproof: Yes
Construction: 1.5mm thick aluminium
Extra features: Tie down loops, reinforced technopolymer inserts
Sizes: 42 litres, 58 litres
Colours: Silver, Black
Pros
Cons
Prices and varients
Givi Trekker top box
Quick info: from £202.50, can be used as top box or pannier
The Givi Trekker is the only top box on this list that features a predominantly polymer construction. This means it won't be quite as durable in the event of a crash, but will save ever so slightly on weight. The Trekker is a versatile luggage solution, as it features a dual opening lid and can be used as either a top box or pannier.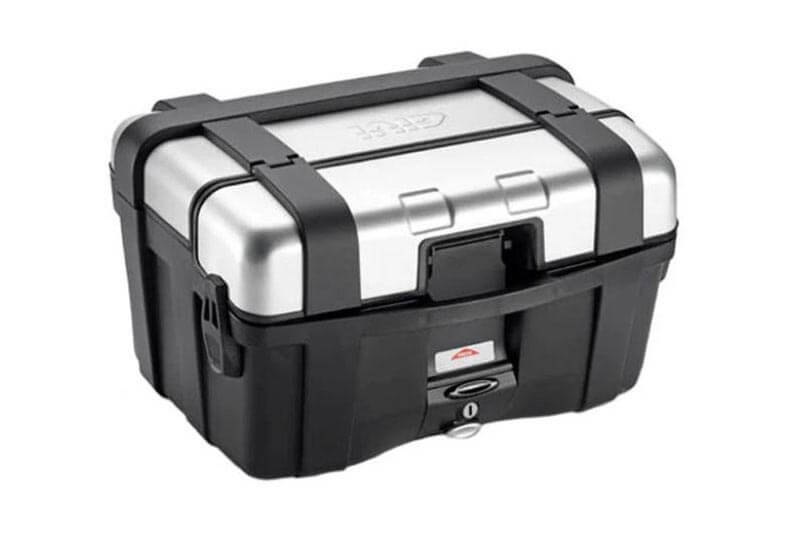 Features
Waterproof: Water resistant
Construction: Technopolymer reinforced with glass fibres.
Extra features: Can be used as a top box, dual opening lid
Sizes: 33 litres, 46 litres
Colours: Black, Silver
Pros
Cons
Prices and varients
Bumot Defender Evo top box
Quick info: from £375
The Bumond Defender Evo top box offers a simple, no-nonsense top box made from 2mm thick aluminium for lightweight and sturdiness, and TIG welded for extra strength and complete waterproofing. A quick release system allows the top box to be attached or removed from the rack in seconds, while low-profile lid straps enable more equipment to be tied on top of the top box without hindering pillion comfort. The Bumot Defender top box is available is either 30 or 43 litre options.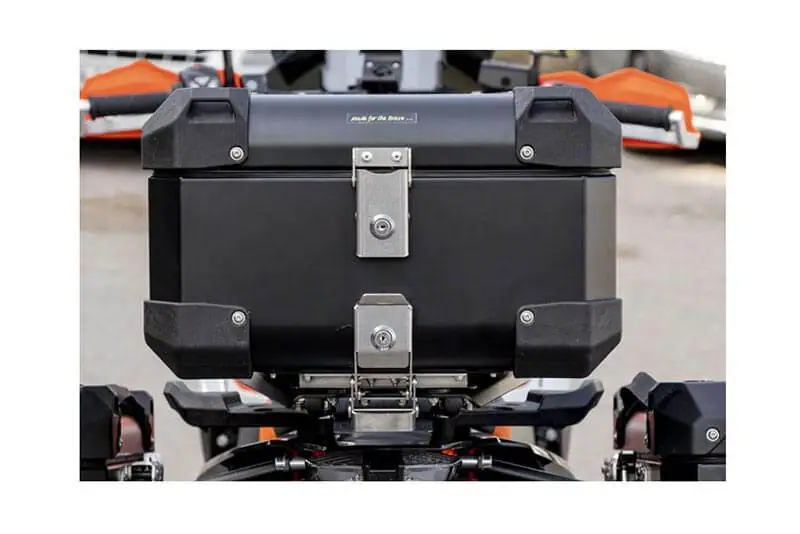 Features
Waterproof: Yes
Construction: 2mm aluminium
Extra features: Low-profile strap brackets, quick-release mechanism, friction lock hinges
Sizes: 30 litre, 43 litre
Colours: Black, Silver
Pros
Cons
Prices and varients
Metal Mule Max top box
Quick info: from £499.95 for top box only, polyurethane-lined mounting brackets
Just like the Max panniers, the top box is made from high grade aluminium and aircraft grade stainless steel rivets for maximum durability and waterproofing. The mounting brackets are lined with polyurethane to minimise vibrations when riding, and there are no intrusions on the inside of the top box to make loading and unloading as easy as possible.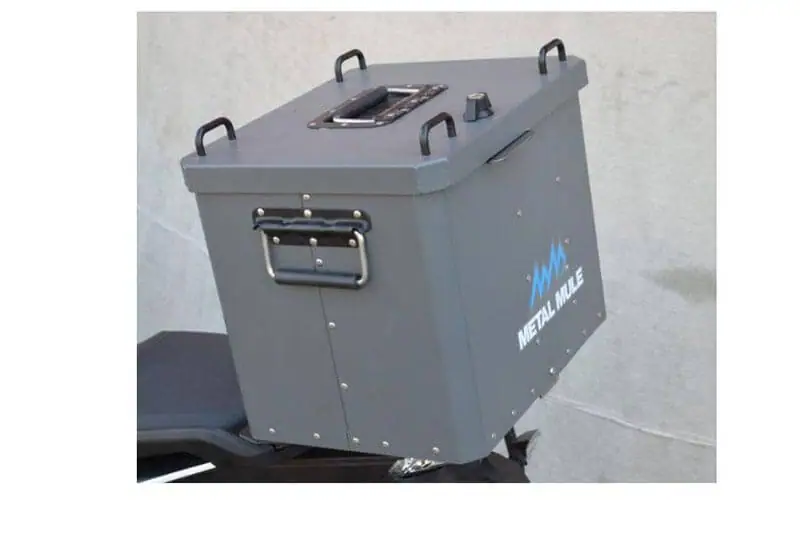 Features
Waterproof: Yes
Construction: High grade aluminium
Extra features: Tiedown loops, accessory mounting points, spring-loaded handles
Sizes: 22 litres, 32 litres
Colours: Storm Grey
Pros
Cons
Prices and varients
The Best Motorcycle Top Box Winners
The Givi Trekker Outback certainly isn't the trendiest luggage solution out there, but it's great value for money, and comes in two really big sizes – even the smallest available size can accommodate a full-face helmet!
The Metal Mule Max is incredibly rugged, and features mounting brackets designed to reduce vibration. There are also spring-loaded handles and no intrusions on the inside, which make loading and unloading hassle free.
Yeah, it's the only polymer top box on the list, but the fact it can be used as either a top box or pannier gives it an added dimension that the other boxes on this list lack. Not only that, but the Trekker is incredibly cheap, and features a clever dual-opening lid.
The Bumot Defender top box coupled with its rear mounting bracket – as with the Bumot panniers – gets our RTW top box award as it's the toughest box out there. If you're riding to far flung corners of the world and don't want to worry about your hard luggage breaking or falling of their racks, then these are for you.  
The Best Hard Motorcycle Panniers
Read more on motorcycle luggage and gear
Thanks for checking out our Best Motorcycle Top Boxes Guide. We hope you enjoyed it! Here are a few more articles on motorcycle luggage and gear that we recommend you read next. 
ps. We may receive a small commission, at absolutely no cost to you, if you purchase any products using the links on this page. We're not sponsored by anyone, are completely impartial and don't run ads. So this helps us keep the site running. Thank you for your support.
Liked that? Try these next…
Are you preparing your adventure bike and deciding on which luggage system to use? Ask us any questions in the comments below.