Welcome to our top pick of the best motorcycle routes in the UK. Here's a selection of 6 awesome biking roads and routes that we love and know you will too…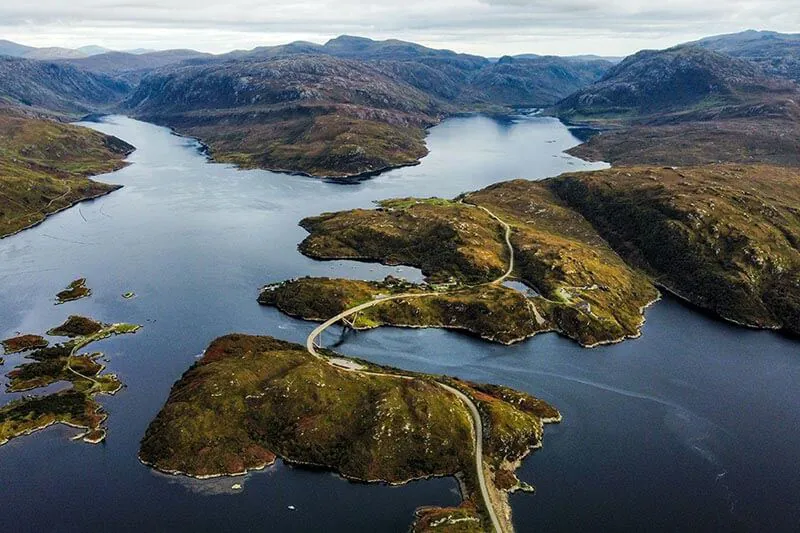 Relatively speaking, the UK is a pretty small place. But you'd be surprised at just how many incredible riding routes are packed into England, Scotland, Wales and Northern Ireland. Sure, we don't have the most reliable weather, but we have a wealth of amazing roads, scenery and history that make the UK perfect for exploring on two wheels.
The list below certainly isn't exhaustive – the UK is literally brimming with brilliant biking roads – but we've picked out six of our favourite UK motorcycle rides and these are definitely some of best places to visit on a motorcycle in the UK, and with international travel as still a bit of a grey area, there's never been a better time to explore these gems!
And if you're looking for more riding guides, routes and things to do in the UK on your motorcycle, check out our packed UK page under the Destinations section. You'll find route guides and ride reports, the best adventure bike and off road schools, trail riding articles and loads more. Or, if you fancy heading further afield, then have a look at the Europe page. And whether you're just getting into touring or are a seasoned rider, check out the motorcycle touring guides – this section holds all of our touring guides and articles in one easy to find place such as what to pack, top tips, touring for beginners, transportation, reviews and much more.
READ MORE: 
The Best Motorcycle Routes in the UK
North Coast 500
Roads: Too many to name!
Length: 516 miles
Why you'll love it: The sheer scale of it, the beauty and variety of Scotland.
You knew this was going to be at the top, didn't you? The North Coast 500 (or NC500 for short), runs clockwise from Inverness and takes in the West, North and Eastern coastlines of Scotland. It's one of the most scenic motorcycle routes in the UK and you're going to love it! As you'd expect with such a long route, the roads are varied and never boring. But this trip isn't just about the roads, it's about everything there is to see and experience along the way. There are castles, mountains to climb, incredible beaches to visit and even dolphins to see (if you're lucky).
The North Coast 500 was only created in 2015, but it's become incredibly popular since. That means it gets seriously busy in summer, so if you want a slightly quieter riding experience, try completing the route in late spring or early Autumn. You might not be as lucky with the weather, but there'll be less people on the roads – and less midges!
With such a huge route it can be tricky to know how to plan, but thankfully, this being an official route, there's a dedicated and excellent website (northcoast500.com) that enables you to tailor the NC500 to your interests.
READ MORE: The Ultimate Scotland Motorcycle Tour
Snake Pass Loop
Roads ridden: Snake Pass (A57), Mortimer Road, A616, A628, B6105
Length: 41 miles
Why you'll love it: Amazing scenery, varied riding, peacocks.
About the route
The Snake Pass often loses out to that other famous Peak District road, the Cat and Fiddle, but it's included here as part of a larger, and much more varied riding route – an old favourite of ours. Starting in the Derbyshire town of Glossop, head east on the Snake Pass. The first section of the Snake Pass is high in the hills, offering good views to the south. Rather quickly you descend into wooded valleys, winding between the hills and waterways of the northern Peak District before you reach Ladybower reservoir. Shortly after you'll turn left, following signs for the Strines Inn, and the most challenging part of the route.
Mortimer Road is incredibly tight, twisty and intense. If you fancy a break, stop at the Strines Inn and admire the peacocks wandering about. If you're not stopping, take it steady past the inn because of the nonchalant peacocks that think they own the road. Immediately after the inn you get a taste of what's to come. The road takes a tight left turn, before plunging deep into the valley, the sun denied entry by the dense population of trees. At the bottom of each valley (and there are a lot of them), the road narrows for a hairpin bend, before climbing back up the other side. Between the steep descents to the bottom of the valleys there are moments of respite where the road stays atop the hills and relatively straight. Once you reach the A616 it's time for a breather. Turn left, heading west and following signs for Manchester. The A616 and 628 are both wide, busy A roads, so relax a little and enjoy some of the lovely scenery on offer before the final stint of the journey.
Once you pass Woodhead Reservoir, take the junction on the left towards Glossop for the final leg of the loop. The B6105 is a flowing B road with a few tight corners to keep you on your toes. You'll steadily climb uphill with good views for a brief moment, before descending back down into Glossop.
Broughton-in-Furness to Gosforth
Roads ridden: Smithy Lane, Sella Brow, Austhwaite Brow, Smithybrow Lane, Bowerhouse Bank, Whitecroft
Length: 15 miles
Why you'll love it: Genuine feeling of remoteness
About the route
There are mountains in the Lake District, and where there are mountains there are good roads. So choosing just one route is a tricky task. We've gone for this route after stumbling across it by accident. This ride, while only 15 miles long, can at times genuinely make you feel like you're in the middle of nowhere. It's a single-track road (with plenty of passing points) that winds over the tops of the lower Lake District, seemingly populated only by sheep, with a few small villages dotted along the way. Those sheep are free to roam, by the way, so you'll spend most of the route at slower speeds. But those slower speeds give you the chance to take in the vast, sparse landscape which seemingly extends forever. 
At the highest points you'll be able to see the sea, and on a clear day, the Isle of Man. The best way to experience this route is at a leisurely pace. Take some snacks, and stop off at one of the many laybys for a picnic with a view.
If you're feeling brave you can take the junction across from the King George IV pub in Eskdale and this will take you down the famous Hardknott Pass – one of the absolute best motorcycle rides in the Lake District. 
Helmsley TT
Roads ridden: B1257
Length: 19 miles
Why you'll love it: Fast, technical road that demands respect
About the route
You only need to look at the name to know what kind of reputation this route has. Back in the '90s and early 2000s, when sportsbikes were king, this was one of the most popular motorcycle routes in the north of England. Nowadays it's well policed, especially in the summer, and there can be a fair amount of farm traffic using the road, so be sensible.
If you're starting in Helmsley, the road eases you in fairly gently with long sweeping bends and crests that give you a taste of what's to come. Very quickly those crests become more frequent and more aggressive, seeing both wheels take flight if you're not careful. The bends become tighter too, so you need to have your wits about you for this road, but take things at a comfortable pace and you'll really enjoy everything this road has to offer.
Black Mountain Pass
Roads ridden: A4069
Length: 12 miles
Why you'll love it: Stunning scenery and an exciting ride
About the route
With a name like Black Mountain Pass you expect big things. And big things are exactly what you get with this road. It's not particularly long, but it packs in some incredible scenery and amazing riding in such a small distance. And because it's not that long, well, you can either just turn around and do it again or use it to start an epic exploratory motorcycle ride through the Brecon Beacons! 
Connecting Ammanford and Llangadog at the Western edge of the Brecon Beacons, this road features plenty of climbing (up to 493 metres above sea level), tight hairpin bends and fast sections. It's got a bit of everything you could want for such a short route including, unfortunately, regular mobile speed cameras.
The Black Mountain Pass shot up in popularity when it was featured on an episode of Top Gear in 2011 which means, much like the North Coast 500, it can get busy during the summer months.
The Antrim Coast
Roads ridden: A2
Length: 60 miles
Why you'll love it: Great tarmac and scenery
About the route
Starting in Larne, just north of Belfast, the Antrim Coast follows the coast north. But I'm sure you guessed that much. The first part of this road was built by Scottish engineer William Bald between 1832 and 1842. Rather than build the road over the cliffs and hills, he opted to build it right next to the water's edge, making it much easier to traverse for locals. Nowadays this makes it an extremely scenic road for motorcycle touring, with long sweeping bends and plenty of straights for admiring the view.
Bald's stretch of road ends at Cushendall, but head slightly inland – still on the A2 – and you link back up with the coast at Ballycastle. From there you can continue along the North coast until you reach Portrush and meet up with the North West 200 race course. It's the only route on this list that includes a road race course, so it would be rude not to go for a lap of the famous Triangle course, where riders reach speeds over 200mph!
Read more on Motorcycle Travel in the UK
Thanks for checking out this 6 of the Best Motorcycle Routes in the UK guide. We hope you enjoyed it! Here's a few more articles on motorcycling and touring in the UK and Europe that we recommend you read next.
Liked that? Try these next…
If you're planning a motorcycle ride in the UK, need any help or have any suggestions for epic motorcycle routes, we'd love to hear from you! Please post your comments here.