Here are 3 of the best motorcycle tours in the Adriatic. These epic routes have been crafted by an Adriatic touring expert and include rides through Albania, Bosnia, Croatia and Montenegro. You'll find info on how and where to ride, top tips, what not to miss and loads more. 
Why you'll love riding in the Adriatic
The Adriatic coast has so much to offer motorcycle travellers. It holds islands of exceptional beauty, stunning scenery, an excellent climate, incredible roads, nature, food, people and culture.
It's a must for every rider as you'll be met with hundreds of miles of sparkling blue water on one shoulder with the grey slopes of a mighty mountain on the other. You'll enjoy views of green vineyards and old olive groves scattered over the charming hills of Istria and Dalmatia that once belonged to huge empires that ruled in these lands and the wonderful succession of cultures and architecture integrated into the life of typical Mediterranean towns you'll be stopping off in along the way.
The Adriatic Coast is a biker's dream and you're going to absolutely love riding there. But to help you get the most out of your trip, here are my three absolute favourite routes. 
Weather, accommodation and tips
When to ride in the Adriatic
The climate is Mediterranean, so it's very pleasant and mild. Spring and Autumn are ideal to ride in the Adriatic as temperatures range between 20-25C. During the summer peaks in July and August you'll find a lot of tourists and the roads are more likely to be crowded with cars. From April to the end of June, and from the end of August all the way up to October are perfect motorcycle riding months.
You may find the odd rain shower, so it's a good idea to take your rain gear or waterproof throwovers with you. Riding in a multi-layer textile suit with the liner removed is a great option.
Money
ATMs are easily accessible and can be accessed anywhere along the ride.
Food prices are reasonable in the restaurants and Croatia especially has an excellent Mediterranean cuisine. Drinks in restaurants in comparison to food are sometimes overpriced.
Overall, expect pricing in the range of major top European destinations however the beauty of the Adriatic region makes it worthwhile.
Accommodation
Hotels
Off season hotels might be closed (usually open around Easter time, sometimes even later in May), but there are plenty of excellent highly rated  B&Bs that you might want to try out too as the quality is fantastic. Check out the Booking.com map widget below as it'll give you an idea of local and current pricing from central Split, Croatia.
Camping
Camping is advisable at organised campsites. Although, wild camping is also allowed so long as you're not camping side National and Nature Parks as that is illegal. It's advisable to use an app to check where you can legally camp such as Park4Night for example.
Tips
Be aware of the speed limits alongside the Adriatic coastline as this is one of the most beautiful coastal rides, and at the same time, a very demanding road so you want to make sure your eyes are on the road and not too distracted by the surrounding beauty.
There aren't too many traffic cameras (like in Italy for example) in this region. But there are traffic police. And you'll often find them hanging around in the areas you least expect as well as the more obvious stretches of road where you'll want to twist the throttle harder.
The Best Adriatic Motorcycle Tours
Adriatic North Loop
Route: Adriatic North from Zagreb to Istria through Northern Adriatic Islands and along the Adriatic Coastal route.
Start and end point:  Zagreb
Miles: 800
Days: 6-8
The Ride: This tour is the shorter version of our famous Adriatic Coastal Adventure tour. Riding the stunning Adriatic Coast is something every biker should try and do at least once in their lives – it really is that special. If you want to spend an extended weekend riding one of the most scenic European routes with beautiful hilly inlands of charming Istria while enjoying the glorious islands sunsets, this is the tour for you. A top recommendation for this route is to also ride the northern Adriatic Islands of Cres, Lošinj and Krk.
If arriving by plane for a fly and ride trip, you can start the tour from Zagreb or Ljubljana, Trieste, Vienna and Split. If starting from Zagreb, take the great inlands ride of 180km to reach Istria. Head to Opatija, take a coffee break and then continue towards the famous Plominka road along the seaside before heading towards the inlands of Istria and towns of Motovun, Oprtalj, Grožnjan, Buje. After, make your way towards the west coast and towns of Novigrad and Rovinj.
Watch out for: Watch out for traffic and be careful when overtaking once you reach the coastal road in Istria as there may be camper vans heading towards the northern islands.  
Don't miss: There's a beautiful ride on the eastern coast of Istria along the Plominka road. You'll find excellent roads and stunning views when riding the northern islands and a definite must and one of the absolute best coastal rides is Senj to Starigrad.
Where to stay: Istria, the north islands and the Zadar region should be your primary overnight locations and there are plenty of excellent B&Bs, hotels and organised campsites. In Istria you can aim for inland accommodation (Motovun, Grožnjan, Buzet as some of the most beautiful) or along the western coast (such as Rovinj or Novigrad).
Top Tips: Try the delicious meals with truffles in Istria (which is famous for truffles), stop for a great view on Plominka road, visit the griffon vulture shelter on Cres Island and taste local wine in some of the beautiful Istrian wineries. 
Adriatic South Coast
Route: Adriatic South coast, Islands, Dubrovnik and Montenegro
Start and end point: Split
Miles: 800
Days: 6-8
The Ride: This tour along the Adriatic coast and southern islands includes some of the most beautiful Mediterranean islands, ancient historic sights and excellent roads. Riding from Dubrovnik to Montenegro
You can easily catch ferries to visit the islands and sample delicious local cuisines. There are plenty of sea and mountain views along the way with many famous vineyards to stop off at too.
For this tour, you can head from Split to Hvar, Dubrovnik and the many gorgeous Dalmatian towns along the way before making your way down into Montenegro and the Beautiful Budva Riviera. This is an easy ride to take as you only need to follow the main road south and divert to islands whenever you fancy a detour.
Watch out for/ dangers: Make sure you have your passport and green card for the bike as you will be passing through a border crossing into Montenegro.
Don't miss: Pelješac vineyards are not to be missed and if you have more time to explore, then head into the mountains of Montenegro.
Where to stay: There are plenty of great B&Bs along the way as well as hotels (though some hotels may be closed during the off season and usually open around Easter time, so you might want to check in advance and use booking.com or AirBnB)
Top Tips: Try oyster tasting in Ston (on the way to Dubrovnik when crossing Pelješac), visit some of the wineries on Pelješac, head for Sv. Jure viewpoint and the glass bridge on Biokovo mountain above Makarska, visit Krka waterfalls near Šibenik, watch the sunset in Zadar and check out the sea organ at the famous point called "Greeting to the sun".
Adriatic to Albania
Route: Split or Dubrovnik through Montenegro to Albania
Start and end point: Split / Dubrovnik
Miles: 650-1,000 (dependent on if you start from Split or Dubrovnik)
Days: 6-7
The Ride: Cruise along of the most scenic coastal routes through Croaitia all the way to the south of the Adriatic, cut through beautiful Bosnia and continue into the hills of Montenegro and the magnificent Kotor Bay. Keep riding until you reach wild Albania and make this route the most diverse of the three.
Once you're in Albania, head for the seaside town of Saranade and then inland through Gjirokaster. Don't forget to visit historic Berat before heading back to Shkoder lake and then looping back across Montenegro to Bosnia.
If you're heading back to Split, then a must ride road starts in Trebinje, Bosnia (just across the border crossing with Croatia near Dubrovnik) and passes Ljubinje and Stolac and ends in Mostar where you can have lunch. After, continue back to Split across Imotski through the excellent route across Cista provo.
Watch out for: Make sure you have your passport and green card for the bike as you will be passing through three border crossings.
Don't miss: Southern Adriatic islands in Croatia, stunning mountains of Montenegro, beautiful Bay of Kotor, amazing hills of Albania and the mountain pass on the way from Vlore towards Sarande. You'll find excellent roads and amazing ride there as well as stunning views of the Greek island of Corfu.
Where to stay: In Croatia there are plenty of B&Bs and hotels. Outside of the summer season, aim for B&Bs as the hotels might be closed until late May and after mid-September. In Montenegro and Albania aim for hotels
Top Tips: Albania is very cheap with very good hotel accommodation as well as excellent and low-priced seafood. Don't miss the view on the way from Vlore to Sarande as it's one of the best coastal rides in Albania.
Joining an organised Adriatic bike tour
We offer fully guided, self-guided and customisable tours along these routes throughout the Adriatic. The benefit of joining a tour is that our expert guides will show you much more of the epic routes, beautiful scenery, hidden gems, authentic places and make it a journey to remember. All our tours are all-inclusive, meaning all meals, accommodation, ferries, national park entrance fees and even fuel is included.
Of course, you can ride your own motorcycle to the Adriatic, but you will need to account for the time spent reaching the region and returning home as well as all of the research involved in finding good roads. Instead, you could fly in and we'll take care of absolutely everything for you and show you all of the Adriatic's hidden gems.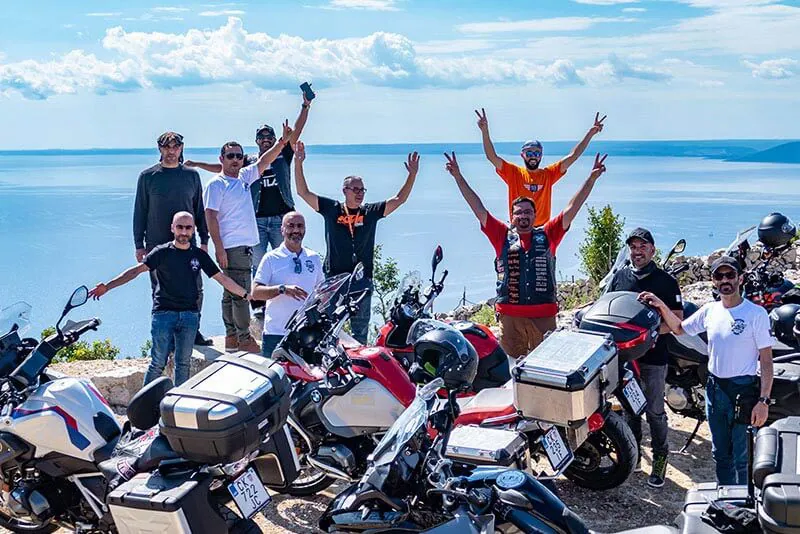 Miljenko Kralj
Motorcycle travel has been my passion for a long time. Experiencing different cultures, tasting authentic cuisines, exploring and traveling deeper into areas unknown to most expands our horizons. This is the moto of our company too. The experience of being on the road for days on end, alone or in a group, profoundly changes the way in which we perceive ourselves and brings ways of life that are so different to ours closer to us. It all leaves a special mark in our souls every time we travel.
And that's why I set up Moto Tours Europe, we're a tour operator that specializes in organizing magnificent motorcycle tours through some of the best regions in Europe. 
Read more on motorcycle travel in Europe
Thanks for checking out this Best Adriatic Motorcycle Tours Guide. We hope you enjoyed it! Here's a few more articles on motorcycling in the Adriatic and Europe that we recommend you read next. 
Are you planning a motorcycle trip to the Adriatic or Europe? Do you have any questions or tips to share? Let us know in the comments below.