Welcome to the Alps Motorcycle Guide! You'll find 4 of the BEST riding routes in the Alps, when to go, accommodation, what not to miss and more in this handy guide.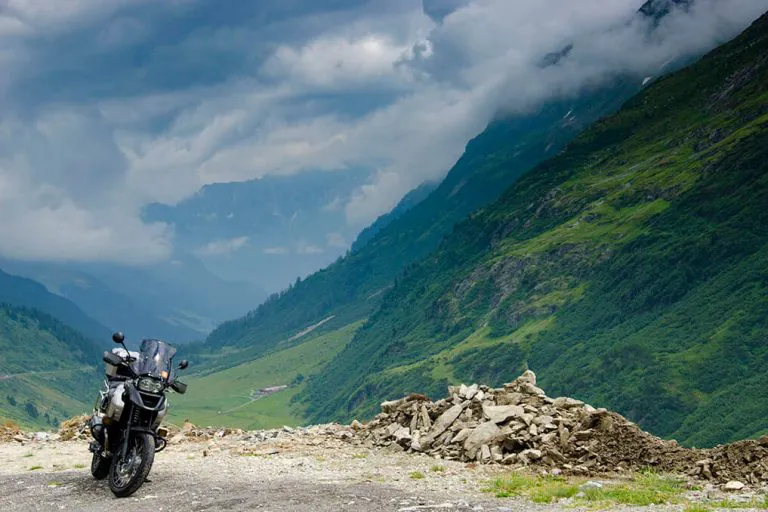 The Best Routes in the Alps for Motorcycle tours
1. Route des Grandes Alpes
A phenomenal run from Lake Geneva to the French Riviera taking you over the highest passes in the Alps. This is my must do for anyone who hasn't ridden the Alps before. Seriously, the riding the Route Grandes Alpes on a motorcycle is just incredible and a must on any motorcycle trip to the Alps.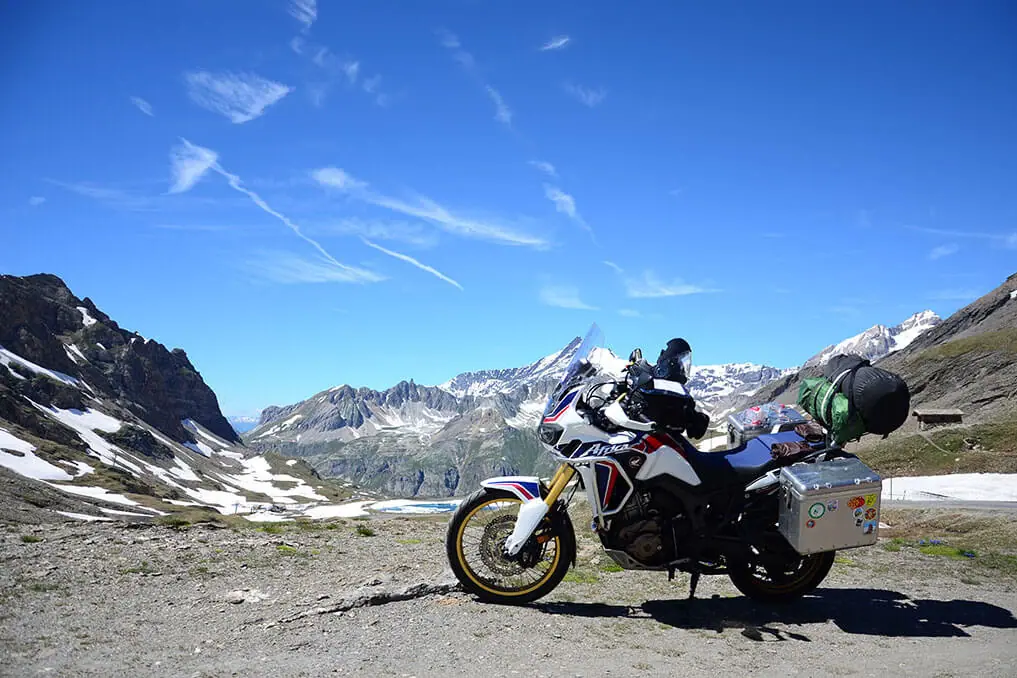 2. Furka – Grimsel – Susten pass loop.
This Swiss loop can easily be done in a day. It's hugely rewarding and offers smooth, predictable riding among some of the best scenery there is. Just don't get caught speeding in Switzerland: the fines are crazy!
You can't talk about the Alps without mentioning Stelvio. The pass itself isn't actually that great a riding road as it's very busy and mostly made up of hairpins. The run there from Chiavenna, however, is brilliant. Climbing out of Italy and into Switzerland up the Maloja Pass is breathtaking. Another spectacular route is riding through St Moritz, over the Bernina Pass and over the Forcola di Livigno into Italy and to Italian tax haven of Livigno. Get some cheap fuel in Livigno and carry on up the to the Stelvio. Gavia Pass is another cracker if you have the time.
4. Timmelsjoch and the Ötztal Glacier Road
Timmelsjoch Pass takes you from Sölden in Austria into Italy. There's a motorcycle museum halfway up that's worth a look. While you're in Sölden, the Ötztal Glacier Road is not to be missed. Give yourself enough time to take the cable car to the top of the mountain. The views are out of this world.
Don't miss
If you're stuck for time, the run from Beaufort to Briancon offers the best riding on the Route des Grandes Alpes, taking in the Col du Galibier, Col de l'Iseran and Col de l'Iozard. It's a great place to spend a few nights and being a tax haven means it has some of the cheapest fuel in the Alps.
After you've ridden the Furka – Grimsel – Susten pass loop take the hour or so ride over to Lauterbrunnen; it's a stunning place to stay. Try the Horner Pub for affordable food and beer.
Ötztal Glacier Road. Its worth it for that Top of the World feeling.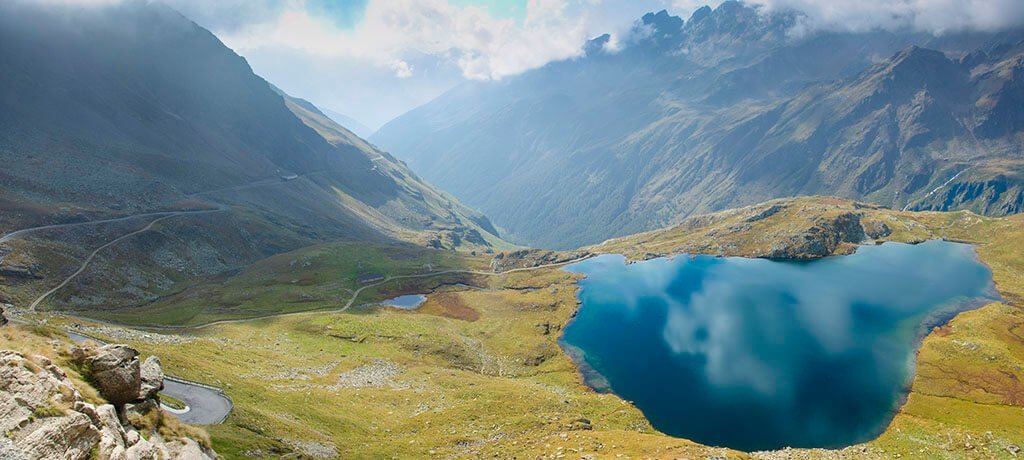 When to go
Summer months are the best time to go. May might be too early for some of the passes to be open. I enjoy September. Avoid the winter months – unless you have skis.
The cost
Country: Price varies massively from country to country. Switzerland can be very expensive compared to France, which is much cheaper and Italy is cheaper still.
Price per litre: £1.20 on average.
Average cost of dinner: £15 for an OK main meal. (Switzerland at least £30 on average).
Average hotel: £50 (Switzerland was too expensive for me to even look).
Camping: £10 on average. (Switzerland £20-£30).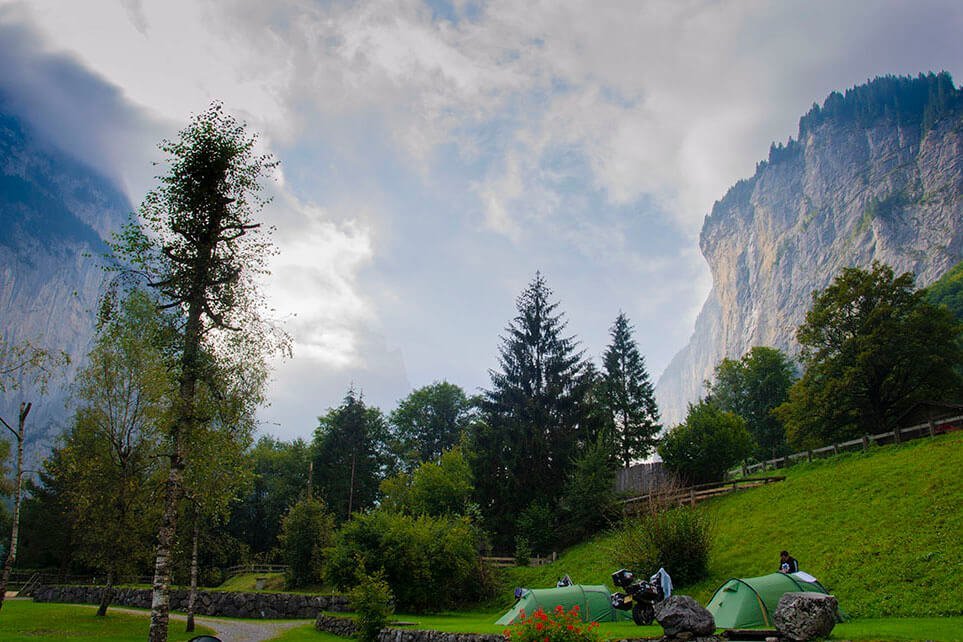 Accommodation
There is no shortage of campsites and accommodation all over the Alps. If you want a treat, try staying at the Tibetan Style place at the top of Stelvio Pass. Lauterbrunnen has one of the best locations for a campsite around.
Alternatively, check out this map from Booking.com for a bunch of hotels in the Stelvio region. 
Paperwork
You'll need vignettes for Switzerland and Austria. These can be bought at the border or in petrol stations.
A "Crit'Air" sticker is recommended for France.
Swiss speeding fines are monumental. Don't get caught speeding in Switzerland.
Getting there and away
If you're riding your own bike over from the UK, then you've got the Eurotunnel from Folkestone to Calais or the ferry such as Direct Ferries from Folkstone to Calais or the DFS Ferry from Dover to Calais.
For those travelling from up north there's also from Hull via P&O Ferry to Zeebrugge, Belgium. 
We recommend booking and checking with directferries.co.uk as you can find up-to-date and current sailing times and routes and book in advance.
There's also the option of using a transport company to get your bike over there and save you those motorway miles.  
Or, if you're flying in to rent a motorcycle, then we recommend using skyscanner.net to find the cheapest flights. 
READ MORE:
Quick tips
Keep in mind that you're riding among some big hills and big drops meaning big consequences if you get it wrong.
You're in the mountains and the weather can change rapidly. Be prepared for torrential rain or even a blizzard as well as hot sun and soaring temperatures.
Read more on motorcycle touring in Europe
Thanks for checking out our Ultimate Scotland Motorcycle Tour. We hope you enjoyed it! Here's a few more articles on motorcycling in Europe that we recommend you read next.
Are you planning a trip to the Alps, have any questions or tips to share? Let us know in the comments below.