Planning a trip to South America? Colombia has it all and is where you want to be! Here are 6 of the BEST motorcycle trips you'll find from our Colombia motorcycle travel expert. 
1. Trout Fishing Day Trip
This is one of the best Medellin motorcycle tours you can do. Ride an adventure motorcycle into the remote backcountry outside of Medellin and catch trout with a local family. Known as the "Switzerland of Colombia" for its abundance of dairy farms and beautiful scenery, this trip will take you through beautiful towns as well as off-road sections where you'll ride through the hills and cross streams before arriving at a remote family-owned trout farm located at almost 9,000ft in elevation.
The route is beautiful and the riding is easy and it's loads of fun catching fish with friends. The perfect day trip from Medellin.
More info: Trout Fishing Day Trip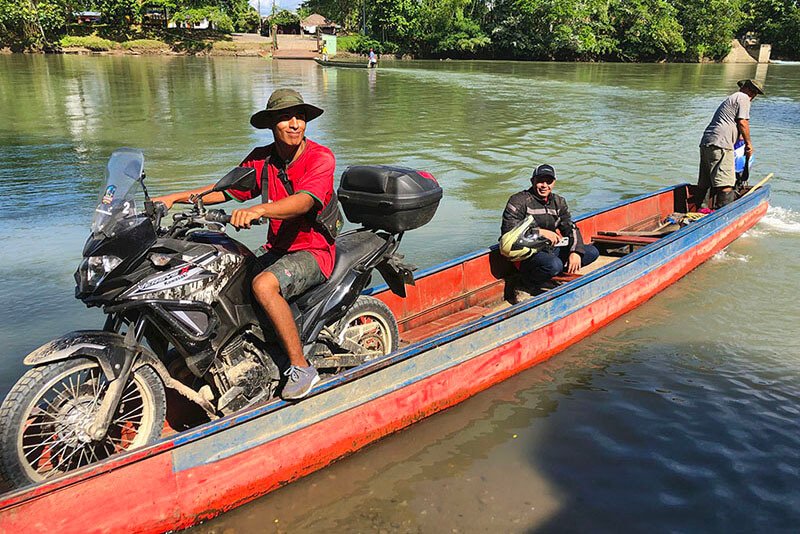 2. Motorcycles, Rappelling and Cave Exploring
A true motorcycle adventure in South America. This hidden gem of Colombia lies in the eastern Andes and has remained largely off the typical tourist track. Get ready for some rugged backcountry riding to isolated villages!
You'll spend the entire day in the backcountry where the inhabitants rarely come into contact with foreigners. The route repeatedly climbs and descends through jagged mountains and valleys caused by a series of folded tectonic fault lines. I guarantee you've never seen anything like this before! Panoramic views are around every corner, and cold mist rolling through the landscape adds a "Lord of the Rings" dimension to the ride.
Although the topography is rough, the roads are in surprisingly good shape consisting of well-maintained hard-packed gravel in most areas.
Besides all the winding roads and beautiful scenery, Santander is home to the second largest sinkhole in the world. Here you'll set-up rappelling gear and descend over 150 meters. Once reaching the bottom you can explore a cave that is home to blind fish, birds that use echolocation to navigate, and rare cave crabs.
The you'll use rope ascenders to climb back up to the top which takes around 30-minutes. This sinkhole is very photogenic and makes for a great shot of you hanging by a rope in mid-air. Also known as a cenote, this huge hole was formed by water eroding underground limestone bedrock and forming a cave. After millions of years, the roof of the cave collapses and causes a sinkhole.
More info: Motorcycles and Rappelling  
3. Journey to the Lost Emerald City 
This trip will take you on a unique experience to what was formerly the most dangerous place in Colombia. Deep in the rugged eastern portion of the Colombian Andes, in the department of Boyaca, lies the town of Muzo, known as the Emerald Capital of The World.
Of all the emeralds in the world, most of them come from Colombia. It is estimated that Colombia accounts for 70-90% of the world's emerald market.
The region was sealed off from the outside world for decades due to intense fighting. The area is now open for the first time after a peace treaty with the guerrilla groups was signed.
You'll ride off-road through rugged terrain, cross mountain ranges, and streams see amazing vistas and waterfalls, and finally get the chance to interact with local emerald miners. You can even buy emeralds directly from the miners in the field!
It's safe and clients we've taken there find it one of the most interesting and fascinating parts of their trip. It's truly a once in a lifetime adventure and will be completely different to any other trip you have taken on. It's the perfect South America motorcycle tour if you want to experience a remote and rarely seen part of Colombia.
More info: The Lost Emerald City
4. Colombia's Perfect Loop Trip 
Colombia's best geography for coffee production also happens to be ideal for motorcycle touring.
If you're looking to experience the best of Colombia and only have a week, we highly recommend this trip. Based on the feedback from dozens of travellers, we have put together what we consider to be the "Perfect Loop" of Colombia's famous coffee region. Best of all, it's located right in our backyard, only 2 hours from Medellin.
A coffee region motorcycle trip checks all the boxes: lush green mountain vistas with soaring wax palms over 150ft tall. Check. Colonial haciendas turned into chic hotels and bed and breakfasts. Check. Hot springs flowing from snow-capped volcanoes. Check. Twist the throttle and lean into turn after turn after turn as you make your way through high mountain passes and fog covered forests. Check. Include the cosmopolitan city of Medellin as the starting point of the trip, and you have a motorcycle trip from heaven.
More info: Colombia's Perfect Loop Trip
5. Backcountry Discovery Expedition
Colombia's rough geography and mountainous terrain is great news for adventure riders. The mountainous Andes and vast jungles remain largely uninhabited with spots of civilization scattered throughout the country. Nestled deep within the rugged terrain, some of these villages are perched in seemingly impossible-to-reach locations. Although it takes a little work to get there, when you finally arrive, these towns look like they've been plucked from a fairy tale book – seemingly untouched by the passing of time. Exploring these places is an unforgettable experience,
Fun Fact: As you know, Colombia is located in the Andes mountain range. What you may not know is that the Andes range actually splits into three in Colombia like a three-pronged fork with valleys between each mountain range.
Combined, these cordilleras are three times the length of the Alps. The Colombian Andes are also higher than the Alps, with the tallest mountain in Colombia topping out at a staggering 5,775 metres above sea level. Mont Blanc, standing at 4,810 metres above sea level, would only be the 8th tallest mountain if it were in Colombia.
More info: Backcountry Discovery Expedition
6. Windows of Tisquizoque
Florian is a hidden gem that lies in the eastern Andes and has remained largely off the typical tourist track. Snake for miles through a narrow canyon surrounded by steep rock walls on both sides. Visit the Windows of Tisquizoquea – a remote three-tiered waterfall that plummets 1,000 ft. down a sheer cliff-face from a high mountain cave.
After riding there, you can spend the day exploring the cave and swimming in the pools below the waterfall. Stand at the edge of the drop off and take pictures of nearby towns and surrounding mountains. Afterward, ride down and swim in the plunge pool at the base of the waterfall.
Sealed off for decades due to its remote location and past guerrilla activity Florian is a town that hasn't yet been developed for tourism. Florian still feels new and authentic and you'll be glad you visited before it becomes spoiled by mass tourism. Visiting the town square, talking to the locals, and eating home-cooked meals made by the restaurant owners will give you a unique insight into small-town life in Colombia.
More info: Windows of Tisquizoque 
About the authors
Jeff Cremer and Alan Churchill
After living in Peru for 12 years and working as a wildlife photographer in the Peruvian Amazon, Jeff decided to take the leap and move to Colombia. For the past three years, he has owned and operated Colombia Moto Adventures with Alan Churchill – a full-service motorcycle rental and tour agency based in Medellín.
Jeff and Alan are also the authors of a comprehensive motorcycle travel guide packed with everything you need to know about riding in Colombia. Here's all the info you need to join the guys on one of their epic tours. 
Read more on Motorcycle Travel in Colombia and South America
Thanks for checking out this 9 Reasons to Motorcycle Travel in Colombia article. We hope you enjoyed it! Here's a few more articles on motorcycling in America that we recommend you read next. 
Are you planning a motorcycle trip to Colombia or South America or do you have any questions or tips to share? Let us know in the comments below.