Welcome to the 5 BEST things to do in Laos on a motorcycle. This guide is packed with info on biking routes, maps and places to visit on your Laos motorcycle trip.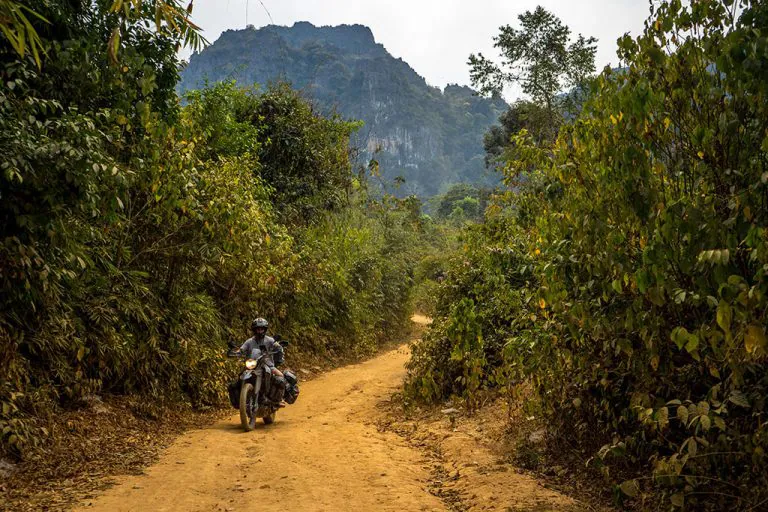 The BEST motorcycle riding in Laos
Landlocked Laos is raw, rural, rustic and absolutely perfect for motorcycle travellers. It's not developed like Thailand and not as touristy as Vietnam, so riding through Laos feels like discovering new lands. We fell in love with Laos, it's one of our favourite destinations and we know you'll love it too. This guide lists 5 of the best things to do on a motorcycle in Laos, whether you're riding with your own bike, renting one in Laos or from one of the neighbouring countries and crossing into Laos.
For a detailed info on everything you need to know about Laos, we suggest you check out the Motorcycle Travel Guide: Laos. And here's our blog post on riding through the country Loving Laos Life.
The ultimate Laos road ride: Vang Vieng to Luang Prabang
The best road ride in Laos is from Vang Vieng to Luang Prabang. And it's not just the ride there, but the two destinations are well worth exploring on two wheels as well!
From Vang Vieng to Luang Prabang (or vice versa), you've got two options: the east number 13 route or the west number 4 route.
The prettiest route is the western route. Deep green karst burst out of the ground and line the horizon, behind them a blanket of blue and grey mist. The road goes through little towns and villages, wraps its way round lime green rice fields and up and over mountains and beautiful scenery.
The 141-mile western route is about three and a half hours and gorgeous.
The 114-mile eastern route is around five and a half hours and full of twists and turns.
If you can, then go in a loop from either Luang Prabang or Vang Vieng down one side and up the other. If you have plenty of time, we suggest staying in both places for a few nights.
Vang Vieng
Vang Vieng is a tourist town halfway between the capital, Vientiane, and Luang Prabang city. It used to be the place to go for boozy younger crowds to drink on tubes as they float down the river. The partying got out of hand and the government reinvented the town to be more family and adventure focused. Anyway, it's still a party place, but nowhere near as bad. Exploring Vang Vieng on a bike is brilliant fun because there are so many off-road trails, hidden caves and pristine lagoons. You can spend days riding on dusty trails and over ropey bridges while searching out dark caverns and dipping in crystal blue waters.
Luang Prabang
Luang Prabang is Laos' most visited city and it's easy to see why. Delicious coffee, sweet carrot cakes, a bustling night market, copious tasty street food and a chilled-out vibe. It's one of our favourite cities in the world. But for riding, it's the gateway to incredible off-roading. See number 2.
Don't forget to visit the stunning Kouang Si waterfall while you're in Luang Prabang!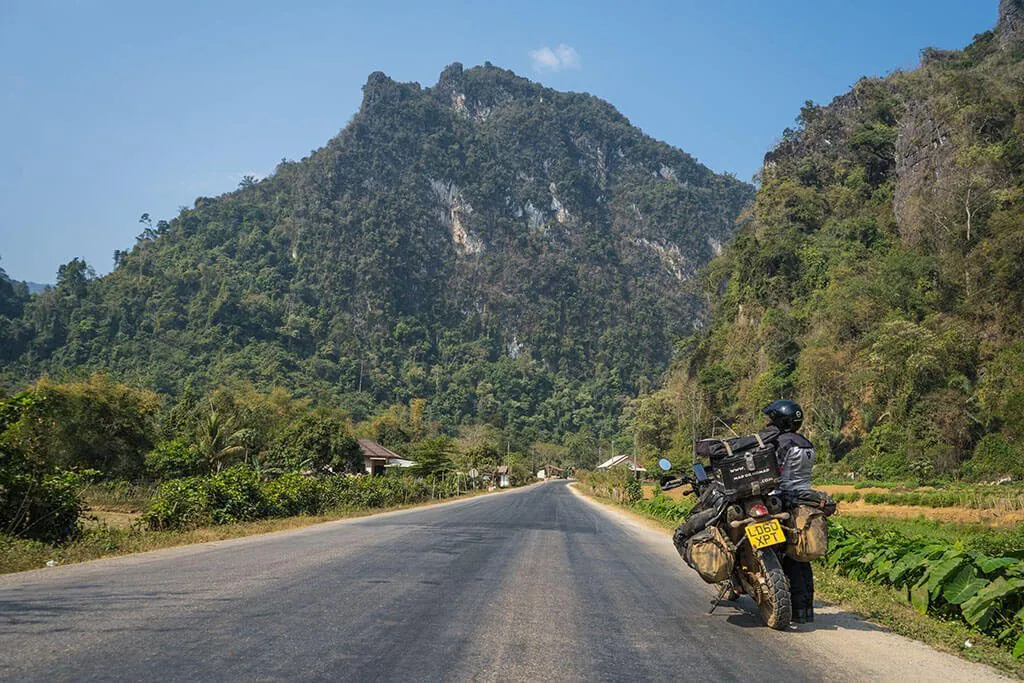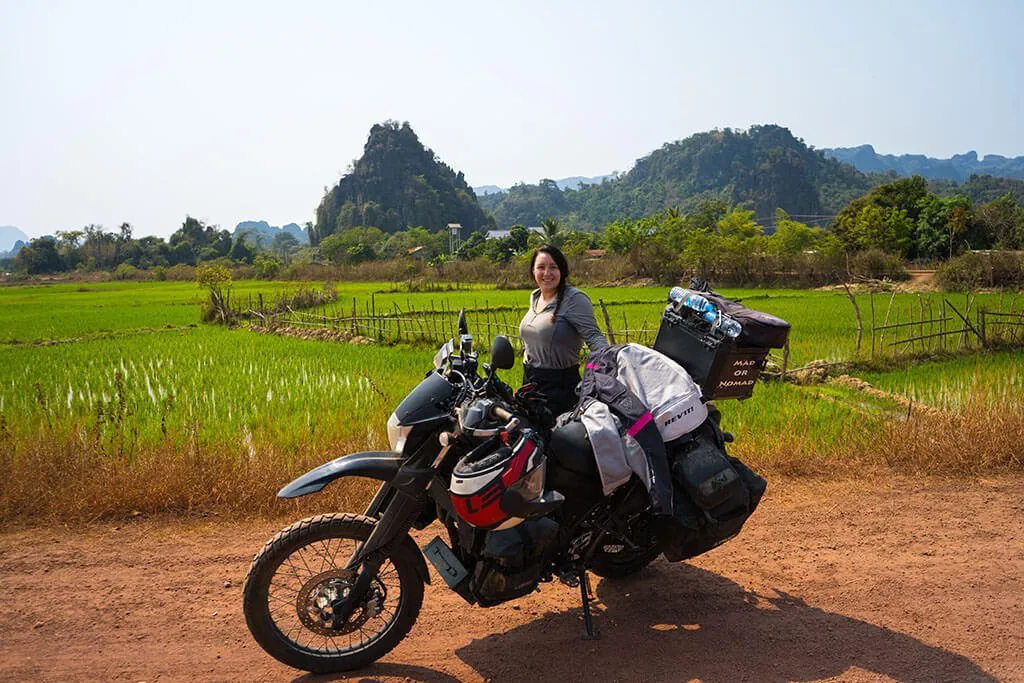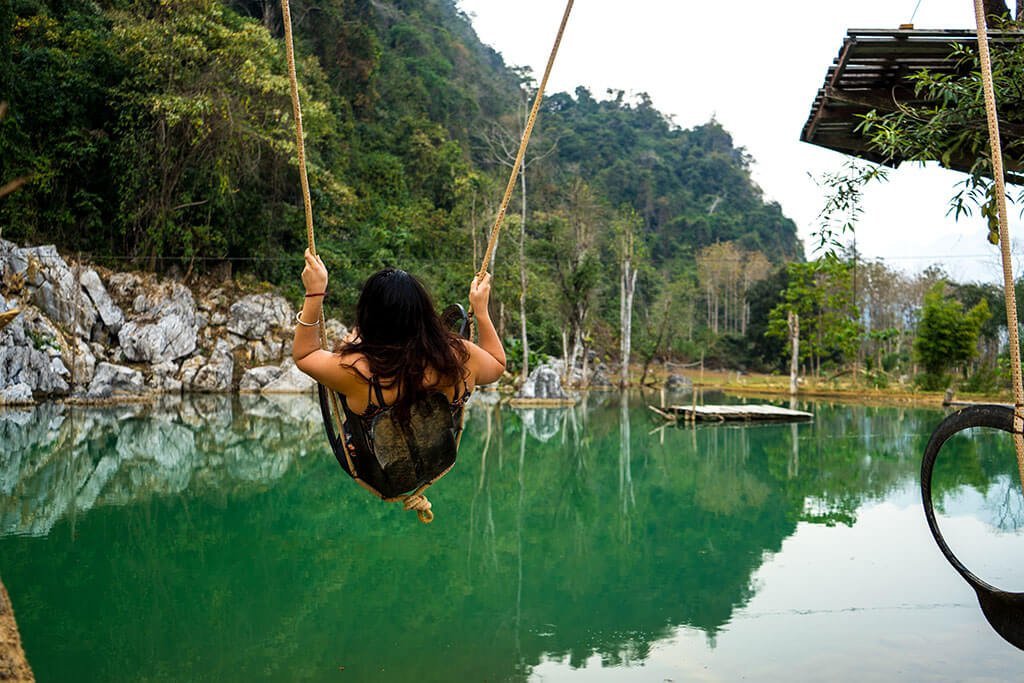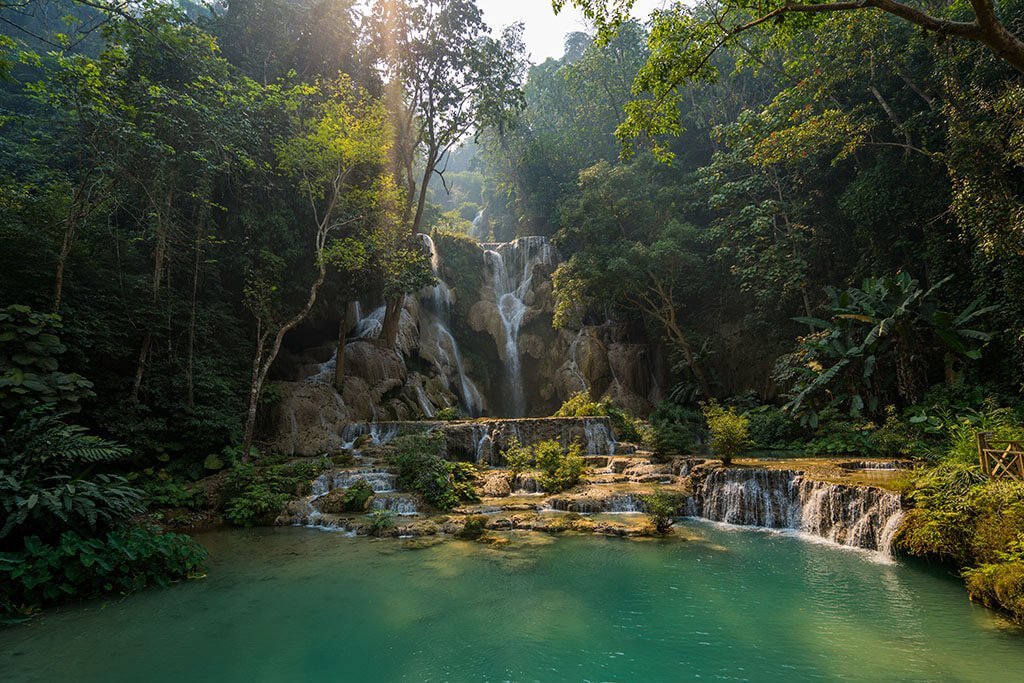 Go off-road with enduro riding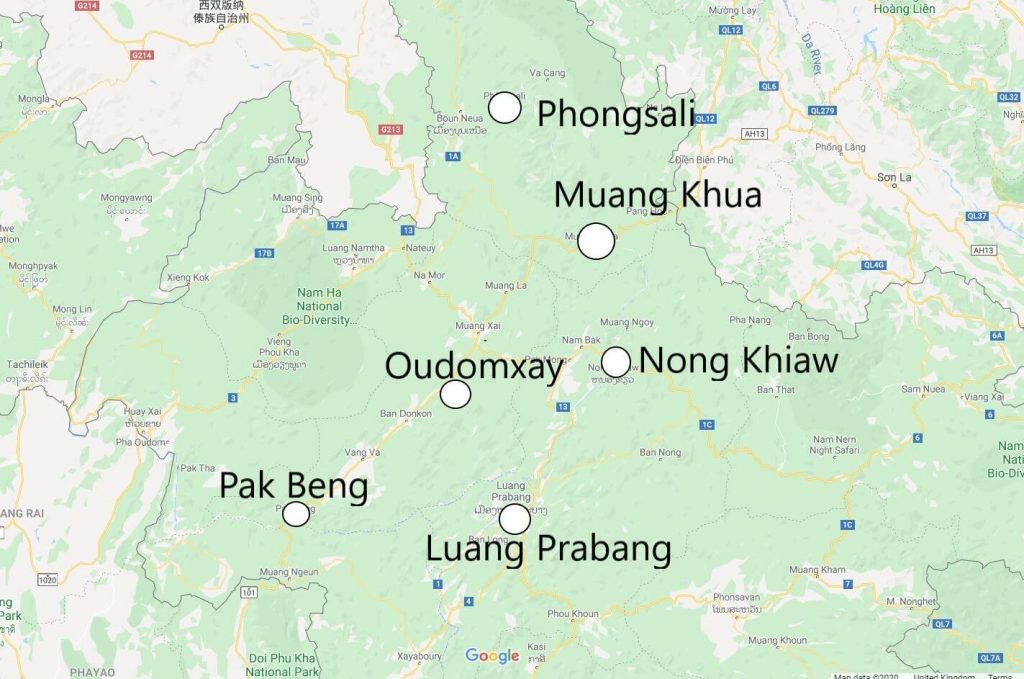 Laos is a phenomenal country for off-roading and enduro riding. And the best the country has to offer is in the north. Make a base in Luang Prabang and head out into the many jungle trails from there.
You can go on our own or as part of a tour or enduro group. The off-roading can be gnarly, so renting a proper enduro bike is always a good option.
Here are some of the main off-road destinations in northern Laos.
If you're after an off-road tour or want to rent an enduro bike in Laos, take a look at our recommended rental companies page for Laos.
Warning: Be careful if you venture off on your own. Laos is the most bombed nation in the world after the US dropped over two million tonnes of cluster bombs on it from '64-'73 during its 'Secret War' to disrupt supply lines to the Vietnamese. That's more than all the bombs dropped in the whole of WW2 combined. Over 30% of those bombs failed to detonate and still kill and maim people in Laos today (20,000 since the war ended). Removing these bombs is still a huge and ongoing project in Laos. Make sure you stick to marked trails!
Ride the Thakek Loop
If you Google motorcycling in Laos, the Thakek Loop will always come up. It's regarded as one of Laos' best biking roads. But that's because it's now a relatively easy loop for tourists to rent a scooter from Thakek and ride it. If you're on a larger capacity motorcycle, or your own bike that you've brought in, you will have no doubt ridden much more spectacular roads than this one and the ride from Vang Vieng to Luang Prabang is far, far better. The reason that's not talked about as much is because most tourists won't rent a bike to ride from one city to another.
However, that doesn't mean the loop isn't worth the ride. It's a lovely stretch of road that veers eastwards of the main road that connects Laos' north and south. You head east and along gorgeous stretches of long winding roads. The road is quiet, peaceful and fun if you like to wring the throttle.
The full loop, including riding down to the Kong Lor cave is about 270 miles. If you're heading north or south and want to ride the loop, then you don't need to ride the main road stretch as it's just boring straight carriageway.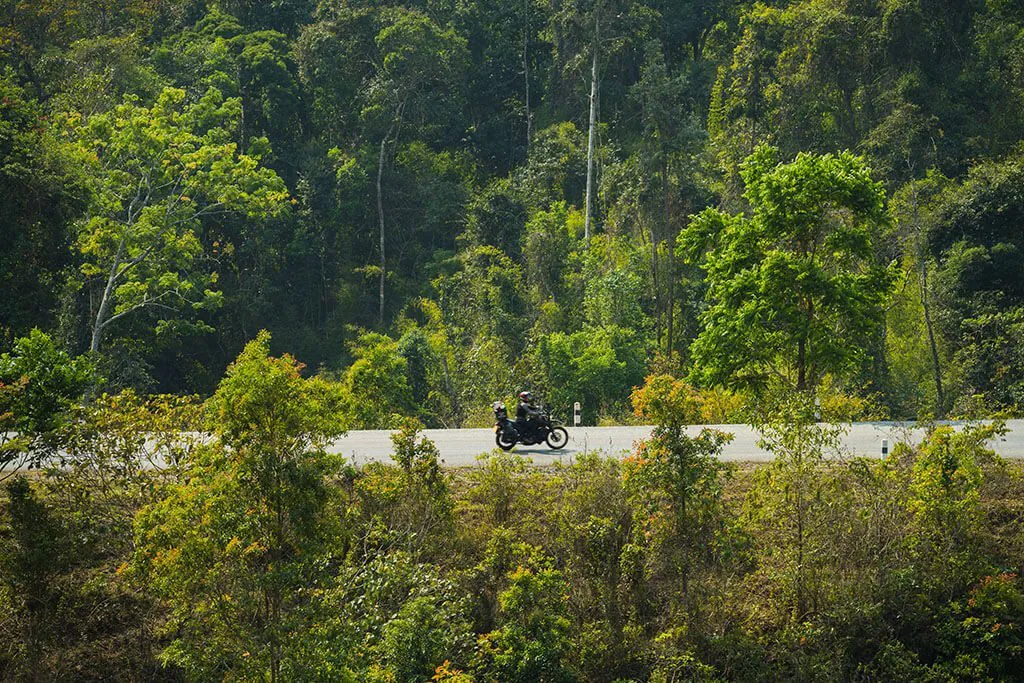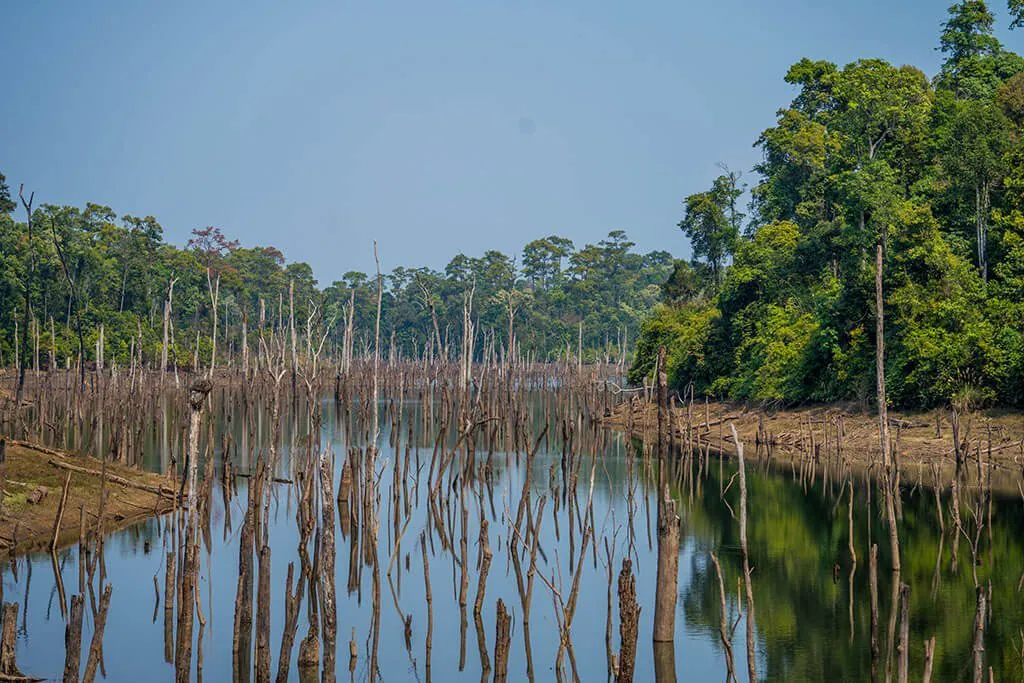 Kong Lor Cave (means beauty in the dark)
But the highlight of the Thakek Loop is taking a detour to see the Kong Lor Cave. In fact, it shouldn't even be classed as a detour as it's the best bit! The ride takes you through Laotian villages and through Laos' rural countryside. When you get to Kong Lor, there are plenty of beautiful little guesthouses to stay. We ended up at a stunning resort for £8 a night with its own private lagoon!
The Nam Him Bun river cuts its way through the entirety of the limestone mountain, and so to explore the cave you need to hire a boatman. The cave is over four miles long (you go in one end and come out the other at a remote village), over 100 metres high and around 100 metres wide in places too and fully stocked with bats.
At the beginning the boatman lets you jump off for a bit and explore a section of stalagmites by foot, then it's back in the boat for four miles of cold, pitch black darkness. You can actually take a bike through on the boat, but it's dodgy. If you have a moped then that's easy enough to haul over the rocks to get to the boat. If you're on a 250cc (I doubt you'd get anything bigger down there), then you better be a good rider! You can always, ride to the little village on the other side and get the boat back if you prefer. Check out our little video below:
Head deep into Laos' Northern Mountains
Roads twirl up and around Laos' northern mountain range, carving their way through remote villages filled with tribal folk and past wooden houses held up by stilts and perched over deep hills. The weather drops up here, the country opens up and the tarmac spirals into endless twists and turns. It's phenomenal, and you won't find any tourists here either. If you're after road riding and enjoy switchbacks, tight turns and mountain passes, then this is the ride for you.
If you're entering Laos from Thailand or exiting to Thailand, then you can easily incorporate parts of this route from the Huay Xai border to Luang Prabang.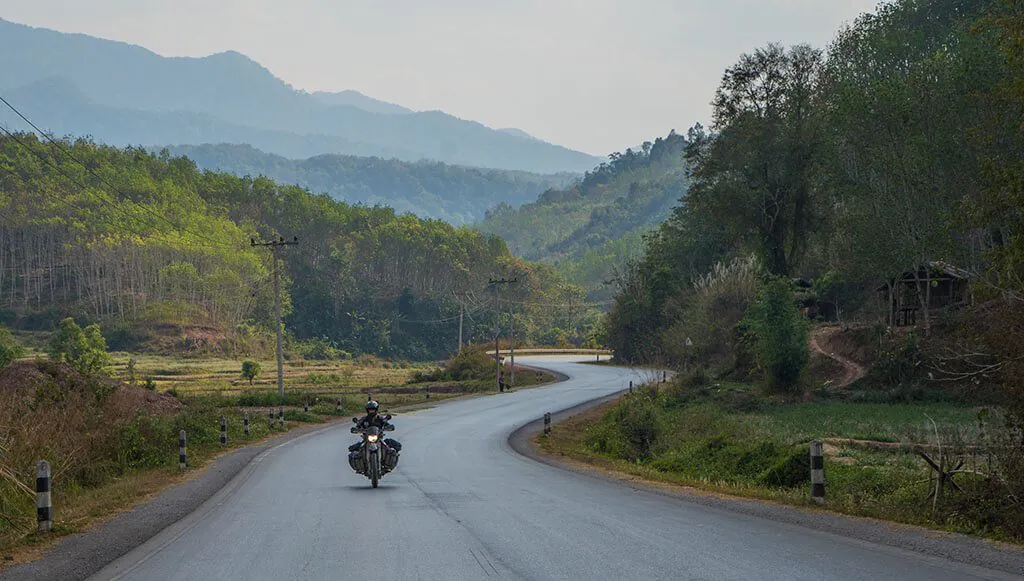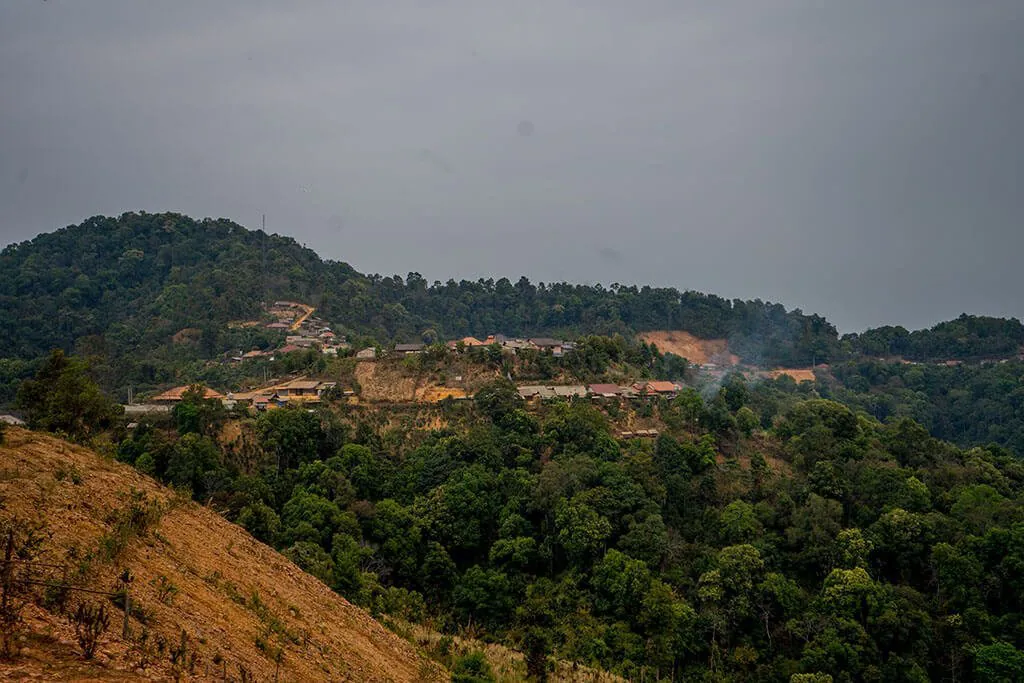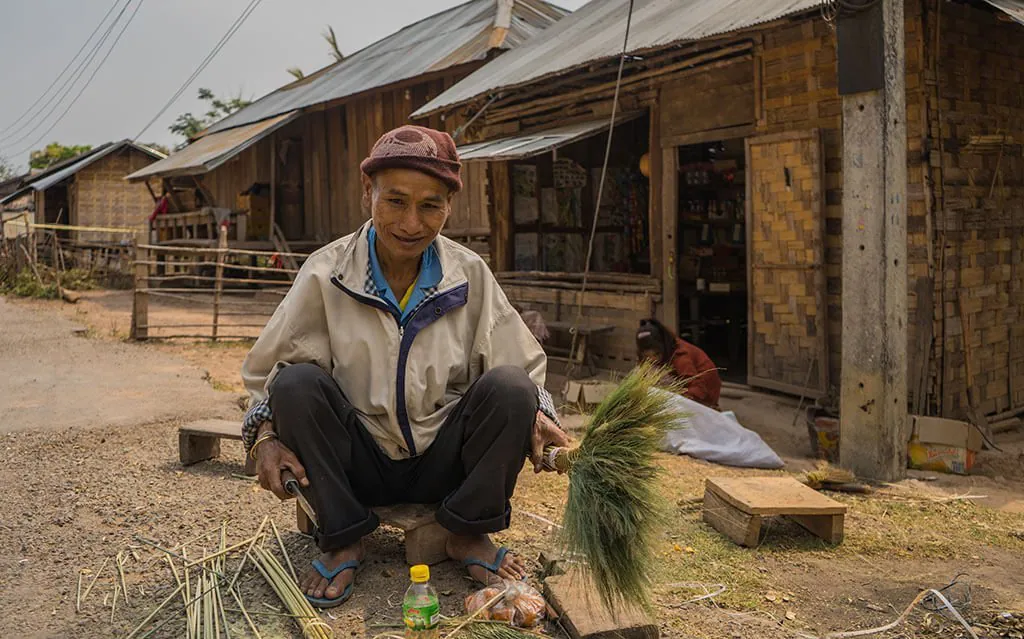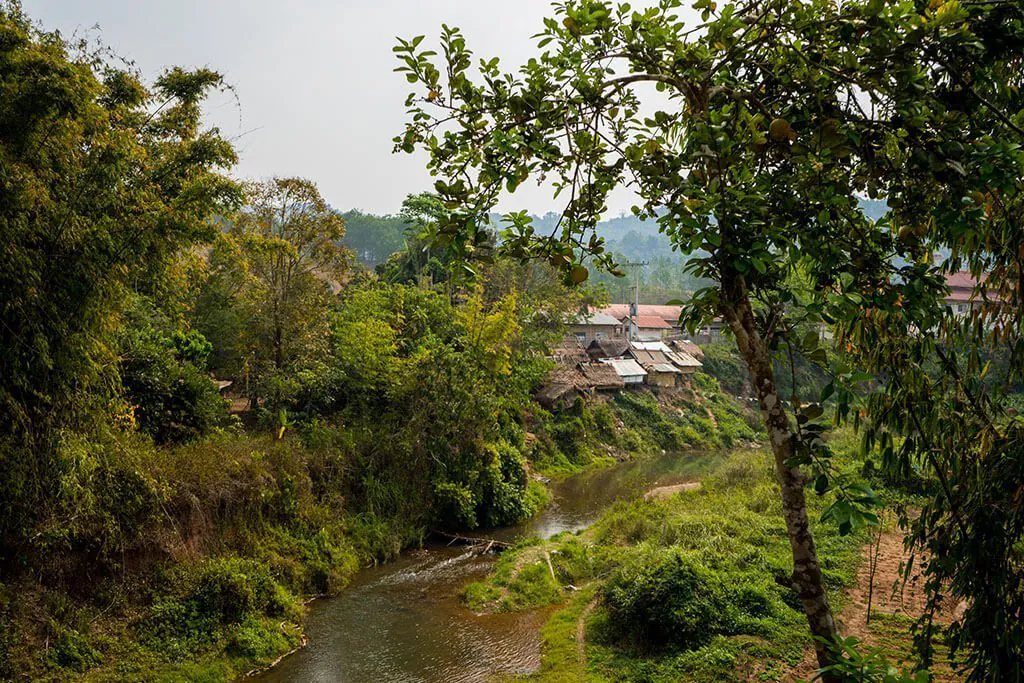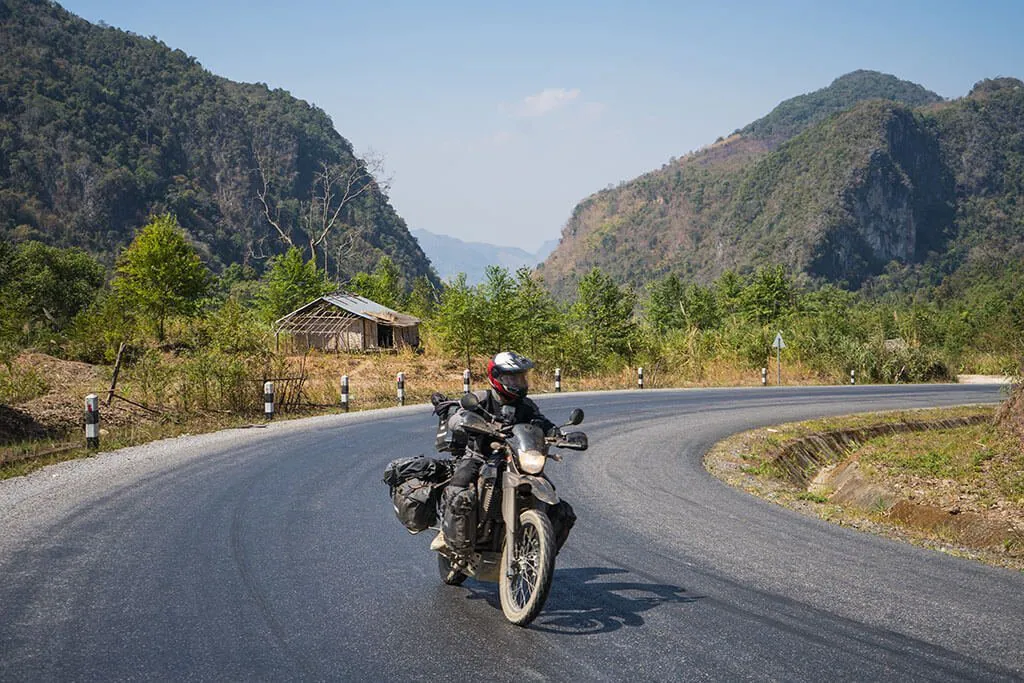 Enjoy Laos Life on the 4,000 Islands
Despite being a landlocked country in the heart of Southeast Asia, Laos has islands… around 4,000 of them! Well, not exactly that many, but that's what the Si Phan Don region of southern Laos is called. It's a riverine archipelago in southern Laos on the mighty Mekong River.
The region is right on the border with Cambodia and is a perfect stop over if you're entering or exiting Cambodia.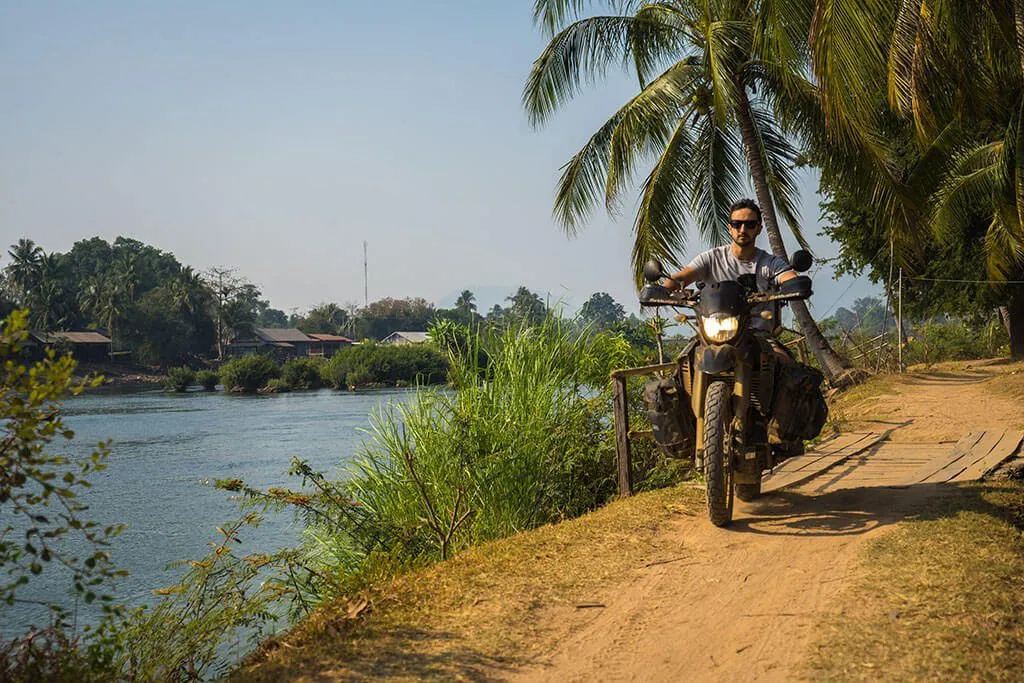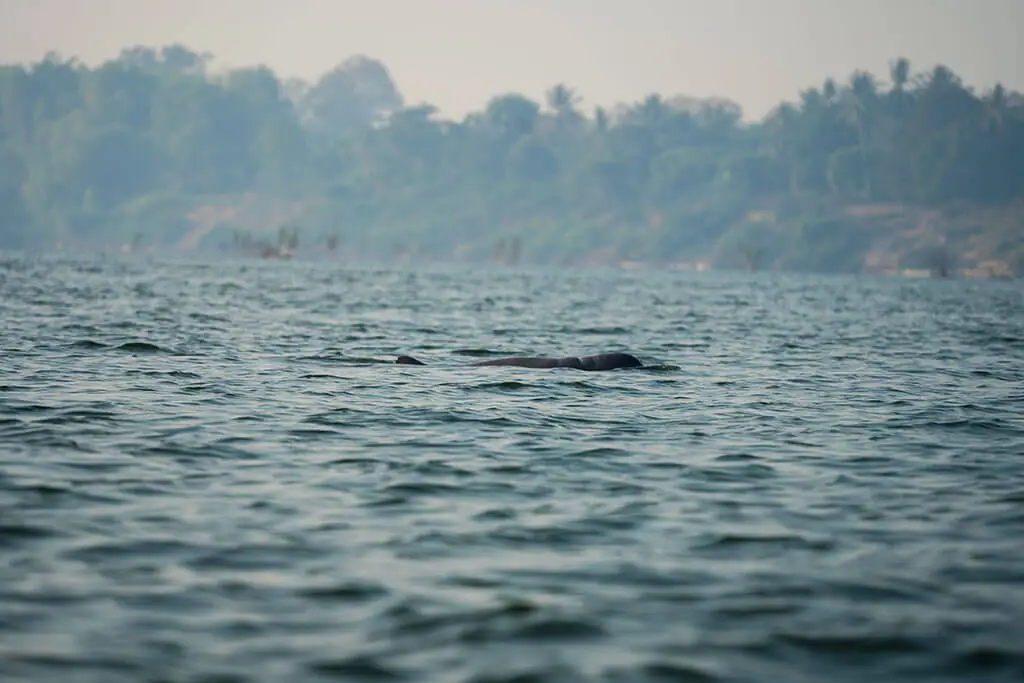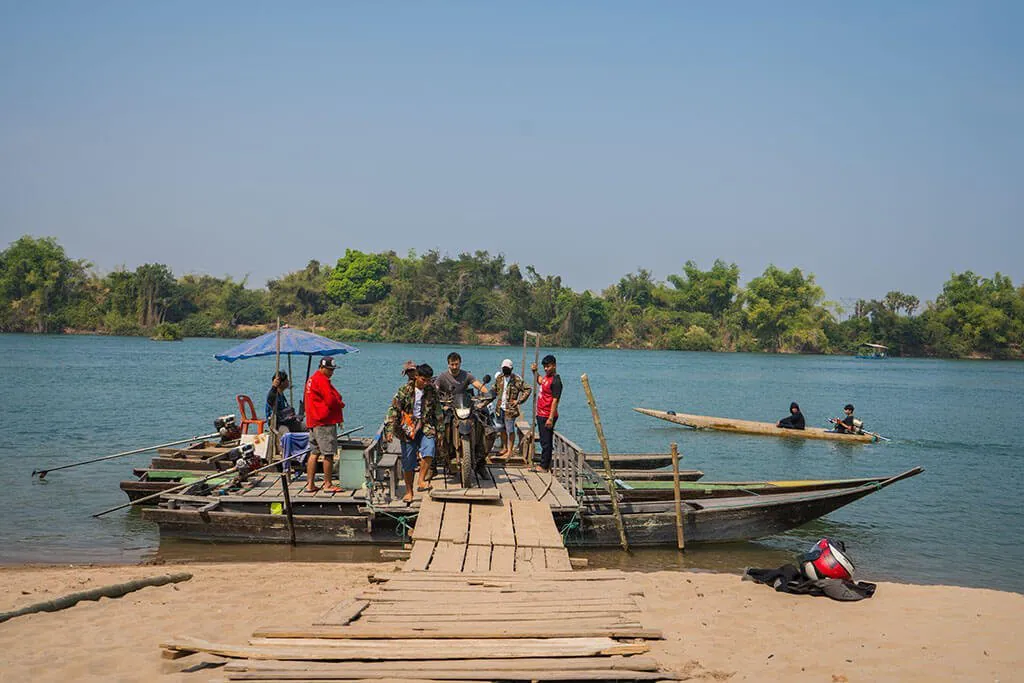 Fair enough, you might be wondering why a bunch of islands are on the 5 best things to do in Laos on a motorcycle page… Here's why, Don Det is the main island and it's gorgeous. You can take your bike to the island using a catamaran from the mainland for around £5. Once there, you'll be riding around a gold sand filled island, on roads shaded by swaying palm trees. There are plenty of tourists on the island, but tourism is intergrated with the local natives here and so it's a much more authentic and relaxed place than your typical SE Asian island.
You can find plenty of teak wooden cabins, complete with lazy hammocks out front overlooking emerald green water for around £7 a night!
Taking a relaxing ride around the island is so much fun. Head through the heart of the island, go off-roading as you search for waterfalls, abandoned colonial French railways and be sure to check out the endangered Irrawaddy river dolphins too.
There's plenty of sand and tarmac if you prefer. Don Det and the 4,000 Islands is a beautiful part of Laos. It's relaxed, easy going and peaceful. Take your bike here, chill in a hammock, explore and try the lime shakes.
Motorcycle Travel Guide: Laos
Everything you need to know about riding Laos
Read more on Motorcycle Travel in Laos and Southeast Asia 
We hope you enjoyed this 5 BEST Things to do in Laos on a Motorcycle guide. Here's some more articles on Laos and Southeast Asia that you may find useful.
Liked that? Try these next…
Are you planning a motorcycle tour in Laos or Southeast Asia? Let us know if you have any questions in the comments below.