Welcome to the 3 Best Bike Routes from Delhi to Leh and the Himalayas! This packed guide shows you the best routes and roads for your motorcycle trip to Leh and is filled with expert tips, advice and loads of hidden gems.  
From Delhi to Leh, Ladakh on a Motorcycle
Whisper the words "motorcycle" and "India" to any adventure bike rider and you'll be met with tales of incredible journeys through the Himalayan playground of Ladakh and its capital, Leh. It's a motorcycle traveller's dream and one of India's brightest highlights. Endless moonscapes, forever rolling and changing scenery, snow-capped mountains, deserts, forests and gorgeous rugged lands. If you're planning a motorcycle trip to India, then Leh and Ladakh must be one of your top priorities. 
Have a quick Google search of Leh and you'll find a million articles on what to do there, but there are very few guides that actually explain how to get from New Delhi to Leh and Ladakh on a motorcycle. It's a huge shame as the way there is jaw-dropping. 
But that's where this packed guide comes in! Here are the three best routes to the Himalayas from New Delhi so you can get the most out of your epic India ride. 
You've got three incredible routes to choose from: Manali, Kashmir and Spiti. Each route is roughly 2,175 miles from New Delhi to Leh and back again and you can expect it them to take 13-17 days dependent on weather and the rider's skill level. 
All of three of these routes are beautiful, but my suggestion is Route 3 for the onward journey and Route 2 for the return because it will cover the entire Ladakh and Spiti circuit. The main thing you'll miss from Route 1 is the scenic views from the Rohtang Pass to Keylong. Let's get to it, here's the 3 best bike routes from Delhi to Leh!
This road trip is breathtaking and must be experienced! The deadly twists and turns, jagged mountains, distinct valleys, spectacular landscapes and stunning monasteries will all spice up your journey.
The distance between Manali-Leh is around 300 miles (480 km) and should be covered in 2-3 days as most of it is above an altitude of 13,123 feet. The best time to visit Leh on a motorcycle is mid-May to September or when the Rohtang pass is open by BRO (Border Road Organisation) for travellers.
This was the first high Altitude Himalayan Pass on the Manali-Leh Highway, at an altitude of 3,980 metres (13,060 feet). Every year BRO removes tonnes of snow with JCBs. Once you cross the white sheet of snow, you will find yourself in a heavenly place and experience winds through winding roads, verdant green canyons and serene hills overlooking the magical, majestic waterfalls, apple orchards, forested hillsides and millions of strawberry and cherry plantations – a delight for a camera lens. 
Make a stopover at Keylong and further at Sarchu to relax for the night, witness the star-studded skies and memorize mountains while you acclimatize to the high altitude.
Don't make the same mistake as most riders by going directly to Pang for a night just to save a day, which is located at 15,000 feet above sea level. From Sarchu, you can ride towards Leh via Pang.
Main Passes on the Manali- Leh Highway
Baralacha La Altitude: 5,030 meter (16,500 feet)
Nakee La Altitude: 4,739 meter (15,547 feet)
Lachung La Altitude: 5,065 meter (16,616 feet)
Tanglang La Altitude: 5,328 meter (17,480 feet)
Paperwork for Manali to Leh
The Rohtang Pass requires an Inner Line Permit (ILP) 
Permit for Rohtang Pass can be obtained from Tourism Development Council in  Manali. 
No vehicles are allowed on Tuesdays as the day is marked for maintenance of Rohtang Pass.
Route 2: Delhi – Shimla – Narkanda – Recong Peo to Spiti
Almost every mile presents a picture perfect photo opportunity. Those with a passion for photography will instantly fall in love with this camera ready road. Spiti Valley is almost 500 miles (800 km) from Delhi, which can be covered in two days. On its winding roads you will see motivational signage like: 
"YOU ARE TRAVELING ON THE WORLD'S MOST TREACHEROUS ROAD."
This terrain has beautiful mountains on one side and a deep verdant green valley on the other. This road always leave riders spellbound. The best time to go is anytime! But remember that monsoons kick in from mid-September to mid-August. A one-way journey is approximately 620 miles (1000 km). 
My recommendation to all nature enthusiasts is to stop at Nakanda, Hattu Valley, which is 37 miles (60 km) ahead of Shimla and lies at an altitude of 11,152 feet (3,400 metres). You will experience the gorgeous Pine and Deodar Jungle, fresh strawberries, honey and other fruits which are available from roadside shops. Ornithologists keep their binoculars and cameras handy. A night's stay and a morning walk will charge you up for the next day's ride to Spiti. 
You will need to obtain your ILP, check the Extra Info below for more info on the permits for this route. Once you secure your permit, you can start your journey towards Nako which is another 62 miles (100 km) and takes 6-7 hrs. 
Road Dangers
Hold on! Your treacherous journey is going to start now… Get your checklist out: fuel, tyre pressures, food, goggles, warm clothes and plenty of water (minimum of three litres per person). This next 60-mile (100 km) stretch may take you 6-7 hours without any phone signal and an uncivilized topography – watch out for landslides.  
Don't Miss
Don't miss the Gue Mummy Stupa and Tabo Monastery at Tabo after Nako. In winters, temperatures drop below -50C and the place becomes a hot spot for passionate photographers. Courageous photographers won't mind walking in bone chilling conditions to get a glimpse of a snow Leopard or capture a shot using their tele lens. Due to heavy snowfall, snow leopards descend to 14,000 feet from their natural habitat of 17,000+ feet.
Spiti Valley
Spiti will take you 3-4 days to explore completely. Your journey will continue from Losar and Kunjum Pass. Take a four-mile (7 km) detour for Chandra Tal (Moon Lake). Riding time of an hour or so and 20-30 mins hiking is required to reach the lake.
Kunjum Pass is one of India's highest motorable mountain passes at 15,000 feet and above. It's open for only four and half months a year, from May to mid-Sep, depending on snow and heavy water flow.
The last 40 miles (70 km) of this journey will be very challenging for both the rider and the motorcycle. After, the route will connect into Route 1 at Keylong to head to Leh.
My preference is to take this route while returning from Leh, as it has rough roads and other geographical challenges which may result in a delay on your onward journey, hence deal with it after you have reached your main destination, but still have an appetite for more adventure. Make sure you cross all the passes before 1300hrs, after which you may face high currents in the water.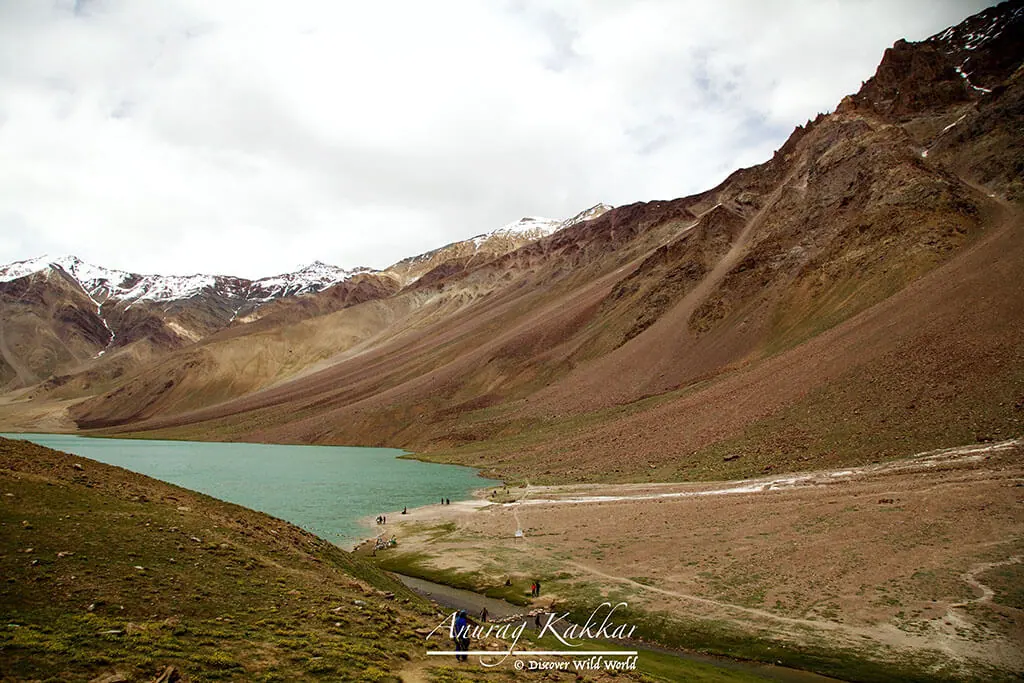 Paperwork for Delhi – Spiti
Foreign nationals and tourists to Lahaul-Spiti Valley and Kinnaur Valley require an ILP, which can be obtained from DC office at Recong Peo or Shimla.
If you are commuting from Manali or Leh, the permit can be obtained from Keylong district.
Foreigners in a group of two or more can get the permit easily. Solo travelers are not allowed to ride alone in such terrain.
Each foreign national requires an ILP to visit protected areas of Spiti and Ladakh as it is close to international borders.
Residents of China, Bangladesh and Pakistan are not allowed to visit Spiti & Ladakh regions. If necessary, they need to seek permission from the Ministry of Home Affairs in  Delhi.
Indian nationals don't require an ILP to visit Spiti Valley. A valid photo ID is sufficient but they do need an ILP for visiting the Ladakh region too.
If you have time…
Chicham Bridge is the World's highest bridge at 13,244 feet. It is located at the far end of the Himalayas, looking above or below both will offer an unforgettable sight. It's also home to some of the world's rarest species like the Himalayan Ibex and snow leopard. By nature, the Ibex will always stay close to rocky terrain and only enters forests occasionally. 
Route 3: Delhi- Jalandhar – Jammu – Ramban – Srinagar – Sonamarg – Kargil – Lamayuru – Leh
The meadow of golden glaciers, snow-capped mountains, frozen rivers, ice bridges, Dal lake and crashing waterfalls make this my absolute favourite route. No ILP is required until Leh for foreigners and Indians.
Leaving Delhi before first light will give you an advantage in covering the first 370 miles (600 km). Stop for the night at Jammu and then another 250 miles (400 km) and you'll reach Sonamarg (Meadow of Gold). I assure you, riding along the Dal lake will be an unforgettable ride.
At Sonamarg, changing weather conditions add to the mystery of 'what's next?' The Sindh River cutting across the Sindh valley brings glamour to this hill station. Sonamarg offers contrasting beauty with green meadows on the banks of the Sindh River and the cold rustic mountains leading to Kargil.
I suggest an overnight stay at Sonamarg valley instead of Shrinagar. Once the day tourists leave, the place becomes quiet and reveals its true beauty only to its night audience. The Sonamarg market is about half a mile long and most of the places there serve fabulous food.
The next day's ride will be at an elevation of approximately 11,575 feet (3,528 metres) at Zozi la, which is the second highest pass before Fotula on the Srinagar-Leh National Highway.
No Indian can avoid stopping at the world's highest battle ground to pay homage to the brave soldiers who sacrificed their lives to protect our nation at Dras War Memorial, (District Kargil) also known as India's coldest inhabited place.
The Kargil War Memorial was built by the Indian Army in the town of Dras and commemorates the 1999 Kargil War between India and Pakistan. The view of Tiger Hill and the Tololing Range add to the majesty of this place. It is an emotional experience hearing the stories of the soldiers.
Fuel stations can be found 37 miles (60 km) after the memorial. There is a HP Petrol Pump there with a bridge right in front of it. If you take that bridge and go towards Mulbekh and Fotula, you can bypass Kargil. This is a short cut to Leh. 
Lamayuru Moonland 
Carry on and the winding roads will take you to Lamayuru, often referred to as Moonland.  Lamayuru monastery is the main attraction here. It is one of the most intriguing places to visit in the area as it's one of the oldest and largest monasteries in Ladakh and is steeped in stories and legends. It's a dilemma on whether to stay a few hours or overnight. I'd recommend staying overnight as it could be one of your most beautiful encounters with nature. As it lies between Himalayan and Karakorum ranges, the region has an incredibly high altitude, is called Roof Top of the World and it's deep Moon Valley is just stunning. 
To Leh
Another 4-5 hours later and you will reach Leh. But before that, you will experience the beauty of Zanskar Valley. Your bike's engine will get a rest for the next 50 miles (80 km) as it's easy going. Keep an eye on the odometer and on the straight road because you'll be riding at 80 mph (130 kph) on a slope.
Don't Miss
Khardung La is known as the world's highest motorable road and will no doubt be at the top of your list. It sits at an elevation of 17,582 feet (5,359m) above sea level and is a must for adventure bike riders – conquering the most thrilling, scenic and adventurous biking route is an accomplishment in itself.
Keep going though and don't miss Nubra Valley – the high-altitude cold desert.
Paperwork for Leh
You will need to apply for the IPL at the Leh DC office or your hotel's reception may be able to help arrange it for an extra charge.
Top Tips for All 3 Motorcycle Routes to the Himalayas
Riders should be careful about their health. Acclimatisation is a must at 10,000 feet.  It is mandatory to carry medicine for AMS (Acute Mountain Sickness). 
Sometimes oxygen cylinders are also required. If unavailable, it is recommended to descend to 1,000-2,000 feet and seek medical help without any delay. Avoid alcohol at 15,000 feet and above.
Check all passes before you start your journey especially the Rohtang Pass, Zozila , Khardung Pass and Kunjum Pass because these routes are only accessible for a few months a year.
Carry a jerrycan as fuel consumption will be high, especially in Spiti Valley because there is a stretch of 230 miles (375 km) without any fuel stations. 
Proper motorcycle clothing is important and carrying a decent raincoat is a must. For more information motorcycle clothing check out this guide:
READ MORE: How to Choose Your Adventure Riding Gear   
Carrying high-calorie food like dry fruits, protein/energy bars and chocolates will come in handy when you need an instant energy boost to keep going or to cover situations where you won't find food for hours. Most importantly, keep yourself well hydrated all the time.
If you're looking to rent a motorcycle or join a tour, take a look at the Mad or Nomad recommended companies in India and Nepal.
Anurag Kakkar 
I'm a passionate wildlife photographer, birder and biker. I have been riding motorcycles for 30 years and have ridden through Europe, Southeast Asia and Asia.
I'm based in New Delhi to be in close to the Himalayan ranges, which is one of my favourite destinations. Many international bikers have started their journey from my house in Delhi, which also acts as a base camp for their trips around India.
Some of my favourite destinations are the foothills of the Himalayas, Western Ghats, South-Eastern shores and the Great Indian Thar Desert, which can also be called my second home. There's so much to see and explore in this beautiful country, which reminds me of a quote: "One has to be born thrice if you want to experience complete India" … and I'm only in my 40s!
Read more on motorcycle travel in India
Thanks for checking out The 3 Best Biking Routes from Delhi to Leh guide. We hope you enjoyed it! Here's a few more articles on motorcycling in Asia that we recommend you read next. 
Are you planning a motorcycle trip to India and the Himalayas or do you have any questions or tips to share? Let us know in the comments below.