If you have an adventure bike and live in the UK, it's time to put those big 21-inch front tyres to good use. Here's a selection of 10 great ideas and awesome things to do in the UK for adventure bike riders.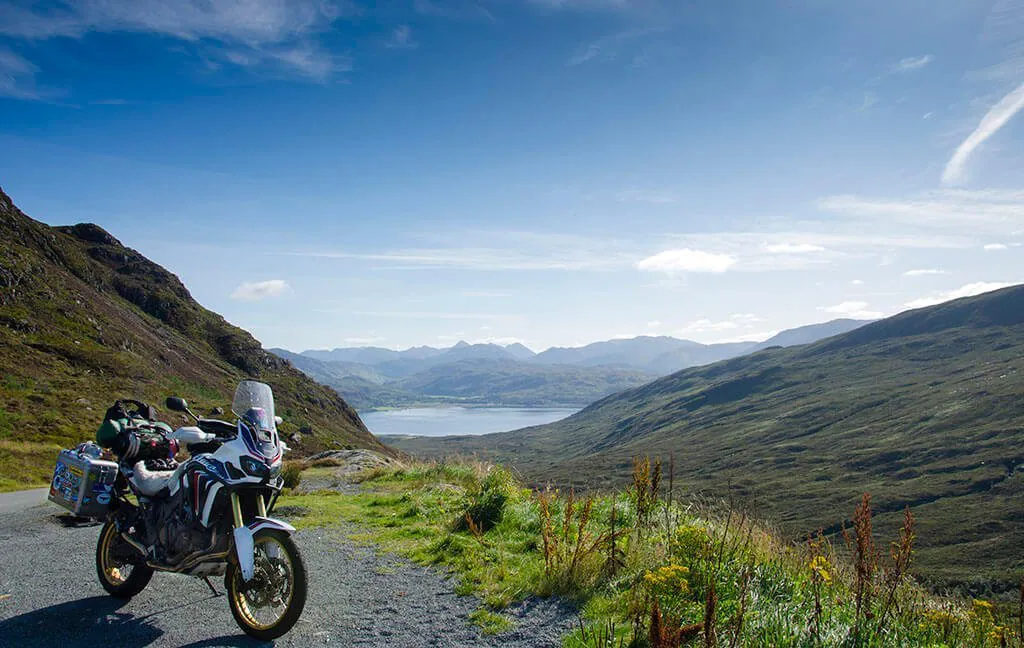 What to do in the UK for Adventure Bike Riders
So you've got an adventure bike and live in the UK – check. But you've ridden it to work and back a few times, loaded up your weekly shop in those heavy-duty panniers and have just realised there's got to be more to this adventure malarkey that that! 
There is, and you don't need to go to the ends of the earth to have an adventure – you don't even need leave the British Isles! There's an awesome motorcycle adventure waiting for you on your back door step. There's so much on offer, so we've narrowed it down and collected 10 great ideas for things to do in the UK with your adventure bike! 
Go on a Mini UK Motorcycle Adventure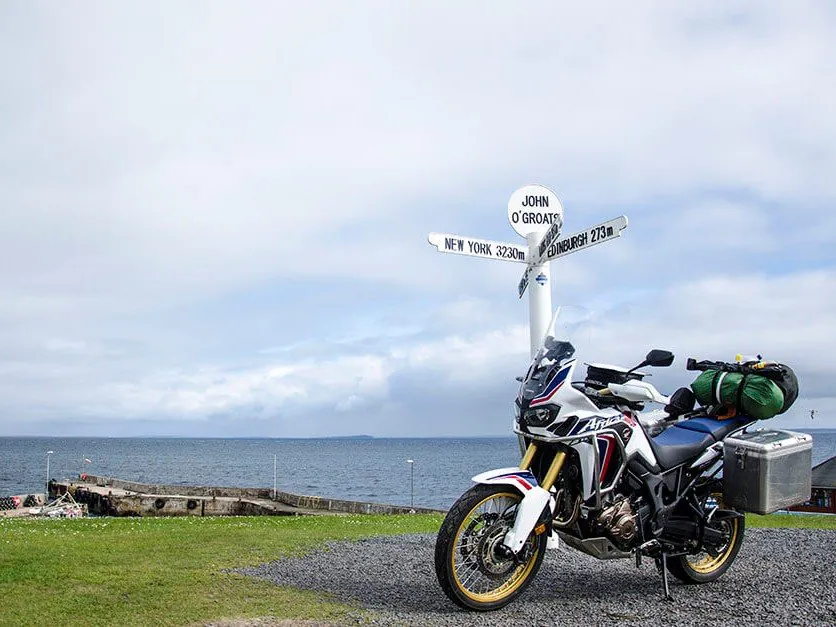 Going on a motorcycle adventure is easier than you think and can be as simple or as difficult as you want it to be. What do we mean by a mini UK motorcycle adventure? Easy. Anything! Set yourself a challenge and just go for it. This could be riding from John o' Groats to Land's End, or ride to each of the Three Peaks, or take a week off work and pick five different trails around the UK of varying difficulty and ride each one. You could camp each night or even try wild camping up in Scotland while you're at it. How about having a go at a section of the UK Trans Euro Trail (for more experienced riders). The choices are endless…
Why you'll love it
You'll be challenging yourself. Anything is an adventure if you take yourself out of your comfort zone and try your hand at something you wouldn't normally do. Having a go at a mini UK adventure doesn't require much time, money or planning either. It just means loading your bike up with gear and getting out there. It's also a great way to experience travelling. If you ever fancy going further afield, this is a fantastic dry run for prepping yourself, your packing, gear and riding.
When to go
You can go anytime of year. Although, it'll be more fun in summer as the weather's warmer and there's less rain. 
How to go
This one's down to you. It completely depends on where you're going and what you're planning on doing. If you need some advice on getting started, have a read of this article first.
READ MORE: How to Go on a Motorcycle Adventure
Go on an Adventure Bike Camping Trip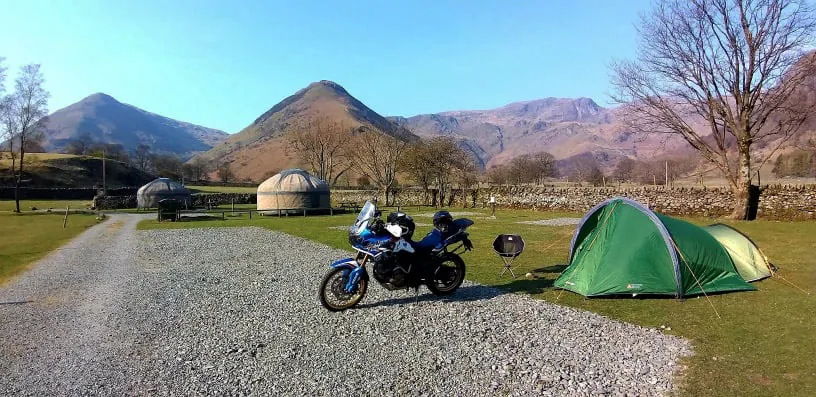 The UK is a brilliant place to go camping with your motorcycle and it's easy because there are so many excellent campsites dotted all over the country. All you need to do is pick a route, find a campsite nearby, pack your tent and have a go.   
Why you'll love it
It's almost inexplicable. Travelling on a motorcycle is visceral and freeing, and camping after a day's ride is an extension of that feeling. You're continuing that escapism by carrying your accommodation on your bike and pitching up on your travels. That aside, it's just a really fun thing to do, especially if you're with a bunch of mates and find a site that allows fires. Buy something tasty to eat (and drink) from a local shop just before you arrive at the site, pitch up, get your chairs out and have a cook up on an open fire with a few beers. What more could you want?
When to go
Camping is easier and more fun in the warmer months. It's possible any time of year, but many campsites do close for winter. Also, if you're going in the cold season, you'll need to pack different gear and a lot more of it, so just bear that in mind.
How to go
If you're new to motorcycle camping, we suggest you take a look at our camping guides page as it displays all of the camping guides, articles and reviews on the website in one easy to find place. Especially take a look at our ultimate Motorcycle Camping Guide. And if you're after an intro to camping in the UK specifically, have a read of the How to Motorcycle Camp in the UK guide. And for what kit to take there's the Motorcycle Camping Gear Checklist. You can find all of these articles and much more in the Guides section.
But if you're well-versed with sleeping in the great outdoors and just need to know where to set-up, have a look at the UK Campsites page as it lists over a hundred biker friendly sites on a map so you can quickly and easily find a site along your route or close to your destination.
READ MORE:
Go Adventure Bike Trail Riding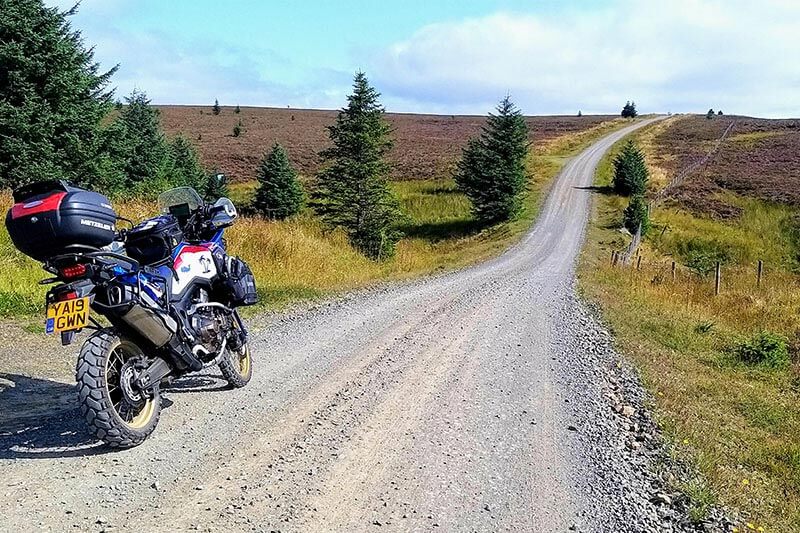 Trail riding isn't the same as off-roading. It's riding unsurfaced roads and tracks with vehicular rights of way that are open to all traffic. That means your bike needs to be fully road legal to use them as these 'green' (country) roads are subject to the same laws as 'black' (tarmacked) roads. 
These unsurfaced roads are part of a huge network of ancient historic routes scattered around the UK for you to explore. And these trails aren't just reserved for lightweight dirt bikes, you can ride these trails on your adventure bike too.
Why you'll love it
Trail riding is incredibly fun. You'll learn technical riding skills and orienteering all while exploring the beautiful British Isles on a motorcycle. It's more of a challenge than an off-road day because you'll need to navigate and will be on a road legal bike which means flitting between tarmac and the rough stuff while exploring your home country.
And it's something you can do all year round no matter the weather. You'll also find an awesome community of like-minded people to ride with making it a brilliant social activity too.
When to go
You can go trail riding any time of the year. Of course, it's going to be more comfortable in the cooler months because it gets sweaty, but the trails will be busier. And in winter it's much colder and the road surfaces will be tougher to negotiate. Your call.
How to go
You've got a few options here. You can join the Trail Riders Fellowship (recommended) and go on a ride with your local group. Or you can go it alone by finding trails using Ordnance Survey (OS) maps. But you must research where you're going and the rules on riding these types of roads first if you're going solo.
The other option is to sign up for a trail riding tour (highly recommended). This option is a fantastic way to get into trail riding. You just need to turn up on the day and experts who know their local trails like the back of their hand will guide you. You can either take your own bike to practise on or hire one. But if you're new to it and own a big adventure bike, it's worth spending a little extra and hiring a smaller trail bike to learn on. And don't forget, these trail riding tours come with tuition so you'll get training while you're there too.
READ MORE: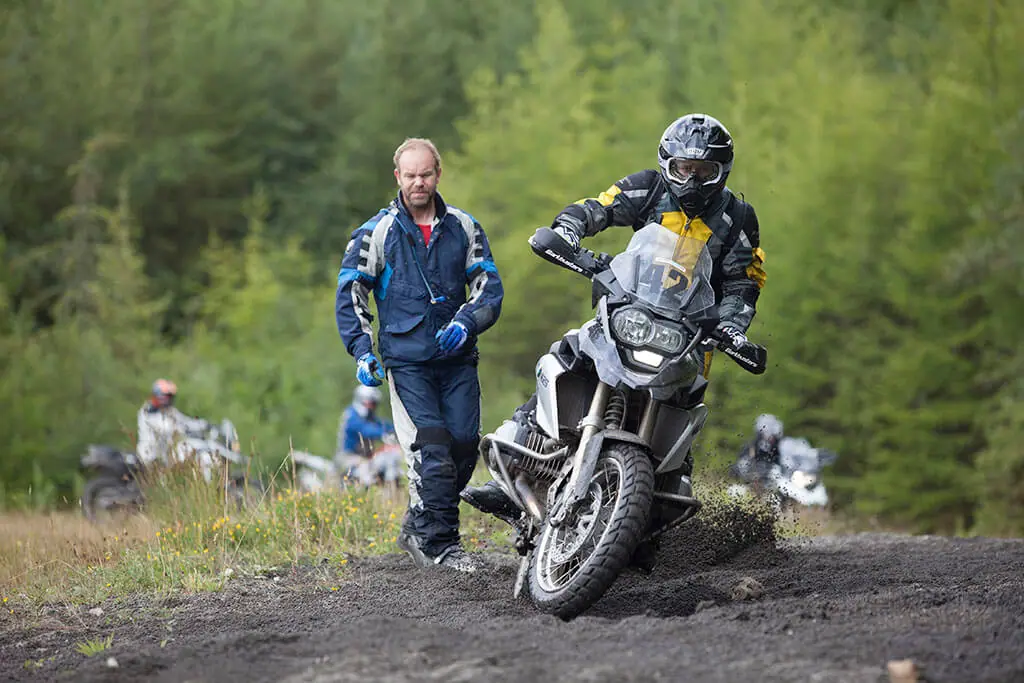 Off-road training means learning to control a motorcycle on rough ground. That doesn't mean you need to learn on a hardcore two-stroke enduro bike at some incredibly scary motocross site either. Training schools today cater for any type of motorcycle and there are dedicated adventure bike training schools for bigger bikes to help you get the most out of your motorcycle too.
You can opt to learn on small capacity bikes first or go straight in and learn on a bigger bike, or even take your own if you want to put it to the test.  
These schools cater for every level of rider as well, from novice to rally pros and you can go with your mates, solo, attend a ladies only class, have one-to-one tuition or join a group and make new friends.
Off-road training is a great way to increase your skills and become more confident on your bike, especially if you're planning a big trip.
Why you'll love it
Off road training is an incredible experience, and something every motorcycle rider should do. And it doesn't matter if you only ride on road, or want to learn on a 250cc bike or don't even have an adventure bike. Learning to ride off-road greatly and rapidly increases your overall riding skills, which are transferable to every aspect of motorcycle riding – from road riding to understanding what your bike is capable off, motorcycle control, positioning, how to pick it up if you drop it and so much more. And most importantly, it's just about the best fun you can have on two wheels!
When to go
You can attend an off-road school pretty much anytime of the year. Some schools may shut for a season, but the majority are open all year round. Just expect to get a lot muddier in the rainy season (so all year round in the UK). But don't worry, it adds to the fun.
How to go
Visit our recommended training schools page. On there you'll find a selection of the very best off-road schools in the UK, what they offer, where they are, contact details, pricing and more.
READ MORE: The Best Off Road Motorcycle Training Schools in the UK
Learn Adventure Bike Mechanics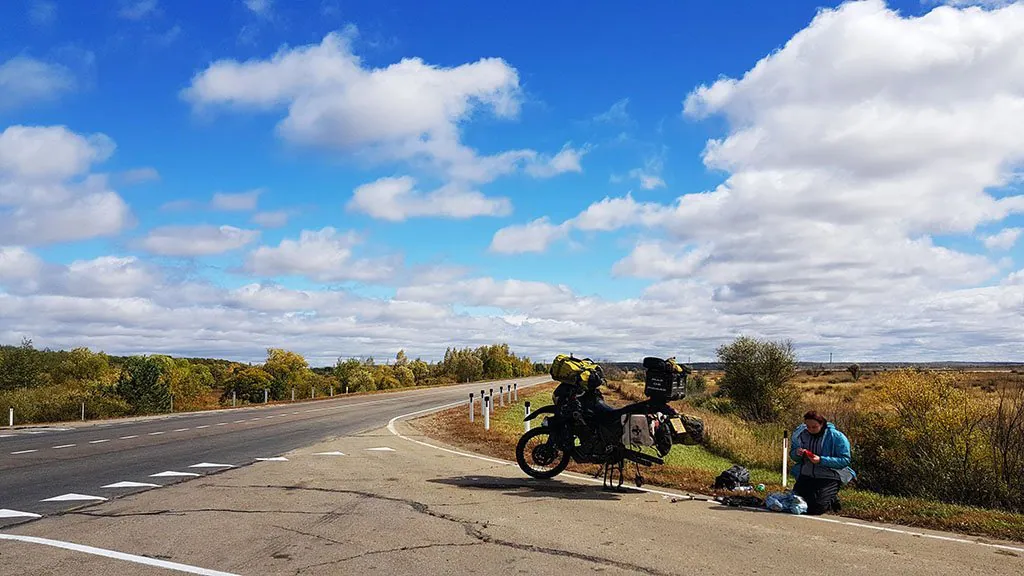 When it comes to motorcycle travel, aside from the main questions about budgeting and finding the time to go, a lot of people worry about their mechanical skills and it puts many riders off. You don't need to be a mechanic to travel on your bike. Some of the most experienced motorcycle travellers I know don't have a clue where their spark plug is. But, knowing the basics can and will save you time, money and stress both at home and on the road.
You won't have to wait for a recovery truck or a passer by to help fix your blown out tyre, you'll save money by doing work yourself, and you'll feel better and more confident knowing you can handle basic repairs and maintenance should something go wrong.
Why you'll love it
It's easier than ever to learn basic field motorcycle mechanics as adventure bike travel has become more and more popular. A good handful of off-road training schools also offer standalone mechanic classes where they'll take you through the basics of repairing, adjusting and changing your chain, checking fluids, maintaining brake pads, how to remove your wheels, change tyres and much more. You can also attend beginner, intermediate or advanced classes as a one-to-one or in a group.
They're exceptionally good value for money as after a few home repairs you will have saved the amount it would have cost to visit your local garage. You'll love it because you will receive professional tuition on a sample bike (or I'd recommend taking your own to work on), can ask all those niggly questions and get hands on experience.
When to go
These classes are indoors and so you can attend any time of year. As off-road training schools run them, it's worth going for a couple of days and tying in an off-road day while you're at it. Double the training, double the fun!
How to go
Take a look at our recommended training schools page. Under the 'Services' section of each school it'll show if they also offer mechanic training.  
It's also a good idea to start building your own tool kit. Wait until you've taken the class to get a better understanding of what type of tools you need to complete the tasks you're comfortable working on. And then take a look at our tool kit guide below which shows you what we carry and how to pack a kit. And if you'd prefer to buy a pre-made kit specially prepared for your bike, have a read of our SBV tool kit review as well.
READ MORE:
Join an Organised UK Motorcycle Tour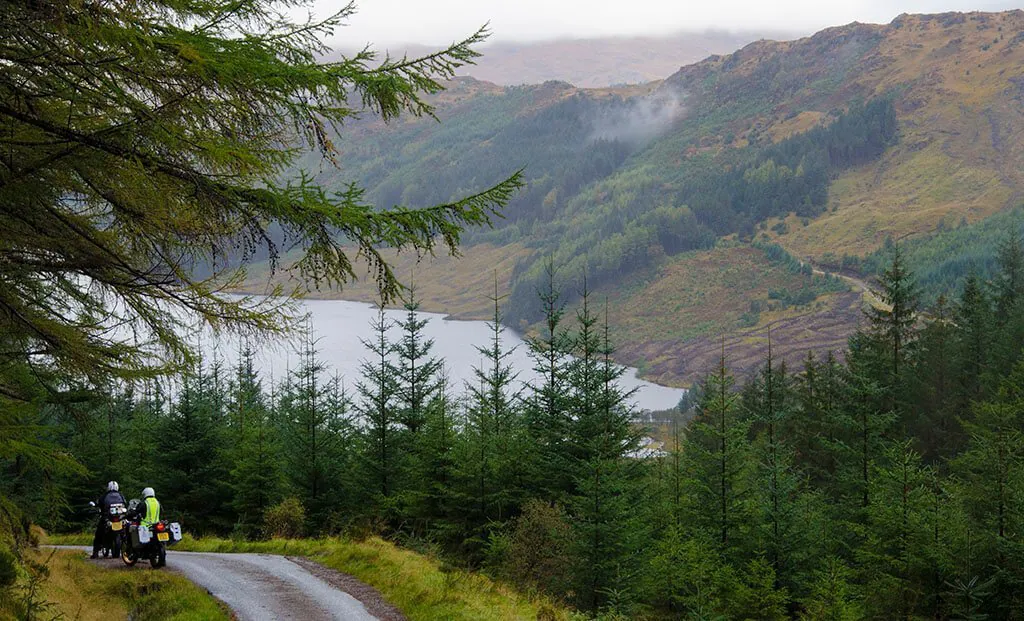 If you're new to adventure biking or touring, or if you don't have mates already into it, it can be a daunting heading out on your own. It's tricky figuring out where to go, what to take and sometimes even how to ride. An organised, pre-planned and professional tour takes all the stress and faff out of it so you can relax and be properly and safely introduced to it.
A tour company will organise everything from the routes to accommodation, points of interest, food stops and will be there to lead and guide you on the tour itself.
And even if you're a dab hand at touring, joining a tour is still a great idea because you might not have a load of time to plan a tour or just want to try something new.
Why you'll love it
It's the perfect way to make new friends. You'll get to explore some of the best touring roads in the UK with professional guides and expert riders who offer tuition en route. You can ride at your own pace and enjoy epic routes with like-minded people.
When to go
UK tours usually run in the summer months. Check with the company you're going with for when they recommend to go. Bear in mind that their tours will be on set dates unless you're organising a group of friends and want a bespoke tour.  
How to go
We have a section on the website dedicated to listing the best rental and tour companies around the world. Check out the link below and click the UK on the interactive map – or whatever country you fancy riding in!
READ MORE: Recommended Rental and Tour Companies
Try One of Our Top 6 UK Biking Routes
The UK is brimming with awesome biking roads and routes. England, Wales, Scotland and Northern Ireland aren't just packed with stunning roads, but you've also got incredible history and epic scenery thrown into the mix too. There's so much on offer it's hard to know where to start. So, to help out we picked six of our favourites for you to try. If you fancy having a crack at some of the very best biking routes in the UK, have a read of our guide and pick one!  
Why you'll love it
You'll love it because these are some of the best routes in the UK. There always seems to be an emphasis on getting over to Europe for the best roads when so many riders haven't sampled our British delights first. If you've got an adventure bike and want to get out on it, we'd recommend ticking these great routes off first.
When to go
You can go anytime of year, but expect better weather and road conditions in the warmer months.
How to go
You can find our favourite six in the guide below. Also, take a look at our UK page while you're at it because you'll find all of our motorcycle travel guides for the UK including a load more awesome ride reports for other UK routes.
And if you're just getting into touring or want more advice on how to go touring, what to pack and more, take a look at the touring guides section as it lists all of our touring guides in one place.
READ MORE:
Adventure Bike Events, Rallies and Meet Ups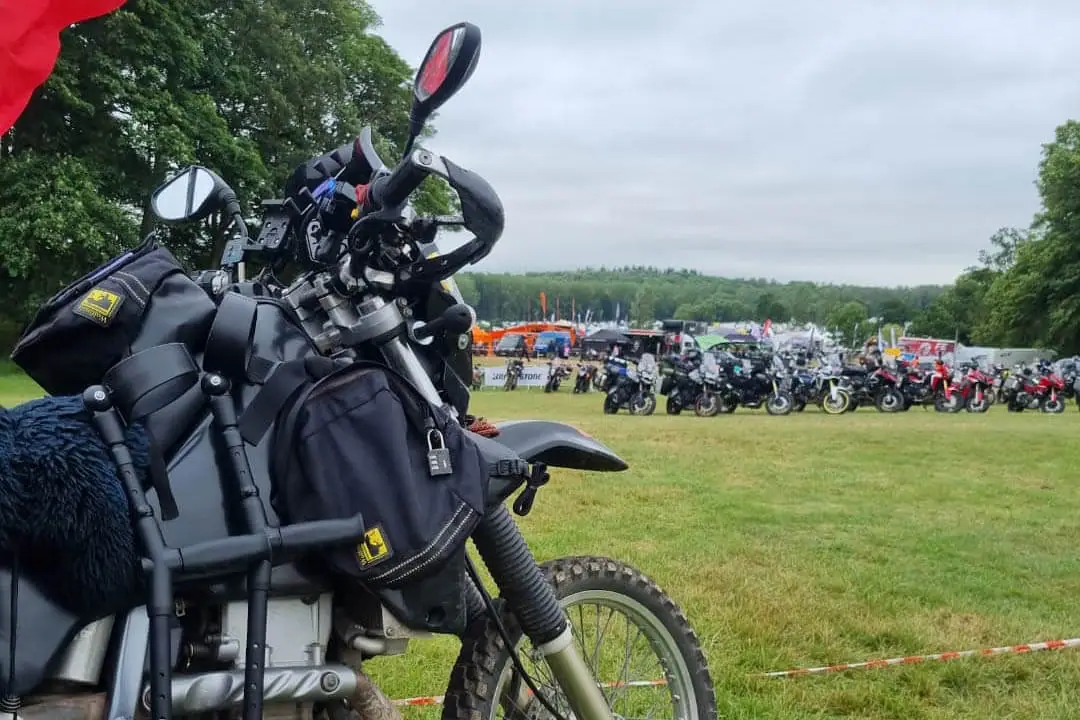 Us Brits love it! Any chance to get out on our bikes, meet like-minded people, have a drink, a chat and kick a few tyres. And luckily for us, there are loads of events spread out across the calendar for you to take your pick.
Why you'll love it
These events are great for so many different reasons. You might be thinking of getting a new adventure bike and want to see what's on offer, or new biking gear, you might want some inspiration or to hear other travellers give presentations and talks, or ask for advice or just be involved in and enjoy this incredible motorcycling community. Whatever your reason, there's loads of events to choose from. We've listed some of our favourites below.
When to go
These events are held throughout the year. Check out their websites for more info.
How to go
The Adventure Travel Film Festival
Run by motorcycle travel legends, Austin Vince and Lois Pryce, the Film Festival showcases incredible films from around the world. These independent films are submitted by unknown film-makers and adventure travellers from all over the globe and on any mode of transport.
It's a special event because it's such an incredible way to experience adventures you wouldn't have otherwise seen. The festival is outdoors with visitors camping on site over two-days. As well as films, there are adventure travel workshops, guest speakers, games and much more.  
Why you'll love it
The Adventure Travel Film Festival has got to be my favourite festival in the UK. I remember attending the first ever one back in 2010 and was blown away by its uniqueness. The films I saw made my jaw drop and a few of them have stuck with me since. It really is inspirational.
What's more, Austin and Lois have managed to bring together the adventure travel community to not just watch films, but learn how to make them with expert tuition. You'll also find a tonne of adventure workshops there and loads of inspiration from motorcycle travellers who guest speak and attend too.
When to go
The Adventure Travel Film Festival is on once a year. As it's an outdoor event and attendees camp on site, the festival is held in August and July to ensure the best weather.
How to go
There are three festivals a year. One in Scotland in July, one in the Cotswolds in August and there's also one in Australia in February if you fancy pushing the boat out!
Tickets do sell out fast, so book well in advance.
Visit the website for more info: www.adventuretravelfilmfestival.com
Do Something Different: Dorothy's Speed Shop
Nathan Millward (the guy who rode a 110cc Postie bike from Australia to the UK) runs Dorothy's Speed Shop in Devon – and it's well worth a visit. There's loads of motorcycle experiences on offer and a fleet of bikes to ride including the KTM 390, Royal Enfield Himalayan and Honda CRF300 Rally. If you're after a new bike, you can test these machines back-to-back to get a proper feel for them. 
Or if you want to try something different, sign up for the Honda CT110 postie bike tour! It's an action packed day of green laning and back roads on hilariously brilliant little bikes. It's perfect for novice riders and anyone who wants to try their hand on the rough stuff. Or even if you and your mates are experienced off-roaders, going on a guided tour with Nathan on a bunch of Postie bikes will still have you grinning ear to ear in seconds.  
Why you'll love it
Dorothy's Speed Shop is a brilliant adventure bike hub in Devon and has so much to offer. It's a great way to test new bikes, go on trail rides, have a laugh with your mates, listen to guest speakers and it'll probably encourage you to sign up to one of Nathan's mad events like the Garbage Run Rally, Devon Dakar or Welsh Safari.
When to go
On the website you'll find a booking calendar which displays what's on and when.
How to go
If you're after an experience day or want to book either a solo or group tour, it's best to get in touch in advance.
More details can be found on the website: www.dorothysspeedshop.com
Read more on Adventure Bike Riding in the UK
Thanks for checking out this Motorcycle Travel Guide: Vietnam. We hope you enjoyed it! Here's a few more articles on motorcycling in Vietnam and Southeast Asia that we recommend you read next. 
Liked that? Try these next...
Are you going to try one of our Top 10 Things to Do in the UK for Adventure Bike Riders or do you have any suggestions for something you'd like to see added to this list? Let us know in the comments below.