Tanzania Motorcycle Rentals and Tours
Here's our recommended motorcycle rental and tour companies for Tanzania.
"We specialize in off-road riding in the wilderness of Tanzania and away from the normal tourist tracks. We offer spectacular views, panoramic landscapes and the amazing possibility of riding next to wild animals while crossing some of the most native villages in Africa. We give you the best of Africa."
Services: Guided motorcycle tours, safaris, 4×4 trips, beach rides, hiking, balloon safaris and more. 
Rental bikes: A new fleet of Honda CRF 250LA  2019 models and some old Honda XR 250s.  
Rental prices: Honda CRF250LA – 2019 – £50 per day / Honda XLR 250 -£35 / Boxer 150cc – £15.
Tour prices: 10 Days – Zebra ride tour- £1,900 /7 Days – Bush baby tour – £1,400
Insurance: Third party insurance included. Optional extra damage insurance is available. 
Kit availability: Some rental kit available but it's advisable to bring your own if on a long trip.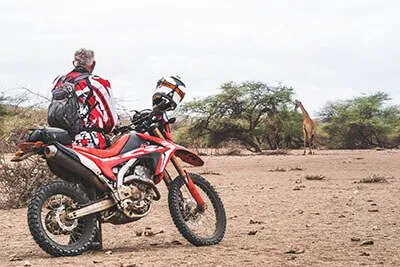 "We organise the ultimate off-road exerience on African trails in Kenya and Tanzania by motorcycle. We've been running tours since 1999 and provide a unique and close encounter with African people and wildlife."
Services: Guided motorcycle tours in East Africa: Kenya  and Tanzania.
Tour bikes: HONDA XR 400 and 250 (electric starter)
Tour prices: Tour prices range from £2,350 – £3,130 dependent on the number of participants. The tours are all-inclusive.
Insurance: Insurance is included.
Kit availability:  Gear can be supplied. 
 Mombasa, Kenya
www.motorbike-safari.com
   Frederic Poincon 
+254 712 730 219
  aventure.safaris@gmail.com
Read more on Motorcycle Travel in Tanzania and Africa.
Thanks for checking out our Tanzania Motorcycle Tour and Rental Companies post. We hope you found what you were looking for. Here's a few more articles on motorcycling in Tanzania and Africa that we recommend you read next. 
What's next? Check out these resources to get started on your adventure!
Motorcycle Rental and Tour Companies
Planning a Fly and Ride bike adventure? Here's our recommended motorcycle rental and tour companies from around the world. Check out the page, click a country and see what's on offer!
Read More
We'd love to hear from you! Let us know about your Tanzania and Africa motorcycle tour and rental experiences and ask any questions in the comments below.