Switzerland Motorcycle Rentals and Tours
Here's our recommended motorcycle tour and rental companies for Switzerland.
White Rose Motorcycle Tours
UK, France, Croatia, Slovenia, Italy, Spain, Portugal, USA
"White Rose Tours specialise in full European weekend and short break UK motorcycle touring holidays."
Services: Guided, inclusive and escorted tours in the UK, Europe and USA.
Tours: White Rose offer a range of motorcycle tours. Check their Tours page for a list of prices and what's on offer.
Example Tours: 
Antrim, Donegal and NW 200 races Tour/ 6 days/ £645
Mountains of France Tour/ 10 days/ £1,115
Insurance: No. 
Kit availability: No.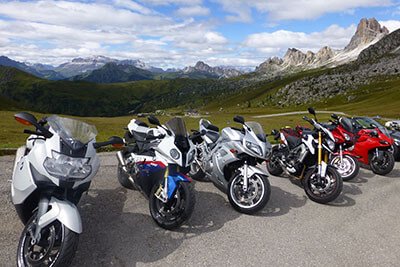 UK
David Galloway
01423 770103
 info@motorcycletours.co.uk
 European Tours: This company is also on our UK Tour Companies Page
Read more on Motorcycle Travel in Switzerland and Europe.
Thanks for checking out our Switzerland Motorcycle Tour and Rental Companies post. We hope you found what you were looking for.  Here's a few more articles on motorcycling in Switzerland and Europe that we recommend you read next. 
What's next? Check out these resources to get started on your adventure!
Motorcycle Rental and Tour Companies
Planning a Fly and Ride bike adventure? Here's our recommended motorcycle rental and tour companies from around the world. Check out the page, click a country and see what's on offer!
Read More
We'd love to hear from you! Let us know about your Switzerland motorcycle tour experiences and ask any questions in the comments below.