Sweden Motorcycle Rentals and Tours
Here's our recommended motorcycle rental and tour companies for Sweden.
"We know our country like the back of our hands and have turned the very best roads and trails into incredible tours. We offer a personal service and will show you the best Sweden has to offer".
Services: Magic Motor Experience offer all inclusive tours. The only extra customers need to pay for are drinks at dinner time. Customers receive bike hire, transfer, guide, all meals, petrol, support vehicle and a guide on a bike included in the price.
Tour prices:
Prices start from 1,590 EUR for a 5-day adventure in southern Sweden (3 riding days)
Prices start from 2,450 EUR for a 7-day adventure in Southern Sweden (5 riding days)
Prices starts from 3,150 EUR for an 8-day adventure in Norway (6 riding days)
Prices starts from 3,970 EUR for a 10-day adventure in Sweden (7 riding days)
Magic also offer a one day off-road basics riding course for 295 EUR.
Bikes: Yamaha Tenere 700 and Yamaha XT660R.
Insurance: Third party insurance is included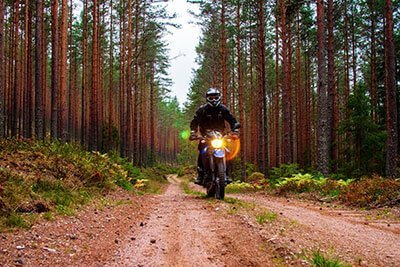 Bolmso, Sweden
   Mats Jonsson
+467 0209 8763
  info@magicmotorexperience.com
Read more on Motorcycle Travel in Europe and the UK
Thanks for checking out our Sweden Motorcycle Rental and Tour Companies post. We hope you found what you were looking for. Here's a few more articles on motorcycling in Europe that we recommend you read next.
What's next? Check out these resources to get started on your adventure!
Motorcycle Rental and Tour Companies
Planning a Fly and Ride bike adventure? Here's our recommended motorcycle rental and tour companies from around the world. Check out the page, click a country and see what's on offer!
Read More
We'd love to hear from you! Let us know about your Sweden motorcycle tour and rental experiences and ask any questions in the comments below.