Welcome to the Adventure Motorcycle Traveller Reviews. Here's a 50,000-mile review of the Suzuki V-Strom DL650A by adventure bike traveller Keith Gruenberger.  
Quick info
Bike: 2011 Suzuki V-Strom DL650A
Purchased for: £6,800 (new in 2011)
Miles covered: 50,000
Years owned: since new  
Suzuki V-Strom DL650A specs
Engine: V-twin, liquid-cooled, 645cc, FI
Power: 66.6 bhp
Torque: 45.5 ft-lbs
Kerb weight: 220kg
Seat height: 820mm
Tank capacity: 22 litres
Tyres: 19 and 17
Front suspension: Telescopic forks, spring preload adjustable
Rear suspension: Link type, preload and rebound adjustable
I have ridden a variety of bikes such as the Suzuki LS650 chopper, a Yamaha SR500, BMWK100, Suzuki VX800 and a Honda NTV650 for 13 years. After the Honda I was ready for something else – something that would pull my heart back into motorcycling, which had rapidly declined after becoming a father of two girls. You could also say I needed a bike to help regain my sanity! 
At the time, I was strictly an asphalt-only rider. I never even considered off-roading. I wanted a bike with good weather protection, an upright seated position and I loved the V-Strom setup. After a two-hour test ride, I couldn't wipe the grin off my face for the next two weeks! It was a revelation. And I couldn't wait to get rid of the Honda NTV650. The only thing that bothered me was chain maintenance, so I just bought an automatic chain oiler (which took me another 7 years before I actually fitted it to the bike). 
Because I'm "vertically challenged", I decided to modify the seat and change out the suspension's dog-bones. That got me an extra 3cm and I also had to shorten the side stand otherwise the bike leant over too far. After a ew years I returned the bike back to stock height because I had enough confidence, started to ride off-road a lot more and needed the precious ground-clearance.
I bought all the farkles I assumed were necessary like a Stebel Natulis loud horn (definitely a must when overlanding), crashbars, bashplate, SW Motech centre stand, additional fusebox for all the stuff like aux lights, heated grips, Sat Nav (Garmin Montana600), chain oiler, power plug and USB, walkie-talkie setup (never used but it's good to be prepared). I also replaced the fork springs and rear shock with aftermarket ones from Wilbers.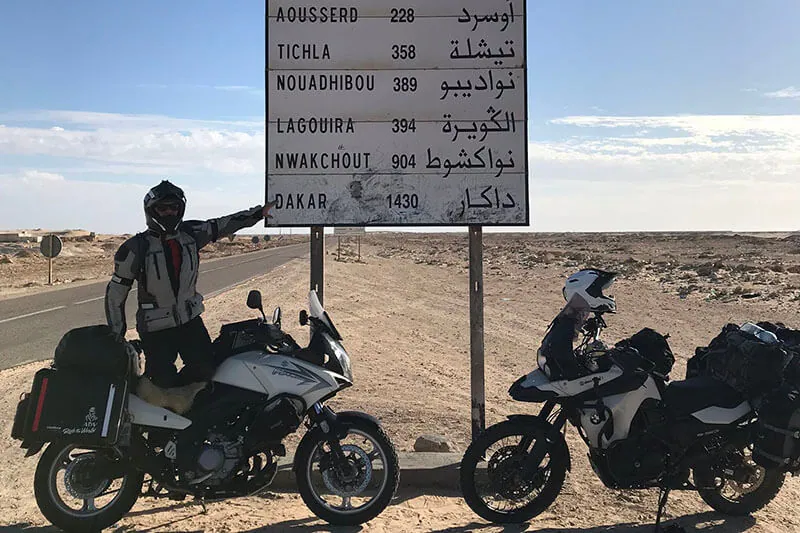 A symmetrical setup is very important for me, especially optically. I hate when luggage- or bike manufactures force an asymmetrical setup with a small case on one side and a big one on the other. It just makes me scream… Aaaargh!
During one of my many business trips to the US, I saw a bike with attached Pelican cases. Knowing these cases are near indestructible, I wanted them. So I searched and found a guy that modified them to fit various bikes. The company was called Caribou Cases. And that dude made a wonderful set of carriers for the pelican cases as well. So, I ordered them direct and had them shipped to Austria. All together, I think I could have bought a full set of Touratech panniers and still have some money left over… but that's a different story.
My Suzuki V-Strom DL650A uses two Pelican cases, each with 32 litres of space. In them I store the hard and heavy stuff I need during the day and for cooking.
On the back I usually have a 90l roll-up dry bag from Ortlieb for all the stuff I don't (expect to) need during the day (tent, sleeping bag, clothes, toiletry etc).
On the crash bars I have two 5L Kriega bags with my rain gear and they stay on the bike all the time. I use a FAMSA tank bag (not in the business anymore) with all my electronics, camera gear, nibbles for energy, documents, chewing gum, replacement batteries etc.
Between the rear wheel and left side of the rack I have a self-made tool-tube with tyre plugging gear and all the tools I need (as if that were possible) and some spares like levers, lamps and emergency vest (compulsory in some European countries).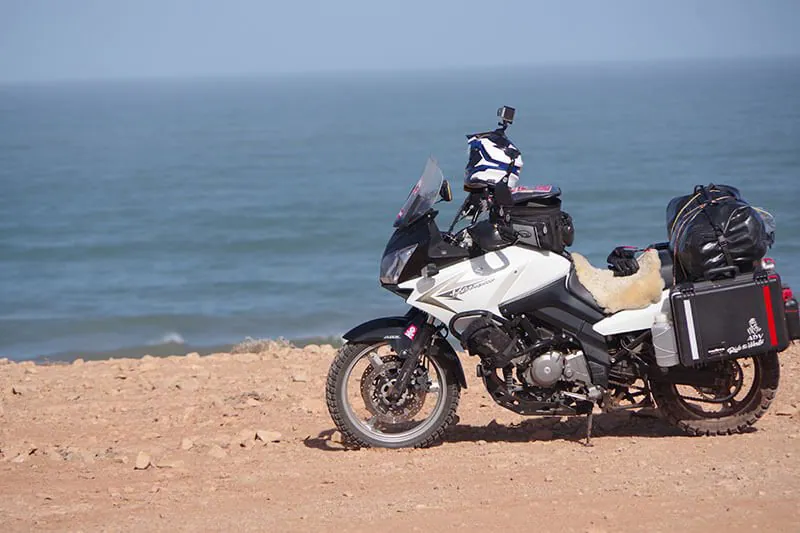 I had one minor issue with cabling and one big issue in the middle of the Mauritanian desert. Other than that I've had no problems at all. 
The first issue was  caused by factory/design/manufacturing  while I was Serbia. The cables of the double front light burnt (due to high current) and caused the main light to go off (high resistance). I rode the rest of the way with the high beam on and the aux lights. At least everyone saw me coming! 
The second one problem was catastrophic and happened on my way to Dakar/Senegal. 100km after crossing the border from Morocco to Mauritania the bike stalled. It took me three weeks to get back home. I couldn't get any spares to Morocco. After four days of traveling on a truck back from Nouakchout, I diagnosed the root cause as a burnt stator of the generator. It's a problem that can happen to any brand, due to a design flaw in how generators/rectifiers are made on most bikes ( "shunt regulator" vs "series regulator" translate to "cheap" vs "a bit more expensive").
In the end it took me three weeks to get back home. The AA were going to send a spare but it turned out cheaper for them to just tow me up to Tangier from Agadir and get the bike on a tow-truck back home. A different kind of adventure I was looking for in Africa, but still an interesting one! 
The standard servicing interval is every 3,700 miles but since I do all the work myself (bike has never seen a proper workshop since the warranty expired) I tend to do everything at an interval of approx. 6,000 miles dependent on the plans ahead.
If you are familiar with tools, not afraid of getting your hands dirty and have space (and a good book or buddy), then it's no problem. The only thing I would potentially get done by a pro is adjusting the shims of the valve timing because you must remove the camshafts. I haven't needed to do them yet, but I reckon I'm ready to do it if necessary.
It's easy to get parts in Europe and all the "civilized" countries where the bike is regularly sold. In countries where the bike is not normally available (e.g. West Africa) it can be tricky, but knowing what I know now I would have someone at home waiting with some cash to get spares shipped direct or I'd even fly home to collect it. 
I have a very sensitive backside and after one-hour (on any bike) I need to stop. When I used to smoke this was practical, but if you want to cover some distance and do a long stretch its not that great. Since I have a sheep skin on my stock seat I don't mind riding 4-5 hrs in one go (if I have to).
The V-twin's engine can cause some intense vibrations, but it's better than most single-cylinder thumpers and a good pair of gloves works wonders. 
Primarily it's the  grunty V2 and reliability. You get what you pay for and the V-Strom has got to be unbeaten here. As a lot of people say, it's not perfect at anything but does everything well. I love riding that beast up and down curvy passes in the Alps. The weather protection and seat position is just perfect – even for a "dwarf" like me.
The stock suspession is rather… well, stock. If you do serious travelling or even some off-roading (yes, she can do it) you'd better get some after market shock upgrades.
The V-Strom's weight can also be a bit intimidating. Mine weighs about 240kg with everything on apart from luggage. Travel weight on longer trips is around 300kg without the rider. 
Suspension is at the top of the list. Maybe the seat, but other than that you get a pretty solid setup for your money. It's a true do it all if you date bike and I still have that grin under my helmet 47,000 miles later! 
If you're very adventurous and want to do technical riding then I'd go for a lighter bike with more ground clearance. But, if your adventures are primarily road based with easy gravel tracks and light off-roading then this is 100% a great bike for travelling. 
I love my V-Strom 650 and will never sell it. It will be on the road with me for as long as possible, and will then live in my "motorcycle sanctuary"… most likely with more, still to come, bikes!
Keith Gruenberger
Keith is a special Scottish/ Austrian breed. He lives in the heart of the Alps and has been (legally) riding motorbikes for over 30 years. He's covered over 210,000kms in 37 countries.
Follow his adventures on Instagram: ScottyAustria
Read more on Motorcycle Reviews 
Thanks for checking out this Suzuki V-Strom DL650A Motorcycle Review. We hope you enjoyed it! Here's a few more articles on motorcycle reviews that we recommend you read next. 
Liked that? Try these next…
Are you planning a motorcycle trip, interested in the Suzuki V-Strom DL650A or have any questions? Let us know in the comments below.