Welcome to the Adventure Motorcycle Traveller Reviews. Here's a 30,000-mile review of the Suzuki V-Strom 1000 by round-the-world motorcycle traveller Daniel Cabrera.  
Quick info
Bike: 2014 Suzuki DL V-Strom 1000 
Miles covered: 30,000+
Years owned: since 2017  
Suzuki DL V-Strom 1000 specs
Engine: V-twin, liquid-cooled, 1037, FI
Power: 99.2 bhp
Torque: 76 ft-lbs
Kerb weight: 228kg
Seat height: 851mm
Tank capacity: 20 litres
Tyres: 19 and 17
Front suspension: USD forks, 40mm, 
Rear suspension: Link type 
I went for the Suzuki V-Strom 1000 because it was such a good opportunity at the time. It was exceptionally well priced and looked capable of taking me round-the-world. 
I didn't make any modifications to the bike and everything on its is original. As for luggage, I use two big hard panniers and a hard top box. I have a jerry can strapped to the back of one of the panniers, a small tank bag for important things I need to take with me off the bike, a roll up duffel on the back seat and a small one on the top box. It's a pretty standard luggage set-up but it works perfectly for me!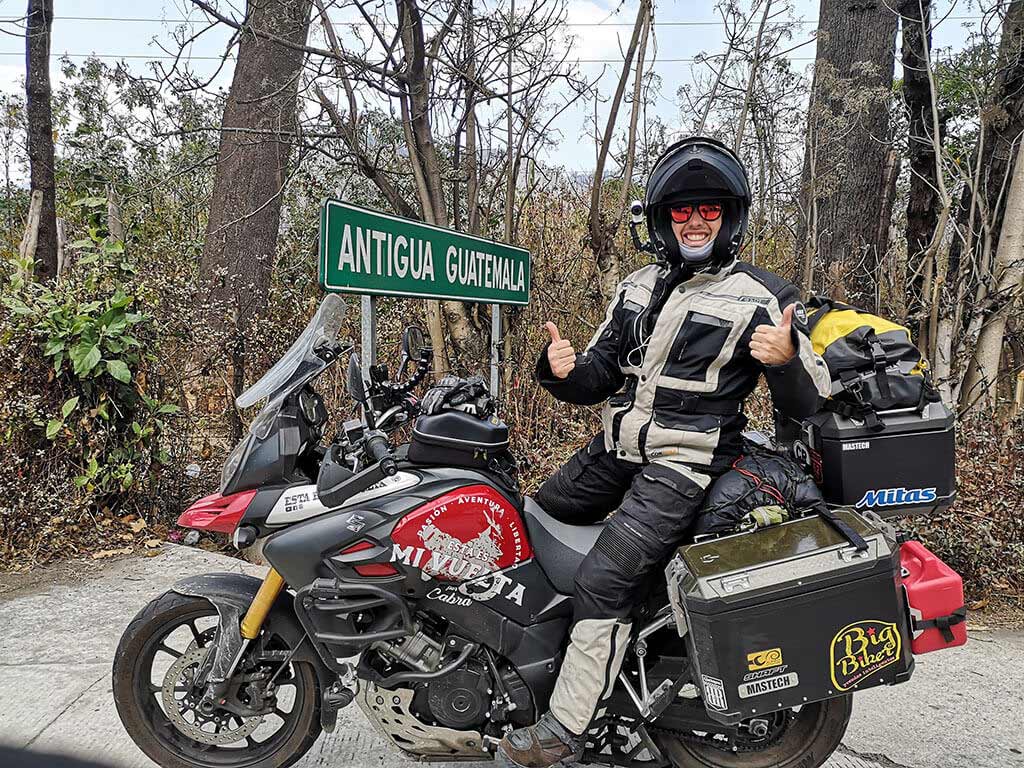 I've been really lucky with reliability. So far, the only problem I've had is the clutch broke. But it turned out to be a tiny little piece that simply rotated the clutch and was an easy enough fix. 
The service intervals are every 6,000 miles, I change the oil and do basic checks often like brakes and tyre pressures. The Strom just keeps on going, build quality is very good and it's a big improvement over the previous V-Strom line-up. Basic maintenance is easy to do, parts are easy to find through most of the world – but definitely not here where I'm currently stuck in Myanmar! 
It's let down by an uncomfortable and relatively hard seat though. I use a gel seat and that makes a huge difference. Otherwise the riding position is upright, natural and comfortable with high and bars and decent wind protection from the tall screen. That adds loads to its excellence as a road bike. And it's particularly comfy when standing on the pegs too off-road. 
After a few years of travel on the V-Strom 1000 I've found my favourite thing about it… and that's how easy going everything is. The Suzuki is an underrated road bike that's light, agile and incredibly easy to ride. I haven't found any negatives yet, although it could do with a bigger tank and a comfier seat. It would also benefit from spoked wheels instead of these cast alloy ones, but I haven't had any problems or cracks in the wheels yet after a lot of miles and many rough roads. 
I believe the perfect bike for riding round the world is the bike you like the most. And for me, I love the V-Strom. It was available at the time for a great price and it had great specs so I went for it. It's proved to be excellent and I know I made the right choice. It's been so reliable, which is very important for travellers. The Strom does everything I ask of it well, it may not be the fastest or the bike people immediately think of when someone says RTW motorcycle, but it does everything you need it too without any complaints. 
Even off-roading is pretty easy on the V-Strom. I ride around 70% road and 30% off on my round-the-world tour and have found it handles the rough roads easily and is spectacular on asphalt – especially in countries like the USA where it was so much fun riding the Suzuki!
Daniel Cabrera
Daniel is from Colombia and currently on a mega round-the-world motorcycle journey. He's so far ridden through 20 countries over one year and a half – until Covid hit the world and he got trapped in Myanmar. 
Follow his awesome adventures here:

Read more about his trip here: 14 Travellers Trapped by Coronavirus
Read more on adventure motorcycles
Thanks for checking out this Suzuki V-Strom 1000 Motorcycle Review. We hope you enjoyed it! Here's a few more articles on motorcycle reviews that we recommend you read next. 
Are you planning a motorcycle trip, interested in the V-Strom 1000 or have any questions? Let us know in the comments below.