Welcome to the Adventure Motorcycle Traveller Reviews. Here's a 40,000-mile review of the Suzuki DR-Z400S by Heather Sinclair.  
Quick info
Bike: 2011 Suzuki DR-Z400S 
Purchased for: £3,600 used in 2017
Miles covered: 40,000
Years owned: 3  
Suzuki DR-Z400S specs
Engine: Single-cylinder, liquid-cooled, 398cc, carburettor
Power: 39 bhp
Torque: 29 ft-lbs
Kerb weight: 144kg
Seat height: 935cm
Tank capacity: 10 litres
Tyres: 21 and 18
Front suspension: Telescopic
Rear suspension: Link type
I didn't really know much of anything about motorcycles when I bought the bike – I just knew my old BMW 650GS, the first and only motorcycle I had owned in the 3 years I had been riding was far too heavy and in too poor a condition to survive a long trip. Looking on forums the most common advice was to get an old, carbureted bike (terrible advice for a beginner!) and on paper the DRZ looked by far the best option available out of smaller bikes.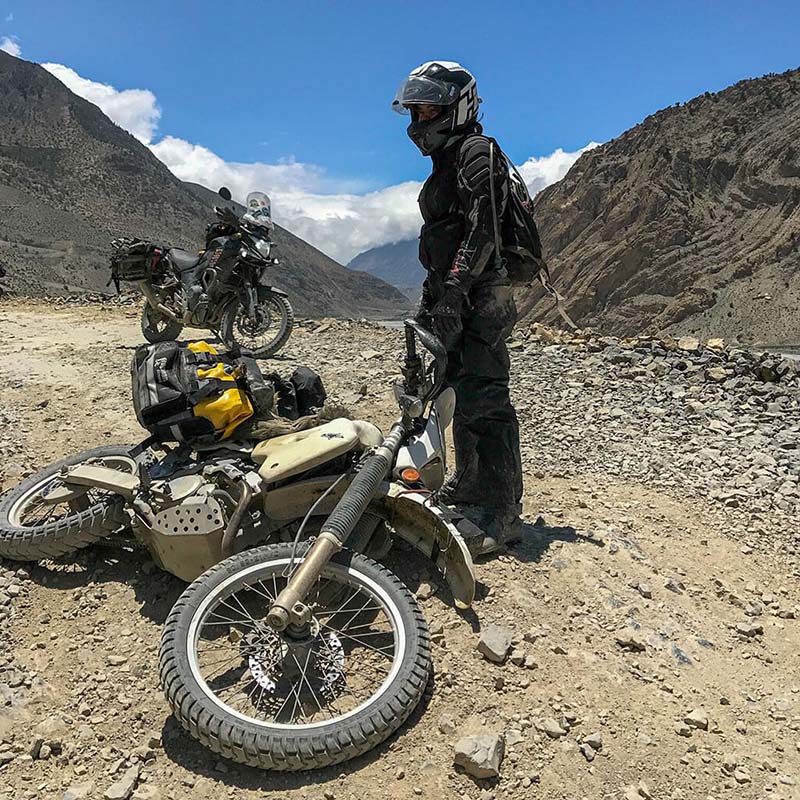 I spent a year learning how to wrench and completely rebuilding the bike between my trips so major current modifications include the IMS 4 gal tank, Corbin seat, and Britannia Composites front fairing. On top of that I've modified the jetting, camshafts, airbox, added a kickstart, renthal bars, 3 finger levers, tank filter, HD clutch springs, case savers, braided front brake lines. and swapped my rear cylinder to a honda CRF, petcock to yamaha raptor, and reg-rec to SH775 mosfet. I tried getting a Lectron carburetor even – but could never get it to work right so went back to the stock Mikuni. Some of these mods are definitely recommended for overlanding, others were just upgrading as I replaced worn or broken parts. It's a fair bit of work to adventurize a DRZ properly, but it does pay off.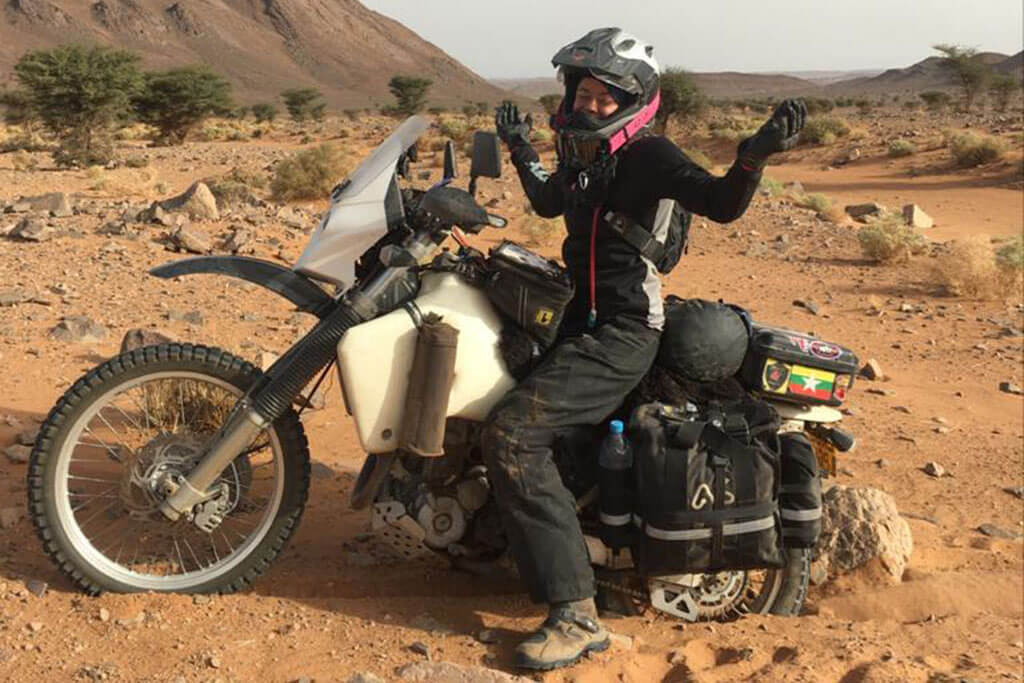 I hadn't realised that the bike was in relatively poor condition when I bought it, and so on my first trip my clutch gave out almost immediately. I had a lot of carburetor problems that were exacerbated as I bounced around various local mechanics who kept doing random and mostly ineffective "repairs" until I finally discovered the carburetor needed a complete rebuild. My stator and reg rec burned out at different points,and I glazed my clutch plates trying to ride through the sand dunes of Darvaza crater in 42 degree heat. 
After rebuilding, I got sand intake into the engine in Morocco after the boot had come off the carburetor, and I've not been able to get it to run properly after that even with new piston rings, my speedo drive gear and cable failed, my temperature sensor died, and then of course endless punctures and rear wheel bearings!  
DRZs are relatively hard on the oil system with only a 1.7l sump, and riding high revs in high temperatures means that you have to change oil much more frequently than the recommended interval – I'm usually changing about every 2000 miles. Other than oil though, the DRZ is easy on its wear parts – I use reusable air and oil filters, and my brakes and tyres last much longer than they would on big bikes – I last changed my brake pads in Kyrgzstan 2 years and over 20,000 miles ago and they're barely halfway worn. 
The DRZ is probably one of the easiest long-distance capable bikes out there for self-service – I can strip a top end in about 2 hours. This can be a bit of a double edged sword – it can sometimes require a lot of faffing to keep it running! 
Spares for the DRZ like many bikes are impossible to find in South and SE Asia and Africa, and touch and go in Central Asia. I've not done South America yet, but I understand there's some availability in some countries. 
A 400CC single-cylinder 5 speed dual sport is never going to be a bike that's designed as "comfortable", but with a comfort seat, sheepskin, and screen it can be tolerable if you don't mind vibrations.
You won't find any other bike at that weight, price, and horsepower combination except the sister model Suzuki DR650 – you'll lose a lot of horsepower going down to a Honda CRF,  you pay a lot more for a high-strung KTM or Husky enduro, and you're adding an extra 40-50kg for a Honda CB500X, Royal Enfield Himalayan, or Yamaha XT. 
Furthermore, it is almost impossible to find terrain that a DRZ cannot handle. I've run into so many people who have gone the distance on their big BMWs, but when they finally encountered the interesting tracks that they rode all that way to see, lost their nerve and wished they had my DRZ! The bike is incredibly capable and sure-footed off-road, so much so that it may still be the perfect TET bike. 
DRZs haven't been sold since 2008 in Europe, and the stock there has mostly lived hard lives,  and even if you've found a good one you need to do a lot of preventative maintenance and other mods to make it overland ready so I'd only recommend a DRZ for someone who was already mechanically competent and doesn't mind spending a lot of time getting a bike ready for travel.
In addition, the bike does have certain weak points. Obviously a carbureted bike is going to be trouble at altitude, the 5 gears means that the engine is screaming by the time you get up to motorway speeds, and a high oil burn rate means that you have to keep an eagle eye on your oil if you don't want to destroy your engine. The electrical system is a bit dodgy, with connectors prone to corrosion and a stator that burns out after around 15,000 miles You can work around most of these issues, but it does require some extra prep and maintenance. 
Suzuki has entirely neglected the dual sport market for 20 years now – a 6 speed fuel injected DRZ400/DR650 would fill two very empty holes in the market and I have no idea why they don't seem to be making any progress here. 
If you're handy with a spanner and don't want to spend a lot of money to get a bike that will tackle the hardest of overland routes, or simply aren't strong enough to manhandle a 200kg bike a DRZ is an option well worth considering. If you're not confident mechanically though, please just get the Honda. 
Heather Sinclair
Heather is an avid adventure bike rider and traveller. In 2018 Heather completed a 10-month, 22,000-mile motorcycle journey across Asia from Indonesia back to the UK. Since then Heather set off for an overland trip across Africa to Cape Town, got stuck in Morocco due to Covid border closures, changed plans and is now riding somewhere in Europe!  
Follow Heahter's adventures on Instagram: Improbablyadventuring
Read more about Heather's trip here: Trapped by Coronavirus
Read more on adventure motorcycles
Thanks for checking out this Suzuki DR-Z400S Review. We hope you enjoyed it! Here's a few more articles on motorcycle reviews that we recommend you read next. 
Are you planning a motorcycle trip, interested in the Suzuki DR-Z400S or have any questions? Let us know in the comments below.