Welcome to the Adventure Motorcycle Traveller Reviews. Here's a 20,000-mile review of the Suzuki DR650SE by motorcycle travellers Yan and Aga.
Quick info
Bike: 2010 and 2012 Suzuki DR650SE
Purchased for: : £3,350 per bike
Miles covered: 20,000 per bike
Years owned: 2019 onwards  
Suzuki DR650SE Specs
Engine: Single-cylinder, air-cooled, 644cc, carburettor
Power: 43.51 bhp
Torque: 39.83 ft-lbs
Wet weight: 166kg
Seat height: 885mm
Tank capacity: 13 litres
Tyres: 21 and 17
Front suspension: Telescopic 
Rear suspension: Link type
My partner Aga, and I decided to ride around Australia in 2021 (and beyond afterwards). This wasn't my first big motorcycle trip as back in 2012 I rode my second-hand Honda XRV 750 Africa Twin from Spain to Japan via Russia and Mongolia. Thanks to my past experience – and some extra research – I had a good idea of what kind of motorcycle characteristics were important for this kind of journey. Here they are in order of importance:
Reliability
Lightweight
Affordable
Easy to maintain and repair
Plenty of parts available anywhere in the world
Good fuel range and consumption
Decent suspension
Comfortable to ride over long distances
Using this criteria we started our research, and after some time narrowed down our options to four candidates: Suzuki DR650, Yamaha WR250R, Honda XR650L and the CRF250L (now replaced by CRF300L). Arguably, none of these bikes fit the above requirements completely. However, thanks to a large number of aftermarket parts available for them, you can easily transform any of these bikes into a proper around the world machine.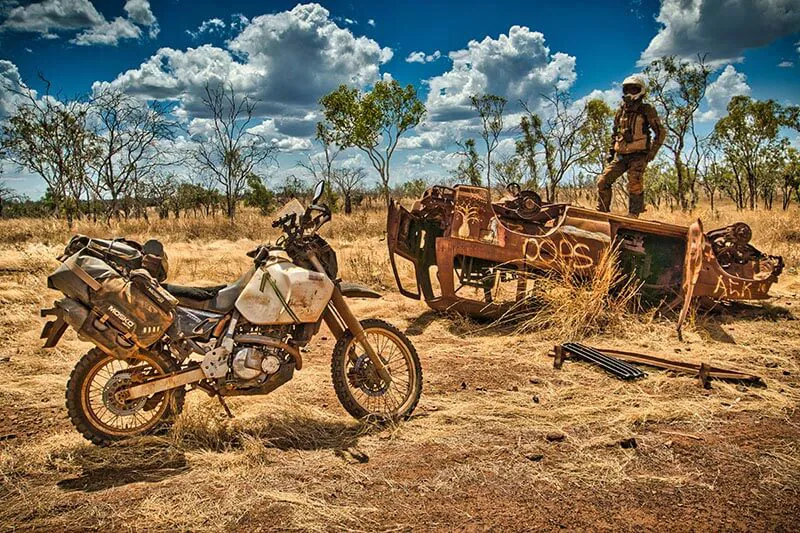 In the end, we settled for the DRs as they are one of the most available second-hand bikes in Australia. And people give them funny names like "Bush Pig", "Dirt Tractor" and "Off-road Armchair" which is very encouraging, isn't it?
We bought both bikes in Melbourne, Australia with lots of modifications already on them such as: Safari tank, aftermarket suspension, lower link for Aga's bike, USB charger, aftermarket seats and exhausts. We then further upgraded both bikes to make sure they fulfilled all our requirements (around 1,400 USD extra for each bike). So, the total cost with full set up for each bike pre-journey was about 5,600 USD.
The Suzuki DR650 was in production from 1996 – 2021. During that time, other than the colour pallet, they stayed relatively unchanged!
Thus, after 25 years of production:
You can get a lot of cheap spare parts on the market. Plus, it's a Suzuki, so you can find dealerships almost anywhere.
You know what needs to be fixed before going on the journey and what can break thanks to thousands of reviews from other riders and RTW travellers.
You have A LOT of options in terms of aftermarket upgrades and mods. This is where the DR650 really shines. The barebone version is okay-ish, but you really can transform it into one of the best RTW motorcycles thanks to the sheer amount of quality aftermarket parts available (see the extra-long list of our mods below).
In addition, the Suzuki DR650 is rather light for its size. With 162kg of wet weight, it's light enough to have fun off-road and still heavy enough to be stable on asphalt. And since the DRs were designed over two decades ago, they are very easy to maintain and repair. You don't need to worry about fancy electronics and onboard computers. They don't even have a tachometer or fuel gage – less to go wrong!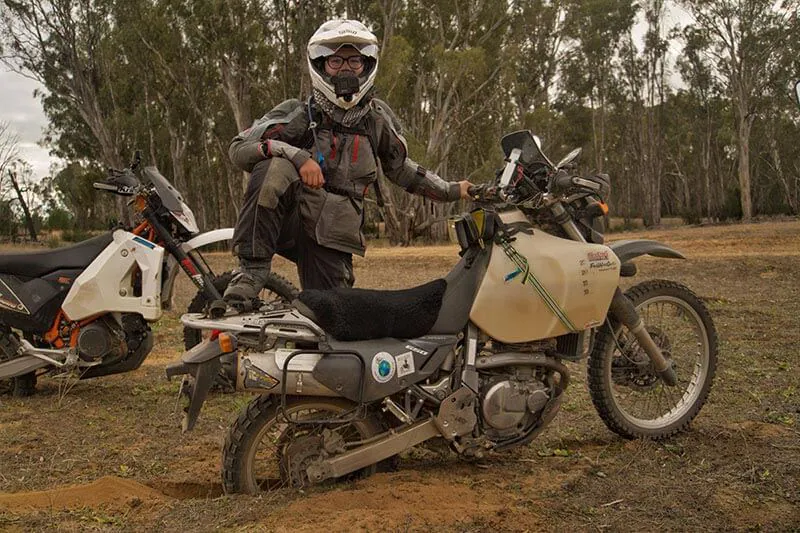 Tank, fuel and carburettor
30L Safari tank: This upgraded tank provides each bike with a range of 600-700kms dependent on the terrain. Safari tanks tend to expand with time, so one of the tanks now has a capacity of 35L vs its original 30L size. They are very sturdy, so far they only show minor scratches after the countless falls we've had with them.
Fuel filters: Inexpensive and a must when doing long distance, you never know when some dirt is going to fall in the tank by accident or if the fuel at the petrol station is clean – these can help in both cases.
Carburettor re-jet: A must-do on the Suzuki DR650. Both bikes gained a lot in power and smoothness once they were re-jetted and it has had almost no impact on fuel consumption.
Exhaust and muffler
Leovince X3 Exhaust: (Yan's bike) Less weight than the original (-2.3kg), more power, quieter, European approved (street legal) and you can put a spark arrestor to make it trail legal in the USA as well.
Two Brothers M7 Exhaust: (Aga's bike) Less weight than the stock version, more power, smoother, pretty noisy as standard (we put a baffle in to reduce the noise) and not street legal in Europe. We recommend using the Leovince exhaust over the Two Brothers, DG O series and stock exhaust because they are street legal, less noisy and give about the same power output.
Protection
B&B case guard, clutch and ignition: Another must-do if you're serious about travelling off-road with the DR. This mod will protect both sides of your engine in case of a fall. Some people without this protection had a hole in their engine case resulting in the bike losing all the oil.
B&B front sprocket case saver: It helps you to inspect wear on the front sprocket and makes cleaning it a bit easier too.
B&B oil cooler guard: Essential mod. The stock guard is flimsy and won't adequately protect the cooler from tree branches or rocks. A B&B oil cooler is much more durable and would prevent a hole in your cooler.
B&B bash plate (Aga's bike): Good bash plate that protects the engine from rocks and gives extra protection in case of falls.
Force bash plate (Yan's bike): It's a good bash plate, however, the B&B is better. One of the issues with the Force Bash Plate is on the rear brake control, the pedal can sometimes scratch on the side of it.
B&B chain guard: The original plastic one was breaking all the time, especially when you change the rear sprocket to a 44. Using this metal version helps to avoid this issue. However, we also had some issues with the metal one, it would loosen itself all the time due to corrugation and once it ended up in the chain, blocking the rear wheel completely.
B&B frame guard: Helps to have a flat surface on the side of the bike to better handle the bike off-road and also protects the rear brake master cylinder in case of a fall.
Parabellum headlight cover: Protects the expensive DR650 headlight from flying rocks (Yan's Africa Twin still has a smashed headlight after following someone too closely).
Barkbusters handguards: These are an absolute must! They protect your hands and levers in case of a fall or from branches when off-road. They also protect your hands from the cold and wind when driving on the freeway.
Suspension
VSM upgraded suspension and fork: (Yan's bike and Aga's rear suspension later in the trip). VSM is one of the go-to people in Australia for everything DR related. Having the suspension set up for your weight plus the extra you are carrying will really help in the long run for comfort, capability and handling. The standard suspension setup is aged and upgrading it will be a well-worth difference.
Wheels and tyres
Rimlocks on front and rear: When running low pressure in an off-road situation, rimlock prevents the tyre from moving on the rim and potentially tearing your tube. It also helps when you have a flat and can't change your tyre immediately (I have ridden about 14kms on a flat tyre and it wasn't too bad thanks to them).
Heavy duty tube 4mm: While heavy-duty tubes do lower the possibility of getting a flat, they are very annoying to change because they are so much thicker.
50/50 tyres: There is much to be said about finding perfect travel tyres, and we spent a lot of time testing different combinations. We're quite happy with our current combo which is Bridgestone Battlax Adventurecross AX41 up front and Motoz GPS Tractionator at the rear. They provide great all-round performance on both road and off-road conditions. We have gone through two rear GPS Tractionators and are very satisfied about their performance and longevity (around 14,000kms).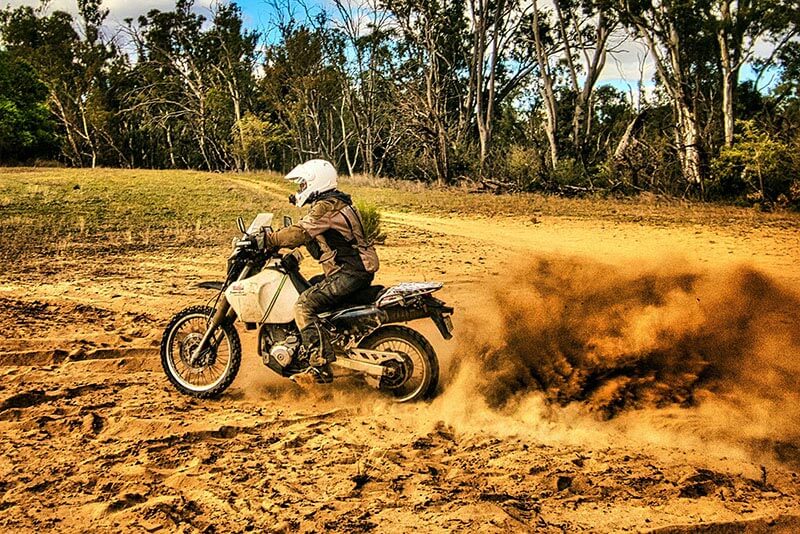 Battery and electronics
Motobatt Battery: After three batteries dying in the middle of nowhere in Russia and Mongolia, I definitely wanted something reliable for our trip this time. I haven't been disappointed with these gel batteries so far. They start way better in the cold and don't seem to have an issue with the vibrations or falls.
USB chargers – for charging our GPS, phones and power banks.
LED Auxiliary Lights 
Trail Tech Vapor Speedometer and Tachometer (Yan's bike)
Heated grips – It might seem like a luxury, but when riding in cold weather you need to be able to use your controls effectively. It's not so easy to bend your fingers when they're frozen!
Ergonomics and comfort
Sargent Seat (Aga's bike): The original seat is extremely hard and not suited for long-distance riding. The Sargent seat is comfortable enough for the first 300kms of the day.
Seat Concepts (Yan's bike): Less comfortable than the Sargent Seat, but still better than the original one.
Sheepskin seat cover: These add a bit more comfort for those long-distance rides and they look good too. Just don't forget to cover your seat when it's raining. One of our friends had his sheepskin turn into a pile of mould after exposing it to too much humidity.
Aftermarket handlebars: The original bar is flimsy, so we highly recommend fitting a sturdier one and adjusting its height to give you better control and comfort – especially when standing up.
Lower foot pegs: The ergonomics of the Suzuki DR650 are wrong. If you are taller than 1.7m, you should lower your foot pegs to give you more control and comfort.
Pivot pegs (Yan's bike): Not essential but make the gear change much easier, especially in bulky motocross boots.
Warp 9 brake and clutch levers: The original shift lever is very flimsy. This one doesn't break as easily during a fall.
Windscreens: Aga's bike has an aftermarket screen and Yan has a DIY screen made from a piece of plastic.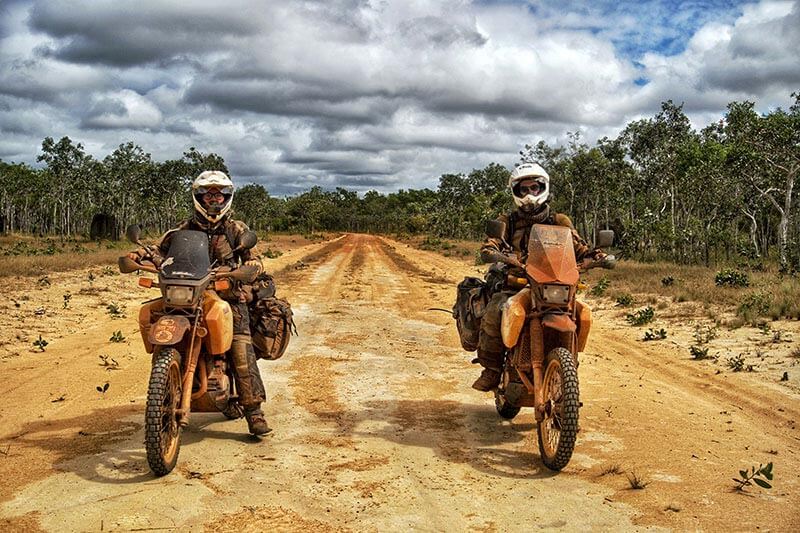 When we bought them, both bikes already had luggage racks and plates on them. However, the one on Yan's bike broke on both sides during our trip in Tasmania. We didn't know what kind of rack it was, probably something home-made by the previous owner. Since then, Yan decided to go rackless and is currently carrying a Reckless Mosko Moto 80L V3.0 'Revolver' with an additional bag support plate from VSM. On the back he has a B&B Carry Rack and B&B rear luggage extension.
On Aga's bike we have an AndyStrapz luggage rack, which so far has been absolutely amazing. It's light, very durable, waterproof and flexible (for example, if it gets deformed during a fall you can easily bend it back into place). On this rack, Aga carries the AndyStrapz Expedition Bags, which are so far one of the best bags we have used. On the back she carries a 30L Backcountry Mosko Duffel bag.
From experience, we would advise anyone travelling around the world to use soft luggage. Hard luggage is only good if you don't do off-road. Soft luggage has the advantage to be more durable, light and easy to repair. The only downside is that they can be easier to steal. However, this risk can be mitigated by securing your luggage with PacSafe nets or special security straps.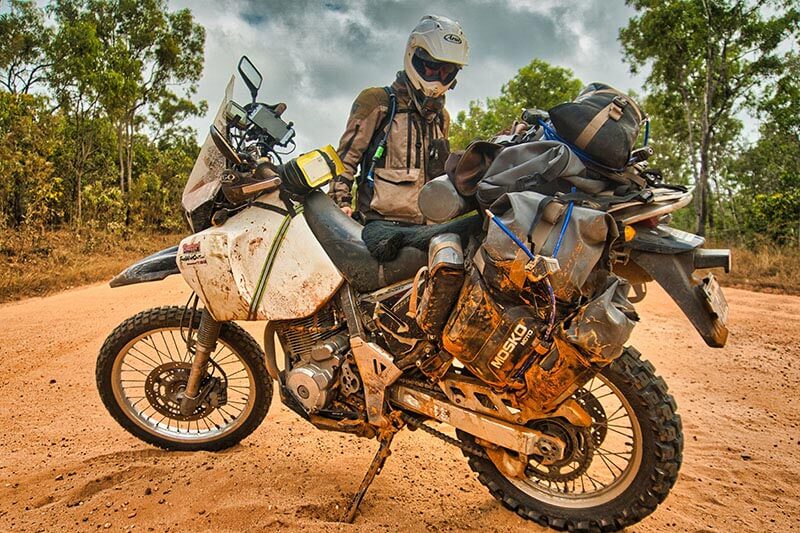 The only real problem we had was with the O-rings on the carburettor floater. It simply broke, probably because it was too old and maybe the Australian heat didn't help. We had to rebuild it while in Darwin as the engine was getting flooded with fuel and the bike didn't have enough power. Keep in mind, the bike was built in 2012 and had 50,000km on the clock at that point.
We also had an issue with the carburettor on Yan's bike, however, it wasn't really Suzuki's fault. Yan's DR came with an already modified carbie from a Yamaha WR400. We needed to change it back to the original one at some point, so really, save yourself time and money and stick to the original (just re-jet it).
The other issues we had during the trip could be found on any motorcycles: both our heated grips and horns stopped working for unknown reasons.
We needed to change the wheel bearings two times during a tyre change (we always carry a spare pair).
We also had two flat tyres: one at the back where the culprit was a 10cm long metal nail and one at the front where a little sharp stone made a hole in the heavy-duty tube. However, thanks to the rim lock, we managed to ride each time to the next town at low speed and change the tyre there in the shade.
We can truly see that that the bullet proof reputation of this bike is truly deserved. However, be advised that there are four potential well documented issues that we had preventively addressed before setting up on our journey around Australia. Think about looking into them before your trip if you're going for a Suzuki DR650.
Neutral sending unit (NSU) loose screws (pre-2017 models only): There are two screws holding the sensor responsible for lighting the "neutral" indicator. In some rare instances, these screws can fall into the engine and cause serious damage. To avoid this, make sure to apply thread lock and re-tighten the screws. There are guides available on how to do this.
Countershaft seal (pre-2012 models only): In some instances, the countershaft will move out of position resulting in the bike dumping all its oil. Suzuki fixed that issue after 2012 and you can get the original countershaft seal for post 2012 models from any Suzuki dealers. Highly recommend you install it for peace of mind.
Upper drive chain roller: There are plenty of examples of the upper chain roller breaking out and leaving a hole in the frame. The recommendation is to simply remove it and Loctite a bolt in its place. When Aga asked a mechanic in Tasmania to do this, he insisted it wasn't necessary and that the roller should stay on. But no, it really is much safer to just remove it.
Wire harness chafing: You can put some plastic or duct tape on the harness to prevent this. 
Once you have done the above fixes, the bike will be extremely reliable. And since it is old tech, you can fix most of the other issues with zip ties, duct tape and epoxy. Or in critical circumstances, a good mechanic who doesn't need to know anything about fancy motorcycle electronics or computers.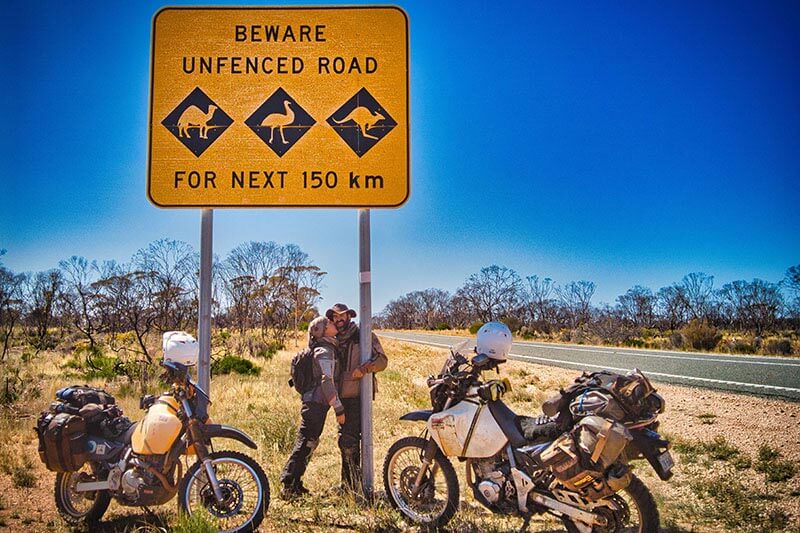 This is one of the main inconveniences with the bike. The service intervals are short if you compare it to a modern motorcycle.
Oil change needs to be done every 6,000km.
Oil filter every 12,000km.
Air filter every 3,000km, depending on conditions of course. One smart trick that we've learned from other riders in Australia is that you can extend the interval between cleaning the air filters if you put a breathable cloth on top of them – something like a kitchen cloth (or a chux as they call it Australia).
Valves and sparkplugs change intervals are in line with other bikes, so around every 24,000 and 12,000 respectively. But with iridium sparkplug you can extend this interval to 50,000-ish.
We found spares easy to source and with lots of different options. The short intervals between oil and filter changes are bearable due to the fact that the maintenance is extremely easy and very fast to do on the DRs:
For the oil change, there is just one plug to remove at the bottom of the bashplate.
For the oil filter there are three bolts to remove. And you just need to watch out for the O-rings in the case. Don't forget to put them back!
There are actually two air filters on the DR if you have the original carburettor. One is located underneath the seat; you will need to remove the two side panels and the seat to get there (4 bolts in total). For the main air filter, you will need to remove 4 bolts on the air box plus one bolt holding the air filter.
See? Super easy! That is, if you have good bolts that don't turn on themselves. And yes, we did that happen. Other than that, it's all very simple and with a bit of practice the maintenance can be done in about 45 minutes.
The sparkplugs are also easily accessible. But we didn't really bother with them. We just put iridium ones in, which last about 50,000km.
The bike that can do everything well doesn't exist. There is always a compromise to be made. For us, the Suzuki DR650 is truly a jack of all trades and a master of none. If you keep with the standard front sprocket distribution (i.e. 15/42), you can comfortably cruise at 100kph (60mph) all day. You can of course go faster, but you will get tired more quickly.
The DR650 only has 5 gears and a big single-cylinder which is ideal for off-road (i.e. more torque at lower rpm). Furthermore, with the modified suspension, the bike truly shines off-road and away from the most travelled paths. As long as the terrain is not too technical (e.g. single track) you can take this bike anywhere and ride comfortably all day on severe corrugated, dusty, muddy or sandy roads with ease.
However, we wouldn't recommend the DR650 for long high-speed roads. Sure, it can do it, but at above 120kph the ride becomes uncomfortable. The vibration of the big single-cylinder, the off-road tyres and lack of adequate wind protection all combine to make you tired pretty fast.
If you're happy with 100kph cruising speed, you can easily ride 500km or 600km per day if you really need to. That being said, don't forget to change the seat for an aftermarket one and lower your footpegs – if you value your butt and legs!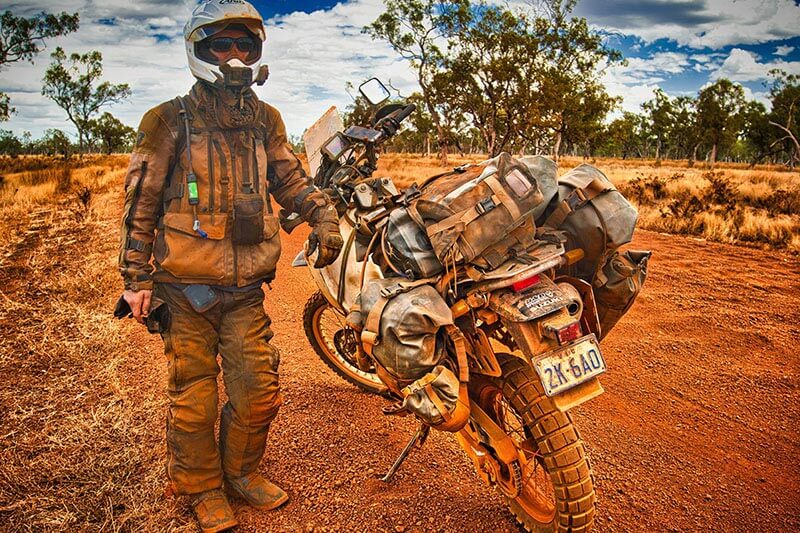 Bullet proof reliability and reputation
Light
Cheap to buy and run
A lot of aftermarket parts! You can pick and choose to make a truly customized bike just for you.
Dealership coverage
Easy to maintain
True go-anywhere bike
Short oil interval and short air filter interval
Not great in barebone form. It requires quite a few aftermarket parts to transform it into a great bike. But this can be done on the cheap (around 2,000 to 2,500 USD)
Not a highway machine.
Carburettor. You'll need to wait two minutes in the morning for it to warm up.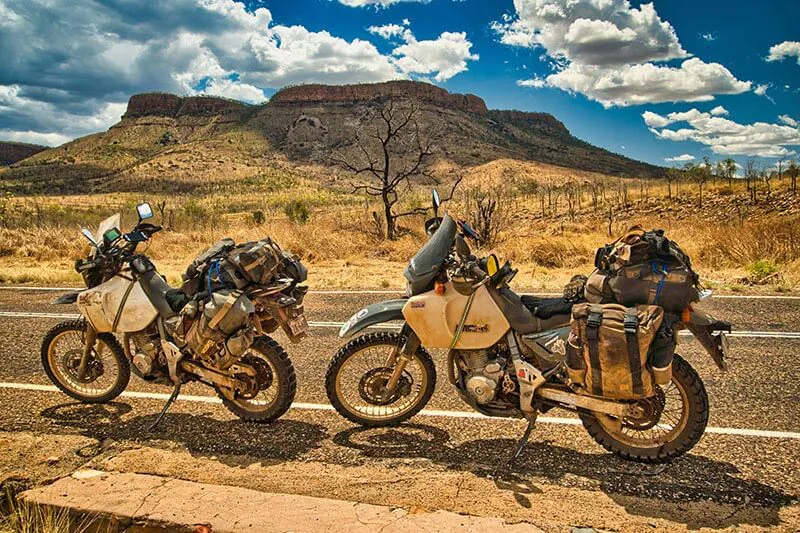 For some weird and unknown reason, one of the bikes was consuming 7 litres every 100km while the other was at 4 litres every 100km. We had it checked and re-jetted since and we hope that this will fix this issue. We need to do some further testing to see if the issue has been resolved.
We would love the bike to have fuel injection instead of a carburettor for the sake of consistency (at higher altitudes the bike loses some power) and for it to start easier in cold weather. But having this old technology also has its advantage: it's easier to fix in remote areas and not as picky as an injector when it comes to fuel quality.
Also, it would be great to have a sixth gear for long stretches of road when riding over 100kph.
And we're really nit picking here, but to push it – 20kg less would be perfect. But that would mean having a 142kg reliable 650cc… We can always dream, right?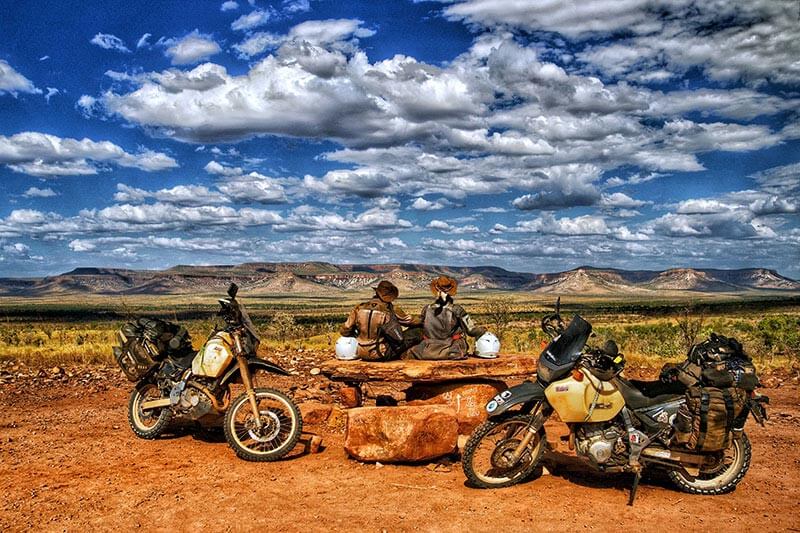 A jack of all trades, a master of none. The DR650 is a great choice for a RTW machine due to its reliability, affordability, versatility and lightweight. It just needs a few tweaks and upgrades to its original market version and it's ready to carry you and your gear on an amazing adventure.
No wonder this bike is so popular in Australia and has been the choice of many known RTW riders such as PikiPiki Overland, RTWPaul and Egle on the Road.
If your path is going to take you off-road and into remote areas, look no further, this is probably one of the best bikes to have for such a journey. After testing two of them in mud, dust, sand and gravel on our 30,000km journey around the extreme remoteness of Australia we can truly say that it was the right choice…
We'll let you know if our opinion changes once we put them to further tests in other parts of the world – but we doubt it!
Here are a few resources we'd recommend it you want to read more about the DRs: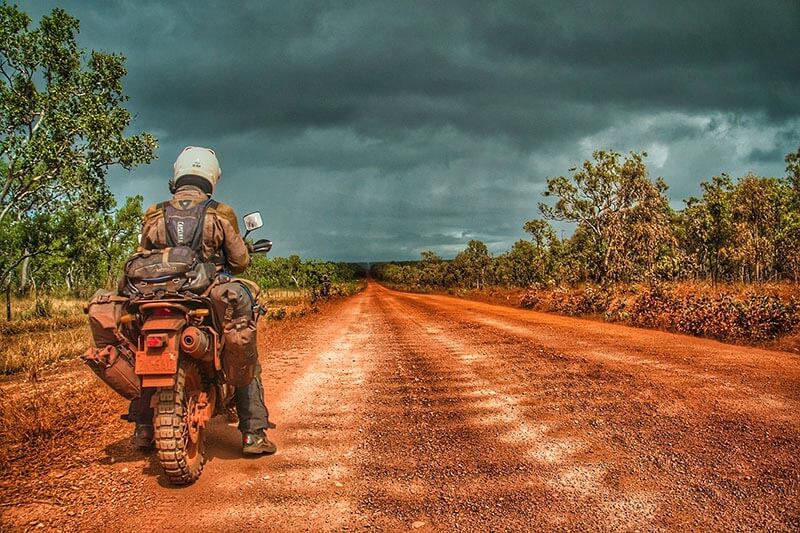 Yan Giovannoni and Aga Macura are a Swiss-Polish couple travelling the world on their two Suzuki DR650s. Yan made his first overland journey in 2012 at the age of 25 – only 3 months after obtaining his riding licence. He rode his second-hand 1993 Honda Africa Twin from Spain to Japan through the Siberian forests and Mongolian steppe. After one year of living and working in Japan, he continued his trip and rode around South Korea, where he met Aga. In 2021, they rode over 33,0000km around Australia. You can follow their past, current and future adventures here:
Read more motorcycle reviews
Thanks for checking out this Suzuki DR650SE Motorcycle Review. We hope you enjoyed it! Here's a few more articles on motorcycle reviews that we recommend you read next. 
Are you planning a motorcycle trip, interested in the Suzuki DR650SE or have any questions? Let us know in the comments below.