A Proposal, Covid-19, Long Necks and Lockdown. Thailand didn't exactly go to plan…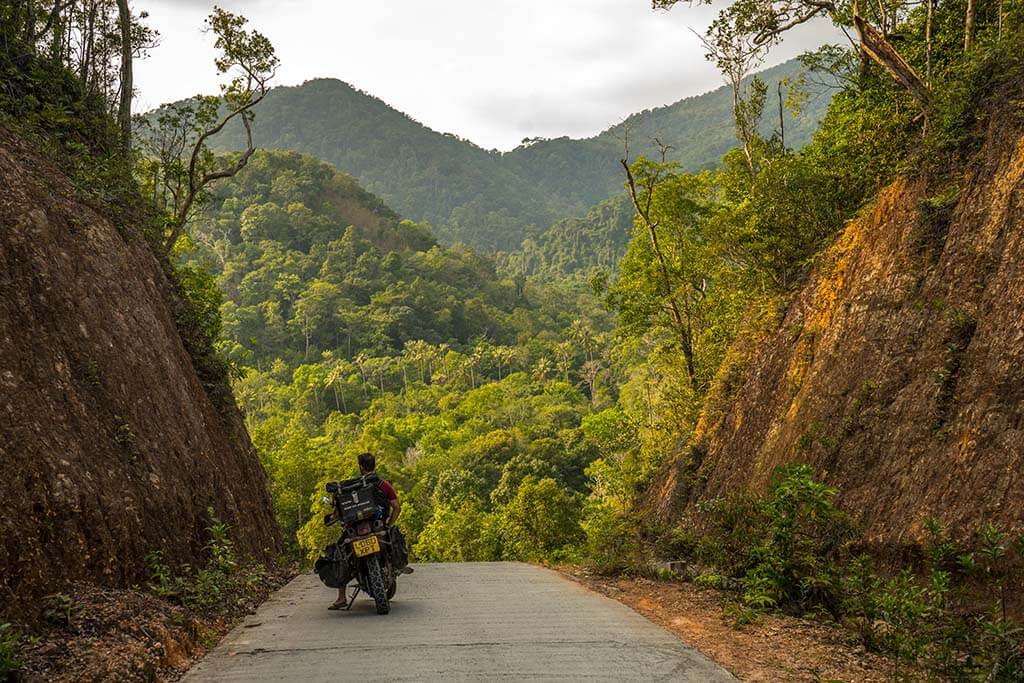 No Entry
"No. You're not allowed into Thailand" said the customs officer. Overlanders now need a permit or guide to cross the border and officials are clamping down hard. We had neither, but what we did have was time. An hour of questions, pleading, head scratching and suggesting everything we could think of later and he begrudgingly let us in with a Carnet de Passage (Thailand isn't a Carnet country, but he said he'd make an exception for the last time). 
"Don't stay here longer than one month though" he warned. No problem! We're heading to Malaysia anyway, what could possibly stop us from leaving…
Not in Kansas Laos anymore
There were no animals running into the street, no stubborn water buffalo eyeing us down in the middle of the road, all the wooden huts filled with families disappeared, stalls with smoking BBQ chicken were replaced by glass-window shops, the tarmac was perfectly smooth with a line down the middle lane and there were no overloaded rickshaws carrying mountains of hay in sight. Even though they're neighbours, Thailand is a world away from Laos. It's developed and modern while Laos is raw and rustic and we missed it already. (Interested in Laos? Check out our Loving Laos Life blog).
Mae Hong Son Loop
But if the roads are this good we might as well make the most of it. A dash through Chiang Rai to see the White and Blue Temples and Black House and over to Chiang Mai for the bustling night market and a week with our new friend Jayem. Then it was up to Pai to start our motorcycle ride along the Northern Loop's 400 miles of non-stop twists, turns, mountain vistas and some of the world's best biking. Thailand's northern roads are spectacular and built for motorcycles. The only downside is the toxic air pollution from all the illegal forest fires and burning. The smog and constant roadside fires made it look like the entire north was perpetually ablaze. 
Long Necks 
A ribbon of exquisitely smooth tarmac carved its way around cliffs and snaked over mountains. We chased it for days through forests, villages and along empty straights until we arrived at Mae Hong Son. We heard that there was a Long Neck tribe close by in Huai Suea Tao and weighed up visiting. It's a catch-22. On the one hand we didn't want to go because seeing people as a tourist attraction doesn't sit well. On the other hand, they rely on tourism as they're not allowed jobs or ID cards. Do we go and support them by listening to what they have to say and buying their crafts, or do we boycott it and leave them without any income? It's a dilemma for us and a difficult situation for them. We decided that if it was busy, we'd ride straight out of there.
We expected to find a bus of tourists but we were the only people there. A couple of women spoke excellent English and seemed happy to see us. They explained that they used to have a lot of western tourists visit, but now hardly anyone does because a Long Neck tribe was moved closer to Chiang Mai so tourists didn't have to travel as far to see them. This village is near Mae Hong Son and over a five-hour drive away, nobody visits and it's now a huge problem for them as tourism is their only form of income.
Long Neck women are from the Kayan Tribe, who fled from Burma to Thailand to escape war in the late 1980s.
While in Thailand they were given asylum and land in what was essentially return for becoming a tourist attraction. It's a dilemma. The women we spoke to were extremely friendly and spoke candidly (probably because there was nobody else there). We asked one lady what her biggest worries in life were and she said it's the lack of tourism. She doesn't know what her village will do if tourist income runs out as they're not allowed to move anywhere, relocate or get jobs because they're not allowed ID cards. And secondly, only recently are Long Neck Tribe children allowed to go to school. She's worried that young girls will stop wearing the rings and the tradition will die out.
The women told us that the rings symbolise beauty and that girls wear their first ring at five years old. Every year they get a new, longer coil with more turns until their 21st birthday. It's interesting that they're called Long Necks because their necks don't actually get any longer; the weight of the brass rings push the collar bone downwards and compresses the rib cage, which make it look like the neck is longer. We can see why young girls might not want to wear them anymore…
Karen Tribe refugees
We hugged the Myanmar and Thai border south. The two countries are separated by an emerald green river, blanketed in flowers and shadowed by towering pale blue mountains. It reminded us of riding through the legendary Pamir Mountain range, where we rode along trails in Tajikistan and were flanked to the right by the River Panj separating Tajikistan from Afghanistan. Back then, we couldn't handle just looking into Afghanistan and so go our visas and crossed into Afghanistan's Wakhan Corridor. Unfortunately, we couldn't do that here so we just kept following the pretty river until we came across Mae La – the largest refugee camp for ethnic Karen people in Thailand. 
We saw kids behind barbed wire fences and pulled over to give them what food we had. The chap in the first picture was so friendly and could only say the word "Karen" as he pointed towards his chest. His eyes grew massive when we gave him a bag of fruit. He loved shaking hands through the barbed wire fence and checking out his photograph on the back of our camera. It was hard to leave…
Just like the Long Neck women, the Karen tribe were persecuted in Burma and fled to Thailand to escape being forced into slave labour and murdered. The Mae La camp was set up in 1984 and now holds over 50,000 refugees.
As we rode closer there were more and more road blocks with armed military, then we started to see the barbed wire fences and gated off areas… Most of the people there are not allowed to leave and are massively restricted. They were originally allowed outside the camp, but militant Burmese groups kept attacking the villages in cross border raids. Eventually the Thai and Burma Border Consortium was set-up, they consolidated the villages into Mae La and now protect it… It's a really sad situation for the people living there and how dependent they are on humanitarian aid.
Cheeky monkeys
We started to hear more reports of the virus spreading and infecting more countries. The situation was getting worse and we knew we had to get further south sooner rather than later. The decision was made to cut our time in the north short. A new route was plotted to the south through Khao Yai National Park… but it took longer than we thought to get there because of all the 'road blocks'.  
Will you…
We had been looking forward to Thailand for ages. We backpacked together through Thailand for four months over 13 years ago and wanted to revisit all our favourite places. 
Our best memory from back then was Koh Chang (Elephant island), so we caught the ferry from the mainland and decided to properly treat ourselves and stay in a posh resort. We felt as though we deserved it after the year we've had! (If you're not squeamish, have a read of A Wrong Turn). 
The island had changed so much. Tarmac roads lace their way through the Ko Chang's heart and hug the coast. We rode to Long Beach on pristine asphalt and found loads of hip tourists with Thai tattoos. Back then, it took us hours of seriously gnarly off-roading on clapped out scooters to reach the bohemian getaway and we were the only guests staying in their tree house. Things change. 
So we went in search of quite stretches of golden sand and warm turquoise water instead. We kayaked to an empty, tiny island and reminisced on the last time we were here and the 13 years that have passed since. Oh, and we got engaged there too, so that was fun!  
Bridge over the River Kwai
The Coronavirus started to spiral out of control as we left Koh Chang. Our plans now had to change, Vietnam would have to wait and we had no choice but to stay put (sorry to the customs official). Our new plan was to plot a route south and get into Malaysia as soon as possible.
We visited Kanchanaburi over 13 years ago to learn more about the Death Railway. It left a lump in our throats back then and we wanted to visit the museums and bridge again this time round to pay our respects and stay on the River Kwai. 
Burma was a British colony until Japan invaded in 1942. Japan decided to build a railway linking Thailand to Burma in order to send supplies running to their forces fighting the British on the Burmese front.
The 258-mile railway was completed within a year. But at the cost of 100,000 lives. Japan forced 60,000 Allied prisoners of war and 250,000 Southeast Asian civilians to build their railway. Over 15,000 POWs and 90,000 civilians died during the construction.
The Empire of Japan forced these men into extreme labour and literally worked them to death. They worked up to 18 hours a day and into the night and most died from diseases like cholera and malaria, starvation, tropical ulcers, exhaustion, dysentery or were beaten to death.
The men were emaciated, withered, malnourished, made to work in the beating sun, were under constant fear of being tortured or decapitated and crammed together into diseased rooms at night with no protection from insects or the elements. What they endured was horrific and even after completion it took another two years before the survivors were liberated.
The Burmese side of the railway was eventually dismantled by the British after the war, 111 Japanese officials were tried for war crimes and 32 were executed. Only 80 miles of the line are still in use today in Thailand. The most famous section is this bridge – immortalised in the Oscar winning film 'Bridge over the River Kwai'.
Today it just looks like a pretty bridge over a quiet river in Kanchanaburi. Just standing on the railway line in the baking sun had us sweating buckets within five minutes. It's truly unthinkable what they endured…
Thailand in Lockdown
By the time we got there the virus was in full swing, Malaysia and Thailand closed their borders and we were stuck. Social media was full of fellow overlanders around the world leaving their bikes and flying home or shipping their vehicles out. 
Jayem put us in touch with his friend Steve, who lives south of Hua Hin and had a place for us to store our bike if we wanted to catch a flight out as well.
A day at Steve's turned into two weeks. The borders are all closed, flights are hit and miss and extremely expensive and we have nowhere to go even if we could get a flight home anyway. All we can do is sit here, hopefully continue extending our visa and wait it out. But who knows how long that could be. 
We hope everyone is staying safe and wish you all the best. 
With thanks to
Jayem 
While we were in Vang Vieng, Laos, we met Trevor who lives in Chang Mai, Thailand. We asked if he knew somewhere in CM to store our bike for a month while we fly to Vietnam (Vietnam doesn't allow foreign vehicles) and he put us in touch with his friend, Jayem.
As we neared CM, our plans changed and we no longer needed to store the bike. So, we messaged Jayem to let him know and see if he wanted to meet up for dinner instead. But he called us back, told us to cancel our hotel reservation and to come to his house instead.
We only planned to stay one night. One week later and we couldn't bring ourselves to leave. 
Steve
Steve opened his doors and his home to us, gave us a room and welcomed us to stay as long as we needed. It's incredibly kind considering he did that during the height of the pandemic when everyone is afraid of everyone else.
Both Steve and Jayem were complete strangers, but they both took us in and put a roof over our heads for as long as we needed. It's always the people you meet that make travelling special and what we remember.  
Read more on motorcycle travel in Thailand
Thanks for checking out our Stuck in Thailand Blog post. We hope you enjoyed it! Here's a few more articles on motorcycling in Southeast Asia that we recommend you read next. 
We'd love to hear from you! Please post your comments below.