Slovenia Motorcycle Rentals and Tours
Welcome to our recommended motorcycle tour companies for Slovenia.
Recommended Motorcycle Rental and Tour Companies in 

Slovenia
Please contact the companies listed on this page directly for more information.
"We are a leading motorcycle rental company in Split, Croatia. Our services include the latest bikes, easy booking, route recommendations and motorcycle delivery anywhere in Croatia and the Balkans."
Services: Latest motorcycle models for rent, vehicle support throughout the Balkan region, delivery to Croatia and other countries and office storage. 
Destinations: Rental bikes from Rent-a-GS can be used to ride in Croatia, Bosnia and Slovenia. 
Rental bikes: BMW R1250GS and Adv, R1200GS, K1600GTL, F800GS, F750GS, F700GS, Yamaha Tenere 1200 and 700, Suzuki V-Strom 650 and Ducati Multistrada 1200S.
Rental prices: From £72 per day.  
Tour prices: Tours will be offered from 2021.
Insurance: Third-party liability insurance included in rental price.
Kit availability: Only helmets. 
White Rose Motorcycle Tours
UK, France, Croatia, Slovenia, Italy, Spain, Portugal, USA
"White Rose Tours specialise in full European weekend and short break UK motorcycle touring holidays."
Services: Guided, inclusive and escorted tours in the UK, Europe and USA.
Tours: White Rose offer a range of motorcycle tours. Check their Tours page for a list of prices and what's on offer.
Example Tours: 
Antrim, Donegal and NW 200 races Tour/ 6 days/ £645
Mountains of France Tour/ 10 days/ £1,115
Insurance: No. 
Kit availability: No.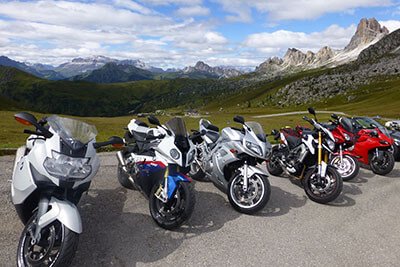 UK
David Galloway
01423 770103
 info@motorcycletours.co.uk
 European Tours: This company is also on our Europe Tour Companies page
FAQs on Slovenia Motorcycle Rentals and Tours
Read more on Motorcycle Travel in Slovenia and Europe
Thanks for checking out our Slovenia Motorcycle Rental and Tour Companies post. We hope you found what you were looking for. Here's a few more articles on motorcycling in Slovenia and Europe that we recommend you read next. 
Click here for all of our Europe Motorcycle Travel Guides
Motorcycle Rental and Tour Companies
Planning a Fly and Ride bike adventure? Here's our recommended motorcycle rental and tour companies from around the world. Check out the page, click a country and see what's on offer!
Read More