The week we needed everything to go right – everything went wrong. Racing 4000km across Siberia to catch the ferry to Japan on a strict 10-day Russian transit visa as our bike fell to pieces was hell…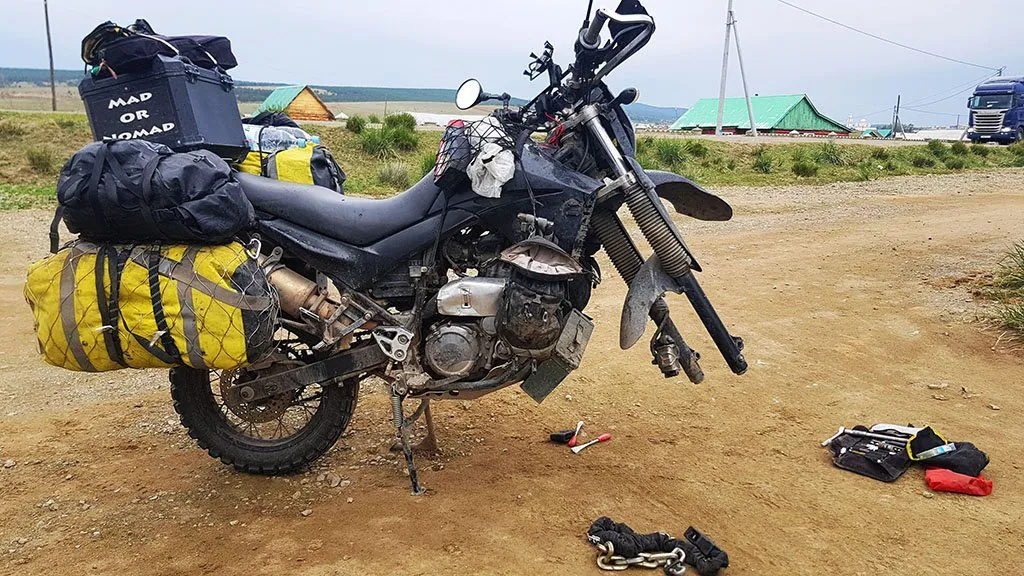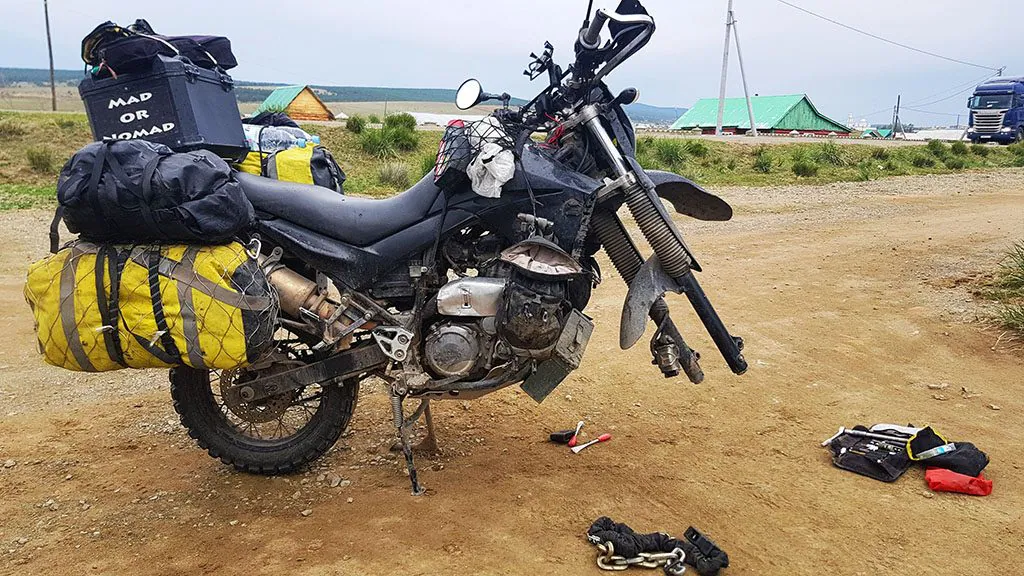 A Siberia Motorcycle Adventure 
Four punctures, a ripped tube, destroyed tyre, snapped pannier rack, broken GPS, split exhaust and a cat. Eight days and 4000km through Siberia while riding over 12 hours a day through torrential rain and freezing temperatures. This is the story of how we rode, hitchhiked, walked and crawled our way through Siberia in eight days to make the ferry to Japan. It wasn't fun…
The back story
The Russian embassy in Mongolia declined our tourist visa and gave us a strict 10-day transit visa to cross 4000km, get on the ferry to Japan and leave – or risk a big fine, deportation and ban from Russia. That meant only 8 days of actual riding (we'd need to be at customs on the 9th day in the morning and on the boat on the 10th day). So, it was crucial everything went as smoothly as possible for us to make it to Vladivostok in time. We would have felt more optimistic if it wasn't 4000km through Siberia, two-up on an already overloaded and broken motorbike, with tyres that were well past it, a damaged clutch cable and oil leak. We couldn't source new tyres in Mongolia and had no time left to fix any of the problems.
We had no choice, we'd come too far, it was either risk it to continue the trip or turn around and go home…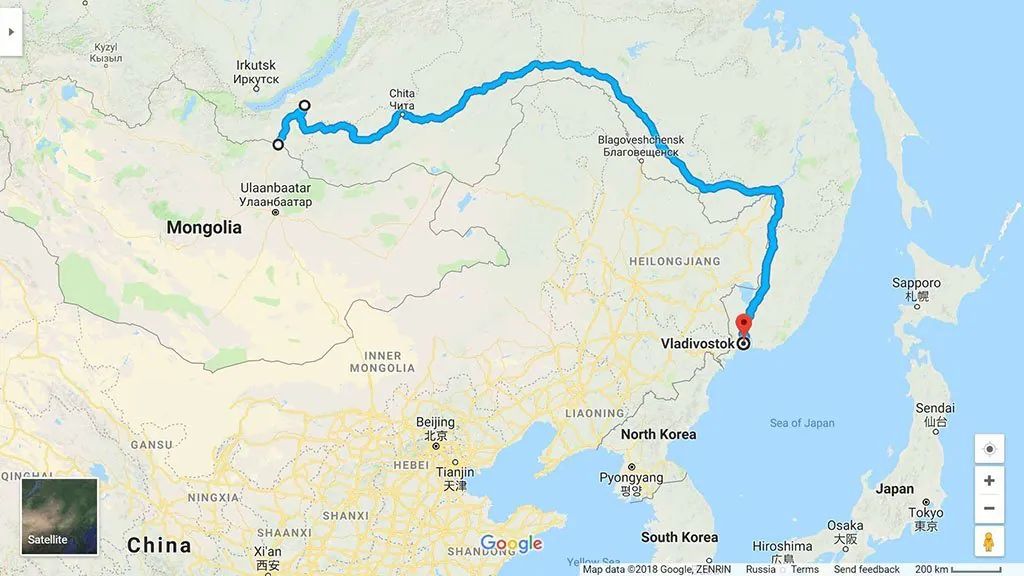 And so it began…
It all went wrong from the first minute of day one. We slept in a Mongolian motel 100 metres from the Russian border in preparation. We had 400km to cover and planned to arrive at our hotel at 4pm.
We woke up to leave early and were met with a completely flat front tyre. It immediately started to rain. Shit. We removed the front wheel, ripped off the tyre, slapped our spare tube on, chucked the old one and rode to the border. Three hours later and the front went flat again while we were still in the queue. We wobbled through the border and went in search of a garage while riding at 5kph. We found a car shop which didn't have any motorcycle tubes. I jumped in a taxi, shot into town and bought the only tube they had. It didn't fit so we patched the original tube up with four patches, found the original thorn that I missed and started our 400km ride of the day at 4pm (the exact time we were supposed to be arriving). Soaking wet, very late, tired and in the dark we stumbled into a quiet motel for the night.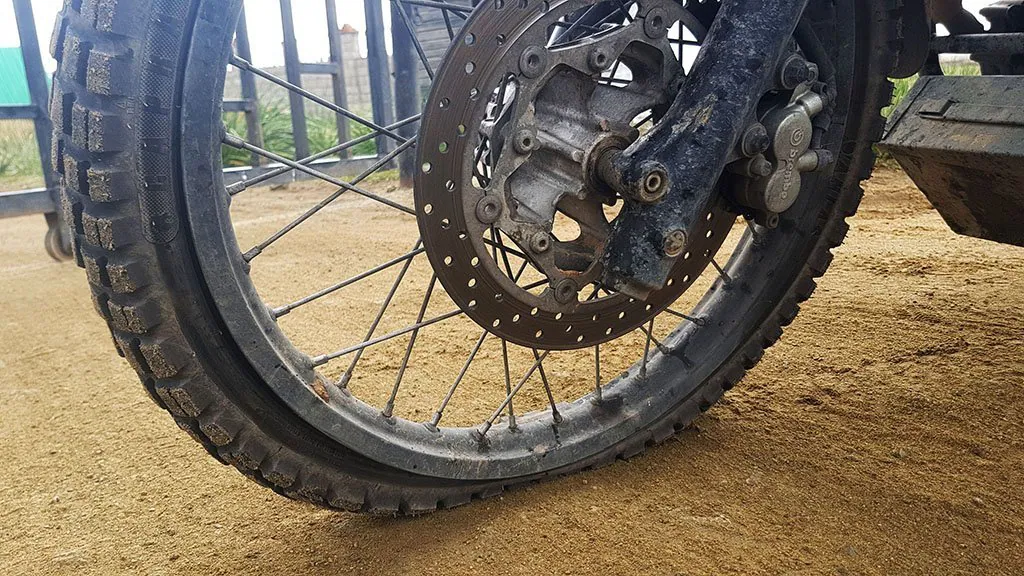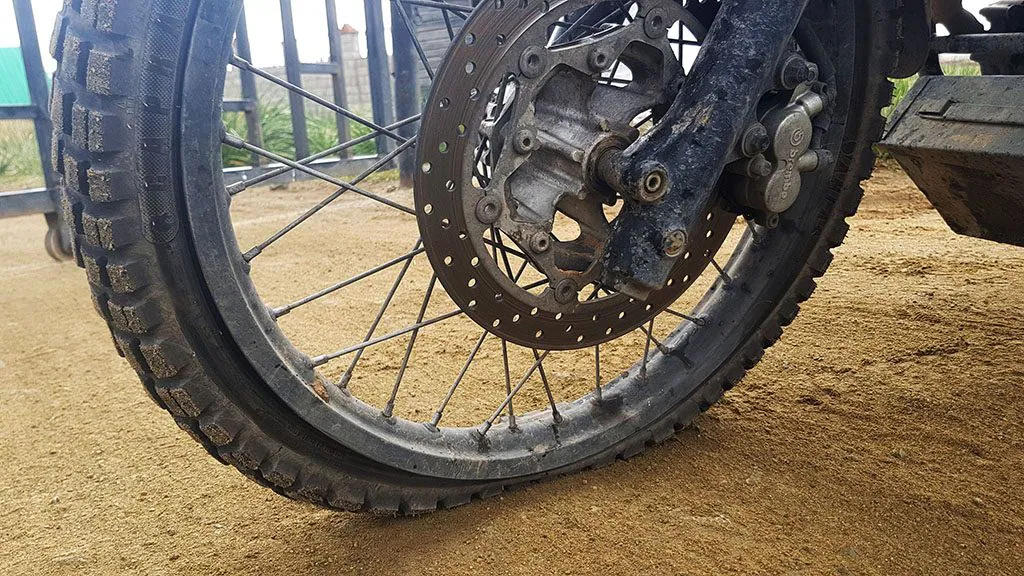 We woke up tired and to a frosty morning. The temperature plummeted overnight and we were behind schedule. But we pushed on, hoping to catch up – until the pannier rack snapped (again), smacking into the rear wheel and nearly sending us into a lorry. We pulled over and with numb fingers tied the pannier rack back to the bike with a ratchet strap as lorries hurtled past. We also ran out of fuel twice and by the time we reached our motel it was well past midnight and we were still freezing cold.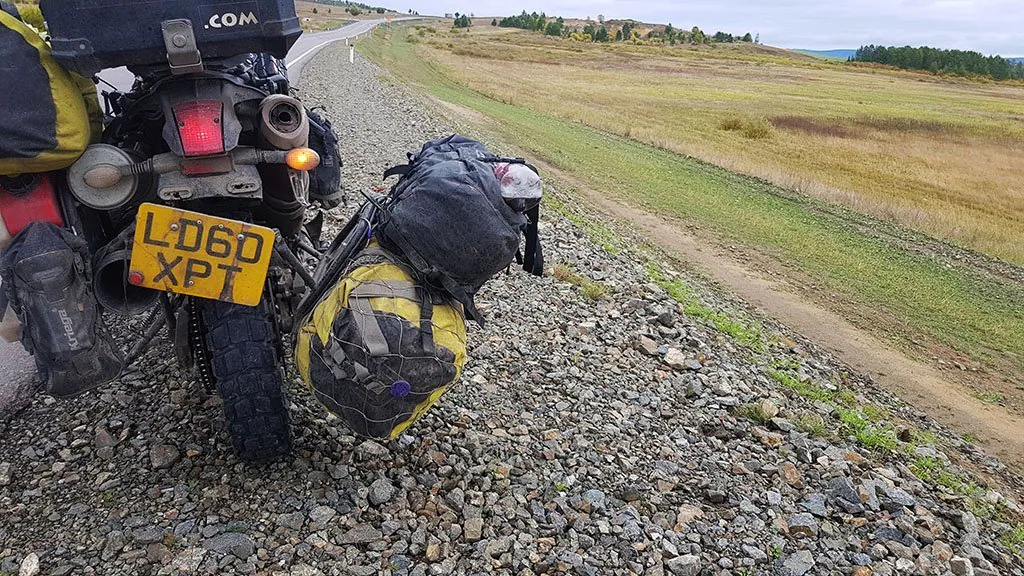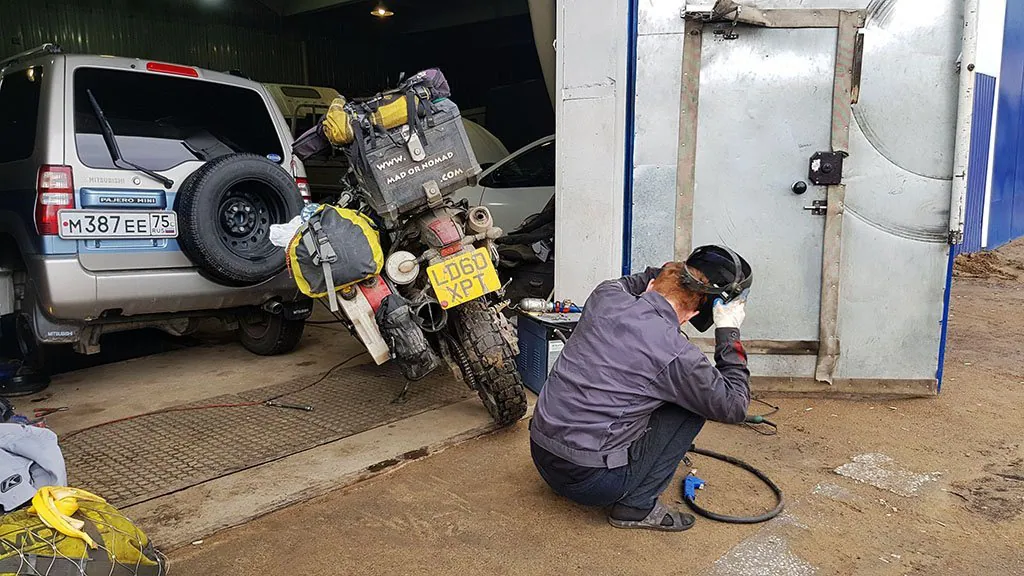 Cold, wet and slow
We found a welder in the morning, stripped off the rear racks and had it welded back together. We lost more precious time. The rain poured even heavier and our clothes were still wet from the day before. We stopped often at truck stops for teas, coffees and dumplings just to try and get warmth back into our fingers and toes. We were exhausted, 600km behind and only on day three. We were riding around twelve hours a day just to cover 400km. We could cover the same distance, while off-road, in the Stans in half the time. But it's a different story in Siberia. The rain was so bad that we couldn't see in front of us, the cold was so bitter that we were constantly shivering, forcing us to stop often and the motorbike was literally on its last legs, which meant we couldn't push it on speed, even if we wanted to.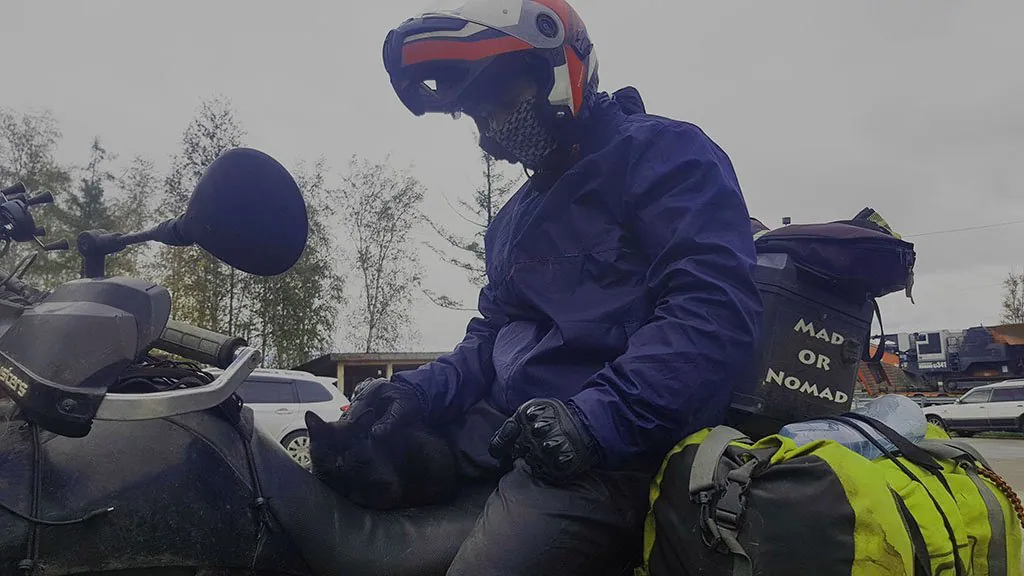 From tubed to tubeless
As if Russia heard us, the next morning it decided to give us a break with the weather. But the bike didn't. We got our speed up and started to make good time – until the rear tube popped as we were riding at 80kph. We managed to break hard and pull over quickly before crashing. The rear tyre had a rip in it and desperately needed to be replaced. But as we were in the middle of nowhere, we didn't have a replacement or any patches to fix the tyre – only tube patches. The first car we flagged down stopped. Stefan jumped out, chucked our wheel in the back of his truck and drove off (he didn't speak a word of English but we assumed he said he'd be back). An hour later he returned with a patched-up tyre and tube and refused to take any money.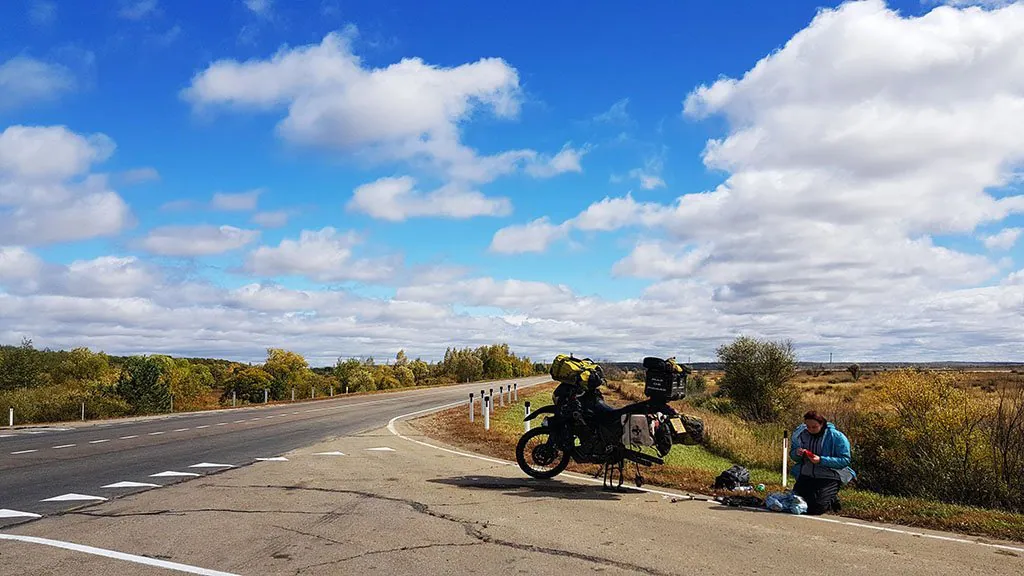 While we were waiting for him, bikers stopped to check on us and chat and a car driver stopped to give us water. We said our goodbyes to Stefan and jumped back on the bike.
Within a minute we knew something was wrong as the bike was swaying. The tyre fitter didn't pop the bead back onto the rim. We got all our tools out on the side of the road, tried deflating and inflating, smearing grease, hammering it but nothing worked. We needed a proper compressor. So, we rode excruciatingly slowly until we saw a little village, found the tyre man and had him pop the bead (he also refused money). We pretty much lost half the day by the time we got back on the road and were so far behind schedule it was laughable.
No room at the inn
We woke up the next morning to more heavy rain. We pushed through and made it to our destination for the night in the pitch black – only to find every -motel in the town was fully booked. The next town was 100km away, the rain was hammering and we were literally shivering from the cold. Luckily, we saw a faint neon light in the shape of a motorcycle outside a large garage and knocked on the door. It was the Mogocha Bikers Club. They had our bike inside in no time. We were sat upstairs as they prepared food and copious amounts of vodka before leaving us to sleep in the warm for the night.
Not again…
Finally warm and with no rain outside we left, slightly more optimistic. After four hours of riding down a long, boring, straight road we finally started to think that we might make it… until the rear wheel violently whipped left then snapped to the right – sending us into a deadly weave at 100kph.
I wrestled with the handlebars for our lives; stamping on the rear brake and pumping on the front as the bike tried its hardest to spit us off.
Somehow – no idea how – we managed to get the bike under control and pull into the hard shoulder. It was like we were snoozing on a calm, trotting horse until someone crept up and slapped it on the arse, leaving us to fight with the reigns. It was the closest we came in nine months to a near nasty end to the trip.
We get off the bike and stared at the flat rear tyre. It must have burst as it went completely flat in a nanosecond. We spotted a petrol station in the distance, so Alissa walked along the hard shoulder as I slowly crawled along on the bike. Once we took the rear tyre off, we understood why the bike went mental. The tube had completely burst in half and the tyre had a rip in it. There was no fixing the tube this time.
This was our fourth puncture in six days. We laughed, wondering how we could be so unlucky in a week where we needed luck the most.
A lorry driver pulled over for us but there was nothing he could do. Then a group of bikers arrived. One of the guys had a spare 18-inch tube (our rear is a 17), the lorry driver drilled a hole into the rim so we could fit the bigger valve through. But with no tyre patches we couldn't put the tyre back on. Alissa stayed with two of the Russians at the petrol station while I jumped on the back of another Russian's bike and we rode for half an hour to the nearest tyre shop. We fixed the tyre up and stuffed the big tube in. I then hitch-hiked back to Alissa and the other two Russians. By the time I got back it was dark and cold (as per usual). The two Russians waited with Alissa the entire time.
Alissa and I fitted the rear wheel back in the dark and plodded on… deflated and unsure whether we'd make the ferry in time.
One more day
Exhausted and with hardly any sleep after spending hours searching for a motel in the dark, we woke up late and started to ride again. As the rear tube was too large for the rear wheel, it felt like the back of the bike was sloshing around. We had to keep our speed down to 70kph – making it agonisingly slow going. Our GPS broke a few days before, which meant continuous wrong turns in towns and another late arrival, but we were finally starting to gain some ground and only had to endure one more day.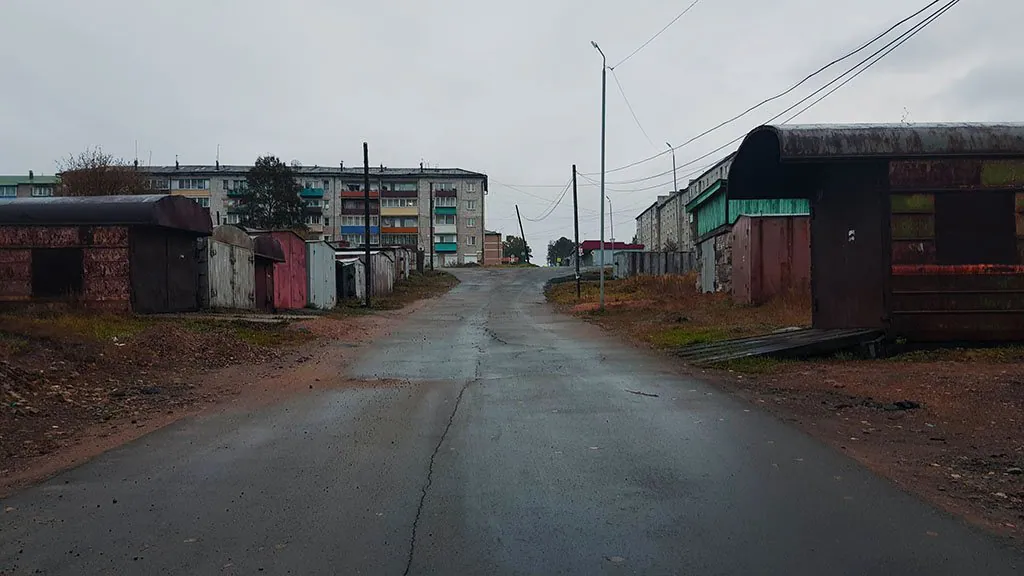 The kindness of Russian strangers
It was our last day, we had 600km to cover, Vladivostok firmly in our sights and nothing was going to stop us – until the exhaust split. A huge flap of metal opened up and the bike sounded ridiculous. We pulled over at a roadside hardware store to look for metal straps but had no luck. We eventually found a welder and asked for some metal wire to tie it back together. It came undone after a few kilometres so we pulled over to jig it around when a Russian biker saw us and pulled over. He insisted we stay by the bike while he rode to the next town to buy us some jubilee clips. We didn't have time to lose, but he was insistent on helping (got to love Russian bikers). So, we waited. He came back and the clips were too small. He shot off again and came back with clips that were too big. Such a nice guy, but we were running out of time and told him that we had to go. He phoned ahead and said in about 20km a man will be waiting for us by the side of the road with the right clips.
Sure enough, 20km later, Sergei was flagging us down. A mechanic and with a bag full of clips and fireproof string he meticulously went over the exhaust, strapping it up perfectly. He gave Alissa his lucky bandana and insisted on riding with us in convoy.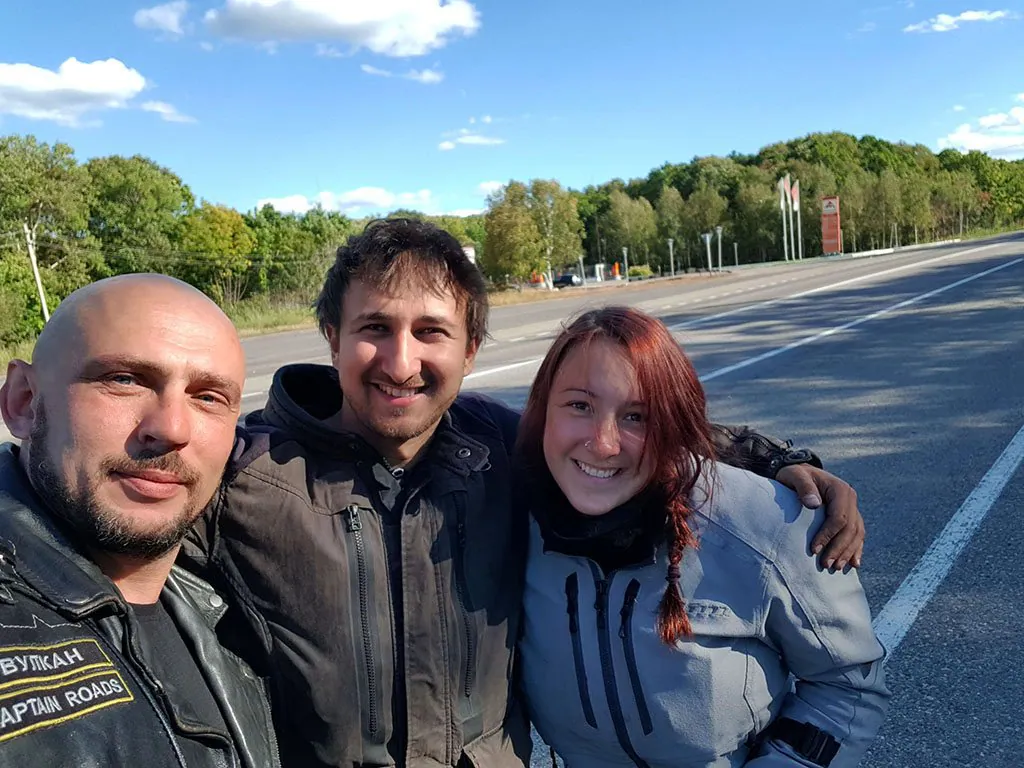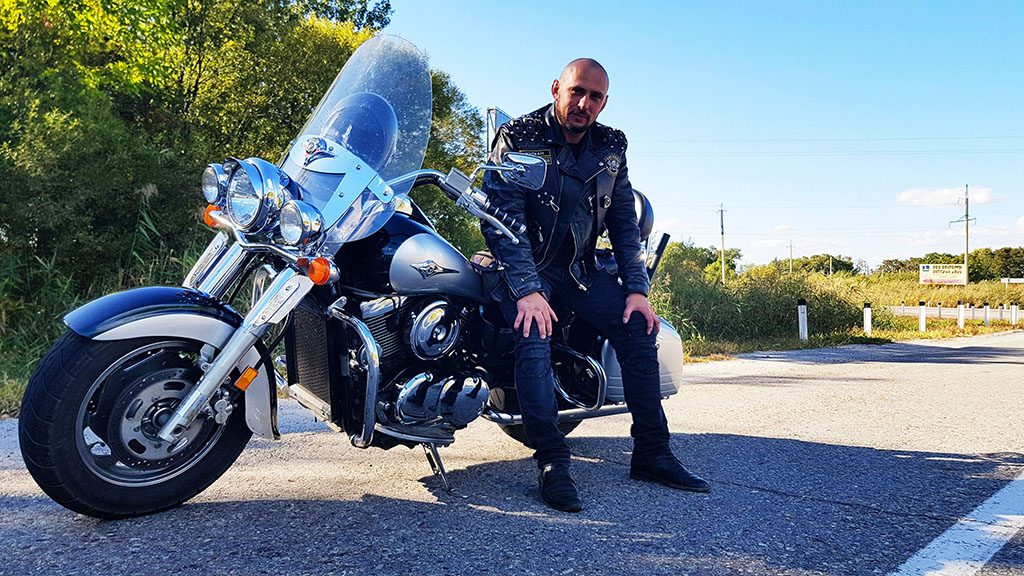 Welcome to Vladivostok!
Tired, confused, worn down and battered (but not beaten) we made it to Vladivostok sometime after midnight. We checked into a motel and crashed for a few hours before getting up early to take the bike to customs, sort paperwork and leave it at the port. We then slept for the rest of the day and night before boarding the ferry in the morning. With dreary red eyes we waved goodbye to our Siberian Hell Ride.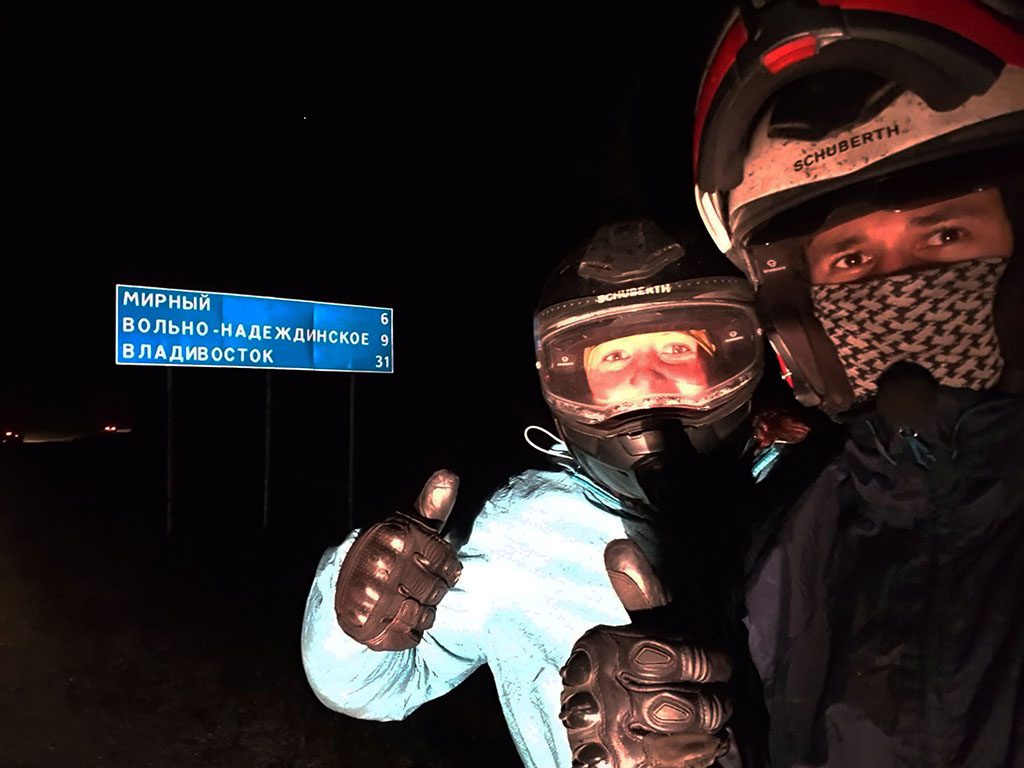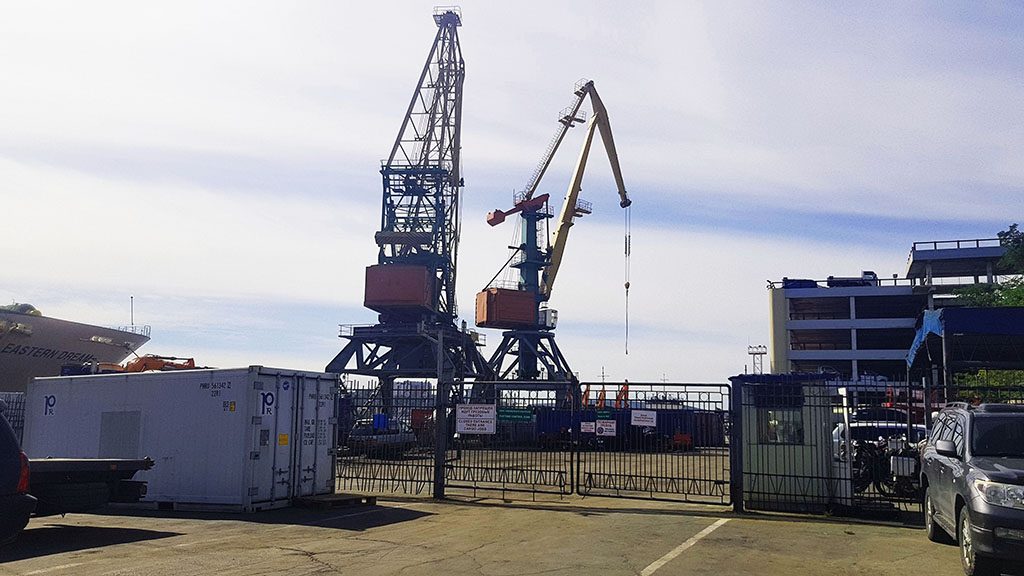 How to catch the ferry from Russia to Japan
With thanks to
We were gutted we couldn't get a longer tourist visa for Russia. The Russians genuinely took us by surprise, especially the biking community. They stopped for us all the time, made sure we were okay, fixed our bike up, refused money and really looked after us. Instead of exploring Siberia like we wanted to, we spent our days bodging and taping our bike back together, riding in the cold all day and night and only stopping at little taverns to drink hot drinks and eat dumplings before searching for trucker motels in the dark. Even though it was a hell ride and everything went wrong, we feel lucky that we got to experience the amazing warmth of the people – we wouldn't have made it without them.
Stefan
Thanks Stefan for stopping for two strangers and taking the time to get our tyre fixed and bring it back to us. Stefan refused any money and just wanted to make sure we were okay.
Sergei
Sergei was waiting for us by the side of the road after his friend phoned him to tell him we were coming his way. He did a superb job of fixing our exhaust and refused any cash. He gave Alissa his lucky bandana and all he wanted to do was ride with us. He was also insistent that we tell people that if they ever pass his area and need anything that he would always help. And also, thanks to Sergei's friend who stopped for us and went off to get us the clips.
Biker group
We're gutted we didn't get a good picture of the bunch during the mayhem. But they were amazing. They gave us a lift to the tyre shop and gave us a tube. We were especially thankful to the two bikers who stayed with Alissa in the dark until I returned, some two hours later. It was so kind of them to wait and make sure she was okay, instead of leaving her alone.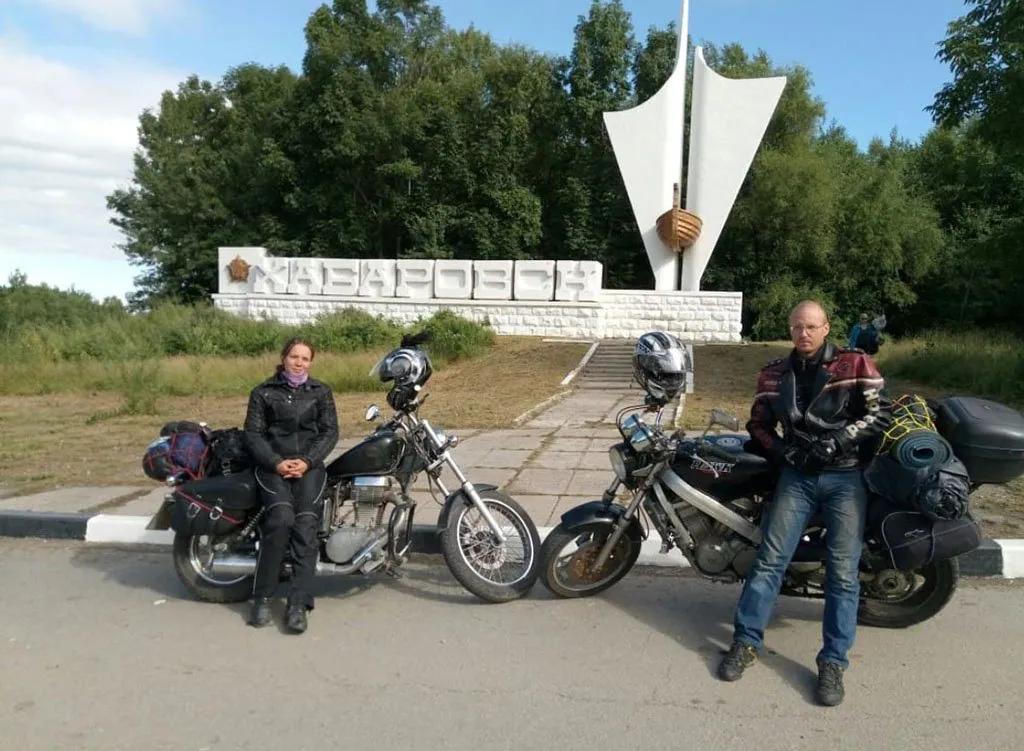 Mogocha Bikers Club
The Bike Club were incredible to us. We literally thought we were going to have to sleep in the rain until we saw their garage. They put our bike in their downstairs workshop and made us beds upstairs on their sofas in the warmth of the club house. Then they went out and bought loads of food, vodka and beer. Such good people!
Everyone who pulled over for us
Thanks to the countless people who pulled over to check on us and make sure we were okay when we were stranded and fixing our bike up. We won't forget it!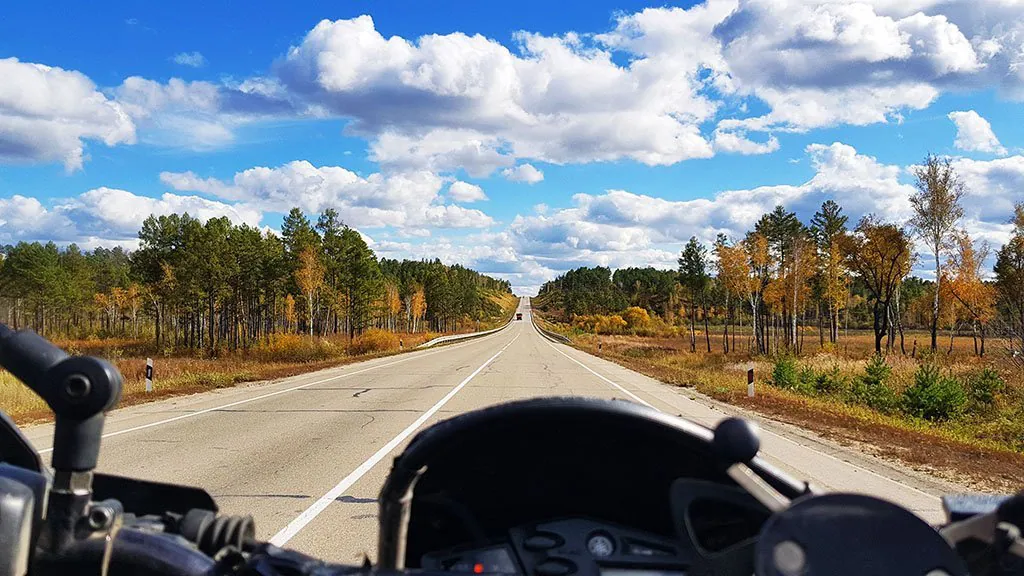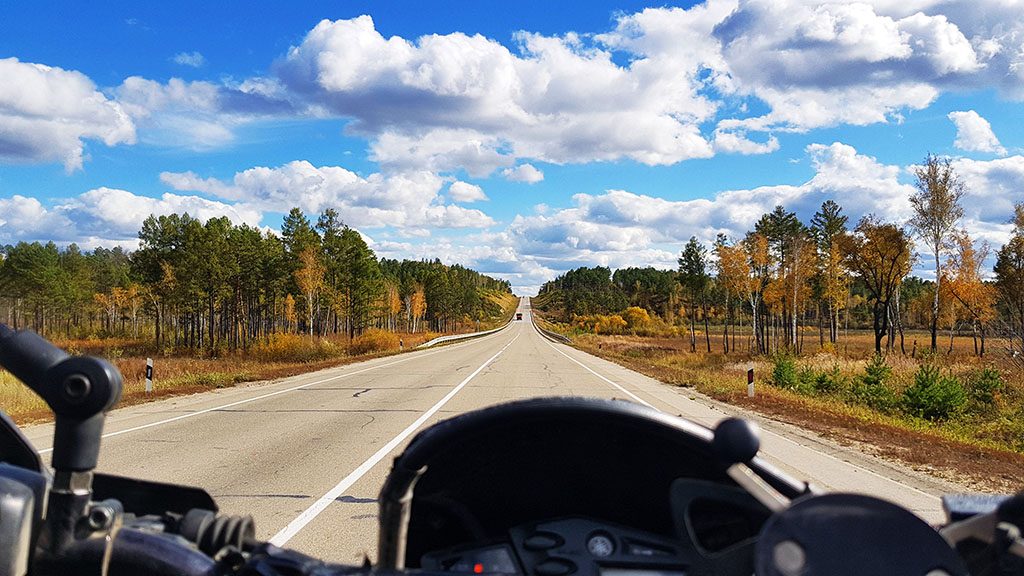 Read more on Motorcycle Travel in Siberia, Russia
Thanks for checking out our Siberia Blog post. We hope you enjoyed it! Here's a few more articles on motorcycling in Siberia that we recommend you read next. 
Liked that? Try these next…
We'd love to hear from you! Please post your comments here…