Deciding whether to motorcycle travel solo, two-up or in a group is a huge decision. To help you make up your mind we've listed our top pros and cons after riding all three round the world for the last 15 years.
Motorcycle Travel Solo vs Two-up vs Group
Deciding whether to motorcycle travel solo, with a pillion or in a group can be a tricky decision. So we've put together this easy guide to help you make up your mind and figure out what's right for you. 
Solo motorcycle travel
It's just you, your adventure bike and the world… so be prepared for anything!
Pros
Despite what people might say, you don't need to be an adventure motorcycling God to ride round the world solo. It's nowhere near as difficult as they make out.
If you're not already, then you'll learn to be self-reliant pretty fast
Travelling alone means you're far more likely to make new friends and have a more authentic experience with locals. You'd be less intimidating and more approachable.
Every decision is yours, where you go, what you do, where you eat, when you stop.
Travelling solo is the most visceral form of adventure bike riding.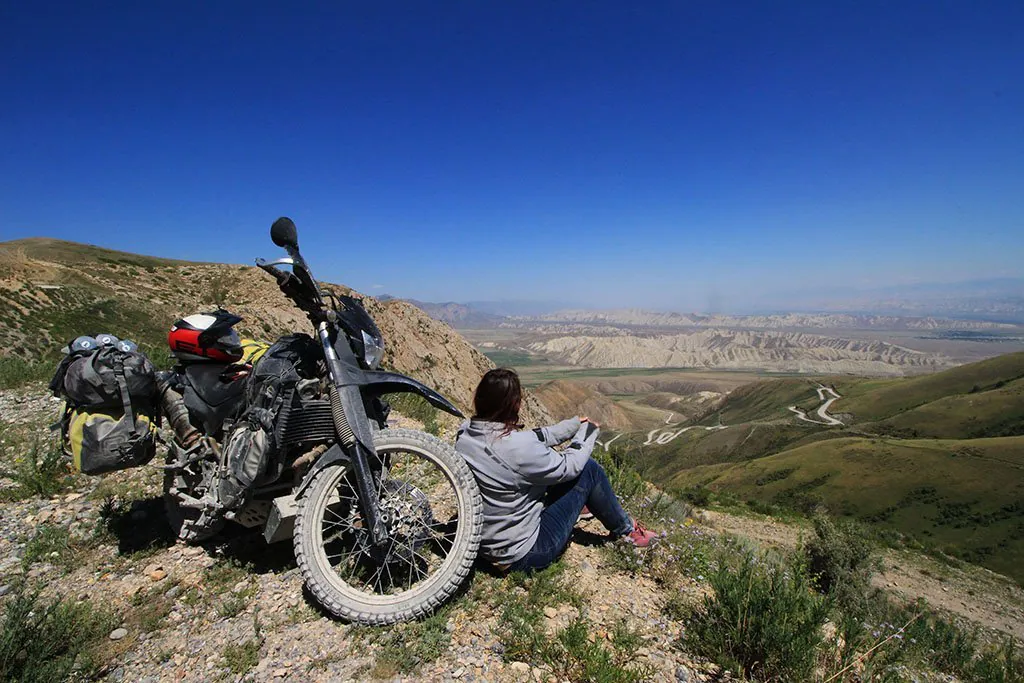 Cons
There will be times when you're alone and will have to rely on yourself to get out of tricky situations.
If you're being bribed then, you have to stand your ground alone.
You may find sometimes it can be a bit lonely.
If you're lost with nobody around then you've got to figure it out.
If your bike breaks down in the middle of nowhere, you've got to fix it.
It can be more dangerous in an emergency situation.
But all of those points are what will make you more self-reliant and 'tougher' in the long run.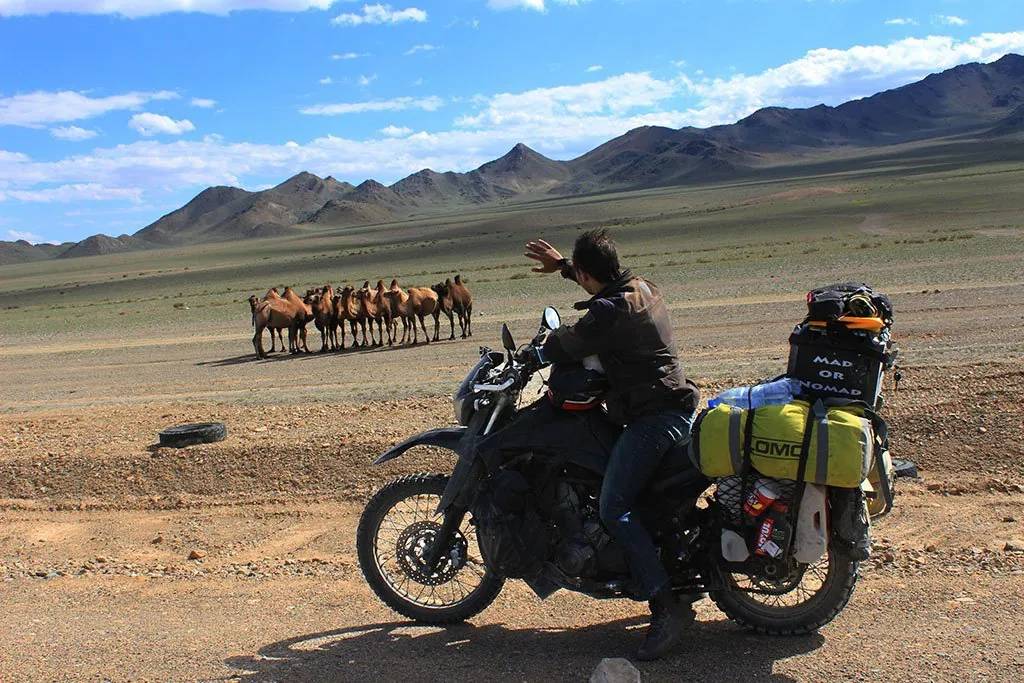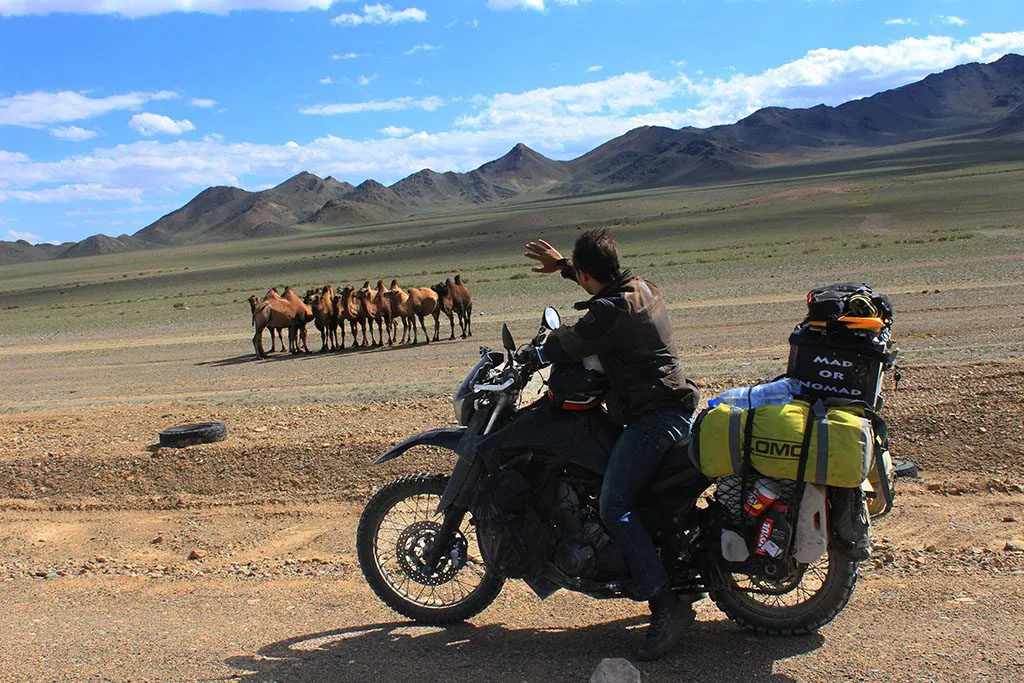 Top tips
If you're planning on riding round-the-world alone, then it's a good idea to make sure you actually like being alone first. Of course, setting off solo doesn't mean you won't make friends and travel with others. But you will be alone for long stretches. Go on a few mini trips first to make sure it's right for you.
Motorcycle travel with a pillion
Taking a pillion round-the-world with you means sharing those incredible moments every day.
Pros
You'll be sharing all the incredible experiences with your partner (instead of boring them to death with GoPro footage and a billion phone pics when you get home)
Your expenses are halved. Having a partner with you means you'll split petrol, food, accommodation, freighting, shipping, repairs etc.
Tricky situations are shared and less threatening when there's two people.
One person can wait with the motorbike and gear while the other goes into shops or in case of breakdowns etc.
Two heads are better than one with decision making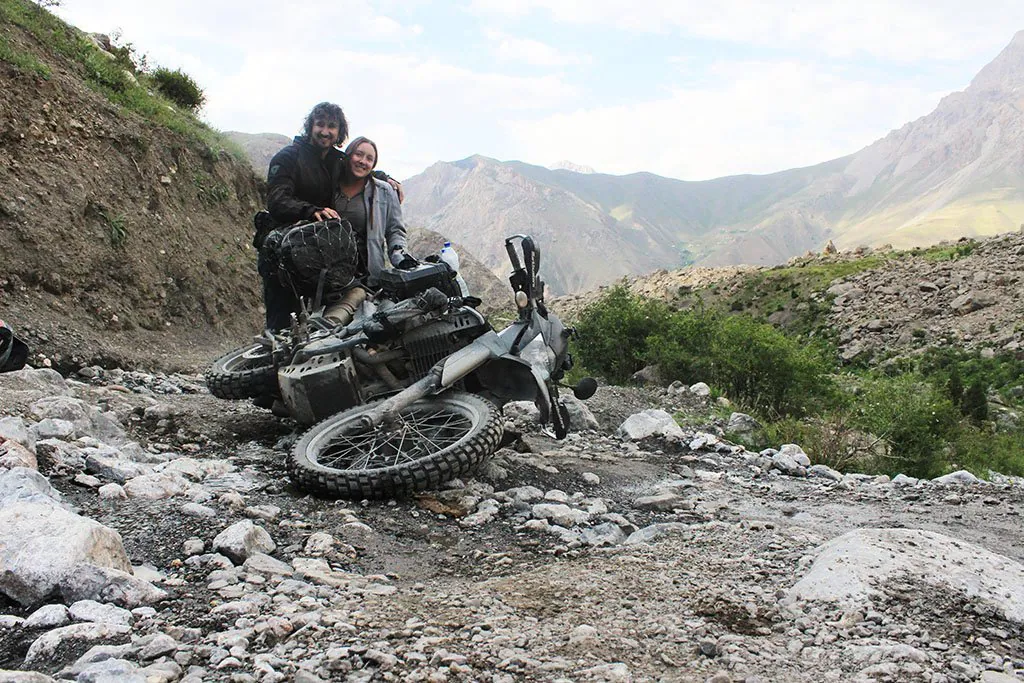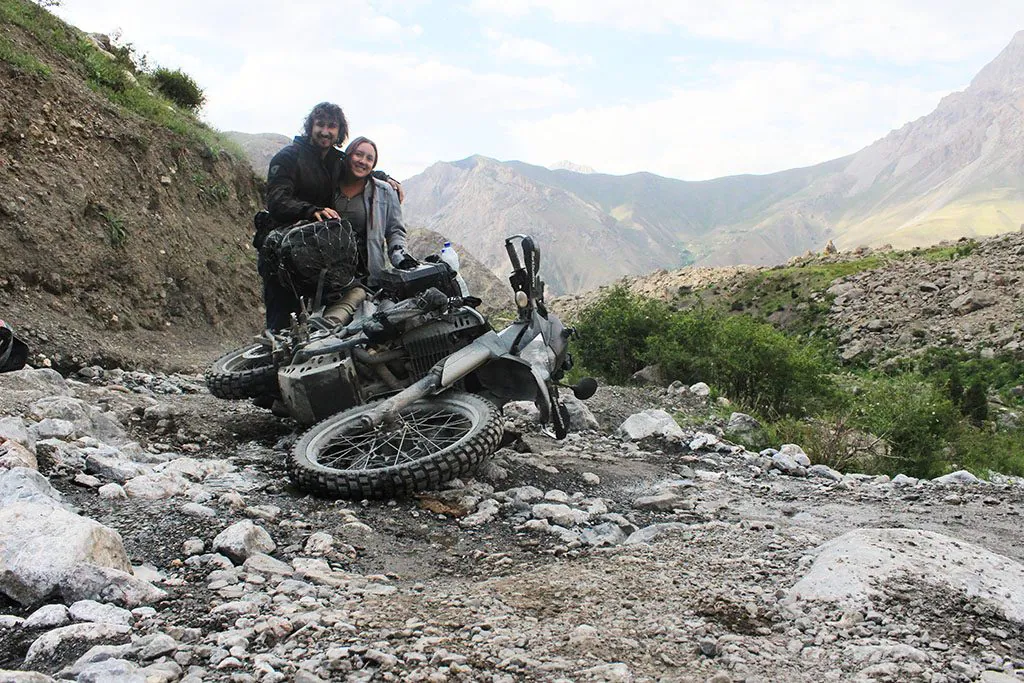 Cons
There will be a lot of extra weight on the motorcycle. You will need to pack smart and much lighter than if you were solo.
You can't go for a light single-cylinder as the frame probably won't be strong enough
Comfort can be an issue, you will need to address the seat and pillion position before leaving
You may be limited to where you can ride. Although, this is a tricky one because it really depends on how seriously you want to off-road. And it also depends on your skill level. With a pillion you can still ride through the depths of Mongolia and into the Wakhan, you'll just need to go slower and be a better rider.
We met a French couple in their late sixties riding through Mongolia two-up on roads solo travellers wouldn't ride. It can be done!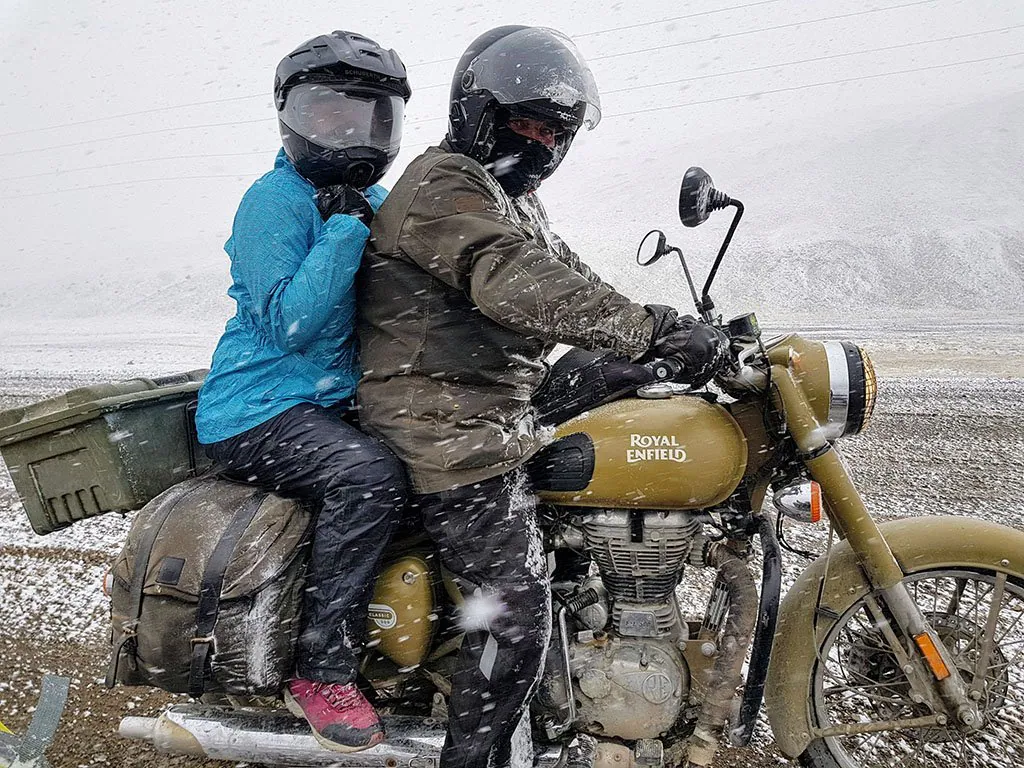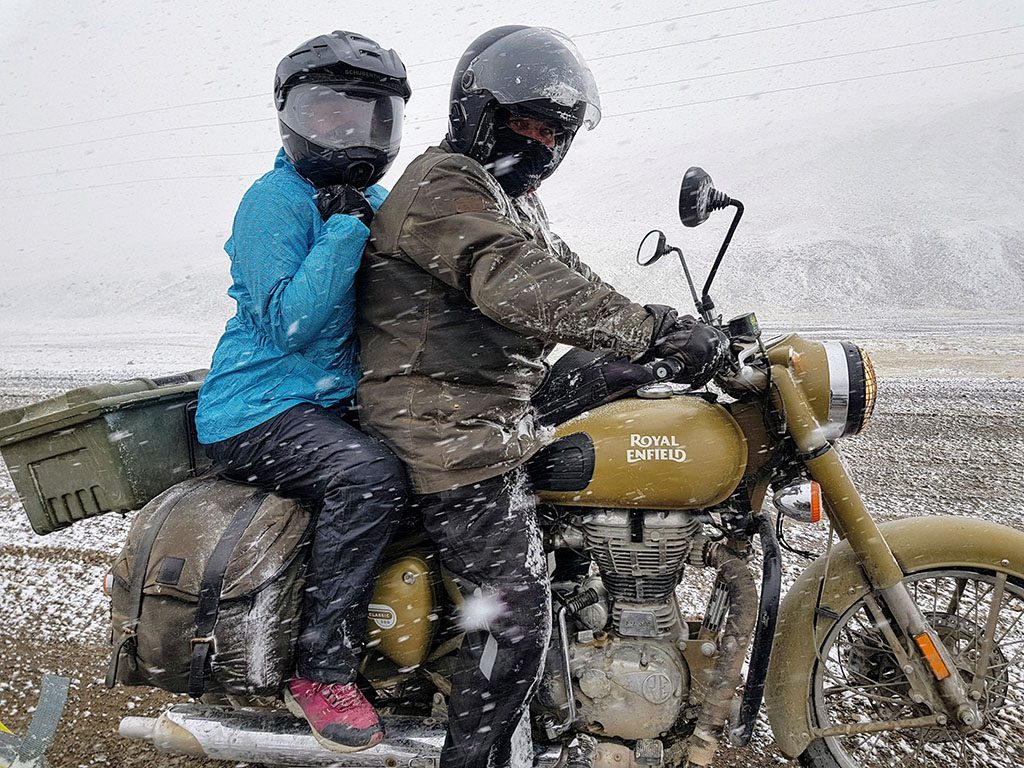 Top tips
Taking a dry run before the big trip is an absolute must. Your luggage needs to be well thought out and so does your riding style. Lots of little things come into play when you ride two-up long distance.
Motorcycle travel in a group
Travelling with mates can be the ultimate trip, so long as you all agree…
Pros
Travelling with a group of mates can be some of the best fun you have on a motorcycle.
The camaraderie and fun of riding with close buddies means you'll never have a dull moment.
You have your friends to rely on in difficult situations and are less likely to feel threatened and be bribed.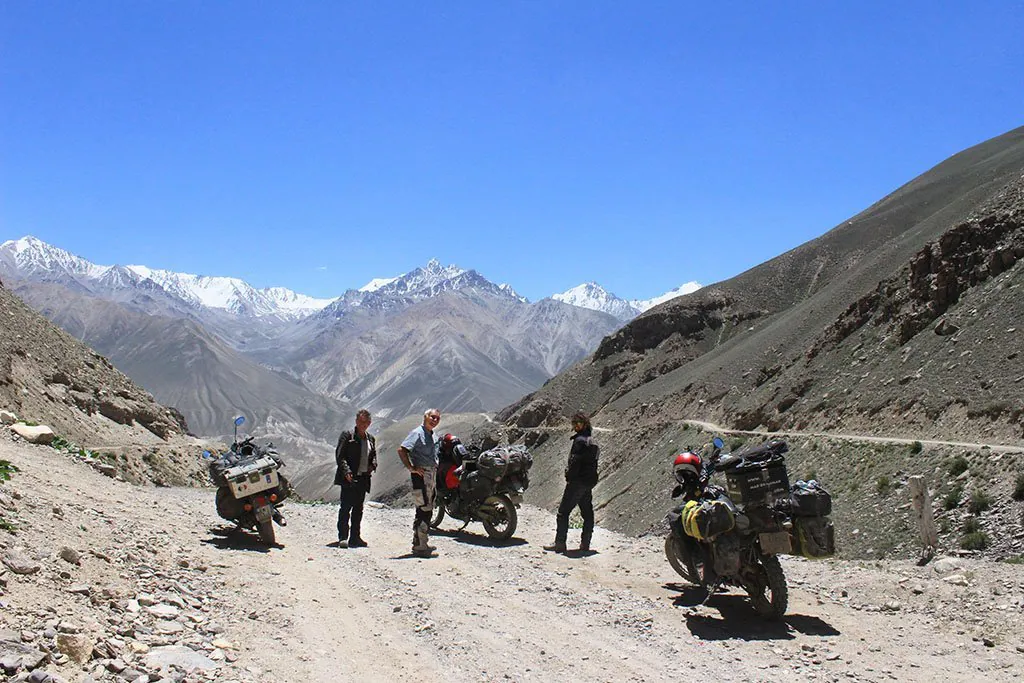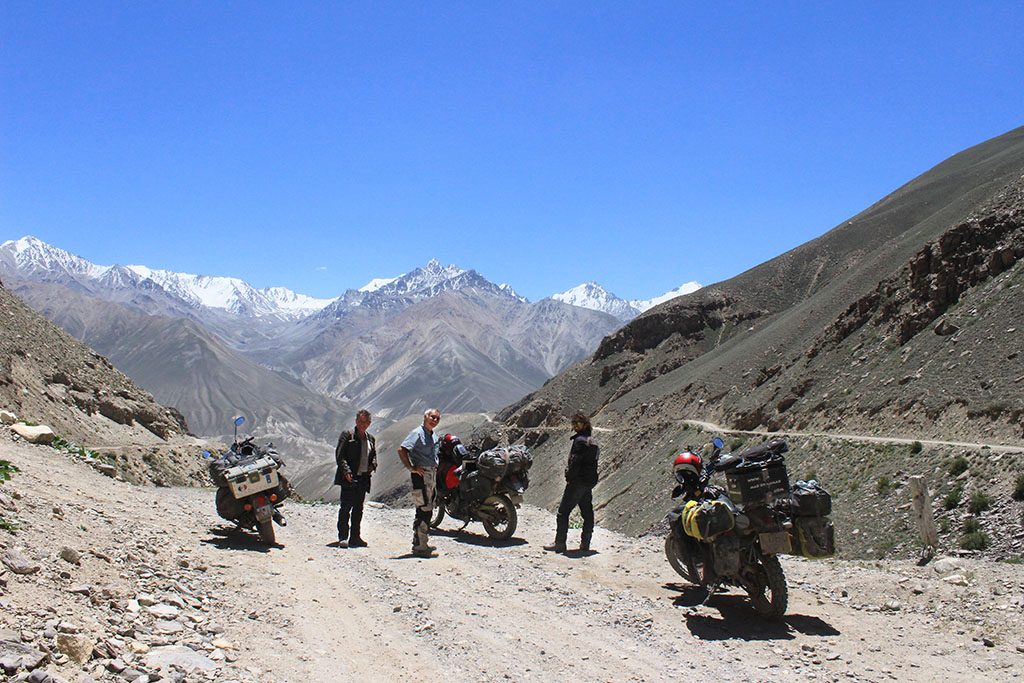 Cons
Everything is up for debate and little decisions can be hard to make
You have to consider everyone else when deciding where to sleep, eat, which route to choose and how to tackle certain situations
Consider that arranging accommodation for a large group can be tricky (unless camping)
Everyone may have a different budget
People may ride at different speeds, which can get irritating
The individuality of travel is lost, it's not just your trip, it's everyone's
It's less likely that you will have an authentic experience with locals. A solo traveller is much more likely to get invited into someone's yurt for tea compared to a big group of lads.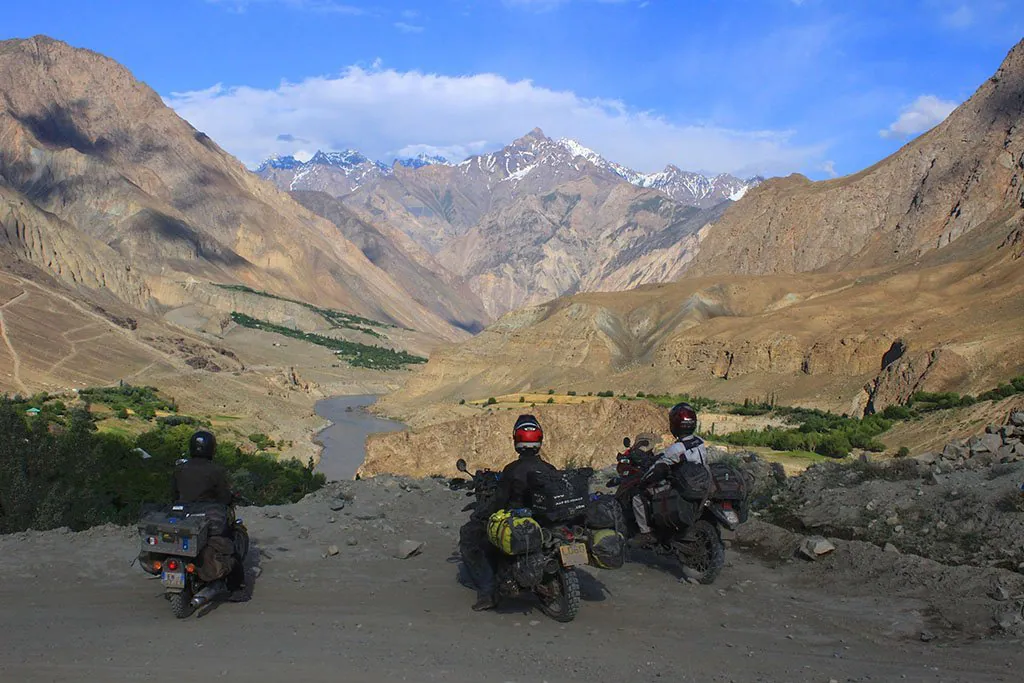 Top tips
You must make sure that you all have a similar budget and clear idea of what you want from the trip. It will no doubt become much more about the riding than the travelling. These issues aren't a problem if you're on a week or month long trip, where it's all about the riding and not about the travelling. It all depends on your group and how well you know the people you're going to travel with. Everyone must be willing to tolerate each other's habits or just agree on somewhere to meet at the end of the day.
Your turn…
Whichever option you go for, make sure it's right for you and what you want to do. Taking a practice run is always a good idea. It'll help you realise if being alone is actually right for you. It'll give you a chance to iron out any comfort niggles or packing issues if you're two-up and it'll quickly help establish some ground rules for group riding.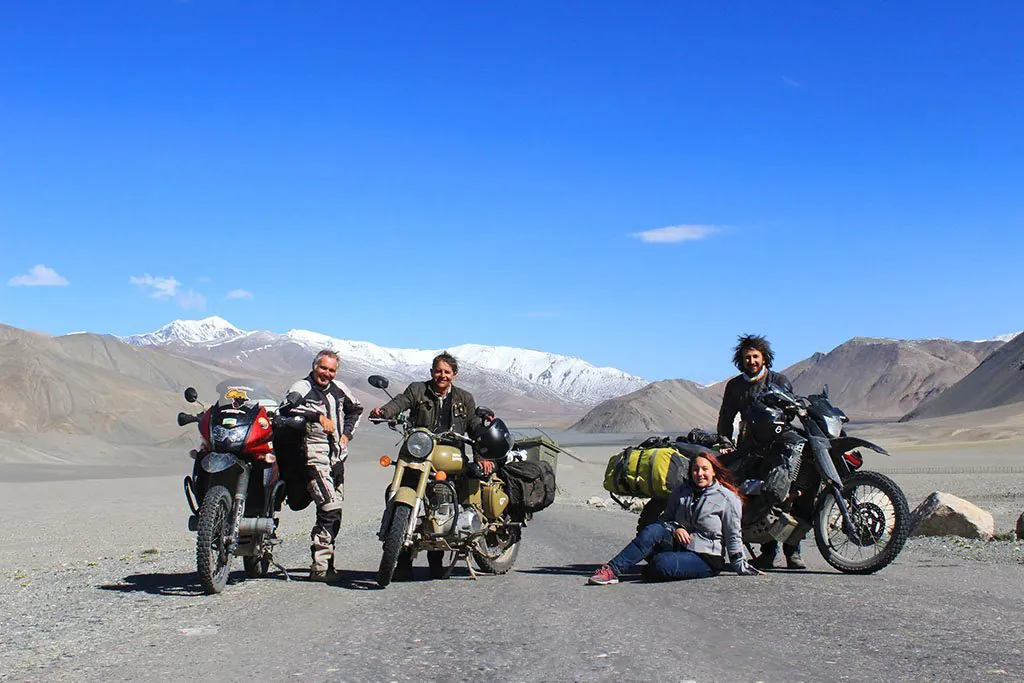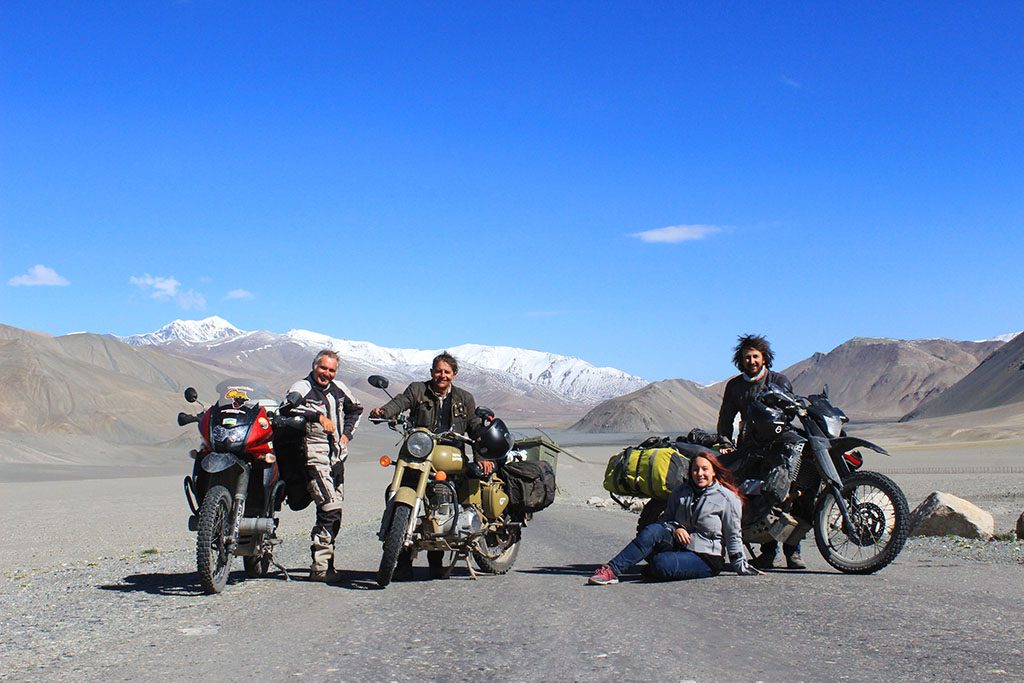 Read more on adventure motorcycle travel 
Thanks for checking out our Should I Ride Solo, Two-Up or in a Group article. We hope you enjoyed it! Here's a few more guides that we recommend you read next.