From Vietnam to Australia and everything in between. Here's where we've been for the last two months while waiting for our bike to arrive in Melbourne…
Motorcycle Travel Blog Southeast Asia
Where to next?
We reluctantly returned our rental bikes in Hanoi and quickly caught a flight out of cold Vietnam to somewhere a little warmer. We still had two months before our bike arrived in Melbourne – and who knew if it would pass quarantine straight away or get delayed in customs.
Waiting in Australia would rinse our bank balance, so relaxing in Southeast Asia was the smart move. And the Philippines sounded like a good idea…
The Philippines
With 7,640 islands, we didn't think it was worth shipping our own bike to the Philippines as we'd spend all our time on ferries (and after Borneo, we're all ferried out).
A quick flight to Cebu and we were back on the beach, but this time without any wheels. Sometimes, on a long-term trip, you need to take some time out and literally just do nothing. It's tiring being on the move constantly and a full recharge every once in a while is a must.
So, we rented a little apartment, mooched about the town, swam in the sea, ate good food and just switched off for two weeks.
That was until two friends from the UK, Jade and Tamzin, decided they also needed a little time off and flew out to spend a couple of weeks with us. We rented scooters, went canyoning, snorkelled, explored empty waterfalls, jumped off cliffs, beached, boated and had a blast for two weeks in Palawan and Moalboal.
Back to Bali
With only a few weeks left before our bike was due to arrive and an expiring visa in the Philippines, we caught another flight out (wish we had an air miles card!).
The cheapest flights from Southeast Asia to Australia are from Bali. So, it's back we go! We didn't fancy staying put in Bali, so caught a boat to the Gili islands near Lombok and went scuba diving every day, swimming with reef sharks and photographing giant turtles. When we weren't diving, we were cycling around the islands (no motorised vehicles are allowed).
We caught a flight to Labuan Bajo and jumped on another boat headed for Komodo island to check out the dragons and go snorkelling with manta rays and more turtles (but you can never see too many turtles).
It was a fun few weeks and a good way to see off Indonesia.
Bye bye Southeast Asia
It was a weird feeling boarding the plane for Australia and finally saying bye to Southeast Asia. We rode around 10,000kms through SEA, covering seven countries in over 10 months on our round the world trip. And it has been an incredible part of the world to explore on a motorcycle: the sights, culture, people, roads and memories will stay with us forever. It has been awesome, but new adventures await and the round the world trip continues.
Australian Border Force
We arrived in Melbourne expecting to be featured on an episode of Australian Border Force (our favourite programme). We declared everything and were told to go through a special door – we assumed to have our belongings checked and be quizzed on what we were doing there with two little rucksacks and no exit ticket. But it turned out to be the exit. Anti-climaxed, we headed to Danny's house.
Danny was the best introduction to Australia. He randomly messaged us on Facebook and offered his place to stay, gave us accommodation, cooked us up an awesome welcome BBQ and drove us to the shipping warehouse to collect our bike.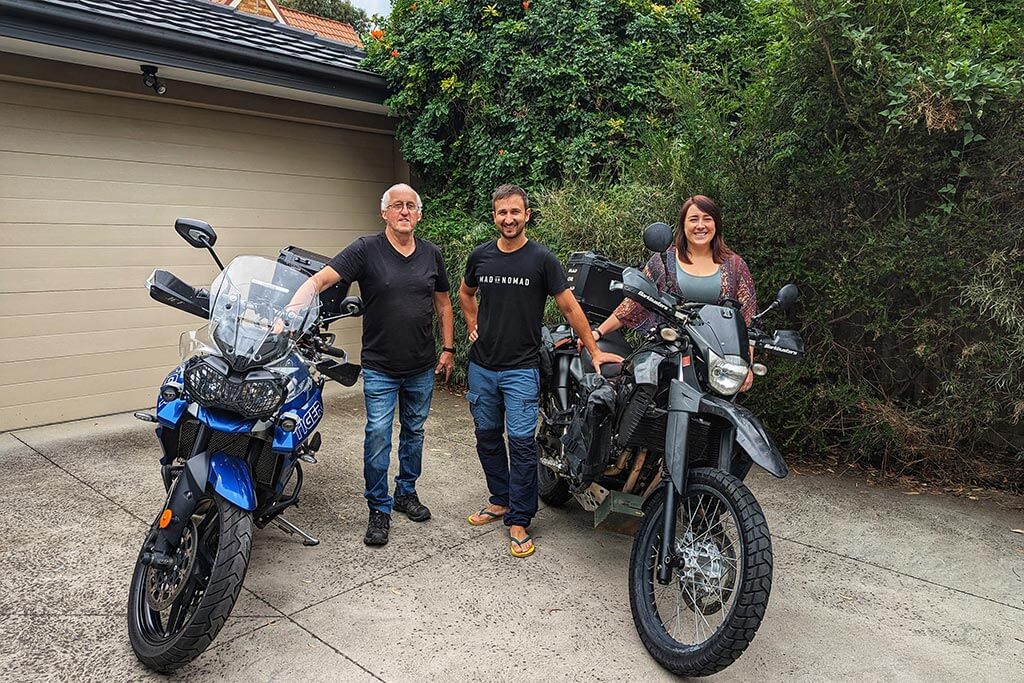 Hello, old friend
Our Yamaha cleared quarantine and passed inspection (thankfully). There was a car at the inspection warehouse that failed and the chap had to wait over three weeks for a new inspection and pay for it to be re-cleaned. So that was a Christmas Eve in a Bali carwash well spent for us then.
We put the bike back together, loaded up all our gear and headed back to Danny's where he arranged for a friend to kindly weld a bracket for us. We dipped into Melbourne to check out the city, and also meet up with Nick, a friend I met travelling while in Turkey 11 years ago on the same motorcycle – this XT has done some distance!
The Great Ocean Road
One hundred and fifty miles of beautiful coastline road hugging the Antarctic Ocean with stunning rock formations sprinkled along the way. The GOR was the perfect start to our ride through Australia.
We stayed right by the start line the night before with Pete, another awesome biker who took us in for the night. He rode with us for the first couple of hours making it an even better day and ride.
We've arrived in a new country, got our bike out of customs, completed an introductory ride and were now ready to properly start our Australian adventure. Tasmania, here we come!
Read more on motorcycle travel in Southeast Asia
Thanks for checking out our See Yah Later Motorcycle Travel Blog. We hope you enjoyed it! Here's a few more related articles on riding in Southeast Asia that we recommend you read next. 
If you enjoyed this See Yah Later Southeast Asia motorcycle travel blog or have any questions, please post your comments below. We'd love to hear from you.