"The Schuberth E1 is an incredibly versatile hybrid adventure helmet. Schuberth has done a brilliant job of turning a touring, flip-front into a round-the-world capable helmet for adventure bike travelling." 
Schuberth E1 Helmet Review
Snapshot
Price: £299 (gloss black), £427 (white) £589 (matt black) and other colour options vary in price but are around £449
Mileage tested: 90,000 miles
Time tested: since 2016
Testing conditions: UK to New Zealand
Features: 5⁄5
Ventilation: 4⁄5
Fit and comfort: 5⁄5
Value for money: 5⁄5
Where to buy UK: sportsbikeshop.co.uk
Where to buy US: revzilla.com
Features
The flip-front Schuberth E1 is modelled after Schuberth's C3 Pro touring helmet. I used the C3Pro for two years before moving onto the E1 and absolutely loved it. Schuberth has done a fantastic job of tweaking an already excellent touring lid into an even better adventure helmet with cool new features.
It comes with a new chinbar, a more off-road suitable inner liner, removable peak and larger ventilation openings. It also has a removable chin curtain.
Just like the C3Pro, it is also antenna ready for the Schuberth Bluetooth Communication system, you just need to swap the collar out, which takes about one minute to do.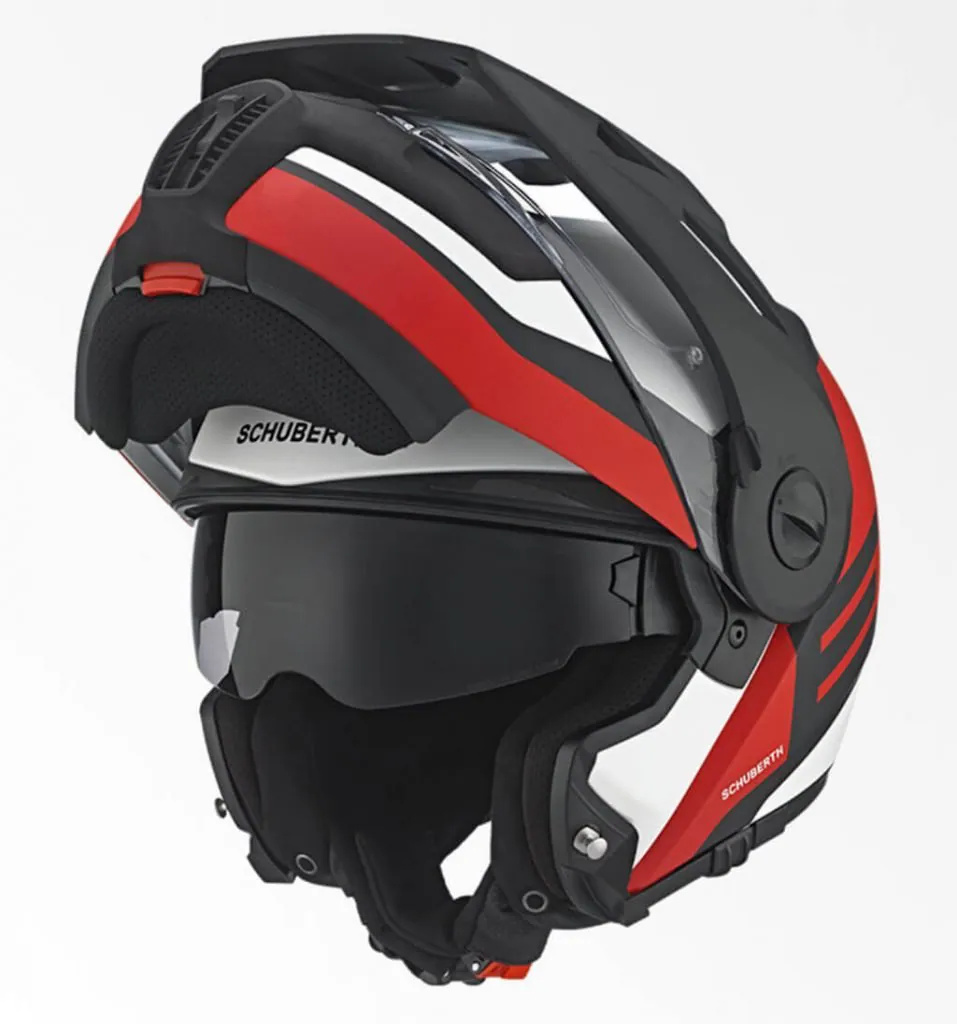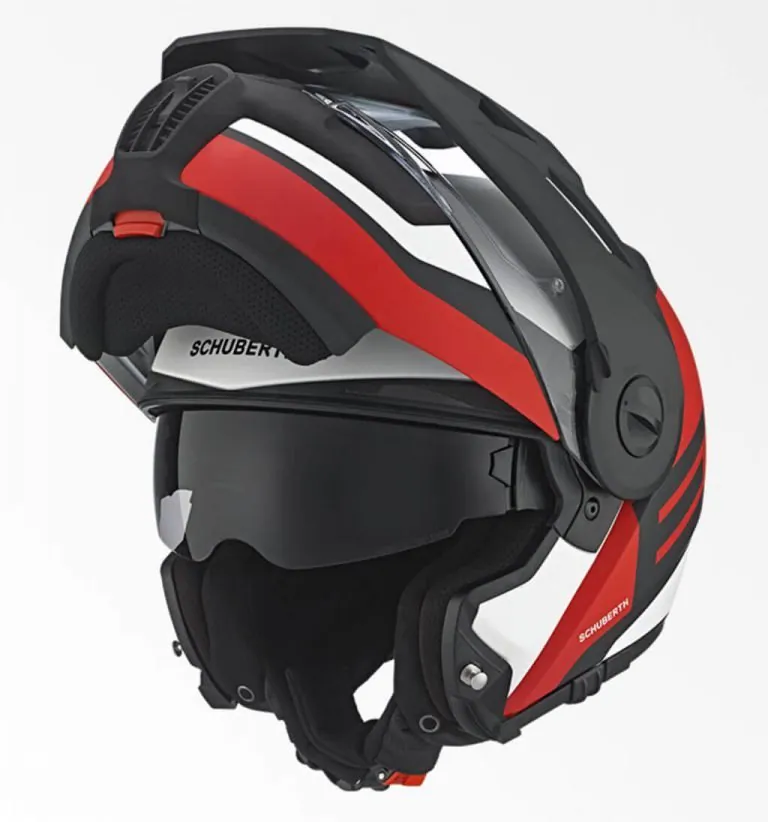 What's good?
Flip front helmets are perfect for travelling. Being able to quickly lift the front makes it easier to chat to locals, ask directions, deal with border guards, have a swig of water, cool down on hot rides and so on. The only problem is that they're usually designed for touring and so aren't suitable for adventure riding. Adventure lids have peaks, larger vents and more of them, better airflow and better liners.
Enter the E1. Schuberth has done a brilliant job of building a hybrid flip-front adventure helmet – the best of both worlds.
Vents
The vents on the E1 are decent, the mouthpiece lets plenty of air flow through and is easy to thumb open with a thick glove. There's also a large tab right under the visor opening which shoots air up into your face too. And there's one large vent on the top of the helmet, but no exhaust ports at the back. After riding through sweltering 40C heat, I was impressed at how much air they let through. If the chin bar was a bit more pronounced it would let more air up into the helmet, but then it'd make it freezing for colder conditions, so can't really complain there.
Peak
The lightweight peak is easily detachable and remains pretty sturdy when riding up until motorway speeds. It vibrates when flying past 75mph, but it doesn't flick your head back like some lids. It also works in conjunction with the lid so you can flip up without the peak getting stuck or shifting its position when it comes back down.
Visor
Schuberth's visor system is the best I have ever tried. The mechanism is seamless and slots in and out easily, making it a doddle to take off and clean. There's also less movable and small delicate plastic parts, so it's very unlikely you'll snap something off when in a rush.
Liner
The anti-bacterial liner is far better than the C3Pro and other helmets I've tried. Sweaty cheeks don't stick to the pads or feel itchy after a long ride. Schuberth use safety loops to keep the pads attached, with is great for added safety, but does take a little longer to remove and re-insert the pads.
Sound
Schuberth is well known for its sublime build quality, they also love talking about their use of wind tunnels in the design and build process. Fair play, the E1 is right up there as one of the quietest and smoothest riding helmets I've tested.
Schuberth SRC Bluetooth Communication system
Both Alissa and I use a Schuberth E1 Pro and we both use the Schuberth SRC Bluetooth system. It works brilliantly and makes such a difference to two-up riding and riding with friends. We've used the system for six months, pretty much daily throughout Japan. 
The range works up to about 1000m and makes life easier when travelling. It's easy to fit: remove the old colour and clip the new one in, stick the Velcro backed earpads into the pre-cut indents in the helmet and you're done. The microphone is attached to the collar and pokes out towards the mouth so it doesn't go anywhere, even when you lift the lid up. You can flit between talking with your partner, radio or synching with your phone for Spotify or calls. 
READ MORE: The Best Motorcycle Bluetooth Headsets
READ MORE:  6 Top Tips for Travelling with a Pillion. 
Round-up
The Schuberth E1 is an incredibly versatile hybrid adventure helmet. Schuberth has done a brilliant job of turning a touring, flip-front into a round-the-world capable helmet for adventure bike travelling. It has been cleverly designed with high-build quality and cool features. It comes with a 5-year guarantee, is robust, smooth, quiet and comfortable. Turning a flip-front into an adventure helmet is perfect for long-term bike travellers and anyone who enjoys touring with a bit of the rough-stuff on the side. Well done, Schuberth!
Schuberth E1 Helmet Review: 19/20
The 10 BEST Adventure Bike Helmets
ps. We may receive a small commission, at absolutely no cost to you, if you purchase any products using the links on this page. We're not sponsored by anyone, are completely impartial and don't run ads. So this helps us keep the site running. Thank you for your support.
Read more on Adventure Bike Gear 
Thanks for checking out our Schuberth E1 Adventure Bike Helmet Review. We hope you enjoyed it! Here's a few more articles on motorcycle clothing and kit that we recommend you read next. 
We'd love to hear from you! Please leave your comments below.