Welcome to Thoughts from the Road. Here's Sam Manicom's take on how Covid will affect motorcycle travel and what to expect…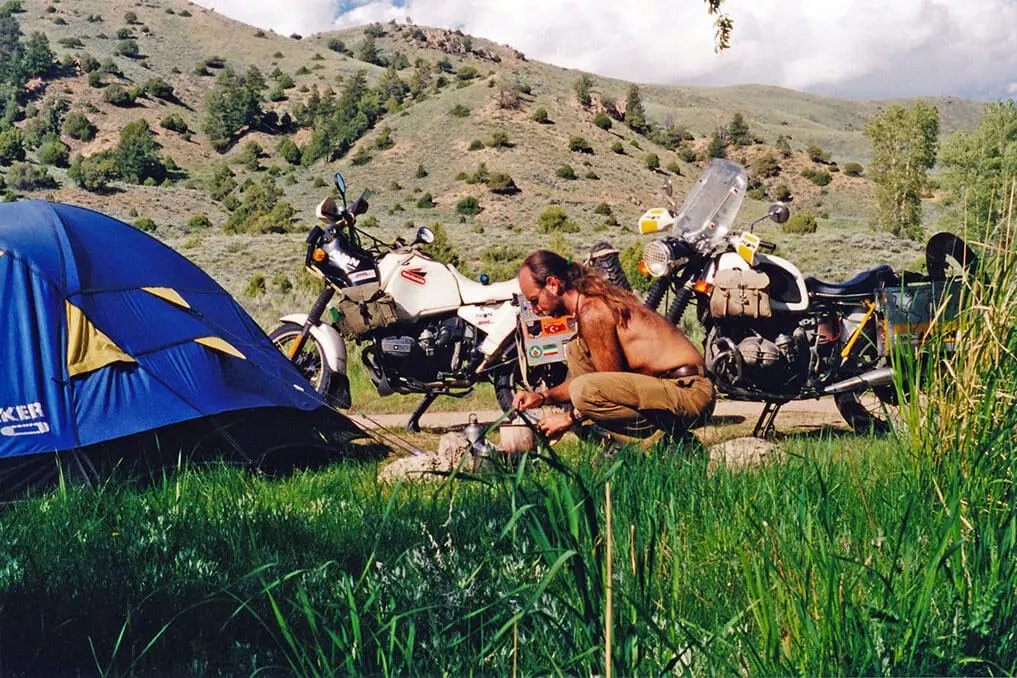 Sam Manicom rode for 8 years around the world, exploring 6 continents. He is the author of 4 motorcycle travel books. All are available in Paperback direct from him, with free worldwide shipping from The Book Depository, and from Amazon. His books are also available as e-books and his first four books Into Africa, Under Asian Skies, Distant Suns and Tortillas to Totems are available for download as Audio Books.
Sam is also a contributor to and editor of a new book. 'The Moment Collectors' is a 5* rated celebration of long distance motorcycle travel, with chapters from 20 overlanding authors around the world.
How Covid will change motorcycle travel
There's a stack of doom and gloom about the effects of Covid on the future of travel, but I'm very optimistic. As the Thais say, 'Same-same, but different.' This is the mind-set we need to have, not wallow negatively in a pit of things we can't do, the same.
Before writing more, with much respect in heart I must make a comment of sincere sympathy for all who have either lost family or friends during the last two years. I must also make a respectful note regarding all those who have lost their homes and their livelihoods as a result of the pandemic. It's been incredibly tough for so many.
The world hasn't closed its doors permanently to travel though. For sure there are things we can no longer do, so easily, and there are challenges that didn't exist previously. But that's the way of the road anyway. Some call it adventure. Stuff changes in front of you all the time and travellers very quickly become used to it. I was talking to my partner Birgit just yesterday about how fortunate we are to have travelled in more carefree times.
Here are some thoughts about the future:
Exploring by motorcycle is going to be an even better way to travel. Sit crammed in a local bus or train?
I'll be looking to travel in countries with wide open spaces and scant need to travel in high density sections. Iceland? Namibia?
Travellers will have to be far more aware of the situation in the countries they are heading towards. The chance to head out and be ignorant will be less of a 'thing'. We will all need to allocate more time for procedures and planning. Knowledge is a huge part of the fun of travel, so the joy factor just got bigger.
Anyone planning a trip will need to learn much more about countries neighbouring their planned route. They might have to change direction when a country in front of them closes its border.
We will now take on far more knowledge of ports and airports; if borders close…
We will also want to make a good connection with an international shipping company with a proven track record.
Vaccination rates are way up, and are working. Caution, optimism and respect are the keys. Fear is not. If we want to explore developing world countries where vaccination isn't so widespread then we'll have a greater respect angle. We might well be protected the more dire effects of Covid by being vaccinated, but that doesn't stop us carrying the bug and spreading it. Should we all stay at home? No way. The world would suffer for too many reasons to list here if we did that. Economics is one difference. Many regions rely on the passage of people and the money they spend.  
So much more is known about the bug now that the medics say that they are in a much better position to react to future strains.
I cringe every time I see or hear people muttering negativity towards the thought of carrying a vaccination 'passport'. Overlanders for as long as I have been travelling have had to carry such a thing in a great number of the parts of the world. Yellow fever is the classic. It was to protect the people of the country you were travelling to. A respect and sanity thing – not an insult or withdrawal of freedom. Having one actually gave us freedom. Simple. You got vaccinated, you got your document, or certificate or pass, whatever you want to call it, showed it at the border and in you went. Just no big deal.
Airfreight costs will stay quite high for the foreseeable future. Inevitable when there are less flights and dramatic fuel increases. So…
People will consider more fly and ride trips. No bike purchase cost, no shipping and easy insurance. We can country hop from one rental agency to the next, so last minute border closures are a chore but not a pain. You could do such a trip the length of South America for example.
More and more people will be travelling on smaller bikes. Why? Here are a few thoughts:
Cheaper to buy = more fuel money.
We might need to be freighting more often. Smaller = less costs; a size and weight thing.
Cheaper is also good because we might be forced to leave them behind.
Conversely, smaller bikes are available to buy in many countries.
Less cost on a carnet if it's smaller. That means more readies available for freighting.
All we need is: Reliability, range and the ability to carry some gear. Mostly going fast isn't a requirement of overlanding.
Will people be as quick to offer help or be willing to accept moto travellers into their homes? If people travel with respect, they will be welcomed.
I for one will be using my tent more than ever and will carry on looking for wild camping spots rather than hotels and pay camp sites. iOverlander and the like will be used even more.
I usually carry at least 3 days food and that probably won't change.
Travel insurance will be more complicated; perhaps even more expensive.
The future for motorcycle travel is bright, and it's going to be even more fascinating than ever. No one is going to have travelled the way this new generation of travellers will have. 'All been done before'? Nope! Fresh and exciting times are ahead; dreams, plus awareness, plus flexibility; the new carefree.
Sam Manicom
Has Covid affected your motorcycle travels? What do you think it means for the future of overlanding and what will be the biggest change?
Thanks for checking out this Thoughts from the Road column. We hope you enjoyed it! Here's a few more articles that we recommend you read next.