"If you're after a pair of motorcycle trousers to see you through anything the British weather can throw at you then these are perfect."
Update
The Rukka Katuh trousers have been discontinued. We have left this review up as the new line up of Rukka trousers are very similar in function, style and build quality so you may still find this review helpful. You'll find the links on this page now direct you to Rukka's new range. 
Rukka Katuh Trousers Review
Snapshot
Price: £249
Mileage tested: 4000
Testing conditions: From -15C in Slovakia through winter to scorching sand dunes in Turkey
Durability: 5⁄5
Fit and comfort: 2⁄5
Protection: 5⁄5
Value for money: 3⁄5
Where to buy UK: sportsbikeshop.co.uk
Where to buy US: revzilla.com

Rukka Flexina Ladies Jacket Review
Features
These jeans are impressive, tough winter trousers – perfect for battling your way through snow, rain and storms.
The Rukka Katuh Gore-Tex jeans are made using abrasion-resistant Cordura 500, they're wind and waterproof with a built-in Gore-Tex liner and removable thermal liner.
The trousers are pure quality, built with tough, durable materials and D3O Air armour. The knee protectors are easy to remove as they're zipped into pockets that are accessible from the outside. After getting as far as Bulgaria on a 4000-mile trip, I whipped the protectors out and used the trousers for a week of skiing!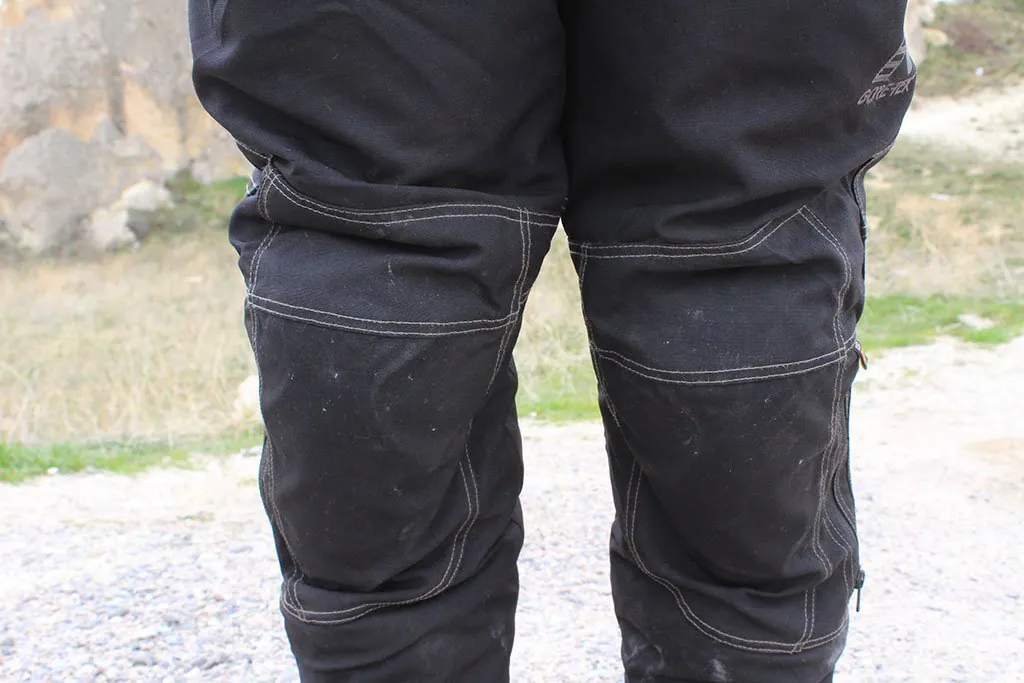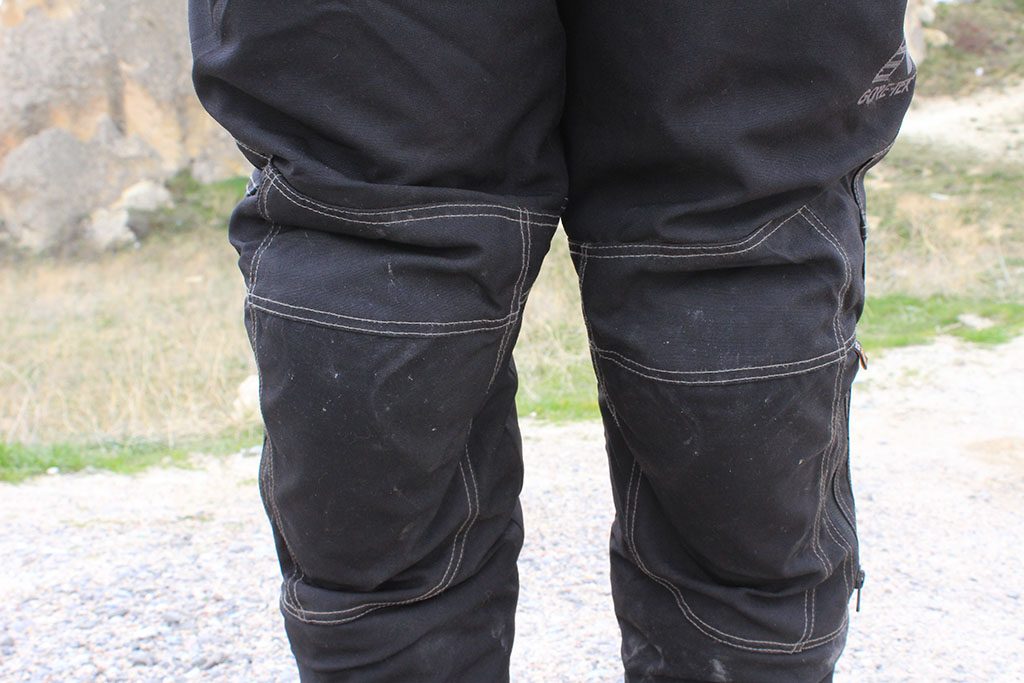 But before I got to ski in them, they first had to endure heavy rain for weeks on end, blizzards and sub-zero temperatures.
What's good?
The Gore-Tex membrane kicked in immediately and refused to allow even a single drop of water through, even after a 10-hour long ride through torrential rain. The waterproofing is very impressive on the Katuh trousers.
As the temperature dropped below zero on a long motorway ride through Slovakia my knees started to feel the cold. So, if you're planning on riding in freezing conditions you'll need to invest in a pair of base-layer thermals too.
When trying these trousers for size, wear a pair of thermals underneath to make sure they fit. Sizing may be an issue too. I had to go up three sizes with these trousers to get a good fit!
Once you're in them, it's all-day comfy. They're flexible with a stretchy waist band and soft interior.
They're also lightweight for winter trousers – keep in mind that these are cold weather trousers; there are no vents and in warmer conditions they're not particularly breathable.
The trousers use two Velcro fasteners to keep them done up, making it easy to get them on and off.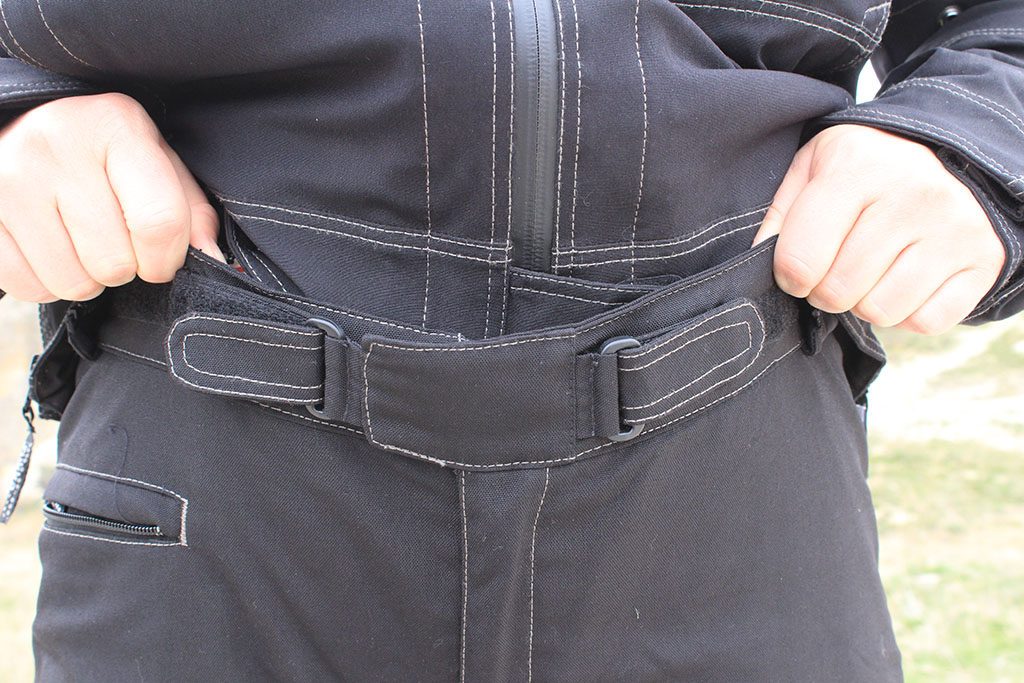 Another nice touch is the high rising zip at the bottom of the trousers, making it exceptionally easy to slip the trouser legs over big cold-weather boots. They're fastened up with a Velcro tab at the bottom.
What's not?
The trousers have a single zip pocket, which isn't waterproof, and it'd be nice if they put a couple more pockets in.
These aren't the most exciting trousers in the world, they're not packed with features, are mainly suited for colder months and come with a hefty price tag.
Round-up
You're paying for the impressive quality that comes with the Rukka name. If you're after a pair of motorcycle trousers to see you through anything the British weather can throw at you then these are perfect. They are high quality, well-made, 100% waterproof, comfortable and tough.
Rukka Review Total Score: 15⁄20
We may receive a commission, at no cost to you, if you purchase a product using the affiliate links on this page. We're not sponsored, are completely impartial and don't run ads. So this helps us keep the site running. Thank you for your support.
Read more on Adventure Bike Gear
Thanks for checking out our Rukka Katuh Trousers Review. We hope you enjoyed it! Here's a few more articles on motorcycle clothing that we recommend you read next.
We'd love to hear from you! Please leave your comments below.