"What makes this jacket special though is its comfort, flexibility and stretchy material. It's also lightweight and easy to wear all day, making it perfect for female riders who need a warm, waterproof jacket to ride through the colder British months."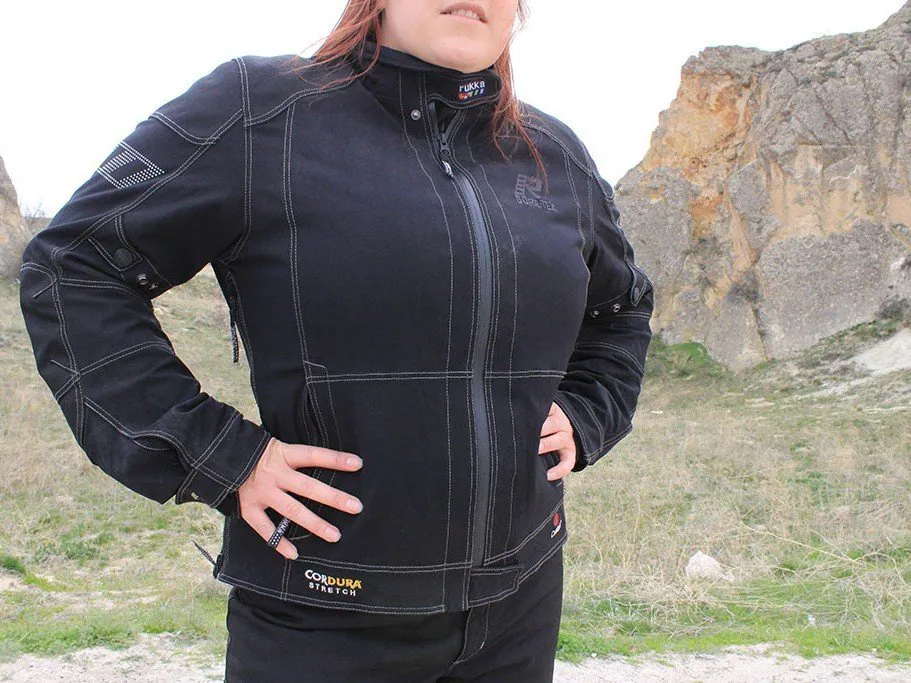 Update
The Rukka Flexina has been discontinued. We have left this review up as the new line up of Rukka jackets are very similar in function, style and build quality so you may still find this review helpful.
Rukka Flexina Review
Snapshot
Price: £479.99
Mileage tested: 4000
Testing conditions: From -15C in Slovakia through winter to scorching sand dunes in Turkey
Durability: 5⁄5
Fit and comfort: 4⁄5
Protection: 5⁄5
Value for money: 4⁄5
Where to buy UK: sportsbikeshop.co.uk
Where to buy US: revzilla.com
Features
The Rukka Flexina is a high quality, well-made and fitted cold-weather jacket for women. It's simple, does the job and looks good. I used this jacket to ride through Europe in the midst of winter in -10C, and while it wasn't perfect in those conditions, it'd be more than enough to handle a soggy British commute.
The Flexina has a fixed Gore-Tex membrane and a removable thermal liner. The outer material is abrasion-resistant Stretch Cordura 500, and it comes with reinforced material on the elbow and shoulders as well as elbow, shoulder and back protection.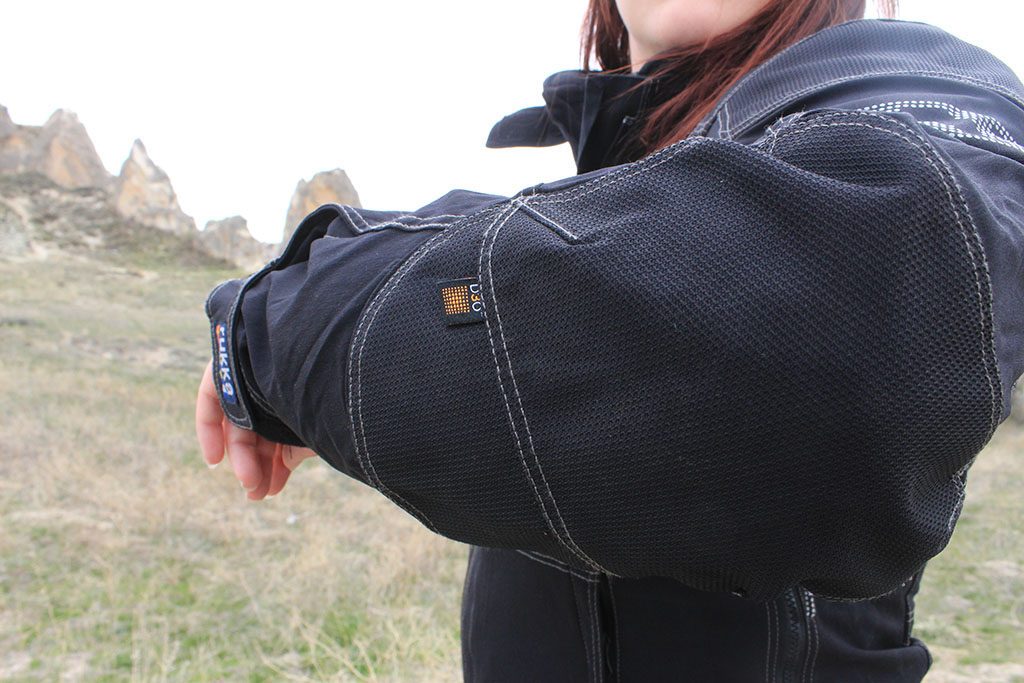 As the Flexina is built for the cold, the jacket comes with a detachable storm neck guard and a built-in high neoprene collar.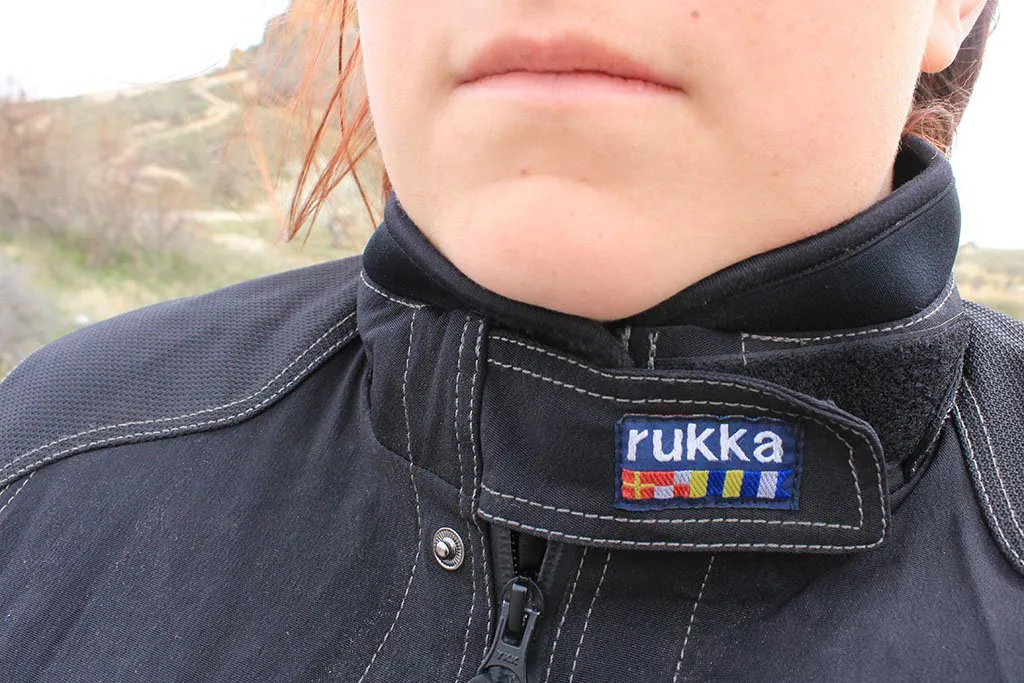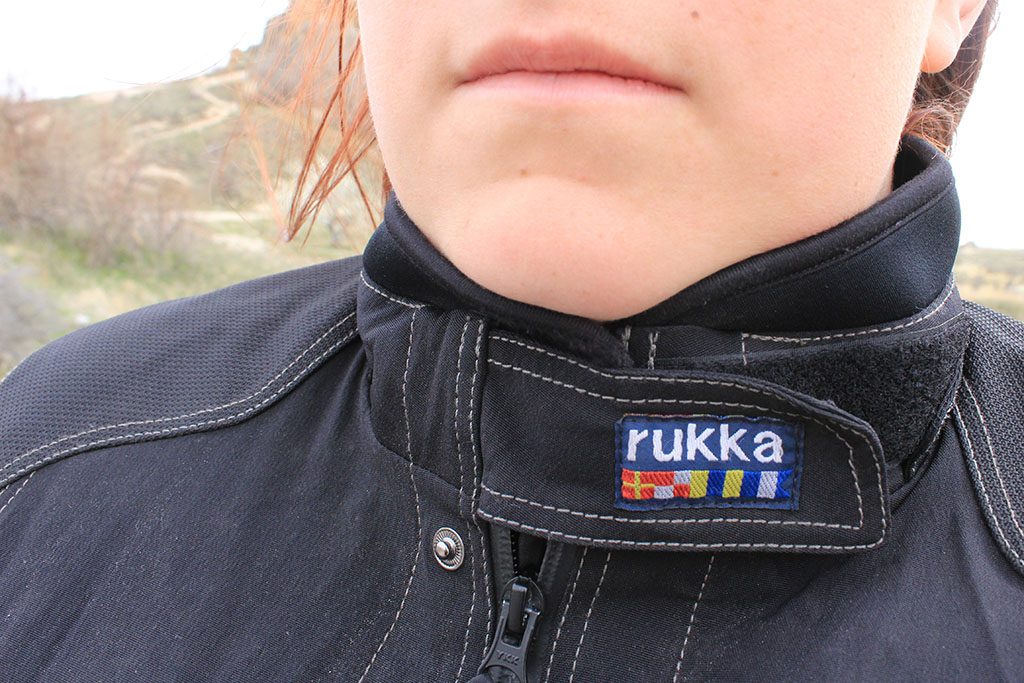 The jacket also has upper arm size adjusters, two long vents on the side under the arms and two Velcro tabs for waist adjustment.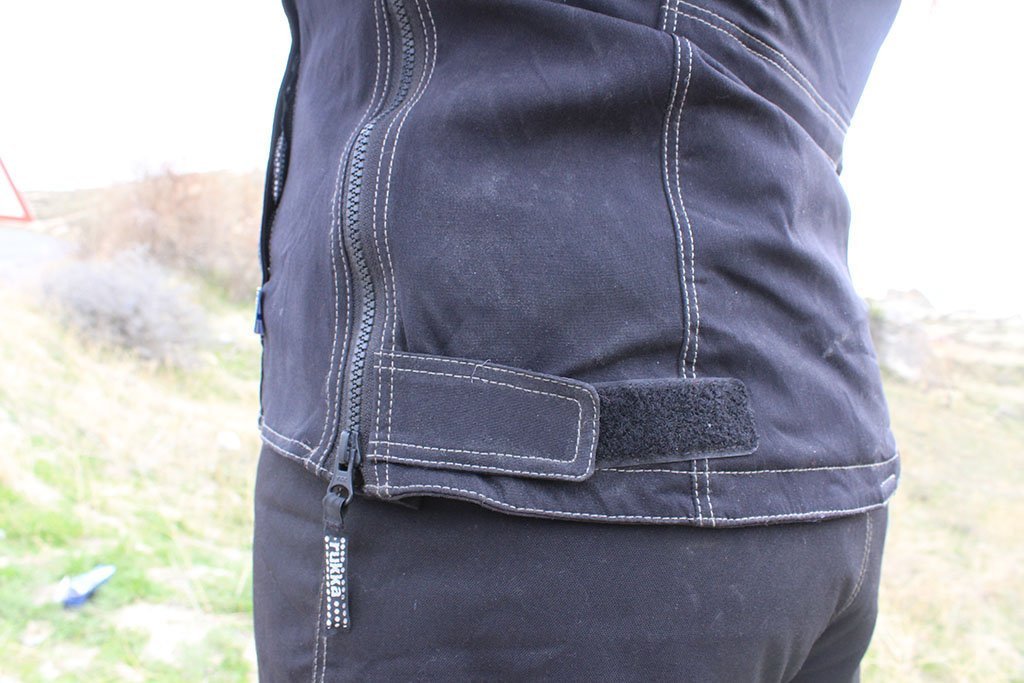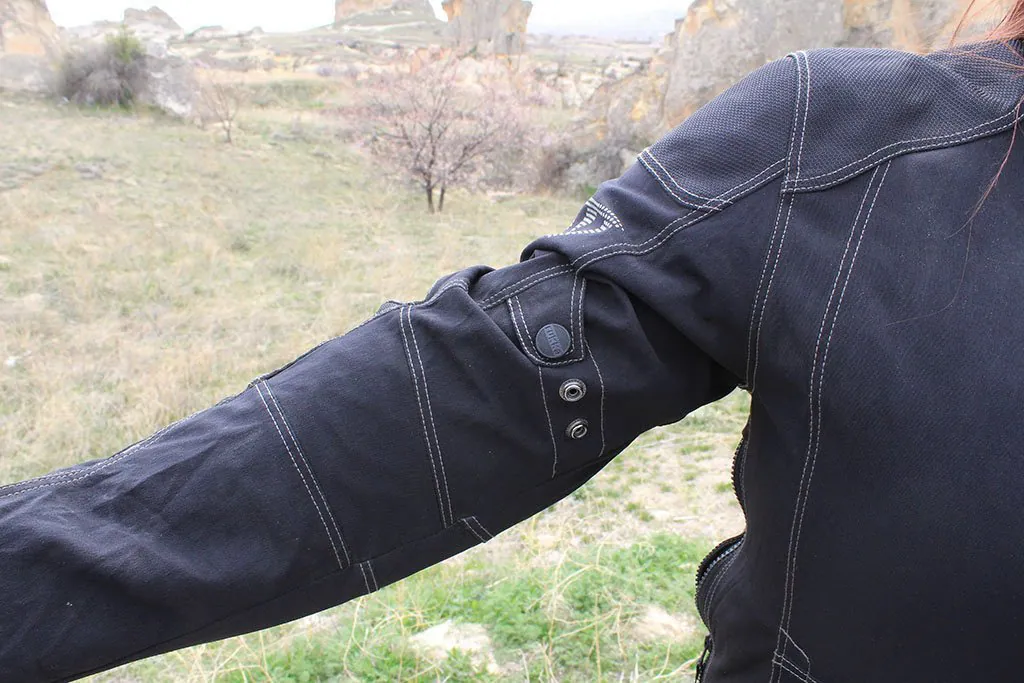 There are two outside pockets, which aren't waterproof, and two waterproof internal pockets.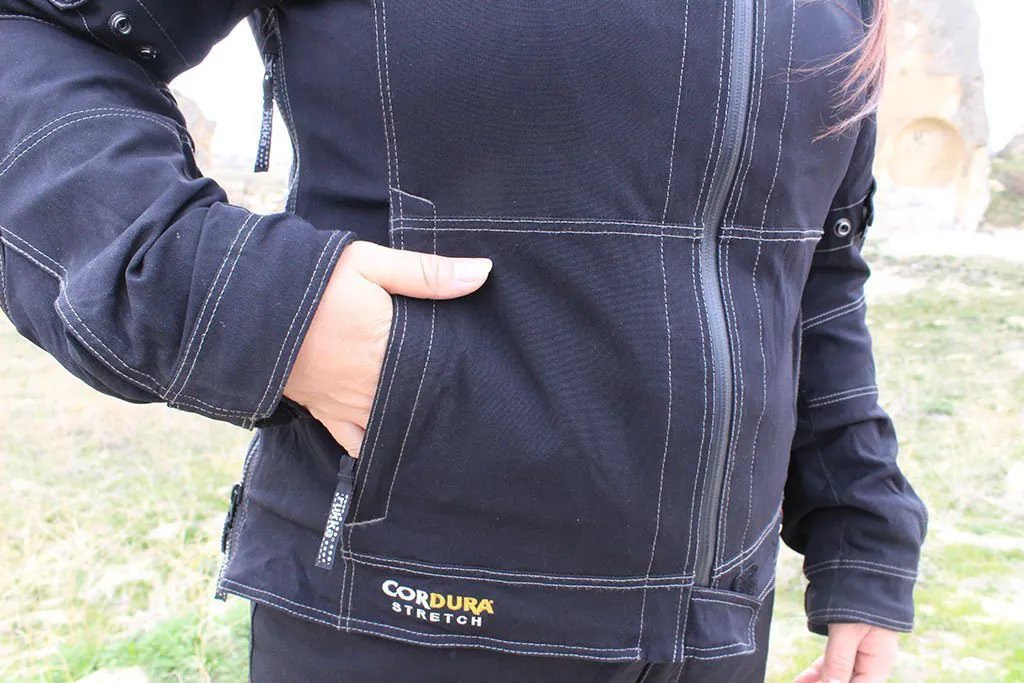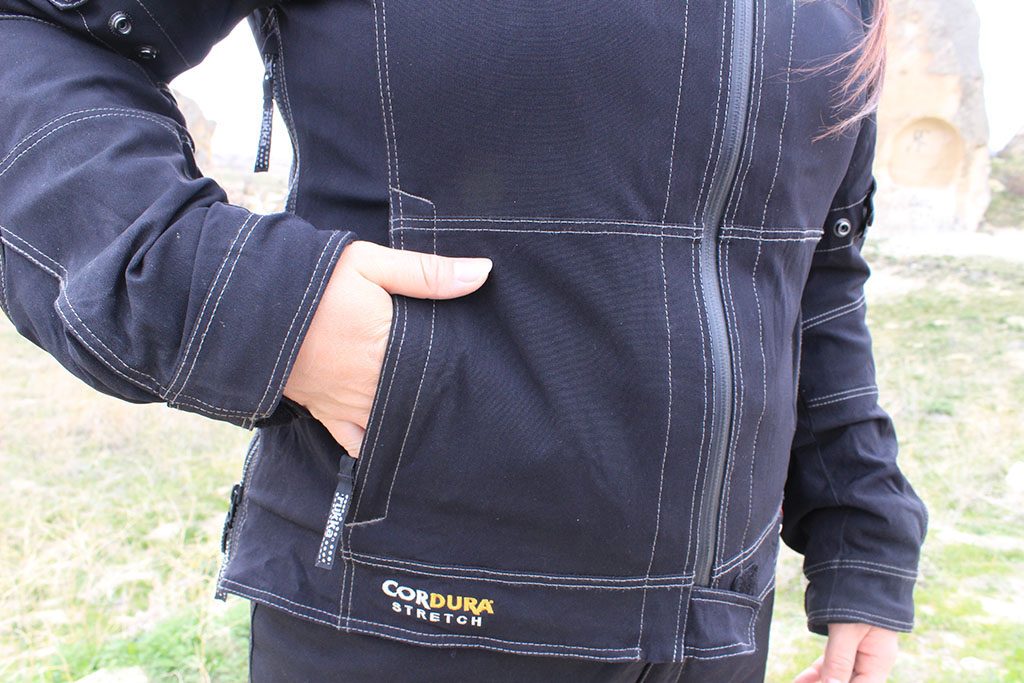 What's good?
I used this jacket to ride 4000 miles from the UK to Georgia, through rain, sleet, snow storms and baking sun and what stands out most is the fit.
The Cordura Stretch material is exceptional, making the jacket very comfortable, even after a long day in the saddle. It's shapely too, sliding in at the waist so you don't look like a square box. And, for larger busted women there's more give in the chest area – perfect!
When riding in the cold I removed the thermal lining and replaced it with a Gerbing heated jacket. That set-up worked well until temperatures dropped to minus figures. Then I could feel wind starting to pass through the jacket. It could do with a Velcro closing tab to cover the zip area like many cold weather jackets.
During a 10-hour ride through torrential rain in Germany the jacket didn't leak through once and I stayed dry so I'm confident about its performance in the wet. The only downside is that the outer retains water and can feel sodden and heavy for quite a while afterwards.
The storm collar is also exceptionally handy on cold and wet days and is easy to remove when you need the breeze. The built-in neoprene collar sits very high though and completely covers the neck. You'll need to make sure you're comfortable with a high neck because it can feel restrictive at times.
What's not?
My only other niggle is a tight cuff closure. The cuffs are fastened with a Velcro tab, but trying to wriggle a thick gauntlet glove inside can feel like a huge faff. It'd be easier if there was a zipped opening up the arm to expand the cuff area.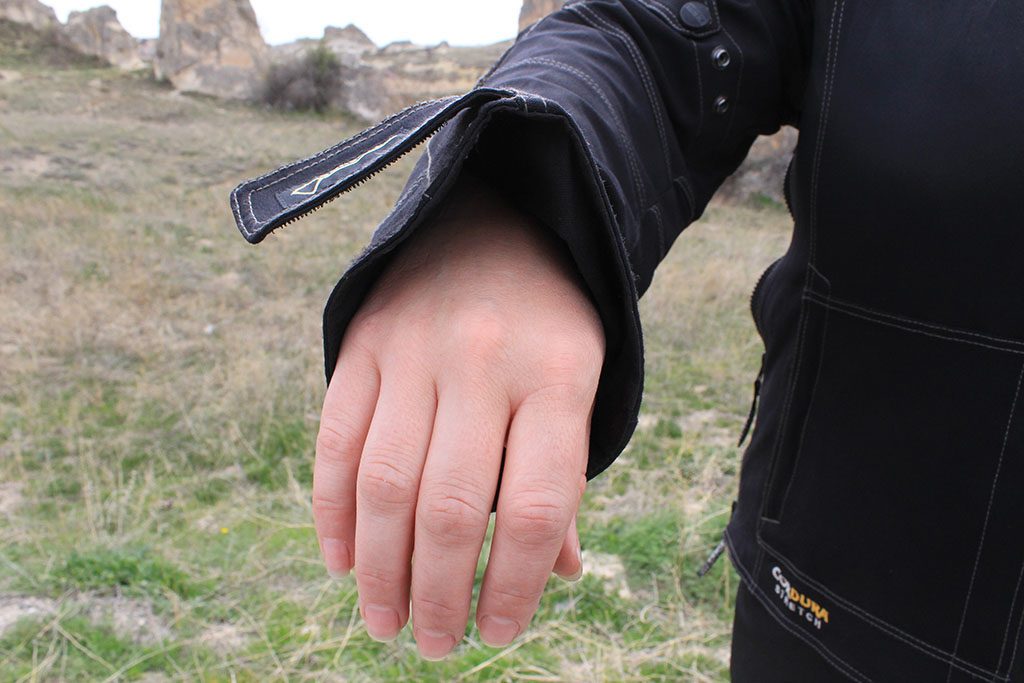 The jacket does have two zips on the side, which open up slightly to reveal a cooling mesh material, but it's not enough in the way of ventilation. As there are no other vents on the jacket it's not suited for warm weather riding. My journey ended up on the hot Turkish coast, where the jacket quickly became too hot. It's definitely one for the cold days.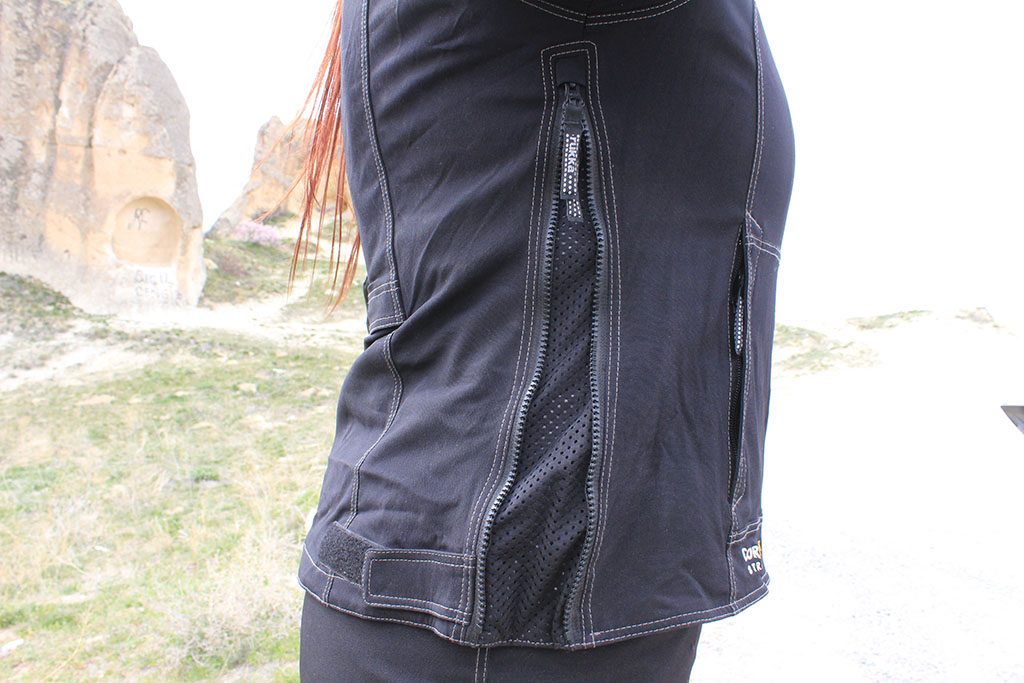 I felt I needed more protection in serious cold conditions, but it still coped admirably until zero degrees, so I'm confident it could handle British winter.
Round-up
What makes this jacket special though is its comfort, flexibility and stretchy material. It's also lightweight and easy to wear all day, making it perfect for female riders who need a warm, waterproof jacket to ride through the colder British months.
Rukka Flexina Jacket Review Total score: 18⁄20
ps. We may receive a small commission, at absolutely no cost to you, if you purchase any products using the links on this page. We're not sponsored by anyone, are completely impartial and don't run ads. So this helps us keep the site running. Thank you for your support.
Read more on Adventure Bike Gear
Thanks for checking out our Rukka Flexina Jacket Review. We hope you enjoyed it! Here's a few more articles on motorcycle clothing that we recommend you read next. 
We'd love to hear from you! Please leave your comments below.