"The Rukka Armaxis is the best winter jacket I've ever tested. It's incredibly warm and 100% waterproof. It's high-end, premium kit and for serious winter warriors"
Rukka Aramaxis Gore-Tex Jacket Review
Snapshot
Price: £824.99
Mileage tested: 20,000 miles
Testing conditions: UK
Durability: 5⁄5
Fit and comfort: 4⁄5
Protection: 5⁄5
Value for money: 4⁄5
Where to buy UK: sportsbikeshop.co.uk
Where to buy US: revzilla.com
Update
The Rukka Aramaxis Gore-Tex jacket has been discontinued. Rukka has brought out a new line of Pro Laminate Gore-Tex jackets and the closest relative is the new Rukka Nevala 2. You can find more information on that jacket in the Best Motorcycle Touring Jackets guide. As the new jacket line up share so many similarities to the Aramaxis, you'll still find plenty of useful information in this review. 
Features
The Rukka Armaxis is hands down the best winter suit I've ever ridden in. Before we get into why, let's look at its features.
It's packed with features, but the most impressive is its waterproof and warmth qualities.
It uses a Gore-Tex Pro Shell 3-layer laminate… translated that means it's pro-laminate, and that means water slides off the outside of the jacket like water off a duck's back. You know how you get layered jackets with removable waterproof inserts? They leave the outside jacket sodden with water and heavy after a downpour, well, the great thing about pro-laminate is that it has no removable layer, the entire outside shell is fully waterproof. All zips are waterproof and the cuffs are Gore-Tex too.
It comes with a soft neoprene collar, six outside pockets, four inside pockets, full armour protection, vents at the front and back, arm adjustments. And instead of getting a flimsy, throw-away thermal liner, Rukka supply the Armaxis with a smart windstopper, removable inner jacket (which I usually wear on its own when out and about).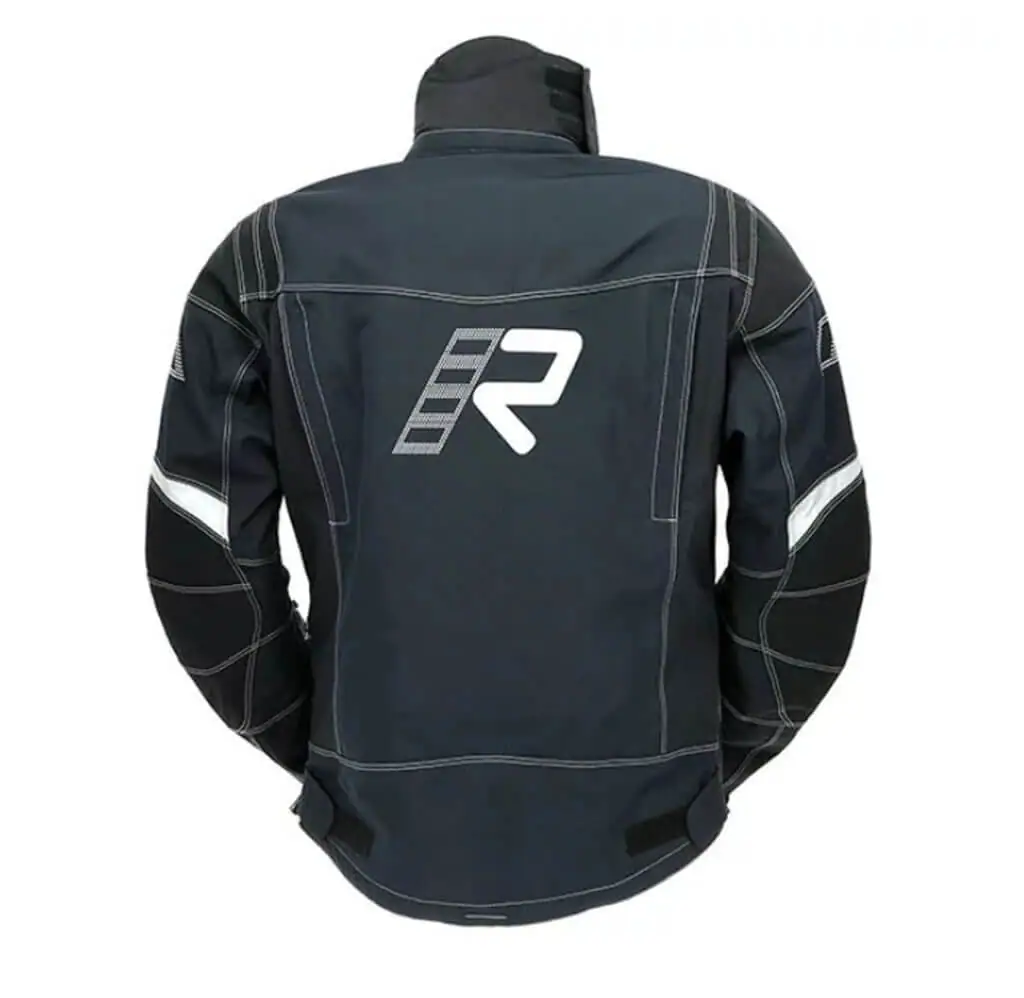 What's good?
The Armaxis really is fantastic at keeping water out and heat in. The Gore-Tex Pro Laminate is excellent and doesn't let a single drop of water through. It's absolutely premium and Rukka are so sure of themselves that they supply this suit with a six-year warranty!
I used this suit to commute about 600 miles a week for two years through UK winters and I never once felt cold. I opted for a size up as I'd only be using the suit through winter and could then fit a heated jacket underneath (check out our Gerbing heated jacket review and the Keis heated jacket review).
Rukka have put a lot of thought into the jacket and nice finishing touches like magnetic breast pocket closures, easy arm adjusters and waterproof cuffs. The removable collar is very handy at keeping windchill out, there are four pockets on the outside and two inside waterproof pockets too. It's a seriously good winter jacket for anyone who covers big mileage in cold and wet weather.
What's not?
Unfortunately, the downside of Pro-Laminate, and not just with this jacket but any pro-laminate garment, is that because they're so good at keeping warm air in, they're rubbish at letting any air through. They're not breathable and can only be used in cold weather. The Armaxis does come with two vents under the breast pockets, but they don't do much. The jacket is impossible to wear when the sun's out.
And the £824.99 price tag just for the jacket is a serious price to pay, but it is one of the best, warmest and most well-made suits on the market today. It's worth it if you're a cold-weather rider.
The only niggle I have with the jacket is that I wish the neck was wider to fit my neck buffs underneath. It's down to personal preference but I prefer loads of neck space.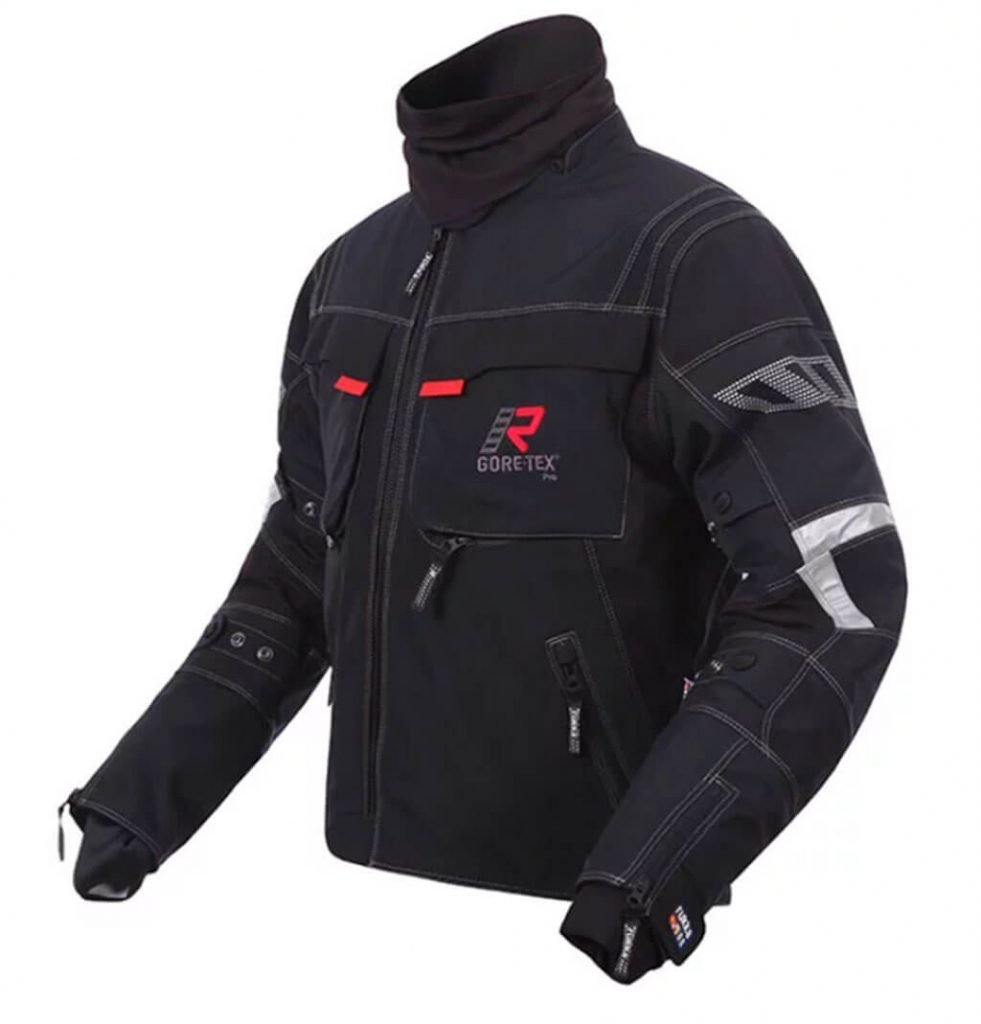 Round-up
The Rukka Armaxis is the best winter jacket I've ever tested. It's incredibly warm and 100% waterproof. It's high-end, premium kit and for serious winter warriors. If you're riding through nasty conditions and want the best protection out there, then this is your jacket.
Rukka Armaxis Gore-Tex Jacket Review,  18/20
We may receive a commission, at no cost to you, if you purchase a product using the affiliate links on this page. We're not sponsored, are completely impartial and don't run ads. So this helps us keep the site running. Thank you for your support.
Read more on Adventure Bike Gear
Thanks for checking out our Rukka Aramaxis Jacket Review. We hope you enjoyed it! Here's a few more articles on motorcycle clothing that we recommend you read next. 
We'd love to hear from you! Please leave your comments below.