Welcome to the Adventure Motorcycle Traveller Reviews. Here's a 30,000-mile review of the Royal Enfield Himalayan by round-the-world motorcycle traveller Jack Groves.
Quick info
Bike: 2018 Royal Enfield Himalayan 
Purchased for: £3,000 (eBay)
Miles covered: 31,000+
Years owned: since May 31 2019  
Royal Enfield Himalayan specs
Engine: Single-cylinder, air-cooled, 411cc, FI
Power: 24 bhp
Torque: 23.6 ft-lbs
Kerb weight: 190kg
Seat height: 80cm
Tank capacity: 15 L
Tyres: 21 and 17
Front suspension: Telescopic forks, 41mm, 200mm travel
Rear suspension: Monoshock, 180mm travel
First off, due to age, I am an A2 licence holder so that restricted my options from the traditional 'big' ADV bikes to the mid-capacity segment. Having said that, on the pretty meagre budget I was on from savings and student loan leftovers, anything much bigger with a reasonable mileage would have been unfeasible anyway. I remember heading to London for the massive MCN Bike Show in 2017 and seeing the Himalayan for the first time on the new Royal Enfield stand. It immediately struck a chord with me for its rugged, no-nonsense aesthetic and accessible nature for a relative rookie like me harbouring aspirations to ride around the world. I followed its UK launch the next year with great interest and returned to MCN in research mode, weighing the Himalayan up against the Honda CB500X and the BMW 310GS.
Despite the higher horsepower and clever computers of the other two, for some reason I kept coming back to the Enfield stand. Sitting in the cockpit of the plucky Himalayan as the show was closing down, jerry cans fixed to the front and pannier racks on the back, I visualised myself scrambling along the rocky tracks of the Pamir Highway to a remote camp spot under the stars. I knew in that very moment that I had found my RTW companion.
My final year of university flew by and when I returned to MCN for the third time running in February 2019, I still had no bike for a trip that was supposed to begin just a few months later. No wonder both friends and family thought it was just a pipe dream that would never actually bear fruit! Then, on the evening of Friday 24th May, as I was packing for a military survival course down in Cornwall, I thought I would have a quick look on eBay on the off chance that something was in the vicinity…
Quite incredibly, the first post I saw was for a black Himalayan in Newquay with six thousand miles on the clock for only three grand! Given we would be based just 20 minutes away at a nearby airfield, it was a ridiculous coincidence and a fateful stroke of luck. I went round to view the bike that Sunday and picked it up after the course a week later to drive it the 500km back to my house near London. I arrived after midnight grinning from ear to ear at how much fun the Himalayan was on England's curvy country backroads. Just over a month later, on July 11th, I left those hallowed shores and the rest, as they say, is history!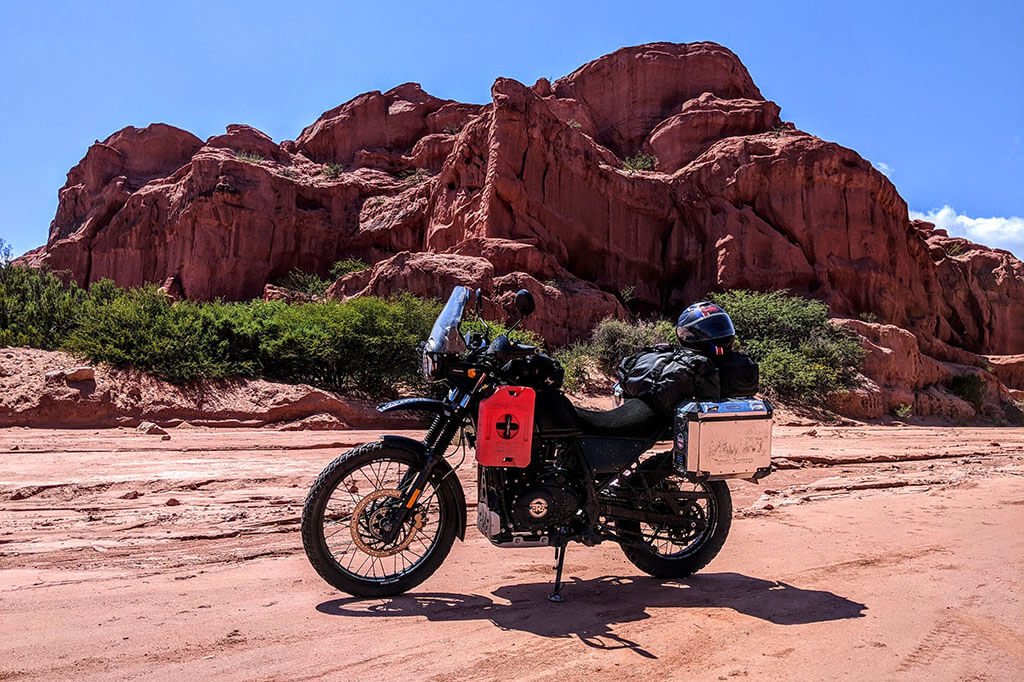 Nothing major really. I fitted a series of minor parts from a small UK company called Enfield Accessories such as Rotopax jerry can brackets, GPS mount, master cylinder guard etc. Stock Enfield panniers, ventilated seat cover and handguards, meanwhile, came from the excellent CooperB team in Northamptonshire. This setup took me all the way to Bangkok, Thailand where I added a headlight grill, oil cooler guard and side stand foot extender from SRC Moto.
Several thousand miles, one ocean, and five countries later, I find myself in Cusco, Peru where I have been stuck since March because of a certain virus that has been going around. I have used the forced immobilisation to get a few upgrades sent out from the US and UK. 
These include: a NightEye LED headlight, K&N performance air filter, Powerbronze short screen, DiD performance chain, Acerbis handguards, DoubleTake ADV mirrors, upgraded gear lever and a series of extra protective parts from SRC Moto USA. If I ever get back to blighty, my plan is to turn it into a pure dirt scrambler so standby for upgraded suspension, switchable ABS and proper knobblies!
On the whole, for a three grand bike, it has been excellent. To date, I have had zero issues with the engine, clutch or gearbox which are often the reasons for massive delays waiting for complicated parts to be shipped to the likes of rural Tajikistan on a round-the-world trip! It has always started when I have needed it to, from the scorching deserts of Turkmenistan to the freezing plains of Patagonia, the Himalayan has always been raring to go.
That is not to say that I have got off scot-free, however, no one ever does, regardless of bike! After an incident in Kyrgyzstan where I went into the back of some moron who was driving with broken brake lights, the frame was clearly weakened at the headstock. 
A few thousand kilometres of dirt and road riding later, and I find myself four thousand metres up on a freezing morning in Tibet. I clearly remember hitting a fairly sizeable bump in the road and immediately feeling a radical change in feedback from the front forks. After pulling over to check I hadn't bust the inner tube, I rode gingerly for a further twenty kilometres before glancing down and, to my astonishment, noticing a finger sized crack in the frame that very nearly severed the headstock. 
Fortunately, the Himalayan has two such joints so it would not have been completely game over even if it had gone all the way through. I rode the rest of that 400+ km day at 30kph on a bike that effectively had a half broken neck! After convincing a mechanic in our remote Tibetan village stop to have a crack at patching it up, I nursed the bike a further 600km to the Nepalese border before the world's ugliest weld unsurprisingly gave way again. I spent the evening brainstorming solutions, including crossing the border to Enfield's Kathmandu dealership for repairs, thus foregoing the rest of China and the considerable money I had already spent on guide costs! Finally, and quite reluctantly, I accepted the help of a team of locals to manually lift the 200kg+ steed in the dead of night onto the back of a truck bound for the Tibetan capital of Lhasa. Once there, we found someone to do a proper repair job, including welding on a series of metal bracing brackets.
Around the same time, the genuinely impressive team at Enfield communicated to me that, given this was the first such problem ever encountered on a BS4 model, if I made my way to either Hanoi in Vietnam or Chiang Mai in Thailand, they would cover all necessary servicing and repairs. A month later, I pulled into Enfield Chiang Mai and, true to their word, they replaced the frame and several other parts such as the chain and filters completely free of charge. Since then, I have had no major issues at all.
Clearly, on a RTW trip, you do not have the luxury of sticking exactly to handbook service intervals. There will be continental sized gaps in your dealer support network. Having said that, I managed to get an oil and filter change in fairly often. Dubrovnik in Croatia was my first stop, followed by Enfield Istanbul, then Tbilisi in Georgia, Osh in Kyrgyzstan, Lhasa in Tibet, Enfield Chiang Mai and Bangkok in Thailand, Enfield Perth and Sydney in Australia, Enfield Bariloche and Tucuman in Argentina and, most recently, a local mechanic in Cusco, Peru. The Himalayan runs on 15W50 4-stroke oil which is pretty easy to source so long as you bring some spare filters, inner tubes and cables, you'll make it round the world without too much hassle!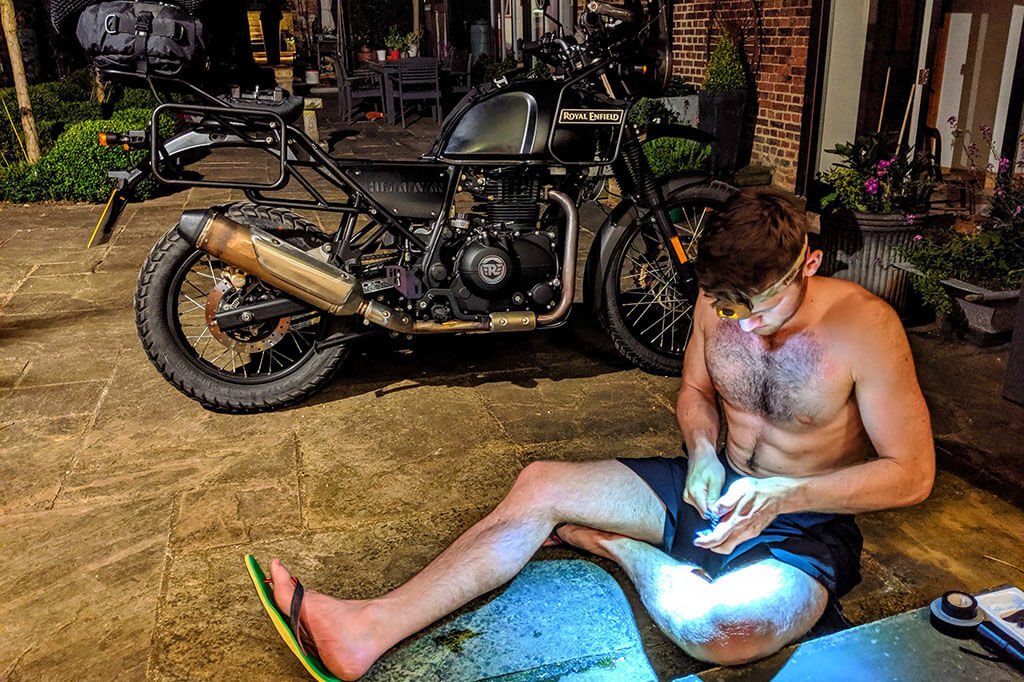 Is it easy to get spare parts on the road? Short answer: YES – apart from China. One of the great things about the Himalayan is the lack of fairings and bodywork that normally cover up the working parts of a motorcycle. It is a simple, no-nonsense machine that simply keeps on going. A two-wheeled Land Rover Defender if you will. Any mechanic in the world can sit down next to a Himalayan and see exactly what he/she is dealing with. That's if you even need a mechanic – all the basic maintenance functions are super easy to do yourself.
I am bang on six foot and regularly do 400+km days without any issues. Clearly, everyone has different comfort expectations and tolerances so it is very subjective but, on the whole, it is a comfortable bike on and off road. Perhaps the only exception to this would be long stretches of flat, windy roads such as in China, Australia or Argentina where you would love another cylinder and less vibrations! If you are looking for a Europe motorway tourer then look elsewhere (although who the hell wants to motorway tour!?), but if you are looking for a plucky machine that is a riot off-road and is perfectly at home on winding B-roads, this is the bike.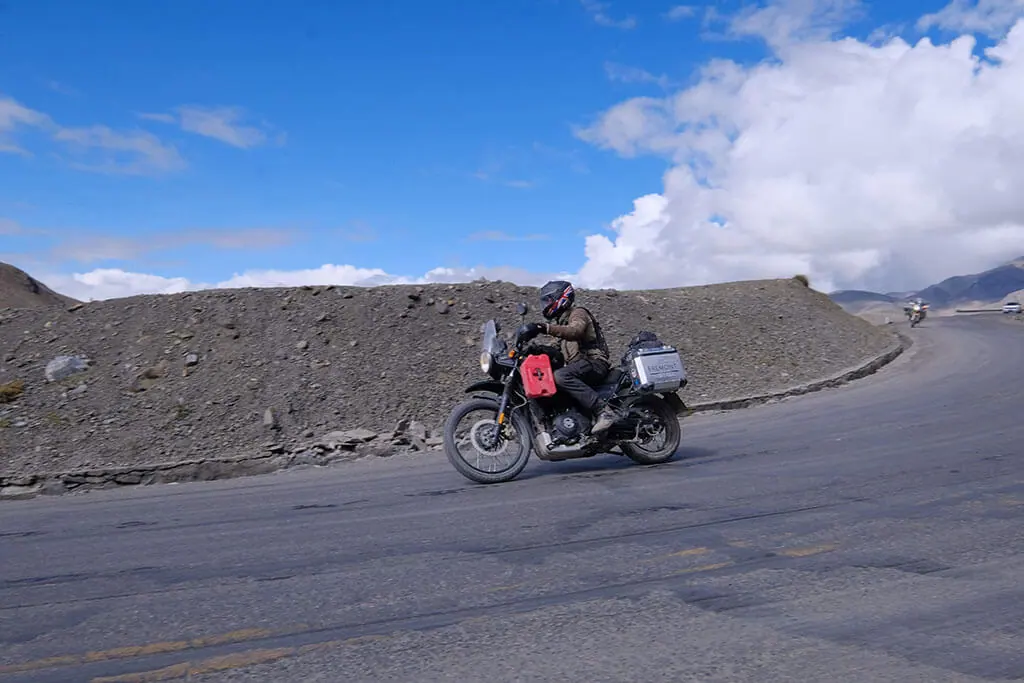 Smooth clutch and excellent gearbox. Torque in the right places for those tricky steep dirt sections on loose terrain. Weight and seat height give you the confidence and ability to throw it around a bit off-road. Fuel consumption is excellent and I regularly hit 400km/250m of range on a single tank. Value for money is without parallel. Parts are cheap and extremely easy to source whilst servicing costs are low. Always gets more looks and interest than the generic ADV bikes that everyone has seen before.
24bph is a right laugh if dirt-laning all day but the lack of power from the single cylinder becomes more noticeable during long hours on straight roads. In addition, whilst the overall build quality is vastly improved from the Enfields of old due to the input from UK-based Harris Performance, some of the components still lag behind that of their better known (and significantly more expensive) rivals.
Unsurprisingly, I would love to see Enfield release an upgraded Himalayan based on the massively successful 650 Twin platform. Double the horsepower and improve the quality in some minor areas as well as releasing it with a full catalogue of tasty aftermarket parts: chain, filters, suspension, luggage etc. Keep the cost a few grand below their competitors and I reckon they would dominate the mid-weight ADV segment. From the sounds of it, there are a lot of projects in the pipeline and, with new factories recently opening in Argentina and Thailand, exciting times most certainly lie ahead!
In my opinion, a new Royal Enfield Himalayan is the best value round-the-world capable motorcycle on the market today. You don't even have to take my slightly biased word for it – simply look at how the big brands are reacting to this hugely popular mid-weight upstart with their own models. They are realising that a lot of people out there have neither the money, the need, nor the desire to own a half-ton house on two wheels. Making adventure accessible to more people is perhaps the Himalayan's most important legacy, even more than the complete revitalisation of the Enfield brand. Long may it continue.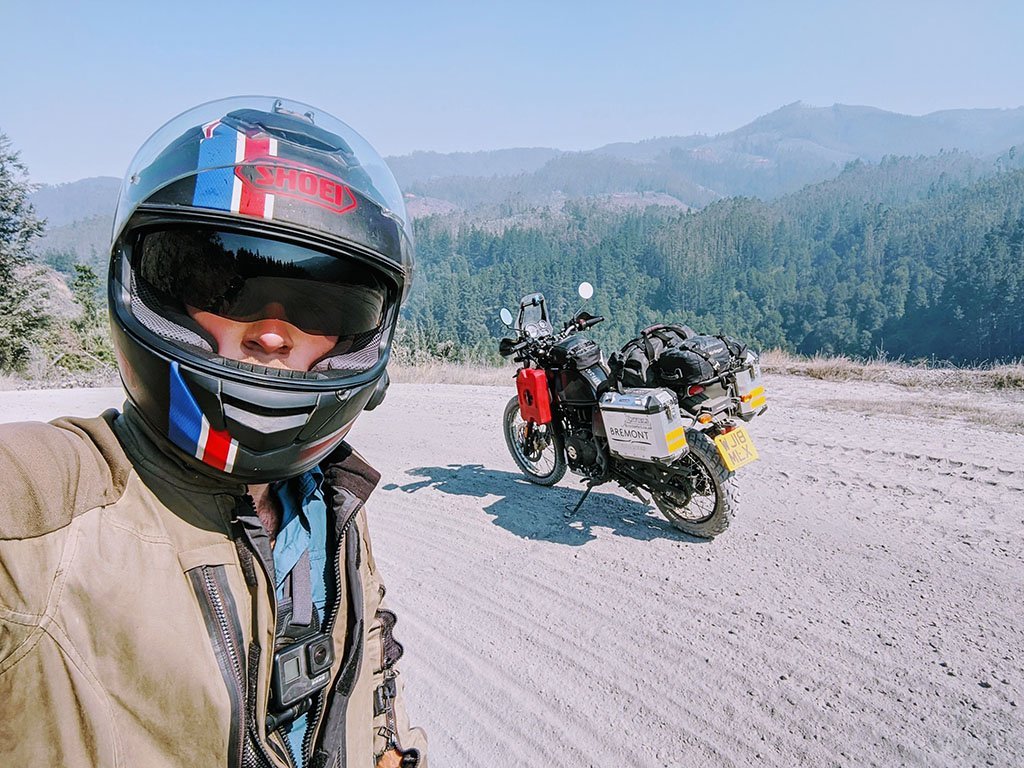 Jack Groves
Jack is a 22-year-old Brit riding his Royal Enfield Himalayan around the world and hoping to break the world record for being the youngest person to do so. His trip has taken him through Europe, Central and Southeast Asia and Australia before flying on to South America where he's now stuck due to Coronavirus. 
Follow his awesome adventures on Instagram: Britonabike
Read more about his trip (and how he caught Covid) here: Trapped by Coronavirus
Read more on adventure motorcycle reviews
Thanks for checking out this Royal Enfield Himalayan Motorcycle Review. We hope you enjoyed it! Here's a few more articles on motorcycle reviews that we recommend you read next. 
Are you planning a motorcycle trip, interested in the Royal Enfield Himalayan or have any questions? Let us know in the comments below.