Welcome to the Adventure Motorcycle Traveller Reviews. Here's a 57,000-mile review of the Royal Enfield Bullet 500 by round-the-world motorcycle traveller Franck Lafontaine.  
Quick info
Bike: 2017 Royal Enfield Bullet Classic 500 EFI
Purchased for: £5,240 (new)
Miles covered: 57,000
Years owned: since new  
Royal Enfield Bullet 500 specs
Engine: Single-cylinder, air-cooled, 499cc, FI
Power: 27.2 bhp
Torque: 30.5 ft-lbs
Kerb weight: 187kg
Seat height: 800mm
Tank capacity: 14.5 litres
Tyres: 19 and 19
Front suspension: Telescopic forks
Rear suspension: Twin shocks adjustable preload
Three years ago (2017) I was a beginner biker. I knew nothing about mechanics, had only just passed my test and only ridden in India on old Enfields. I decided that I wanted to motorcycle round the world and I needed a light, simple and robust motorcycles without complicated electronics. 
I think all Japanese motorcycles are alike and the BMW GS is too expensive. While surfing the Internet, my eyes kept fixating on Royal Enfields – it seemed to answer all my criteria, but I couldn't find any information on people travelling the world with them.
But it didn't matter, once I saw the retro styled Royal Enfield Bullet Classic 500 in Desert Storm colour, I knew that was it. My mind was made up.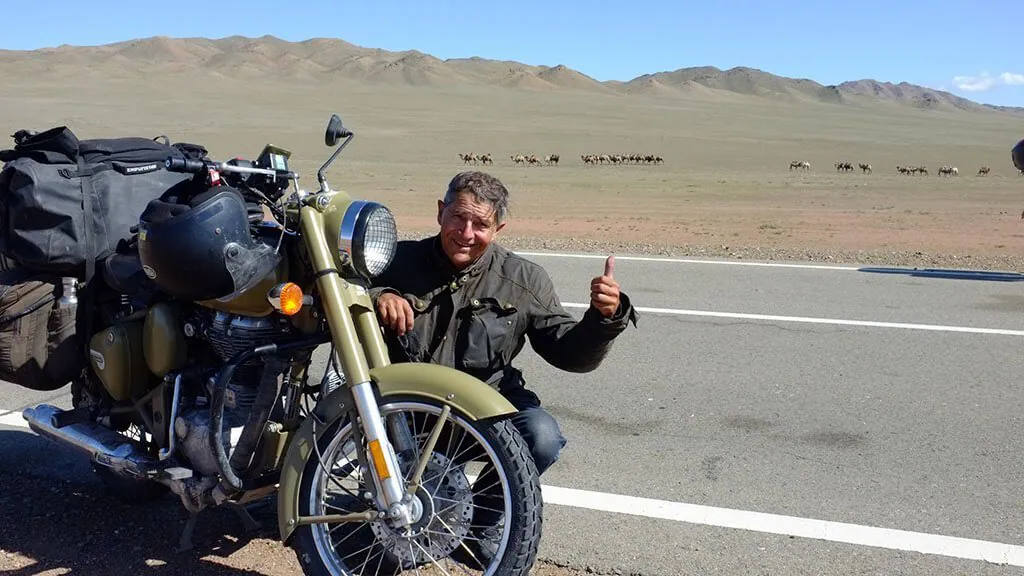 I installed a pannier rack with a fisherman's case as a topbox. But the rack wasn't strong enough so a friend of mine built a new stronger rack over the pillion seat instead. I also replaced the air filter with a K&N filter, fitted crashbars and a sump guard. 
Reliability, Servicing and Maintenance
I don't think I've had any more trouble with my Royal Enfield than other people have had with their bikes. I've met motorcycle travellers all over the world broken down on all sorts of bikes. 
One of the great things about the Royal Enfield Bullet is that parts are easy to source and it's easy to fix anywhere. When I was in Russia, I had my rear shocks changed with some Chinese parts and it worked perfectly. Maintenance is simple, even for me who doesn't know much about bikes.
I had electrical problems (the rotor was damaged after 35,000 miles) in Colombia because it was jet washed after riding through the Salt Flats. And also the piston was changed at 40,000 miles. 
As for servicing, I used to service it every 3,000 miles when it was new, but after the first 20,000 miles I now service every 2,000 miles. 
READ MORE: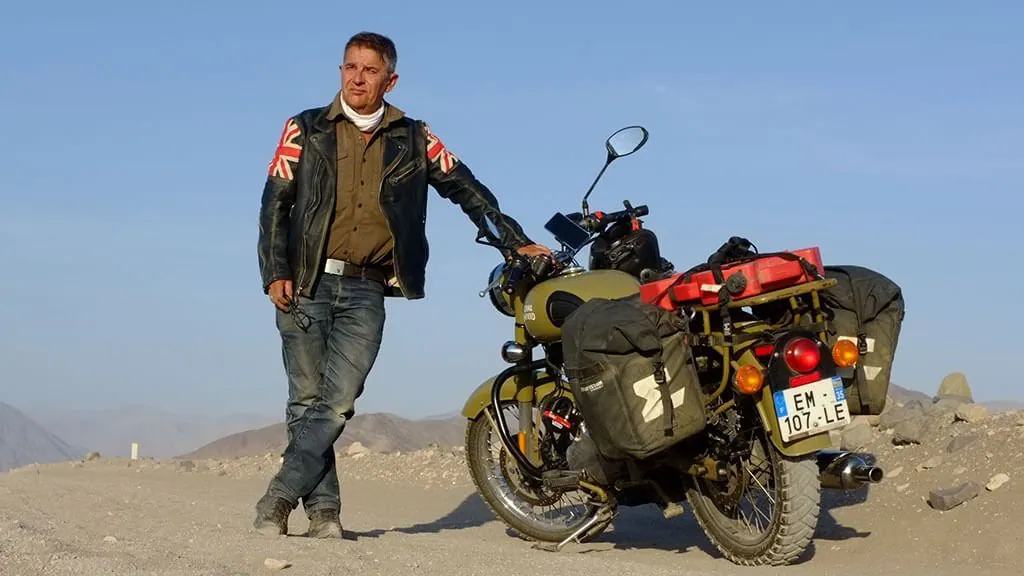 Without hesitation I can say that the Royal Enfield Bullet is very comfortable. But, I only ride between 55-60mph and never go over. The saddle is large and comfy and the riding position feels very natural.
READ MORE: How to Ride Long Distance in Comfort
I love how simple the Royal Enfield Bullet is and how easy it is to travel on. When it comes to what's good about it being a travel bike, then two other points really stand out. 
Firstly, the look of the bike is amazing and people spontaneously come up to me to talk about it just because of that. And that's really important because for me, conversations with locals and those interactions are what travelling is all about. Although, I was asked a thousand times if my bike was built during WWII. They were always dissapointed when I said it was built in 2017! 
And secondly, it's economical at 3 litres per 60 miles (90mpg) and even drank 80 octane gasoline in Uzbekistan without a fuss. It works like a Swiss watch no matter what you throw at it!
The finish and components are very basic and you do have to check your screws often. I sometimes wish it had more power and the torque is lacking. Also, it does need a lot of love with frequent servicing when covering big travel mileage. 
This bike is from another time. There are many improvements you could make but that depends on what you're comparing it to. You either love this type of bike or not. 
The Royal Enfield Bullet is a perfect bike for riding round the world… if you aren't in a hurry. I quickly realised that the Bullet can go anywhere and do anything, just not quickly, and that's fine by me because I like to take it slow and enjoy the little things that make travel so incredible. 
Franck Lafontaine
Franck is a motorcycle traveller from France who got into biking three years ago when he retired. He bought his first bike, a Royal Enfield Classic Bullet and left France to ride to Mongolia overland. The travel bug bit him hard and he's also ridden through the Americas and Africa and is still riding round-the-world today.
Read about Franck's trip in his Mad or Nomad Story: Round the World on a Bullet

Read more on Motorcycle Reviews 
Thanks for checking out this Royal Enfield Bullet 500 Motorcycle Review. We hope you enjoyed it! Here's a few more articles on motorcycle reviews that we recommend you read next. 
Liked that? Try these next…
Are you planning a motorcycle trip, interested in the Royal Enfield Bullet 500 or have any questions? Let us know in the comments below.