Round-the-World on a Royal Enfield
Two years ago Franck had never touched a motorcycle. Today he's ridden 50,000 miles all over the world on a Bullet. Franck shows us how anyone can have an adventure on any bike. You've just got to go for it…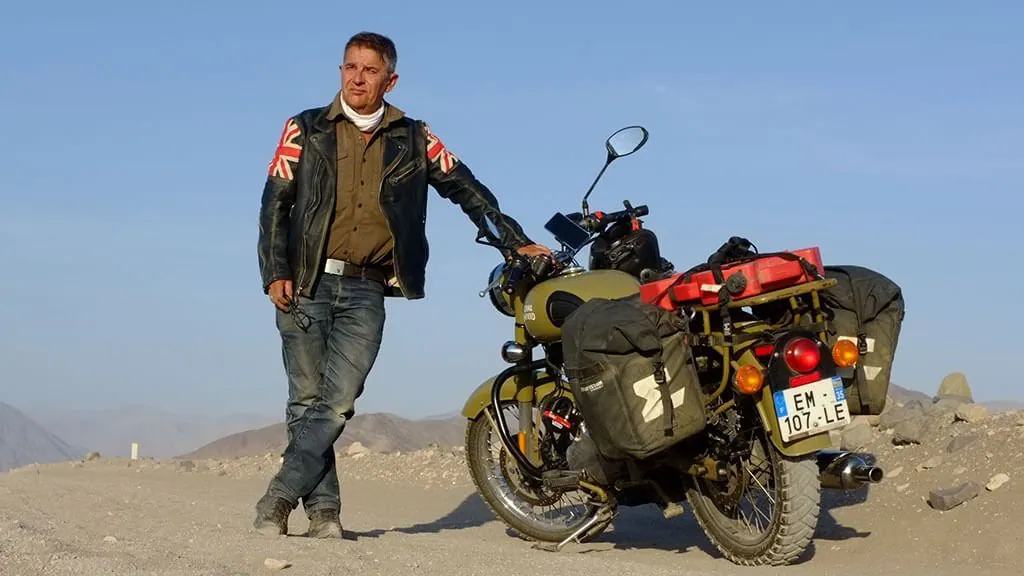 Chasing Dreams
I turned 54 years old, sold my company shares and decided to chase my teenage dream to travel the world. 
First I tried a 10-month recumbent cycle ride through South America and Asia, second was a 5-month cycle ride from Alaska to Mexico. And then I backpacked through Colombia and Brazil. But something was missing…
And I only figured out what that was two years ago when the idea of getting a motorcycle licence crossed my mind as I walked past my local riding school. I signed up, failed four times and then walked out with a pass certificate. Two months later and I was on a flight to India, I rented a Royal Enfield and travelled 4,500 miles.
Looking back, it was probably a little crazy, but I came out alive and learnt quickly that the school lessons weren't as important as extreme concentration on traffic and a lot of luck. I loved India for its beautiful landscapes, rich culture and kind people. The first few days were terrible as I adjusted, but past that stage, people either love it or go home.
Luckily, I loved it. And I loved riding that Royal Enfield so much that I finally realised how I wanted to continue my travels. Mongolia on a motorcycle entered my mind. It's a mythical route and I've always dreamed of the Silk Road. Once back in France, I knew I needed to look for a bike suitable for the challenge.
Choosing the Enfield
I was a beginner biker. I knew nothing about mechanics, had only just passed my test and only ridden in India on old Enfields. I thought KTM would be a good place to start. I visited a specialist store owned by a guy who had ridden in several Paris-Dakar rallies. I went up to the sales assistant and said: "I'm looking for a motorcycle to ride to Mongolia on and my budget is £4000."
The salesman looked at me as if I was mad. His eyes said that he didn't want to waste any time on me so he spent three minutes with me and then returned to whatever he was doing. Goes without saying, I didn't buy anything from him.  
I think all Japanese motorcycles are alike and the BMW GS is too expensive. I was looking for a simple and reliable bike without complicated electronics. While surfing the Internet, my eyes kept fixating on Royal Enfields – it seemed to answer all my criteria, but I couldn't find any information on people travelling the world with them.
I wanted to buy my bike from a passionate dealer and found a guy whose main business was selling lawn mowers! Three years ago, when I bought the bike, the Royal Enfield distribution network in France wasn't mainstream. Since then it's become "trendy" and showrooms are now popping up everywhere.
Once I saw the retro styled Royal Enfield Bullet Classic EFI 500 in Desert Storm colour, I knew that was it.
France to Mongolia and Back, 16,000 miles
The distance from France to Mongolia and back wasn't going to be a problem. I was only concerned about my mechanical abilities and inexperience. I set to work riding 1,500 miles across France to test the bike. I only had a few aches due to being so tense in my riding. So, I set off in search of Central Asia, Mongolia and the legendary Silk Road. The ride to Mongolia through Central Asia was absolutely epic. The great vastness of it all, the wonderful people and hundreds of riding lessons I inevitably picked up along the way made it very special. 
My biggest day was 450 miles from Moscow to the Latvian border. But 200 miles per day was my average because I like to arrive in the afternoon and explore. I loved meeting other bikers with more experience than myself. Their advice on equipment and mechanical tips were invaluable. I give more importance to talking with an Iranian family for example, who offers me breakfast on the side of the road than visiting a museum. So, I took it slow and enjoyed the little things that make travel so great.
And the Bullet always helped start those conversations with bikers and locals, especially because it's not the "standard" travel bike. I was asked a thousand times if my bike was built during WWII. They were always disappointed when I said it was a 2017 model. I suspect people expected it to break down more, perhaps they remember the company's reputation from 10 years ago.
But I sincerely believe that I didn't encounter more problems than any fellow bike travellers with specially kitted out adventure bikes. Indian roads are generally very bad, yet the brand is an institution in India. It's economical at 3 litres per 60 miles (90mpg) and even drank 80 octane gasoline in Uzbekistan without a fuss. It works like a Swiss watch. I quickly realised that the Bullet can go anywhere and do anything… just not quickly.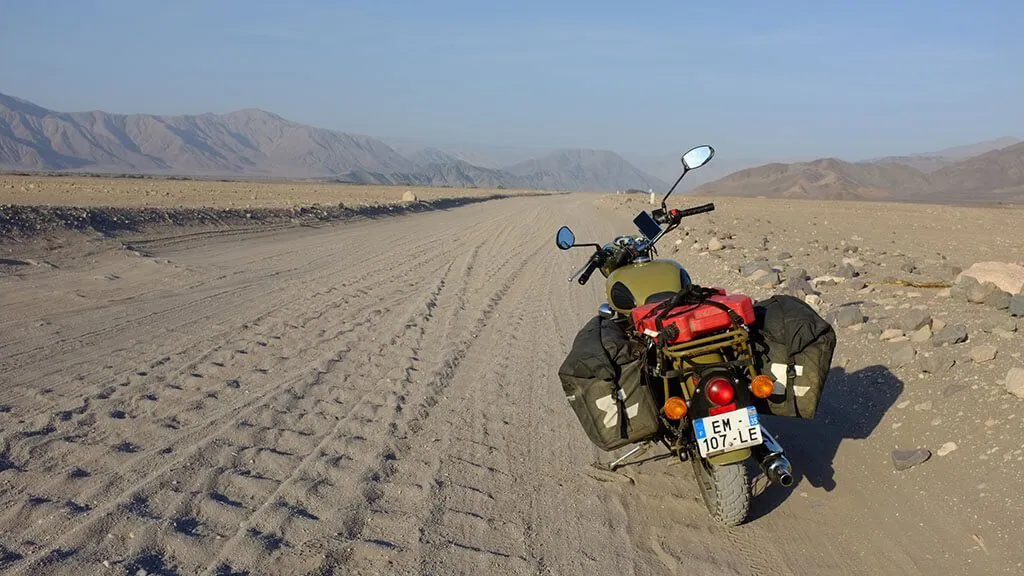 South America, 20,500 miles
The motorcycle travel bug bit me hard after I returned home from Mongolia. While away, I felt a little flutter every morning as I got on my bike, similar to what a parachutist feels before jumping into empty space. I miss that feeling so much when I'm not traveling. The only way I could fix it was by putting the Enfield in a container and shipping it to South America.
I unloaded the bike in Montevideo, Uruguay and rode to South America's southern tip, Tierra del Fuego, and its Alaskan looking landscapes. I headed back north along the mystical Carretera Austral route in Chili to Argentina and to the Salta and Atacama Desert, which now sit among my best memories. I have never seen such beautiful colours in my life. I went in search of the place Che Guevara spent the last hours of his life in Bolivia, examined the geoglyphs of Nazca in Peru and rode through bucolic country roads and rolling green hills sprinkled with cows in Ecuador. With the Bullet I roll with a feeling of freedom and happiness rare in the life of a man.
Eight months and 25,000 miles on my Royal Enfield in South America later and I'm back in France dreaming about the next journey.
What's next?
I'm thinking of leaving in January for the African sun. I'm only planning on a three-month trip this time because I want to be home for when my daughter gives birth. I have a hard time realising I'm going to be a grandfather, but that's life.
It won't be long before I pack up the Bullet and head off again. It's been an incredible tool, helped me achieve these wonderful adventures and I'm glad I picked it. Since I started travelling, I learned not to listen to others – especially those who have never travelled but have plenty of ideas on the subject.
I learned to change a wheel in Iran, to change oil in Turkey and to wait 15 days for an electrical repair in Bolivia (my fault for using a jet wash to clean off the salt from Uyuni Lake). You don't need to be an expert rider to have an adventure. And you don't need to have whatever latest bike everyone else is riding either. I met a German guy in Mongolia who was returning home on a moped and a 52kg Swiss woman on a 125cc! As Mark Twain said, "They did not know it was impossible, so they did it."
If you don't, you'll never know. So, pick a bike you love and go have your adventure.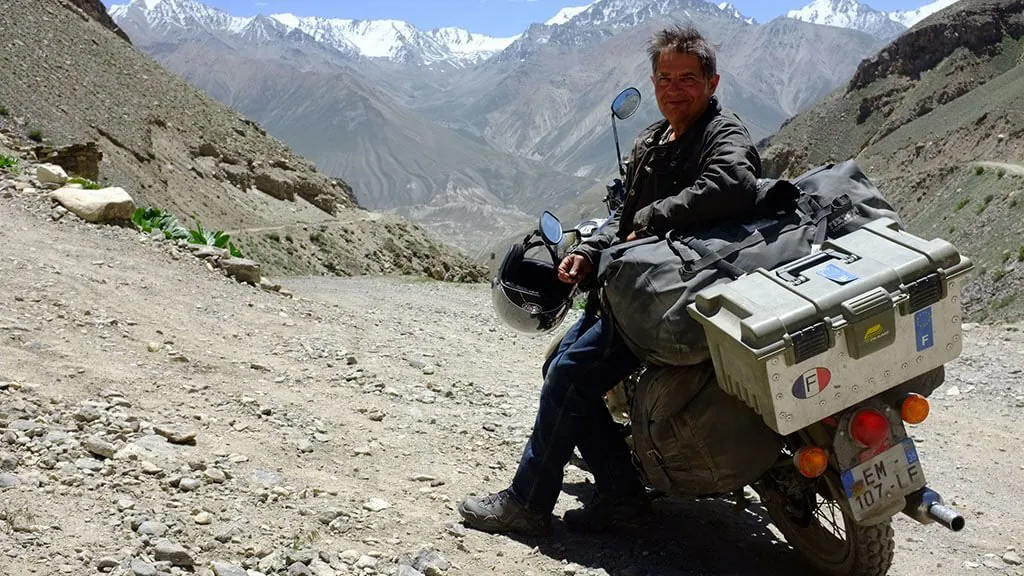 Read More on Adventure Bike Travel
Thanks for reading Franck's Royal Enfield story, we hope you enjoyed it! Here's a few more articles on adventure bike travel that you might like.