Welcome to the Rotopax Review. These are Jerry cans on steroids. They're extra tough canisters made by American firm Rotopax. They're so tough, Rotopax supply them with a 10-year guarantee and promise they're leak free!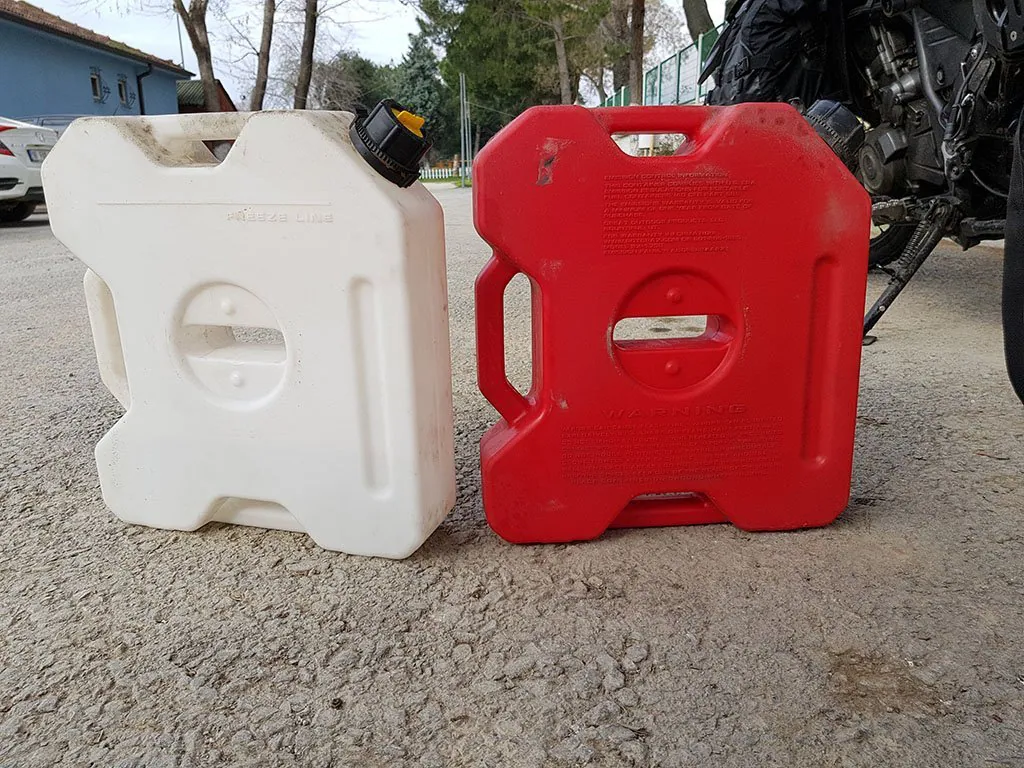 Snapshot
Price: fuel-£75, water-£55, one lockable mounting kit – £79, total – £209
Time tested: seven years
Testing conditions: motorcycle ride from UK-Iraq and back
Durability: 5⁄5
Ease of use: 4⁄5
Value for money: 2⁄5
Where to buy UK: sportsbikeshop.co.uk
Where to buy US: revzilla.com
Where to buy worldwide: amazon.com
Features
I opted for the larger 6.6 litre fuel and water containers, however Rotopax do supply a smaller 3.8 litre container fuel-£60 and water-£45. Apart from the size both containers function in the same way and do not require different sized mounting kits. Mounting kits aren't included in the price.
The containers come with an Eco spout, which is stored inside the can. To use it you simply unscrew the cap, take it out, turn it around and screw it back in. The spout is flexible to make filling up easy. The containers are held in place via Rotopax's clever locking system. You need to attach the plate to your pannier or pannier frame, and then it works by using a simple locking system. Place the pack through both parts of the mechanism, and turn the outer part until it screws the pack down tight. If you've opted for a lockable mount then you can now lock the packs in place. Perfect if you're worried about bike security.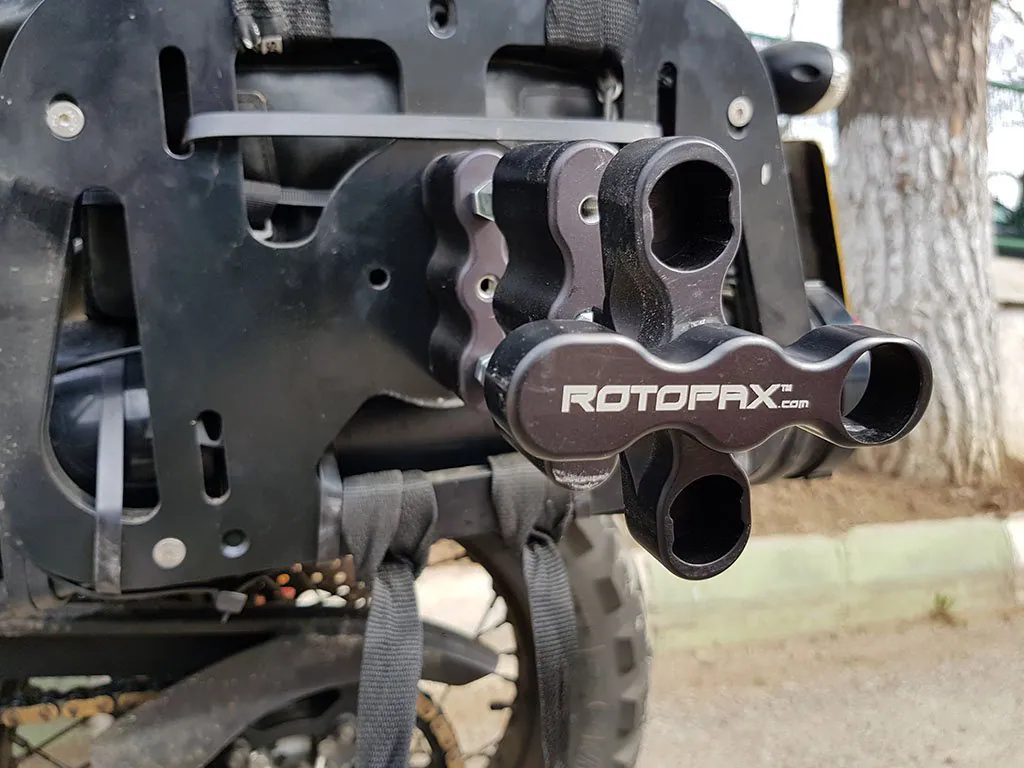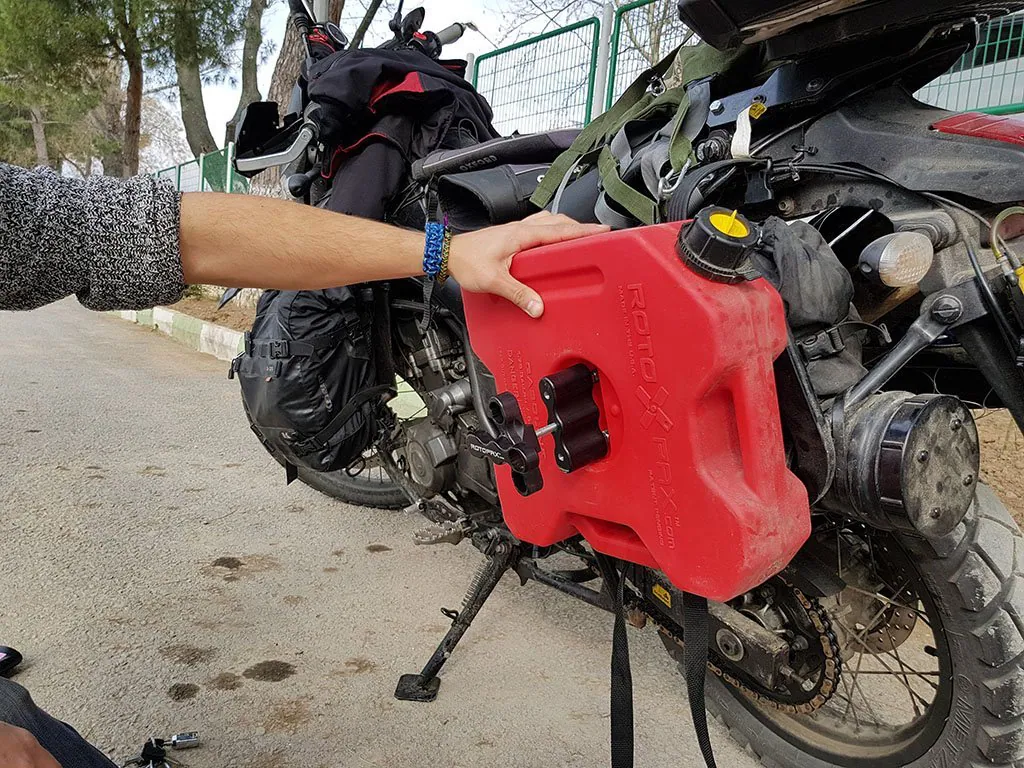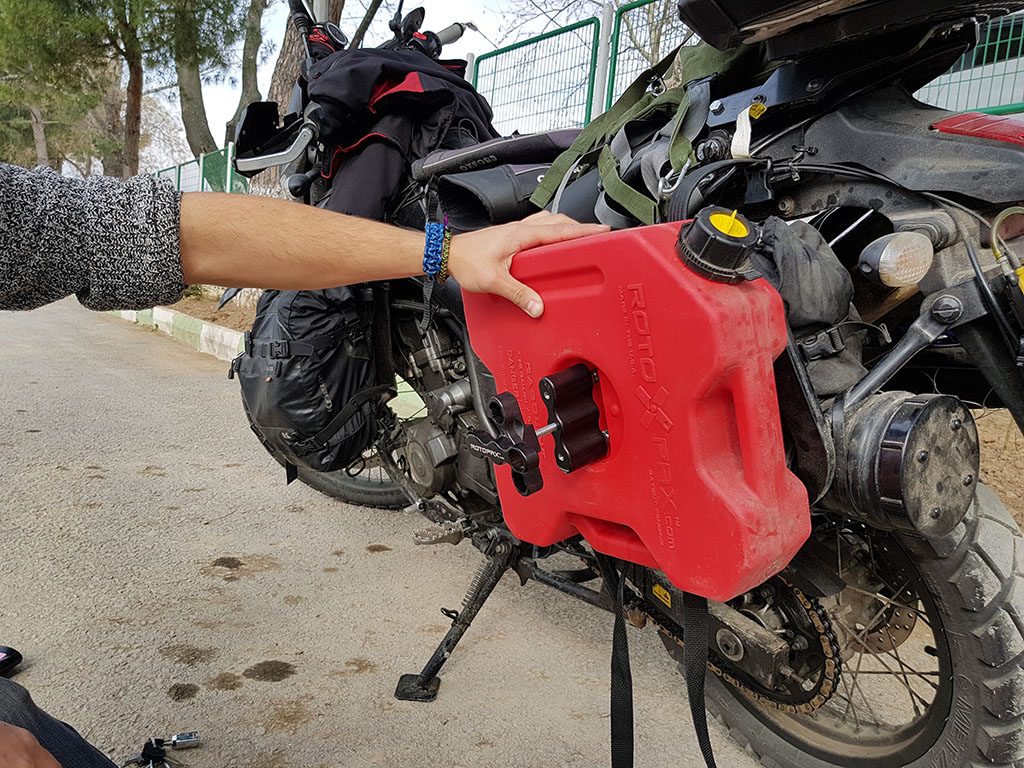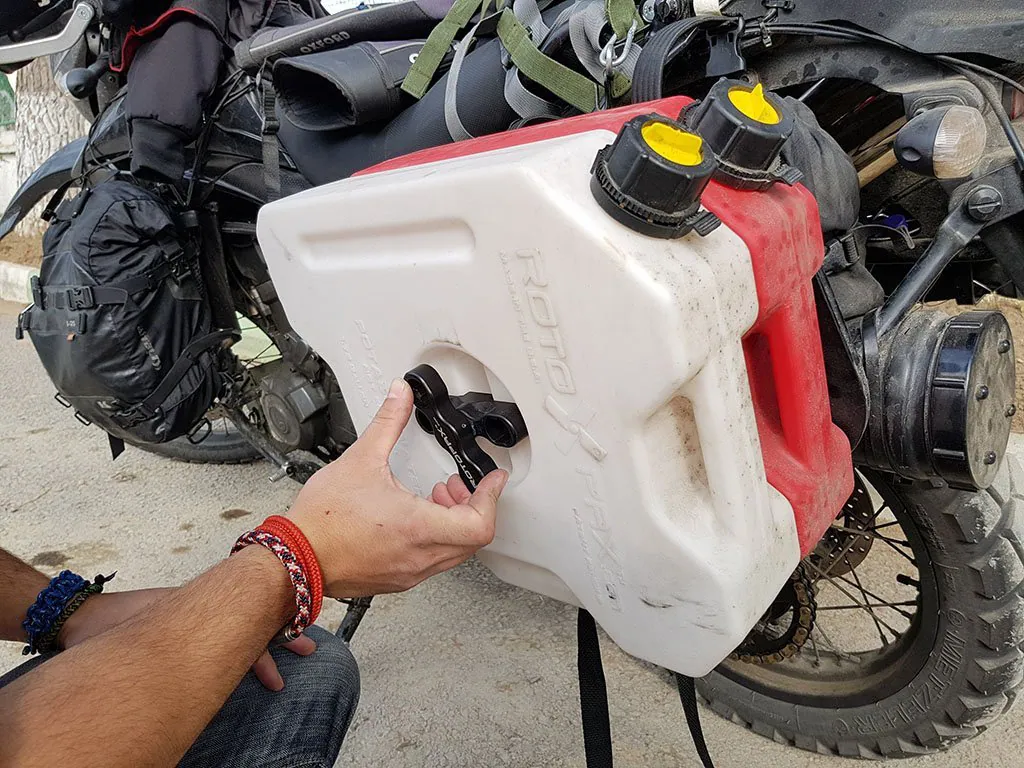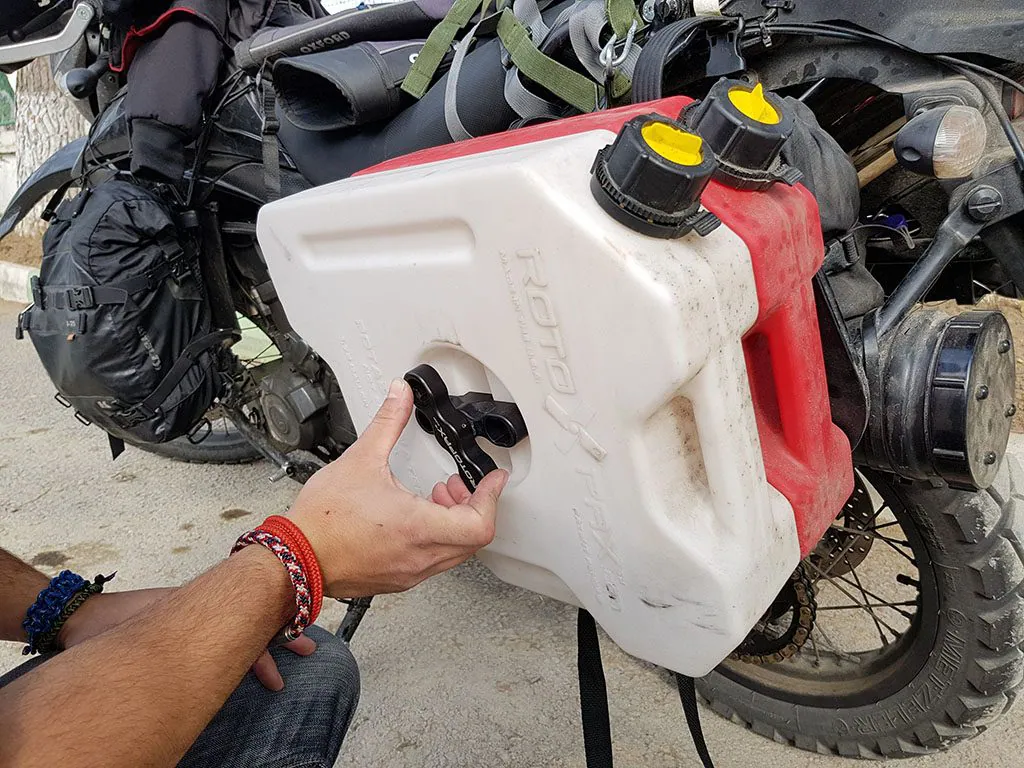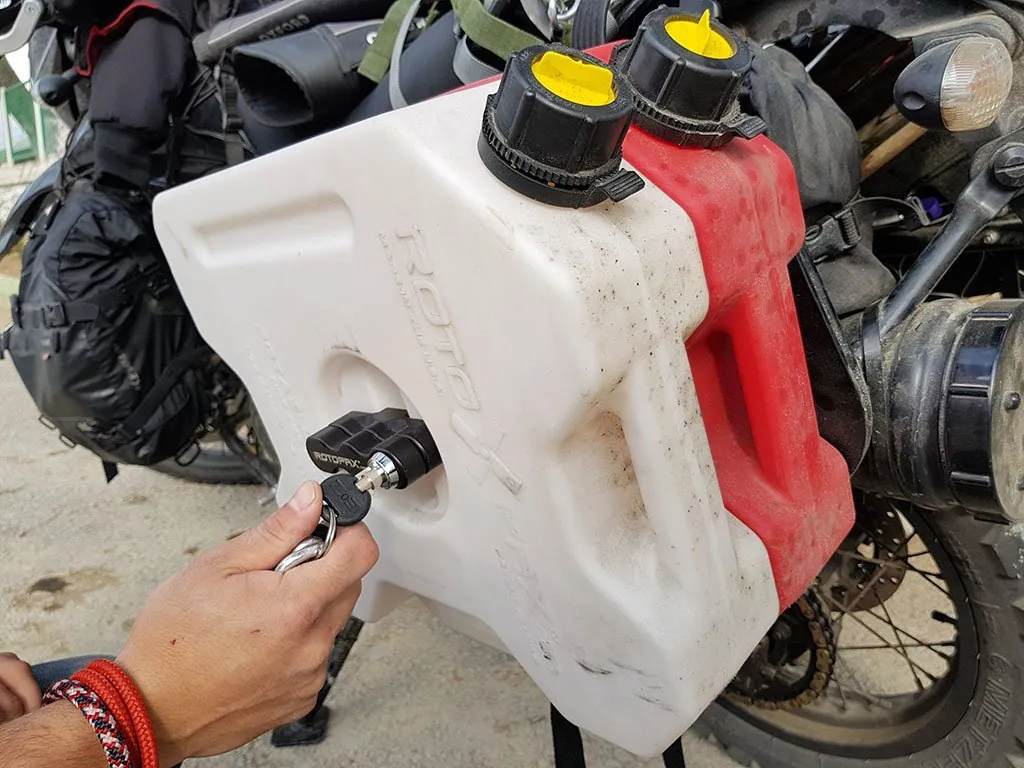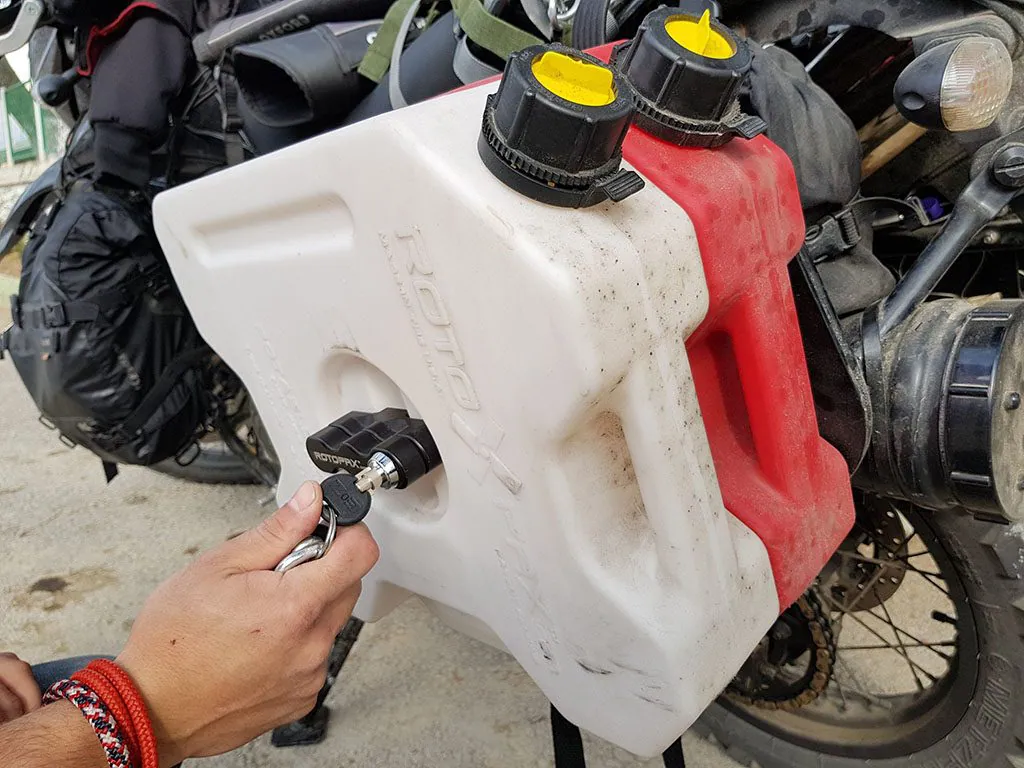 As I have SW Motech pannier frames on my Yamaha XT660R I chose to buy a premade plate from www.windingroads.com. This plate is cut to size for the Rotopax mount. I also had to opt for an extension so I could use both packs together.
Rotopax promise that their containers are leak free and supply them with a 10-year guarantee.
What's good?
These are basically jerry cans on steroids. I first used them about seven years ago for a ride to the Middle East and back. I needed the fuel container as my XT only has a little 15-litre tank and I thought I might as well buy a water container too while I was at it. And I've never looked back. Both containers have come in incredibly useful. I've been caught out plenty of times and had to rely on my emergency fuel container. It's also handy in filling up my MSR fuel stove bottle.
The water container has also proved itself a handy addition, mainly for camping. Water sources can be a pain when wild camping, the Rotopax fixes that by carrying enough water to drink, cook, wash the cutlery, shower …and brush my teeth.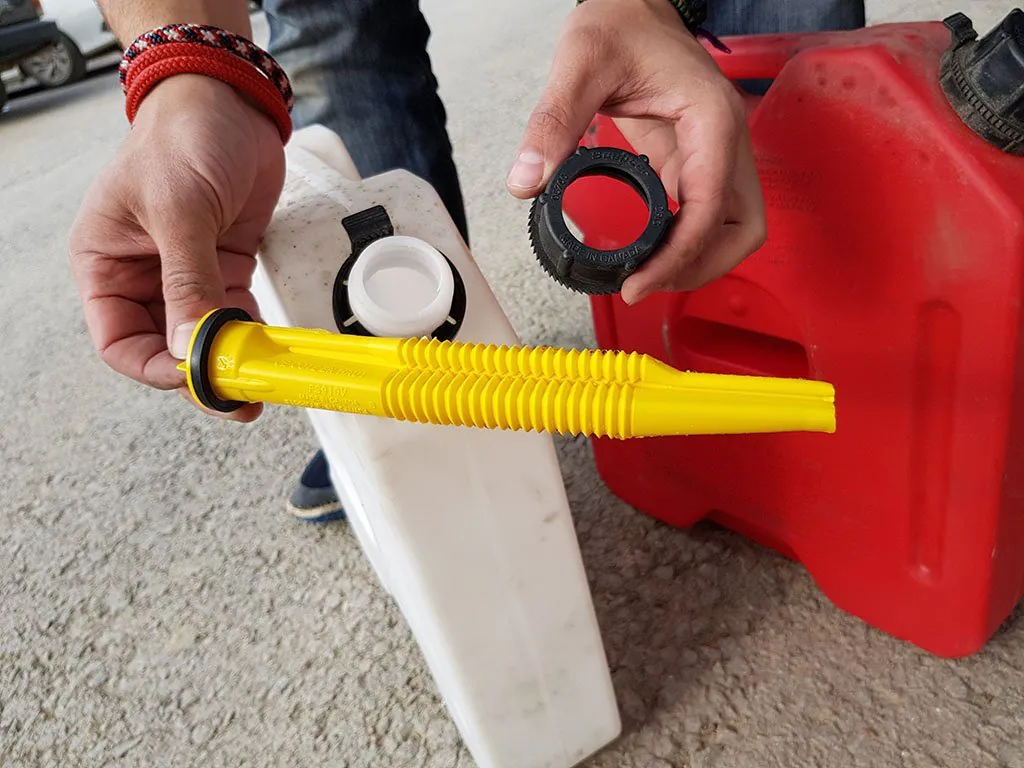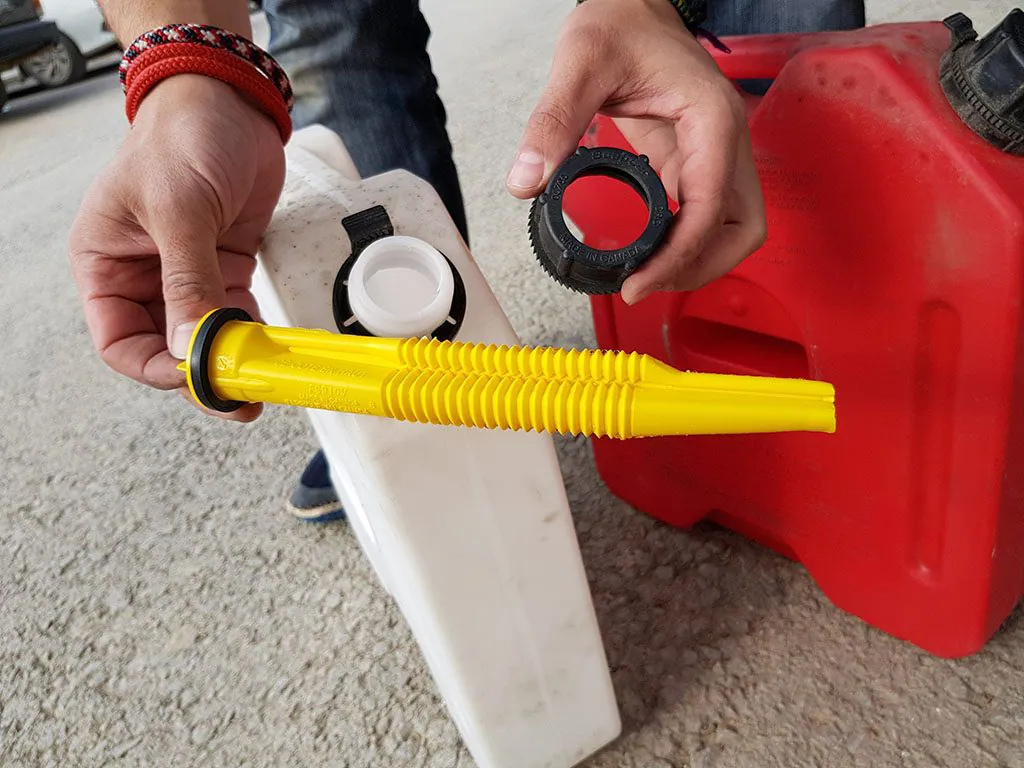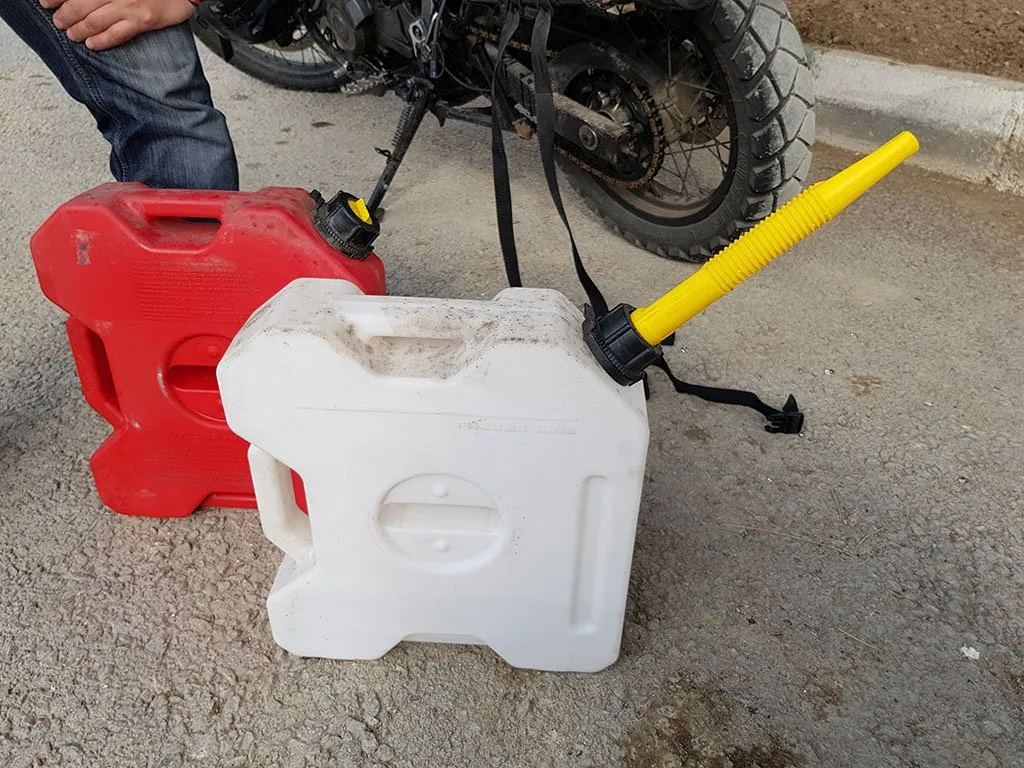 What's not?
The price. You're paying a premium because there is no competition on the market. Fair enough, it's tough, durable kit but it is expensive. My whole set-up cost £256! It's cheaper for the smaller containers, but if you're going to the trouble of adding extra canisters you may as well opt for the bigger ones.
Rotopax Review Round-up
Overall the canisters are brilliant. They're tough, durable, I've crashed on them so many times (How to Adventure Proof Your Motorcycle) and they still show no signs of damage and they've saved me one too many times when I've been stuck without fuel in the middle of nowhere. I'm also really happy with the lockable and easy-to-use mounting system. The only downside is the price. But, it's worth it for this set-up.
Rotopax Review Total score: 11⁄15
ps. We may receive a small commission, at absolutely no cost to you, if you purchase any products using the links on this page. We're not sponsored by anyone, are completely impartial and don't run ads. So this helps us keep the site running. Thank you for your support.
Read more on Adventure Bike Gear
Thanks for checking out our Rotopax Motorcycle Jerry Cans Review. We hope you enjoyed it! Here's a few more articles on motorcycle clothing that we recommend you read next. 
We'd love to hear from you! Please leave your comments below.