Welcome to Thoughts from the Road. Here's Rihards Grunte on solo vs group travel…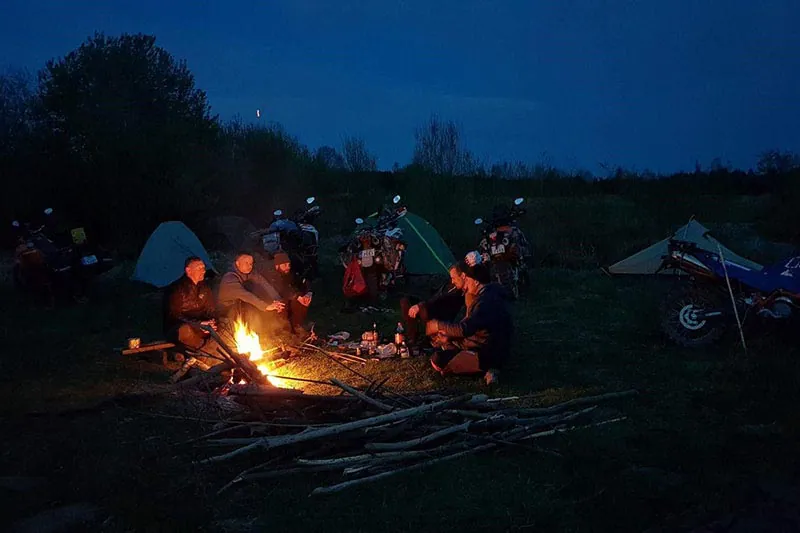 Rihards Grunte is a Latvian forest food chef and adventure bike rider and traveller. Rihards, goes on awesome biking adventures and cooks up incredible meals while he's at it from smoking fish to towering burgers. You can follow more of his culinary adventures on his awesome website outduro.com
Since the beginning, man has travelled in groups to survive and overcome obstacles and threats, but now most of us try to get out and go solo, why is that?
Perhaps, it's the strong DNA within us from ancient times when boys embarked on solo journeys to become men. 
Maybe it's the spiritual journey that a man on his own can experience far greater than in a group. Or maybe it's just a popular way we can escape today's society and enjoy a moment of silence and hear our own thoughts. Whatever it is, there are pros and cons to each.
The pro of travelling in a group is the dependency on each other and the more cohesive the group is the stronger it is. However, don't forget that the group is as strong as the weakest link – and that doesn't always mean strength. It's usually the mind and temper of every individual in a group that is so important because you will go through tough times and difficult parts of your trip and there is no place for anger or insults.
So, it's crucial to have like-minded people, especially if you're travelling on a long journey together.
Another plus is sharing equipment and gear among the group, but the most important pro is sharing those incredible experiences. Imagine spending the day struggling and battling across muddy trails with your friends and then in the evening, you're sat by a fire with them recounting your adventures over good food and beer.
When it comes to solo riding, you will still meet people, so the socializing aspect is still there – but it may not be the same as going with close friends. The cons for solo riders are having to carry all their equipment, not having anyone to rely on in tough situations and not having anyone to share the laughs with. At the same time, you can bring less and only what you need, in tough situations you will learn how to overcome them on your own and as for the laughs… you're still going to have them – just with yourself. 
You might sound cuckoo at some point but it actually means you're finally communicating with your inner-self. That is when emotionally you will learn to appreciate the moment you're in and it's going to be your moment, your tear of joy, your laugh of craziness, it's your time and your freedom.
From my own experience, these have been some of the happiest moments in my life. Because I took my own risks, I paid the price, I struggled on my own, I became more confident in myself and I started to love the person I am. 
Now, as you see, there are both pros and cons to each method of travel, be it in a big group, small group or even on your own. Each has its own merits and I would strongly advise you to try them all.
Rihards Grunte
What do you think? Are you all for group tours or are you a solo rider through and through? 
Thanks for checking out this Thoughts from the Road column. We hope you enjoyed it! Here's a few more articles that we recommend you read next.