Riding with Nomads in Kyrgyzstan
Hidden from the world by the Tian Shan mountains, little known Kyrgyzstan is home to the world's last true nomads…
Motorcycle travel in Kyrgyzstan
Imagine a landlocked country in the heart of Central Asia. Surround it with lush green hills, rugged mountains and roads twirling their way up into the clouds. Pepper it with thousands of horses and a sprinkling of white yurts filled with nomadic families and you have Kyrgyzstan.
It's a long-forgotten world and discovering it on a motorcycle is special, really special. It offers a proper taste of what it is to be nomadic from people who have lived this way for thousands of years.
But first, you've got to ride hundreds of miles off-road, through ever-changing scenery, cross a vast emptiness, battle sand pits, long gravel roads and incredible mountain passes carved into cliff faces. And it's going to be the most unbelievable ride of your life.
Within minutes we were soaking in baking heat as we rolled through parched plains. But the road rises fast and towering peaks soon burst out of the flats – no surprise as 93% of the country is mountainous. As we soar higher the wind cools our Yamaha XT's panting fan, the hills turn from sandy yellow to pretty green and the tarmac into gravel. 
Now it's an adventure rider's playground. The knobbly rear tyre spits stones on every hairpin turn as we climb into the sky. The country is layer-upon-layer of staircases with long, empty green valleys at the top of each one. There's no one here but the odd yurt camp so just pull-up, smile and you may be invited in for tea and jam!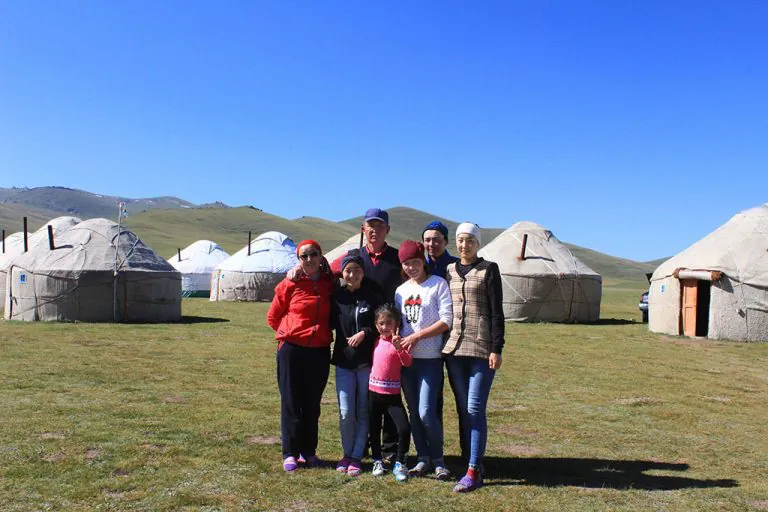 A seemingly endless ribbon of mountain passes follows. When we had enough we popped up the tent nomad-style and cooked our dinner while gazing at some of the most stunning and remote back-drops in the world. If you're lucky (or unlucky, dependent on your taste buds) a friendly shepherd will pop out of nowhere with a bottle of kumis – the Kyrgyz national drink of horse milk. There are no hotels around here, so to travel like a nomad you'll need to be self-sufficient and pack a tent, food and water… and probably get used to lukewarm horse milk.  
After constantly riding up and over mountains and dirt tracks cut into cliffs, the emptiness became surreal. It was just us, the motorcycle and hundreds of miles of dream-like riding through jaw dropping scenery. The riding can be tough, but mostly it's easy-going gravel. The only hard thing about riding here is the constant need to stop and whip out the camera.  
Our route took us to Song Kol Lake. At 3000m high, the lake is protected by a ring of jagged mountains and the surrounding pastures are covered with hardy shepherds and yurt camps. We propped the XT up against a yurt, swapped our iron horse for a real one and set off into the mountains for a few days (you don't need a guide and renting a horse for £2 an hour can't be missed).
We chopped and changed daily between four legs and two wheels to circle the lake, stay with nomadic families, huddle around dung fires at night for warmth and tend to their horses. It's an experience like no other. It'll just be you, raw nature and only those who are willing to live there.
Kyrgyzstan is one of the wildest places on earth and the last place in the world with deep-rooted nomadic traditions. If you want a taste of nomadic life, this is where you need to be.    
Tell me more about Kyrgyzstan
It's a small, landlocked country in Central Asia bordering China, Kazakhstan, Uzbekistan and Tajikistan. It was once part of the USSR and became fully independent in 1991. It's one of the 'least known' about countries in the world and many of its people still live a nomadic way of life, living in yurts in the high mountain pastures during summer and the plains in winter.
Visit the Kyrgyzstan Destination Guides page for a full list of guides.
Check out our Motorcycle Rental Guide for Kyrgyzstan here too. 
Do you have a story or know of one that you'd like to feature on Mad or Nomad? Get in touch with us at [email protected] with your ideas.
Please note, this story, as well as all content on Mad or Nomad, is copyrighted and the property of the website. It is not to be redistributed or reused without permission.