"The Richa Hammer jeans are near perfect. They're lightweight, offer good protection, are stylish and fit well – exactly how a pair of motorcycle jeans should be. "
Richa Hammer Jeans Review
Snapshot
Price: £77
Mileage tested: 4000
Testing conditions: Caucasus, West Asia, Mongolia and Russia
Durability: 5⁄5
Fit and comfort: 4⁄5
Protection: 4⁄5
Value for money: 5⁄5
Colours: Blue, dark blue, black
Where to buy UK: sportsbikeshop.co.uk
Where to buy US: revzilla.com
Features
The Richa Hammers are as close as you can get to the perfect casual motorcycle jean. Here's why…
Getting motorcycle jeans right is hard work. We buy them for one main reason: because they don't look like motorcycle trousers but come with all their benefits. But not all bike jeans are made equal. Having tested dozens of them over the years it's pretty clear that not all of them follow this guideline. There are plenty of jeans out there that are actually bigger, bulkier and hotter than normal textile trousers. And some go the complete opposite way; lacking any protection and protective lining. Both polar ends of jeans are pointless. But Richa has found a way to make the Hammers hit the nail on the head with the perfect balance.
First up, let's talk about features. The jeans are denim material, lined with aramid and use CE knee protectors. That's about all the information Richa give on the jeans. Other than that, they have two pockets up front and two at the rear. But one feature that really does make a huge difference is the fit – it's superb. The waist isn't too tight and the leg length is actually normal! Motorcycle jean manufacturers often make all their jeans with a long leg length, and quite often the shortest leg you can get is 34, which leaves shorter riders like me (30 inch leg) with unwanted roll-ups or looking like I'm wearing "You'll grow into them one day" hand me downs.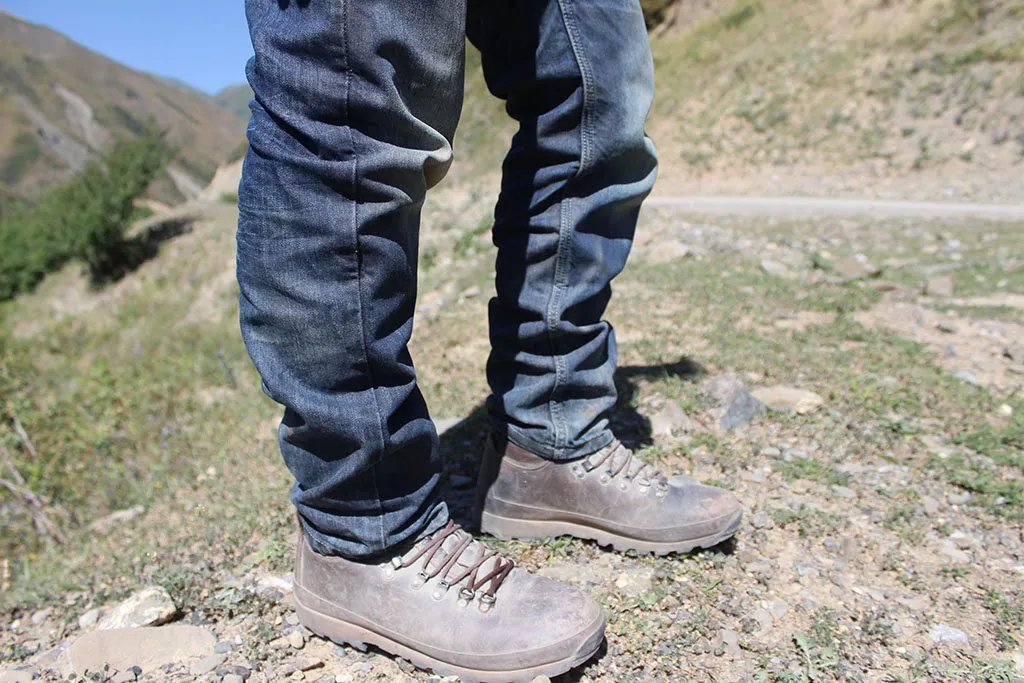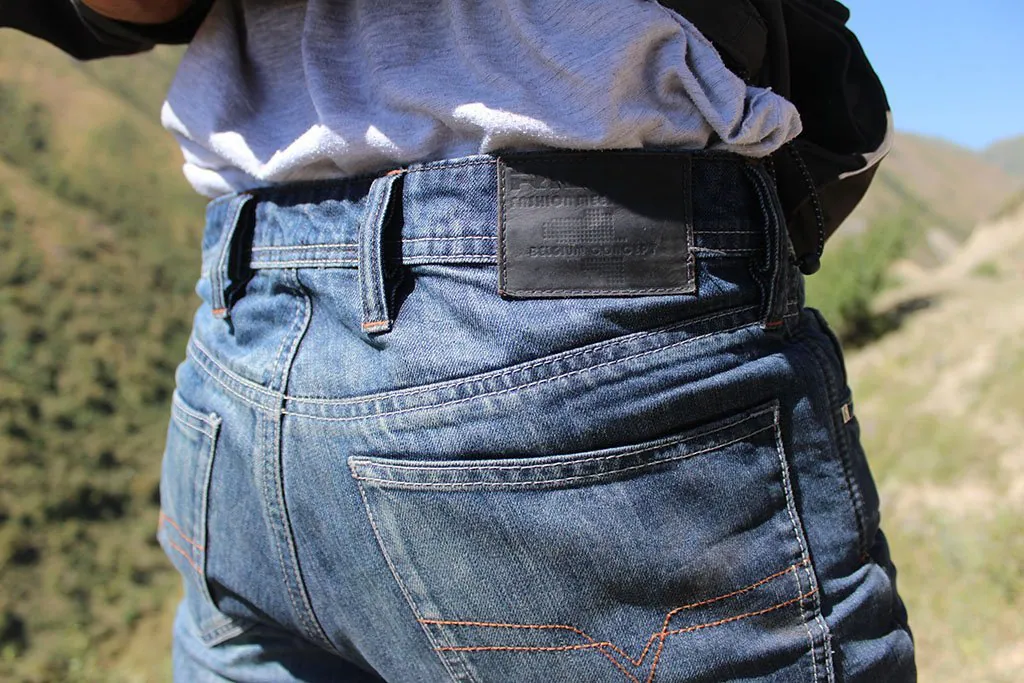 Another stand-out feature is that they're not swelteringly hot. There have been so many occasions where I've worn a pair of bike jeans on a ride, met mates at a cafe and as I get up I leave behind two puddles of sweat on the floor where my legs have leaked. Okay, slight exaggeration, but anyone who's ridden in heavy bike jeans will know where I'm coming from.
What's good?
I put the Richas to the absolute ultimate heat test. I wore them every day as I rode through the baking hot and arid Uzbekistan desert for hundreds of miles, with temperatures into the high 40s. And while I was of course boiling hot, my legs were no hotter than the rest of me.
I used these jeans to ride through the Caucasus, West and Central Asia. I work on the bike in them, have crashed in them and go out for dinner in them and think they're brilliant.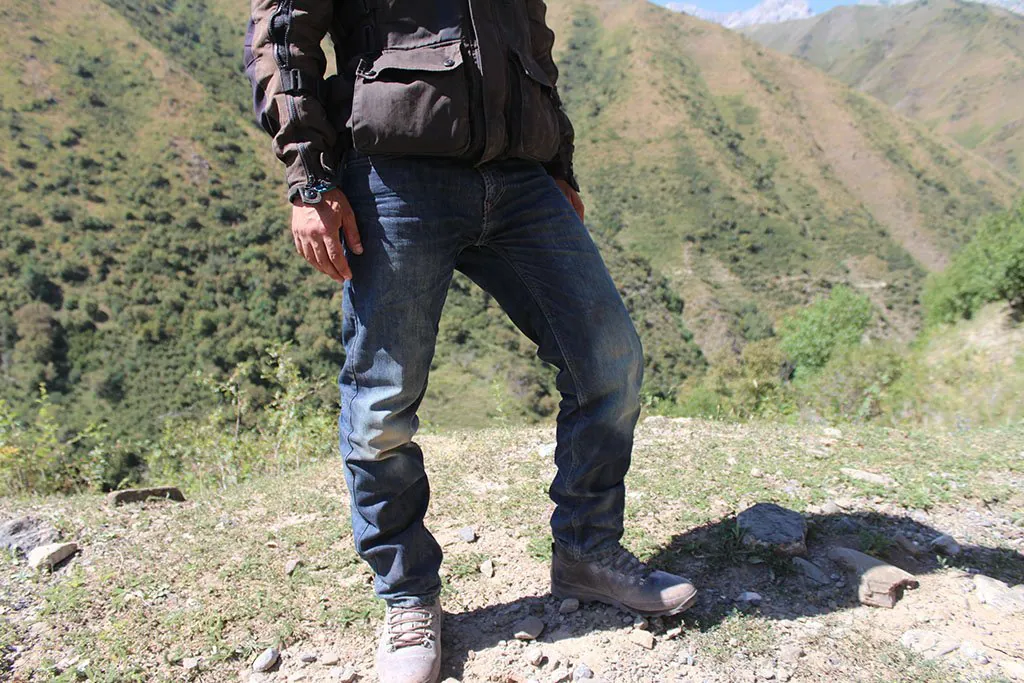 What's not?
The only problem with these jeans are the unusual knee protectors. Instead of just having an insert pocket which you slip the protectors into, the Hammers use a strange material packet with the protector inside. It's connected to the jeans via four loops and buttons. That's fine, but what's not is the bulk the loop and button creates, which if you're riding for more than an hour or so becomes irritating. As I used them for 4000 miles, I eventually had to take the pads out.
Round up
The Richa Hammer jeans are near perfect. They're lightweight, offer good protection, are stylish and fit well – exactly how a pair of motorcycle jeans should be.
Richa Hammer Review: Total score: 18⁄20
ps. We may receive a small commission, at absolutely no cost to you, if you purchase any products using the links on this page. We're not sponsored by anyone, are completely impartial and don't run ads. So this helps us keep the site running. Thank you for your support.
Read more on Adventure Bike Gear
Thanks for checking out our Richa Hammer Motorcycle Jeans Review. We hope you enjoyed it! Here's a few more articles on motorcycle clothing that we recommend you read next. 
We'd love to hear from you! Please leave your comments below.