"The Rev'it Zircon is a brilliantly stylish, durable, extremely well made and incredibly cool jacket. It took everything the Himalayas threw at it and is now my favourite riding jacket!" 
Snapshot
Update – we believe the Zircon has now been discontinued. 


Price: £299.99
Mileage tested: 10,000
Time tested: 1 year
Testing conditions: India
Durability: 5/5
Fit and comfort: 4/5
Protection: 4/5
Value for money: 5/5
Colour: Sand, Dark, Olive
Where to buy UK: sportsbikeshop.co.uk
Where to buy US: revzilla.com
Features
The Rev'it Zircon is a cool vintage styled motorcycle jacket. It's styled after the classic British wax Belstaff and Barbour jackets, but with modern day protection.
The outer shell is wax coated and water repellent polyester. Despite the coating, it doesn't have that waxy feel on your finger tips like other wax jacket variants. It does come with a removable waterproof liner and a quality removable thermal liner too.
The Zircon has armour in the elbow and shoulder area as standard and a reinforced outer material, but the back protector is sold separately.
There are no air vents on the jacket, just like the traditional ones it takes after.
It comes with a belt for waist adjustment, a drawstring at the hem, button adjusters on the cuff and a belt buckle neck fastener.
The jacket has four extra-large pockets on the outside, two hand warmer pockets sewn in behind the two large bottom pockets (very nice touch) and inside zipped pockets too.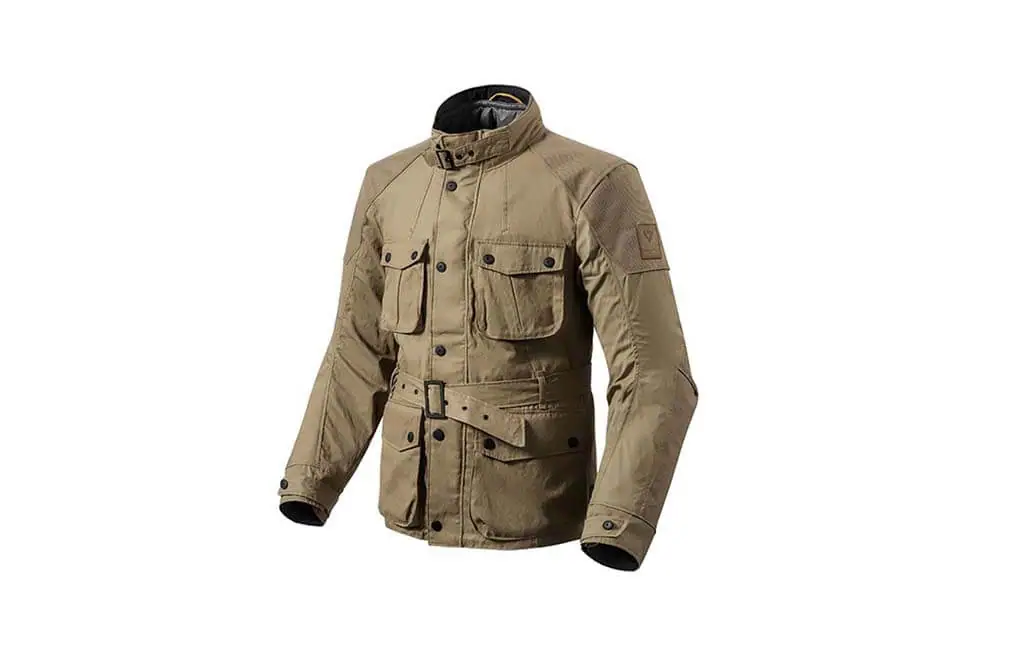 What's good?
I first used the Rev'it Zircon jacket for a two-week long ride through the Indian Himalayas. I wanted a retro styled jacket to go with the Royal Enfield Himalayan motorcycle I was testing at the time. I never expected to fall in love with the jacket!
Firstly, this jacket looks seriously cool, especially the sand and olive versions. I had a lot of fellow riders asking for the brand name and it had a lot of interest. So, top marks for style.  I don't particularly like the belt (not just on this jacket, but on any jacket) so I ditched that sharpish. But that's not what makes this such a good jacket. It's also incredibly well made and packed with features. 
The four large popper pockets up front are perfect for stashing maps, passport, snacks and Mars bars. It also has handy hand warmer pockets behind the lower two. The finish of the material is excellent and obviously high quality. I've had a few offs (quite a few to be honest) and the jacket has held up very well when sliding along gravel tracks and tarmac. 
It comes with a removable thermal and waterproof liner. Personally, I immediately remove waterproof and thermal liners from my jackets and chuck them in the bin. That's because thermal liners are usually thin pieces of rubbish and waterproof liners are a pain! Nobody wants to pull over, take their jacket off in the rain, zip a liner inside it and put it back on. That's madness. Instead, I always carry my own lightweight thermal down jacket (that packs away small and can be worn as an evening jacket) and use a throw-over waterproof jacket instead. So, I can't comment on if those two liners work well or not, but the liner did look to be much higher quality than your average liner. 
In two weeks of riding through the Himalayas, we hit both scorching hot temperatures and snow capped mountains. I thought the lack of vents on the jacket would be an issue, but it wasn't and it also kept me warm on the cold rides too. 
What's not?
The lack of vents can be a problem if you're riding in seriously hot conditions. For everyday riding, just undoing the zip should be enough. I had to minus a mark for 'fit and comfort' because of this minor drawback. 
If ventilation is an absolute must for you, then I recommend the Rev'it Sand Urban jacket instead. It's basically the same as the Zircon, just geared more towards adventure riders as it comes packed with ventilation openings, map pockets and more. Check out our review for more info. 
Other than that, the only niggle is that it doesn't come with a decent back protector as standard (which is a problem with most jackets these days). Instead you'll need to buy the Rev'it Seesoft back protector insert for an additional £34.
Round-up
The Rev'it Zircon is a brilliantly stylish, durable, extremely well made and incredibly cool jacket. After a two-ride through everything the Himalayas could throw at it, I fell in love with the jacket and used in near enough on every ride thereafter. It has lovely finishing touches, plenty of features, is superbly comfortable and looks the part on anything from an old cafe racer to a dirt bike. 
Rev'it Zircon Motorcycle Jacket Review: 18/20
ps. We may receive a small commission, at absolutely no cost to you, if you purchase any products using the links on this page. We're not sponsored by anyone, are completely impartial and don't run ads. So this helps us keep the site running. Thank you for your support.
Read more on Adventure Bike Gear
Thanks for checking out our Rev'it Zircon motorcycle jacket review. We hope you enjoyed it! Here's a few more articles on motorcycle clothing that we recommend you read next.
We'd love to hear from you! Please leave your comments below.