"The Rev'it Sand Urban is a brilliant bit of kit. It has all the functionality of a proper adventure jacket mixed in with a beautiful blend of style and perfect fit. It's the full package."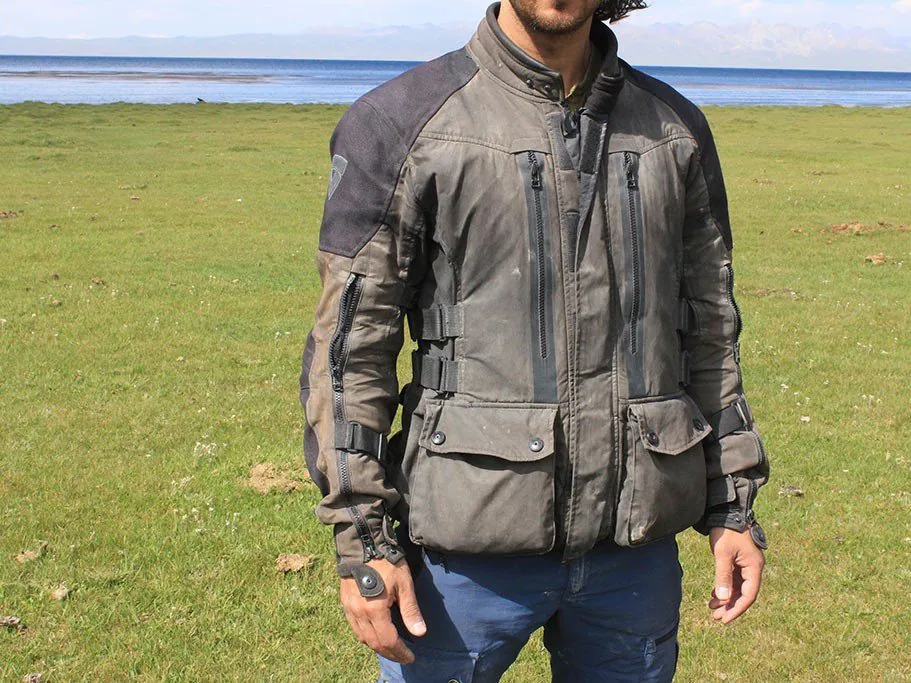 Update
The Rev'it Sand Urban has been discontinued. If you're after a similar jacket, take a look at our Rev'it Zircon Review, or for a more adventure focused jacket, take a look at the Rev'it Sand 4 (on which this jacket is based). You'll find more info on that jacket in our Best Adventure Motorcycle Jackets guide.
Rev'it Sand Urban Review
Snapshot
Price: £404.99
Mileage tested: 4000
Testing conditions: Through the deserts of Central Asia and into Mongolia
Durability: 5⁄5
Fit and comfort: 5⁄5
Protection: 2⁄5
Value for money: 4⁄5
Colours: Green or Black
Where to buy UK: sportsbikeshop.co.uk
Where to buy US: revzilla.com
Features
The Sand Urban is probably the world's most stylish adventure jacket. The Sand jacket is Rev'it's 'proper' adventure jacket – what makes it a proper adventure jacket you ask? because it's not Pro-laminate and has a removable rain and thermal liner, which means you can ride round-the-world and adapt to the conditions. Rev'it, being fashion conscious, decided to up their adventure jacket game by producing a stylish take on the Sand – the Sand Urban. Think, classic Belstaff meets modern adventure. That means the material's different, has that cotton wax look but keeps all the functionality of an adventure jacket – packed with pockets, vents, straps and all the nifty features we expect.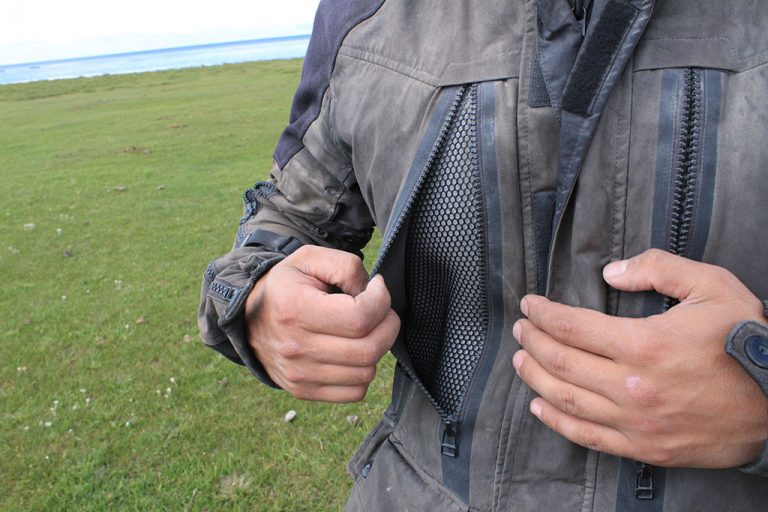 It has two buttoned large pockets up front, two hand warmer pockets behind the main pockets and two vertical zipped chest vents, which double as pockets. There's one large map pocket at the rear and a large velcro tabbed inside pocket. It has a very cool ventilation system with two large vents on the chest, full sleeve zipped vents and one on the back. It also comes with compression straps on the waist and sleeves and a drawstring at the bottom – for that extra stylish fit. Other nifty features are the collar hook, which fastens the collar away, the cuff buttons and Velcro cuff strap and soft collar.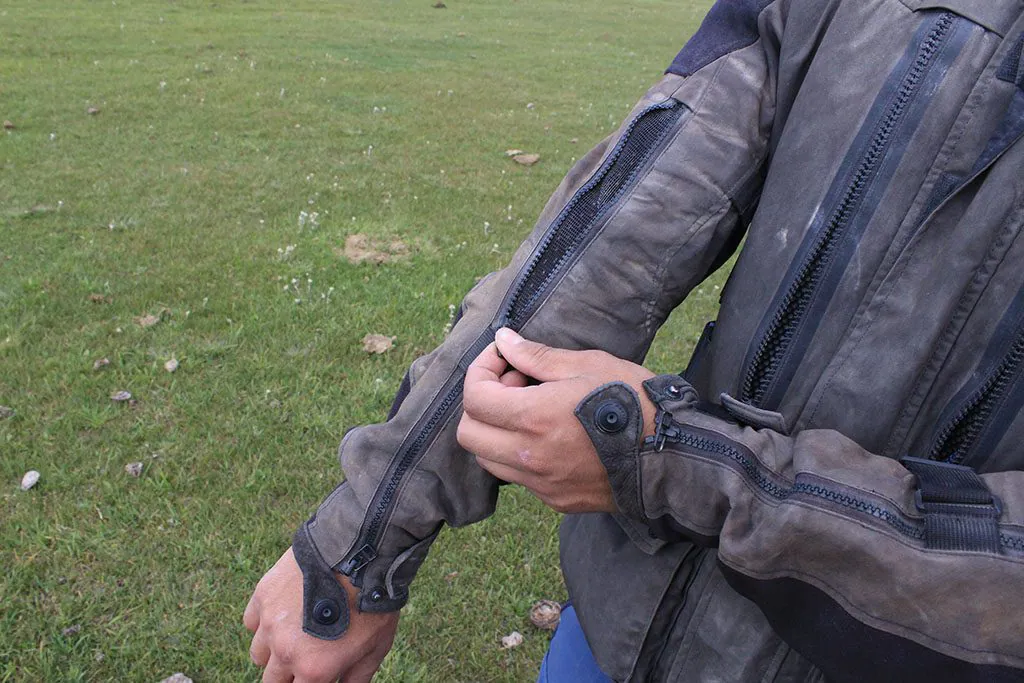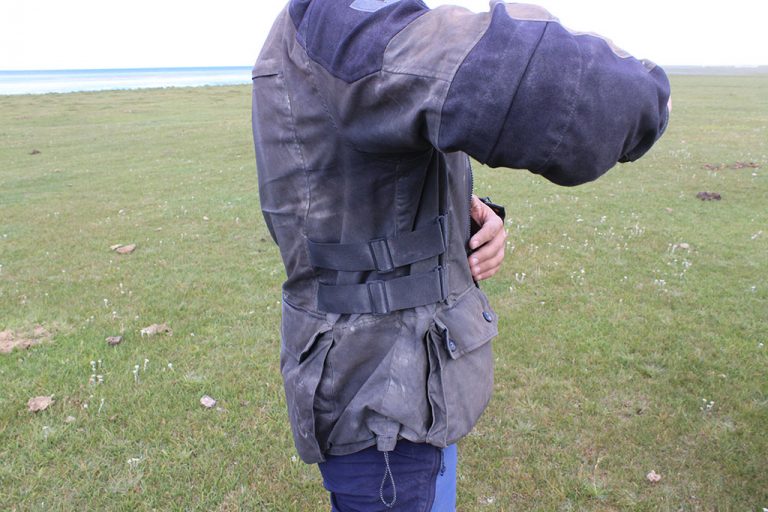 But here's where it gets interesting. The jacket is a fashionable adventure jacket. I love the look of it, hence why I wanted to test it (although I prefer it in green to black) but I wanted to really see if it could stand up to a serious test and isn't just a gimmick. So, it accompanied me for 4000 miles through some of the toughest terrain in the world. From Georgia through the Caucasus, across the Caspian Sea, into Kazakhstan, the arid deserts of Uzbekistan, the Pamir Mountains of Tajikistan, into Afghanistan and through Kyrgyzstan. And this jacket performed beautifully.
What's good?
What impressed me most was the sublime fit, excellent ventilation and practicality. We rode through 40C, and with the arm and chest vents open I was cool and content throughout. The jacket is light, not bulky and very well fitted thanks to its compression straps. The abundance of pockets made it easy to stash my passport and paperwork in the inside chest pocket while the wallet, phone and GoPro lived in the large lower pockets.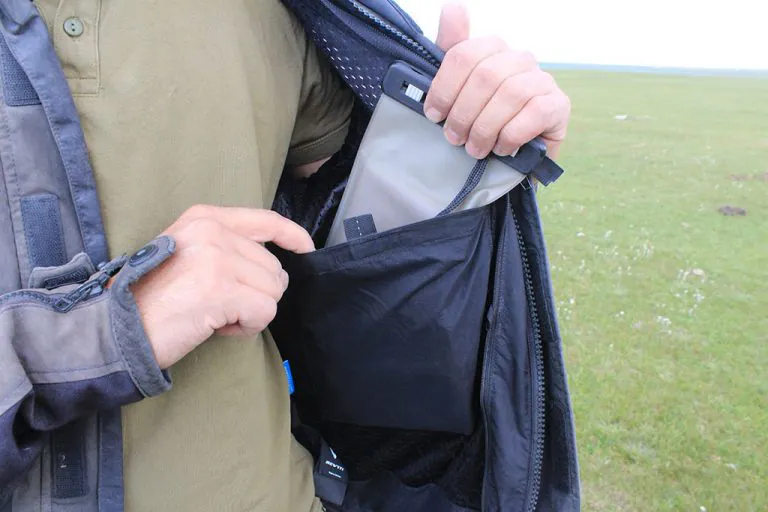 And what makes this a 'real' adventure jacket is that the thermal and waterproof liners can be removed (both of which work very well). That's crucial for round-the-world travel. As one minute I was riding through baking deserts and two days later I was stuck in a snow storm. Sure, taking the jacket off to slip a liner on underneath can be a faff. But it beats riding with a heavy waterproof outer shell jacket for thousands of miles through the heat.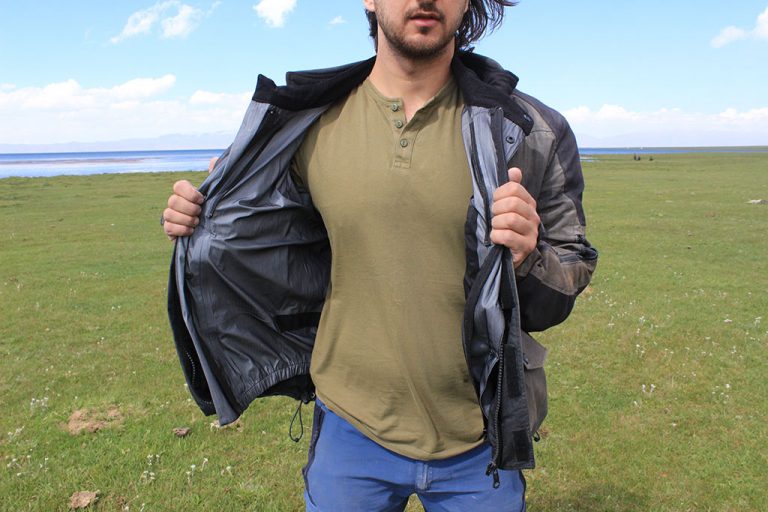 What's not?
The only, very slight, niggle is its use of soft lightweight protection, which doesn't feel as sturdy and as protective as the harder counterparts. The soft back protector didn't fill me with confidence, especially for off-roading so I opted for a replacement Level 2 insert. It's a shame as it's the only factor dropping the overall score. Change the protection and you've got 20⁄20.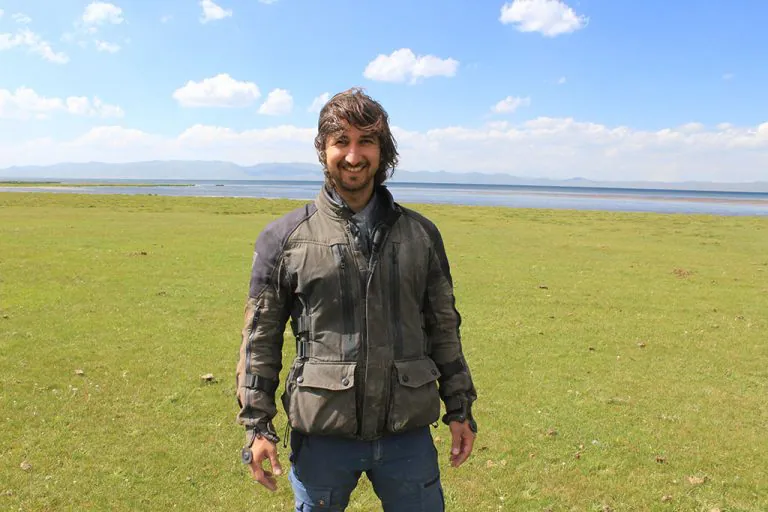 Round up
The Rev'it Sand Urban is a brilliant bit of kit. It has all the functionality of a proper adventure jacket mixed in with a beautiful blend of style and perfect fit. It's more than capable of tackling Central Asia, the Pamirs and some of the most remote parts of the world and is equally at home in a cute café. It's the full package.
Rev'it Sand Urban Review: Total score: 16⁄20
ps. We may receive a small commission, at absolutely no cost to you, if you purchase any products using the links on this page. We're not sponsored by anyone, are completely impartial and don't run ads. So this helps us keep the site running. Thank you for your support.
Read more on Adventure Bike Gear
Thanks for checking out our Rev'it Sand Urban Jacket Review. We hope you enjoyed it! Here's a few more articles on motorcycle clothing that we recommend you read next. 
We'd love to hear from you! Please leave your comments below.