"The Rev'it Sand 4 trousers are lightweight, all-day comfortable, exceptionally easy to live in for long-distance travellers and come with decent features."
Snapshot
Price: £339.99
Time tested: 10 months
Testing conditions: Thailand, Malaysia, Indonesia, Australia and New Zealand
Functionality: 5/5
Durability:5/5
Fit and comfort: 5/5
Value for money: 4/5
Where to buy UK: sportsbikeshop.co.uk
Where to buy US: revzilla.com
Where to buy EU: fc-moto.eu
Features
The Rev'it Sand 4 H2O trousers go with the ever popular Rev'it Sand 4 jacket. However, I used this pair with a Rev'it Defender 3 jacket because I preferred the lightweight fit of the Sands over the Defender trousers.
And that's one of the Sand 4's best selling points – its fit. They're a serious pair of trousers, with high quality materials but they still feel light, easy to wear and very flexible. I've even hiked (unwillingly) in mine and found them pretty comfortable for that too.
Liners
The trousers come with a removable Hydratex waterproof membrane and a removable insulated thermal winter lining. You can remove both liners and wear them on their own, which is a great feature for anyone looking to save space in their bike luggage.
Material, protection and fit
The trousers are made using polyester and ripstop, come with Seeflex CE level 2 height adjustable knee pads and level 1 hip armour.
The trousers also come with patches on the rear to help prevent you sliding in your seat and have plenty of adjustment via the waist, calves and ankles with straps and Velcro.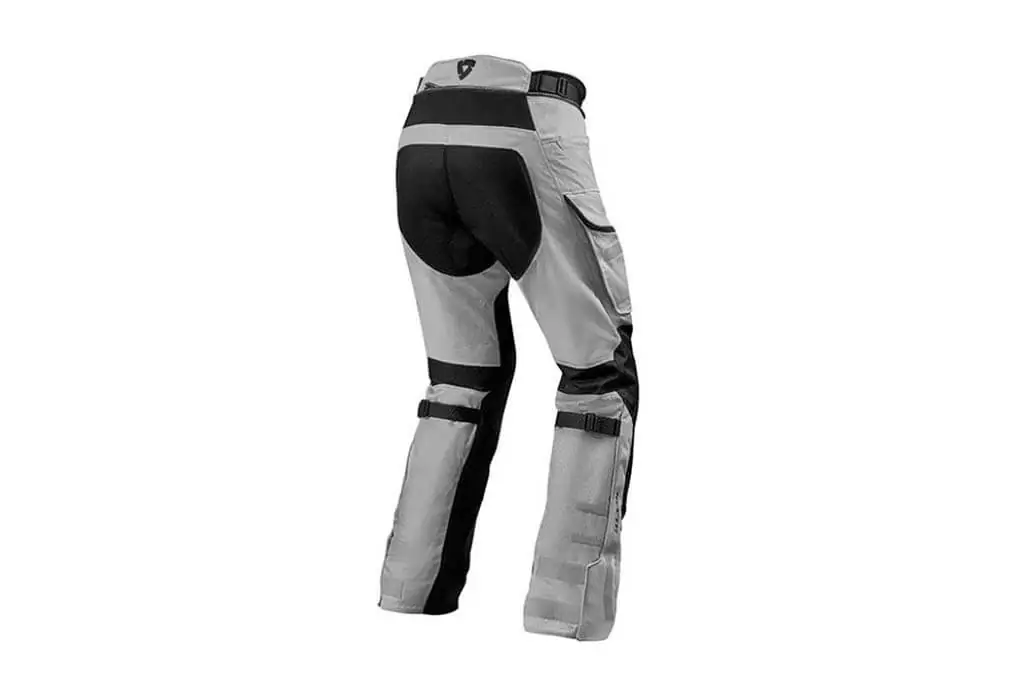 What's good?
The Rev'it Sand 4 trousers are amongst the best motorcycle trousers I've ever tested. They are all-day comfortable and the fit is perfect.
These are trousers you can live and travel in full-time. I wore them nearly everyday for 10 months from Indonesia to New Zealand in temperatures ranging from sub zero to +40C and never had an issue with them. They're tough and durable and can take a beating.
The vents on the thighs are easy to use while riding and allow for decent airflow. The bottom openings are huge so you can easily slip the trousers over hefty boots and do them up with a heavy duty zip and Velcro fasteners. 
But one of the things I like the most are the extra-large waterproof thigh pockets. These are invaluable for long-distance motorcycle travellers. I can easily fit my phone, wallet and keys all in one pocket if needed.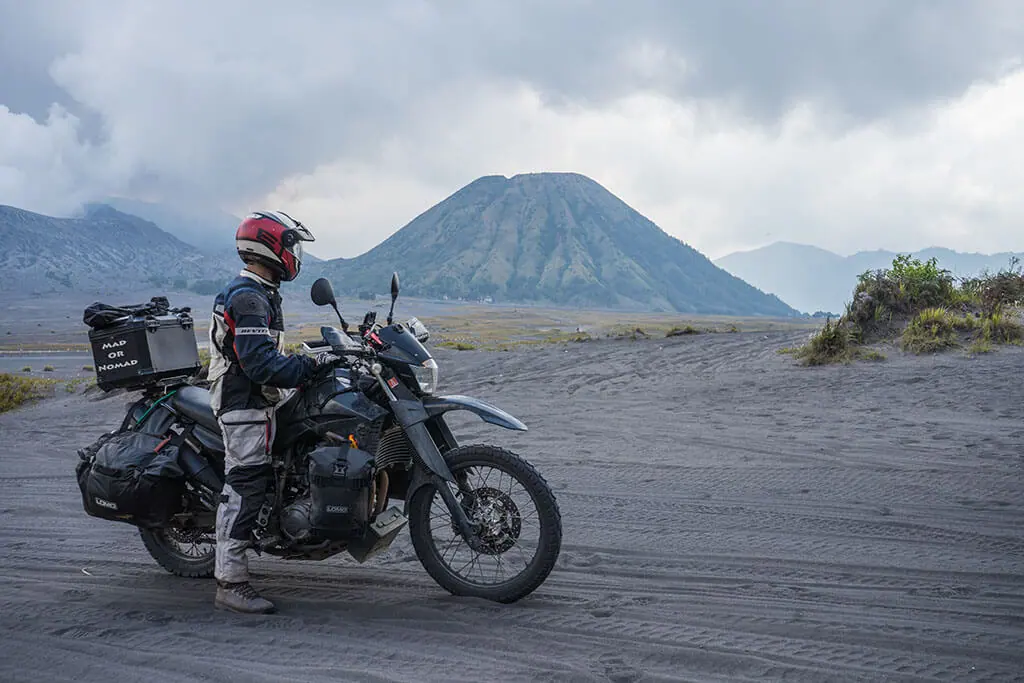 What's not?
The Sand 4 trousers come with a hefty price tag – more than a budget adventure bike jacket. But it does feature premium materials and is a high-quality pair of trousers. So it depends on how much you value that. 
Round up
The Rev'it Sand 4 trousers are lightweight, all-day comfortable, exceptionally easy to live in for long-distance travellers and come with decent features. All this, yet they're still rugged, tough, hard wearing and suitable for any type of adventure and off-road riding.
ps. We may receive a small commission, at absolutely no cost to you, if you purchase any products using the links on this page. We're not sponsored by anyone, are completely impartial and don't run ads. So this helps us keep the site running. Thank you for your support.
Read more on adventure motorcycle riding gear
Thanks for checking out our Rev'it Sand 4 Trousers Review. We hope you enjoyed it! Here's a few more articles on adventure motorcycle riding gear that we recommend you read next. 
Liked that? Try these next…
Are you interested in the Rev'it Sand 4? Please leave any questions or comments below. We'd love to hear from you.