"The Rev'it Defender Pro GTX jacket and trousers are made for adventure motorcycle travellers. It's literally built for adventure and Rev'it have done an outstanding job of producing a hard-wearing, exceptionally well-thought out travel suit."
Snapshot
Price Jacket: £599.99
Price Trousers: £449.99
Mileage tested: 40,000
Time tested: 7 years
Testing conditions: Worldwide
Durability: 5/5
Fit and Comfort: 5/5
Protection: 5/5
Value for money: 5/5
Where to buy UK: sportsbikeshop.co.uk
Where to buy US: revzilla.com
Update 2022
The Rev'it Defender has now been updated to the Defender 3 (which this page now links to). Many (if not most) of the features are exactly the same, so we've left this review as is. For a breakdown on the latest version, visit the 10 Best Adventure Motorcycle Jackets guide where the Defender 3 is listed.  
Features
The Rev'it Defender Pro GTX is a serious adventure jacket and is packed with features. Here's some of the best:
It's Teflon coated for abrasion resistance and comes with protective sections as well as elbow, shoulder and back protectors. You can feel the hard wearing materials and textiles on the jacket. 
The Defender has a detachable Gore-Tex liner that can be quickly zipped in and out in rainy weather. 
It comes with waterproof inner pockets, two large hand pockets at the bottom and two more pockets up top, an extra large map pocket, slit pockets, a sleeve card holder and hand warmer pockets. The Pro excels in the ventilation department with huge sleeve and chest vents. 
It also comes with plenty of adjustable straps to get the fit perfect,including velcro tabbed cuffs, sleeve adjusters, two waist straps and a very sleek collar fastener (with a hook closure to keep the collar out of the way when you want it undone). 
What's good?
The Rev'it Defender is impressive. What I love the most is how versatile it is. I've ridden with this jacket in 40C and in -5C and it's been brilliant in both. 
The arm length vents and fold up, button closed chest vents let air pour into the jacket and out of the back.  The Defender trousers also have four vents, all eaasy to open and close even while on the move as they use Velcro, poppers and big zips. 
The finishing touches are excellent too. Sliding straps for a comfy fit are well thought out and are on the arms and chest. It also has an abundance of pockets (an adventure jacket prerequisite!) as well as a card holder on the sleeve, a secret pocket and two waterproof pockets. 
The trousers are also very well made and all-day comfortable too. I'd go as far as to say they're the best pair of motorcycle trousers I've ever owned. The pockets are huge, the ventilation excellent, the fit perfect and they come with long zipped openings, which makes getting big boots on easy.  
I've used this jacket on a number of off-road trips and have travelled in it numerous times. It's never let me down, has ever frayed or shown signs of wear and tear. It's tough, durable and built for the road… or off-road.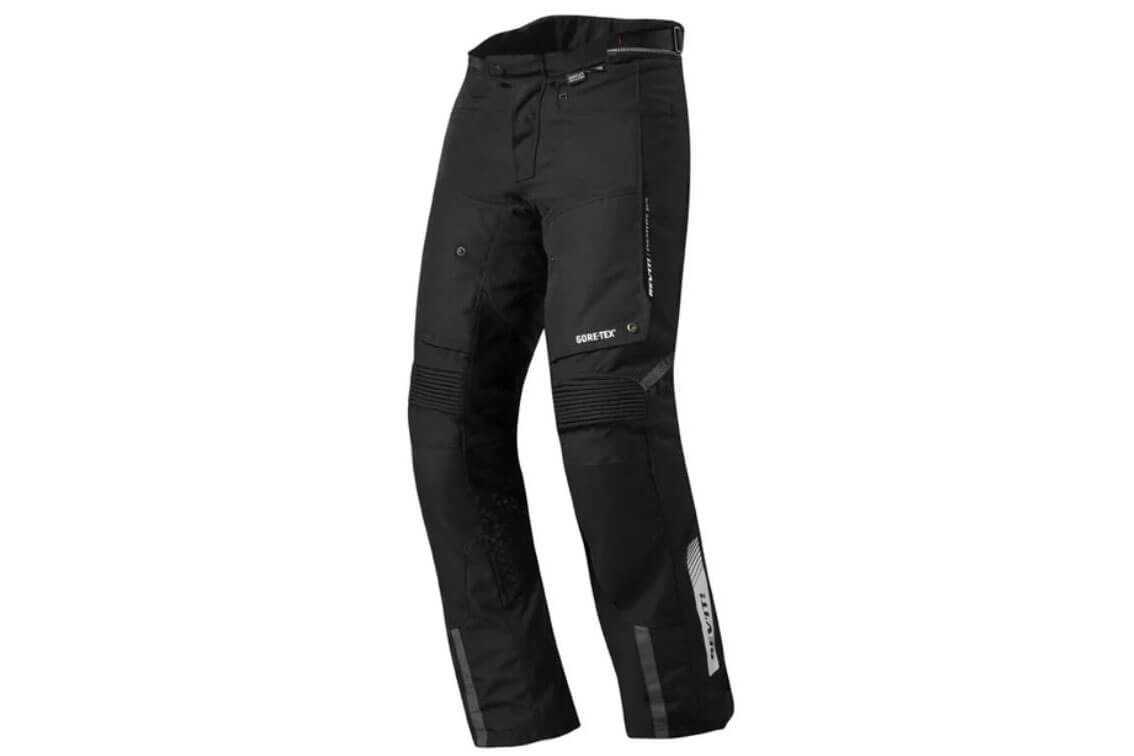 What's not?
There are no negatives with the Rev'it Defender Pro GTX jacket and trousers apart from the price. However, this is a premium, well-made and high-quality bit of kit and packed with excellent and well thought out features.  
Round-up
The Rev'it Defender Pro GTX jacket and trousers are made for adventure motorcycle travellers. If you're planning on touring and not going off-road then it's probably a bit overkill. But if you're off on a long-term trip, through multiple climates then give serious consideration to this suit.
It's supremely well made, the ventilation is excellent, the fit is sublime, it's easy to get a
heated jacket
or
down jacket
underneath as there are plenty of outer fastening straps and they're well positioned, it's packed with pockets and features and is all day comfortable. 
It's literally built for adventure and Rev'it have done an outstanding job of producing a hard-wearing, exceptionally well-thought out travel suit. 
Rev'it Defender Pro GTX Review: 20/20
ps. We may receive a small commission, at absolutely no cost to you, if you purchase any products using the links on this page. We're not sponsored by anyone, are completely impartial and don't run ads. So this helps us keep the site running. Thank you for your support.
Read more on Motorcycle Clothing and Gear
Thanks for checking out our Rev'it Defender Pro GTX Jacket and Trousers Review. We hope you enjoyed it! Here's a few more articles on motorcycle gear that we recommend you read next. 
Liked that? Try these next…
We'd love to hear from you! Please leave your comments below.