"The Rev'it Cayenne 2 was built for adventure riders heading into seriously hot weather. It's a proper, full on adventure suit with one purpose, to keep you cool."
Snapshot
Price: £499 jacket / £359 trousers
Time tested: 6 months
Testing conditions: UK
Functionality: 4/5
Durability: 5/5
Fit and comfort: 5/5
Value for money: 5/5
Where to buy UK: sportsbikeshop.co.uk
Where to buy US: revzilla.com
Where to buy EU: fc-moto.eu
Features
Rev'it has been rapidly upping their adventure bike range over the years. They produce seriously good stuff and have now expanded their lineup to include a range of kit for varying conditions – including niche and specialist gear like the Cayenne 2, which is specifically for ultra-hot weather riding.
If you're after a suit for everyday riding, then the Cayenne isn't for you. This is a serious adventure suit for hot weather riders. It's built with mesh panels so if the sun drops you're going to feel that cold coming through. So this review only takes into account the job the suit was made for.
Comfort and build
The Cayenne 2 is a high-quality suit made with Ripstop and features mesh panels at the front, rear and under the arms as well as on the front of the jacket and rear of the trousers.
For fitting and comfort, it comes with multiple straps including two on the arms and waist as well as cuffs and a kidney strap. The trousers also have leg straps and extra wide zipped openings at the bottom so you can easily slide the trousers over big boots.
Again, this is an 'adventure' jacket and trouser combo, so it's not super lightweight material. It's built to take a battering and survive, so it does have some weight to it due to the high-quality materials and body armour.
Protection
The Cayenne 2 has shoulder, elbow and knee protection as well as a back protector. The armour is Seeflex and Seesoft CE Level 2. You can also fit a chest protector and neck brace with this suit.
Extras
There's plenty of nice finishing touches and added features in the Cayenne 2 like a bladder pocket, tough panels and mesh, additional straps, curved pockets for easy opening, large rear map pocket, wrist pocket, two big front pockets on the jacket and four on the trousers as well as inside pockets.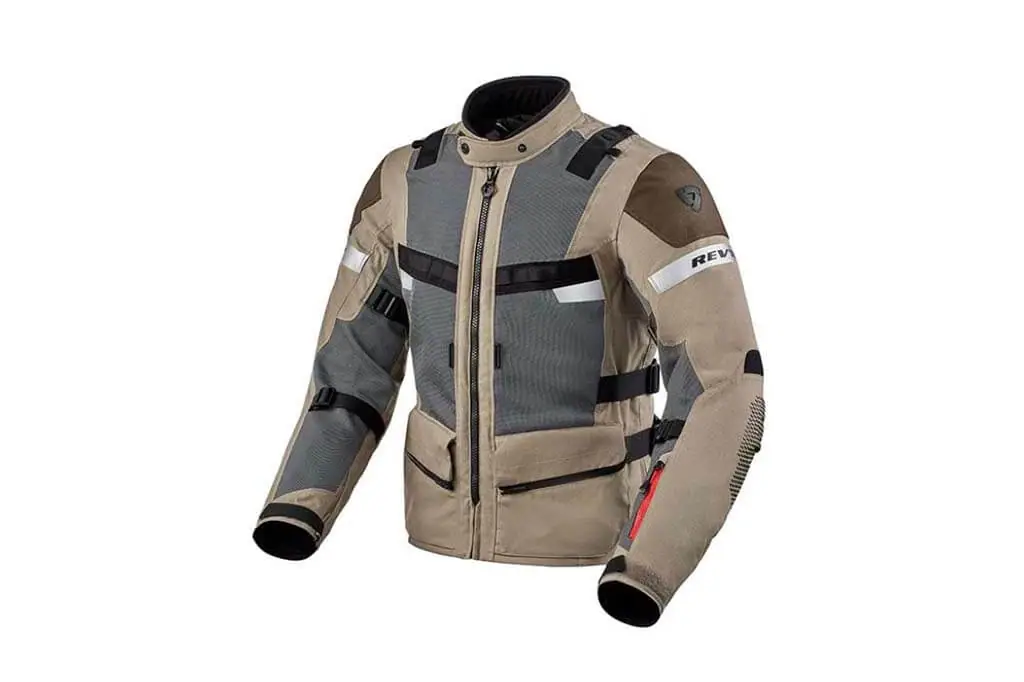 What's good?
The Rev'it Cayenne 2's brief is to be a tough adventure bike suit for extremely hot weather riding and it does it's job perfectly.
Firstly, the 'adventure' build is perfect. Rev'it has nailed comfort and fit with this suit, which is important because you'll be using it in potentially uncomfortably hot conditions so you need it to fit well. It's very tough and made with very high-quality materials. Another plus for adv riders. And it comes with all the features and spec you'd want from an adventure suit, like the bladder slot, large pockets and easy openings.
And secondly, it meets the hot weather brief brilliantly. Namely thanks to its large mesh panelling fitted throughout the jacket and trousers. It's exceptionally good at letting air flow throughout the suit. I tested this jacket on the UK's hottest day of the year (June 19 2022) and was seriously impressed. Air poured in even while sat in traffic in the Peak District. Even while sat in traffic.
I'd have no problem taking this suit on a ride to Death Valley, Uzbekistan, Southeast Asia, North Africa… you name a sunny place with tough terrain and this was built for it.
What's not?
It's hard to pick faults with a suit that was specifically designed and built for one purpose – adventure riding in hot weather – because it does its job so well. It is expensive for a niche, single-purpose suit, but if that's the type of suit you need and you want the best, then it fits the bill.
If I were to be picky, I'd rather sacrifice some of the upper-end materials for an overall lighter weight.
Round up
The Rev'it Cayenne 2 was built for adventure riders heading into seriously hot weather. It's a high-quality suit specifically for off-roading and travelling – if you're after a simple warm-weather mesh jacket for commuting, this isn't it. This is a proper, full on adventure suit with one purpose, to keep you cool.
ps. We may receive a small commission, at absolutely no cost to you, if you purchase any products using the links on this page. We're not sponsored by anyone, are completely impartial and don't run ads. So this helps us keep the site running. Thank you for your support.
Read more on adventure motorcycle riding gear
Thanks for checking out our Rev'it Cayenne 2 Motorcycle Jacket and Trousers Review. We hope you enjoyed it! Here's a few more articles on adventure motorcycle riding gear that we recommend you read next. 
Liked that? Try these next…
Are you interested in the Rev'it Cayenne 2 adventure suit? Please leave any questions or comments below. We'd love to hear from you.