"Rev'it has done a fantastic job of producing a feminine looking and well fitted pure summer jacket and it's my new favourite bit of kit."
Snapshot
Price: £129.99
Mileage tested: 2,000
Testing conditions: Cambodia, Laos, Thailand
Durability: 5/5
Fit and comfort: 5/5
Protection: 3/5
Value for money: 5/5
Where to buy UK: sportsbikeshop.co.uk
Where to buy US: revzilla.com
Update 2022
The Rev'it Airwave 2 jacket has now been updated to the Airwave 3. It is fundamentally the same jacket with many of the same features so you'll find this review still relevant. All the links on this page now point towards the latest Rev'it Airwave 3.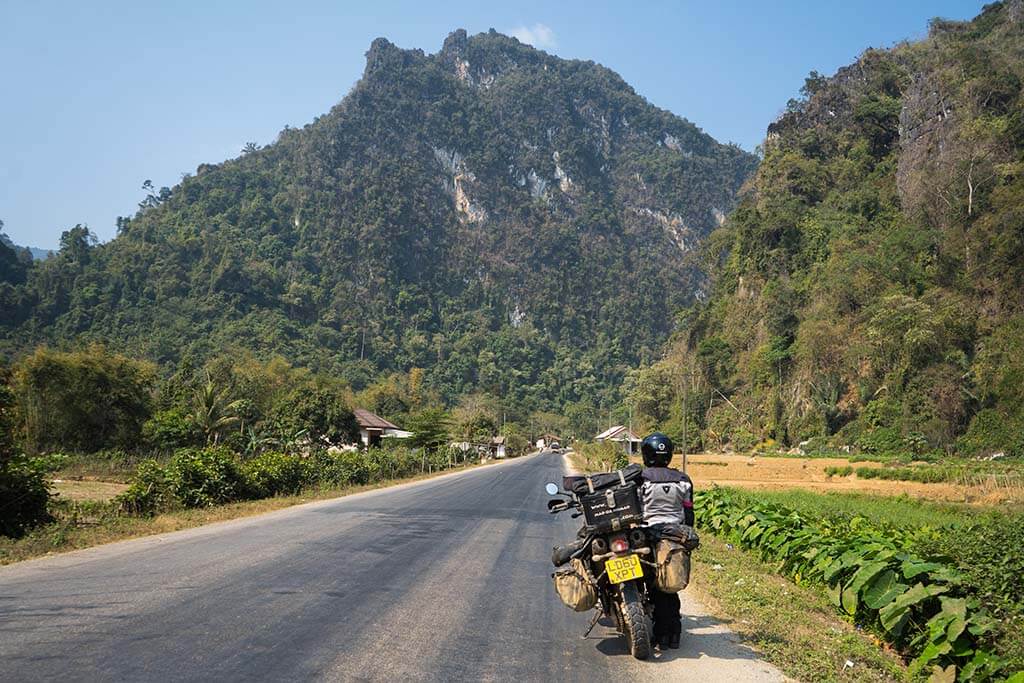 Features
Rev'it designed the Airwave with two generously large mesh panels on the chest, a long mesh panel on the inside of either arm and a huge mesh panel on the back. The rest of the jacket is lightweight and durable 600D polyester.
The inside of the jacket is mesh lined too, so you can see through the jacket if you hold it to the light. There are no ventilation zips on the Airwave because it doesn't need them. The mesh allows air to flood through the front of the jacket, circulate around your body and exit through the back.
Aside from doing an excellent job with the airflow, Rev'it also gave the Airwave plenty of cool features and finishing touches like reflective stripes, high attention to detail and an impressive design.
It comes with two large pockets up front with chunky and premium feel zips. On the inside there's a deep Velcro pocket and another zipped pocket too.
The fit bumps this jacket up on points even more. There's a swish neck fastener with two poppers for adjusting the tightness. I love that the collar is low down, isn't bulky and gives my neck plenty of room to breathe too. It has another two poppers on the arm, Velcro tabs on the cuffs and Velcro fasteners on the waist.
All of the fasteners do a brilliant job of improving the already excellent fit. The Rev'it Airwave 2 is beautifully built and I love the way it hugs my body and has been designed to fit a woman's figure.
What's good?
Hats off to Rev'it (or is it helmets off?), the Airwave 2 is a high-quality, stylish, fitted summer jacket that does its job perfectly. I knew the next section of our ride through Southeast Asia was going to be hot and I wasn't looking forward to sweating for hours in the saddle every day. Luckily, the Rev'it Airwave 2 was up to the challenge.
What's not?
I can't fault the Rev'it Airwave 2 for anything. It has been built to be cool in hot weather and it does that brilliantly. What's more, Rev'it has also designed it beautifully so it fits great and looks cool too. 
Round-up
This jacket was the perfect partner for Southeast Asia and its 35C+ temperatures. It has kept me cool on boiling hot days, is supremely comfortable even after a long day in the saddle, fits perfectly and looks great.
Rev'it has done a fantastic job of producing a feminine looking and well fitted pure summer jacket and it's my new favourite bit of kit. 
READ MORE: Rev'it Airwave Trousers Review
Rev'it Airwave 2 Jacket Review: 18/20
ps. We may receive a small commission, at absolutely no cost to you, if you purchase any products using the links on this page. We're not sponsored by anyone, are completely impartial and don't run ads. So this helps us keep the site running. Thank you for your support.
Read more on Adventure Bike Gear
Thanks for checking out our Rev'it Airwave Jacket Review. We hope you enjoyed it! Here's a few more articles on motorcycle clothing that we recommend you read next. 
We'd love to hear from you! Please leave your comments below.