Kyrgyzstan is one of Central Asia's most rugged countries. It's covered in mountains, peppered with thousands of horses and sprinkled with white yurts filled with nomadic families. Riding a motorcycle here is special… really special. And incredibly easy. Read on for all the info you'll need to rent a motorbike in Kyrgyzstan and start exploring.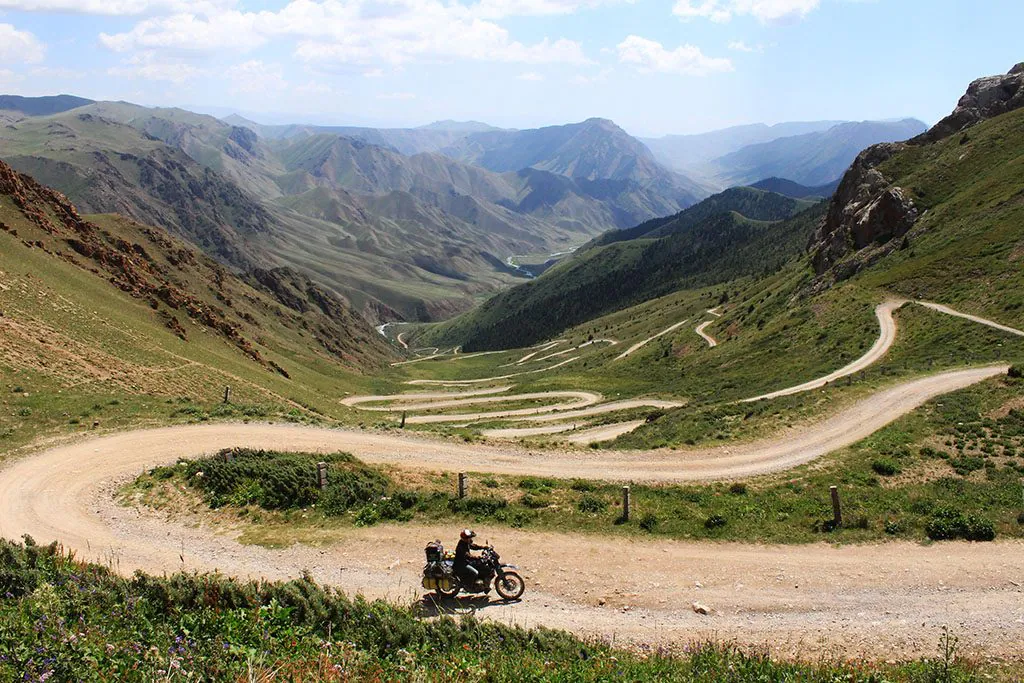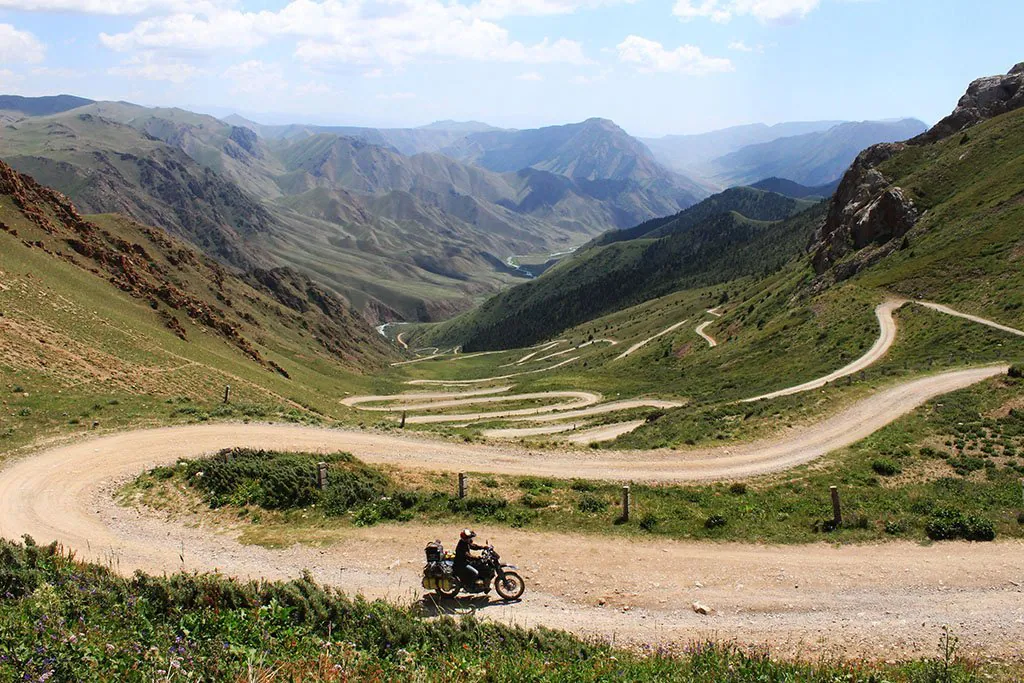 Motorcycle Rental in Kyrgyzstan
Kyrgyzstan is probably the least known about country in Central Asia, but ironically it's the easiest to get into and ride a motorbike around! If you don't fancy riding all the way there, this guide will tell you everything you need to know to rent a motorcycle instead. 
It's also incredibly easy to rent a car as well as a motorcycle in Kyrgyzstan. If you're interested in renting a 4×4 or car then most of the details listed below are still applicable, and most motorcycle rental companies will also rent cars and scooters too. 
Which company should I go with?
We visited a number of rental agencies and shops in Kyrgyzstan and found MuzToo, based in Osh, to be the best of the bunch. There's also another new company in Osh called ZorroMoto. There is a third company called Iron Horse Nomads, based in Bishkek who specialise in cars and 4x4s and also have a fleet of BMW bikes. Check out all three companies to find the best deal.  Here are your options below: 
Motorcycle Rental in Kyrgyzstan with MuzToo
Motorcycle Rental in Kyrgyzstan with ZorroMoto
Do I need a visa?
Motorcycle rental in Kyrgyzstan couldn't be easier. The country operates a visa free system for a bunch of countries, including the UK, European Union and the USA for up to 60 days. Meaning you just fly in or enter at a land border and they'll stamp your passport and you're good to go. No paperwork and no fuss. To see if your country is on the visa free programme click here.  
If you're planning on visiting other countries during your travels in Kyrgyzstan, click here for our Central Asia Visa guide for Overlanders in Central Asia.
Personal insurance
Just buy your own personal motorcycle specific travel insurance in your home country (not motorcycle insurance, but personal travel insurance) Make sure the travel insurance covers you to ride a motorcycle over 125cc and for longer than a day. Plenty of insurance companies stipulate in the small print that the bike must be 125cc and can't be used as your main form of transport. Click here for our top guideWhat You Need to Know About Motorcycle Travel Insurance.
Personal papers
Take your passport, driver's licence, a copy of personal insurance and an International Driver's Permit. Note – You don't need an IDP, but they're handy as they have licence details in a bunch of languages and it means you can just hand that over instead of your valuable licence. An IDP is about £5 and can be purchased from the Post Office, you just need to take your driver's licence, passport and a passport photograph and they'll do it in about 2 minutes.
Vehicle insurance
All the bikes are insured fully comprehensive. However –and this bit's important – if someone hits you, or even if you crash your bike and nobody else is involved, you must get a police report. Any sort of scribbling from the police will do, just to say what happened. Even if it says 'Timmy hit a rock and broke the bike'. That way the company can claim on their insurance and you don't get charged.
Overlanders' Guide to Kyrgyzstan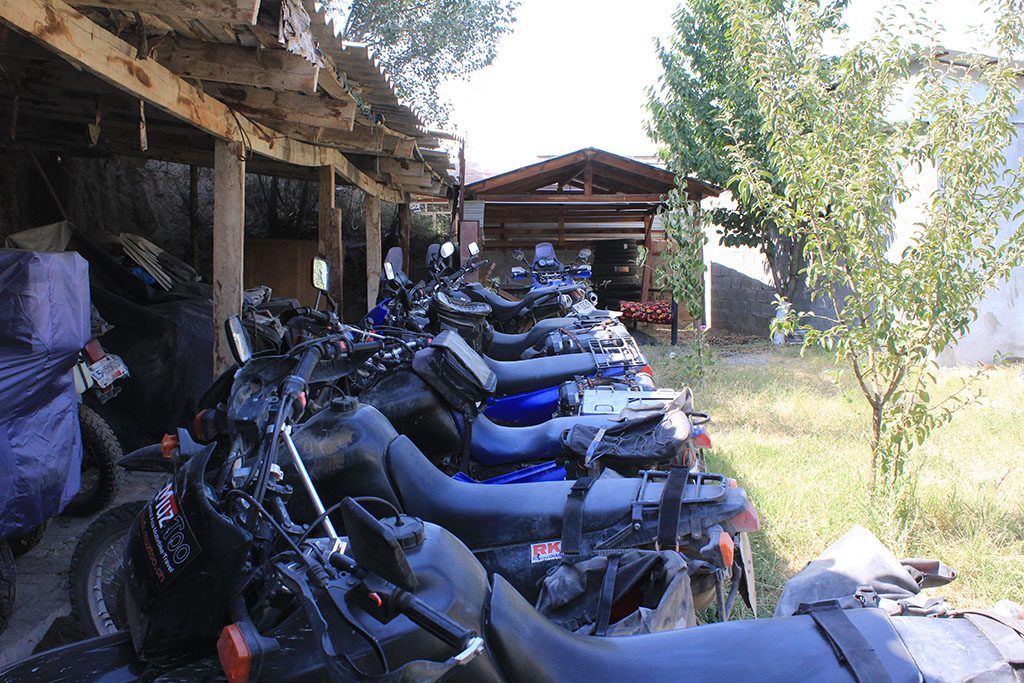 What bikes can I rent?
Both MuzToo and ZorroMoto rent out Yamaha XT600E motorcycles. They're tough, bullet proof, tried and tested bikes with solid engines. They're easily repaired and good long-distance overlanding machines. 
For an XT660E you're looking at between £60-£70 a day. With any company, the longer you rent, the more the price comes down. Consider the time of year you rent as well, peak season means less flexibility in price, rental duration and negotiations. 
ZorroMoto also have a few SWM motorcycles and Iron Horse Nomads have BMWs.
Can I rent riding kit?
You can either rent kit or take your own. MuzToo does have a decent selection of kit and the rental prices are very fair, but if you can take your own it's always better, but this is entirely personal preference!
Check out our comprehensive motorcycle clothes and kit reviews here!
What if I break down in the middle of nowhere?
If you break down you'll need to call your retnal company. The bikes are supplied with tools and the mechanics will guide you over the phone on how to fix the problem. If that's not something you're comfortable with then they will send someone to recover you. If you have an engine failure then you'll be refunded – MuzToo offer this service, you will need to check with the other rental companies if that's the case.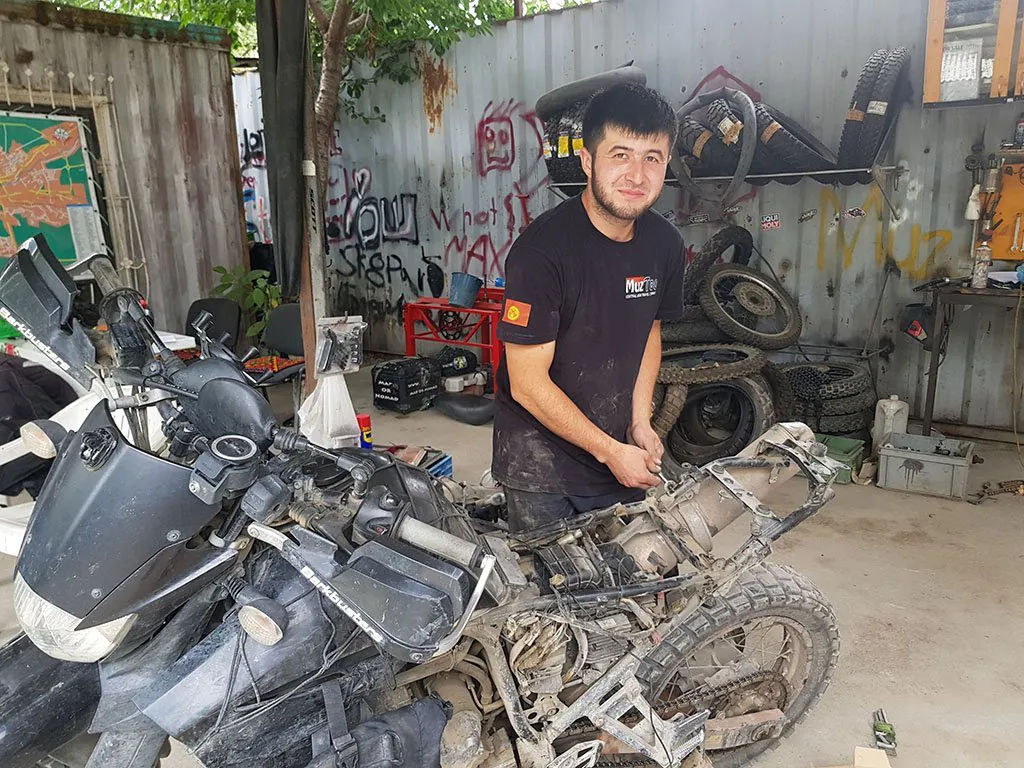 The police
The Kyrgyz police force are 100% on the ball with catching speeders. They lurk around every bend with camera guns, watching, waiting for you to nip a couple of kilometres per hour over the limit and bang – you've made their day.
One friend was walloped with a (20kph over the limit) 200USD speeding fine– which is ridiculous. You should never, ever pay this sort of fine… never. All fines are negotiable. But remember, there is a difference between paying a speeding (if you were actually speeding) and an obvious bribe.
If you're caught speeding then you need to pay a fine – how much depends on how good and comfortable you are with negotiating with authority to bring it down to around 10USD. If you're stopped for no reason, told you're speeding when you weren't, or the colour of your bike is wrong and you need to pay then this is an unnecessary bribe and you should not pay. Hold your ground and refuse. Paying these sorts of bribes only ruins it for the next traveller.
We've never seen police on gravel roads. If you plan your route well and avoid the major highways you shouldn't see them either. They do hide on entrances to little towns and villages though so be wary. Fellow drivers should help by flashing you if police are waiting up ahead. It's easier to just not speed though!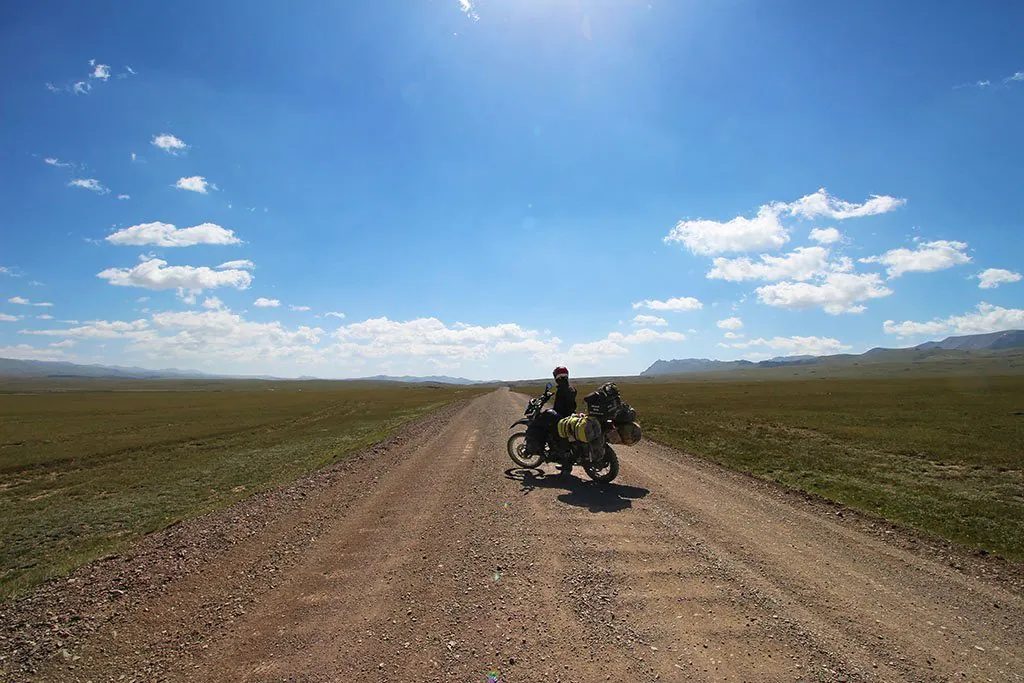 How do I cross borders?
You will be able to cross borders into Tajikistan, Uzbekistan, Kazakhstan and even Mongolia. MuzToo offer this at no extra charge. I believe ZorroMoto do charge for this though. Do check, and of course, you need to have your visas and personal paperwork arranged for the countries you want to visit, but there is no Carnet De Passage required and MuzToo will give you all the vehicle paperwork you need. So, you just rock up, present your passport and visa (dependent on where you're from and if you even need a visa) show them the bike paperwork and off you go. Crossing borders in Central Asia is surprisingly easy and straight forward (so long as you have the right paperwork), long-gone are the days of border bribes (if you're worried about bribes on your trip, check out our guide for dealing with corrupt cops here).
Central Asia Visa Guide
How to get a visa for Tajikistan, Uzbekistan, Afghanistan and Kyrgyzstan
Your route through Kyrgyzstan
Head north from Osh up to Lake Song Kol. You'll find a real nomadic experience here surrounding the icy lake. After, take the south east road to Bishkek for the mountain passes. Head to Issyk Kul lake and then back down to Osh. It's about 1000 miles and plenty of off-roading. The route below should take around 8 days. Here are the marker points for towns along the way: Osh, Kazarman, Song-Kul, Kochkor, Tosor, Naryn, Tash-Bashat, Kazarman, Osh.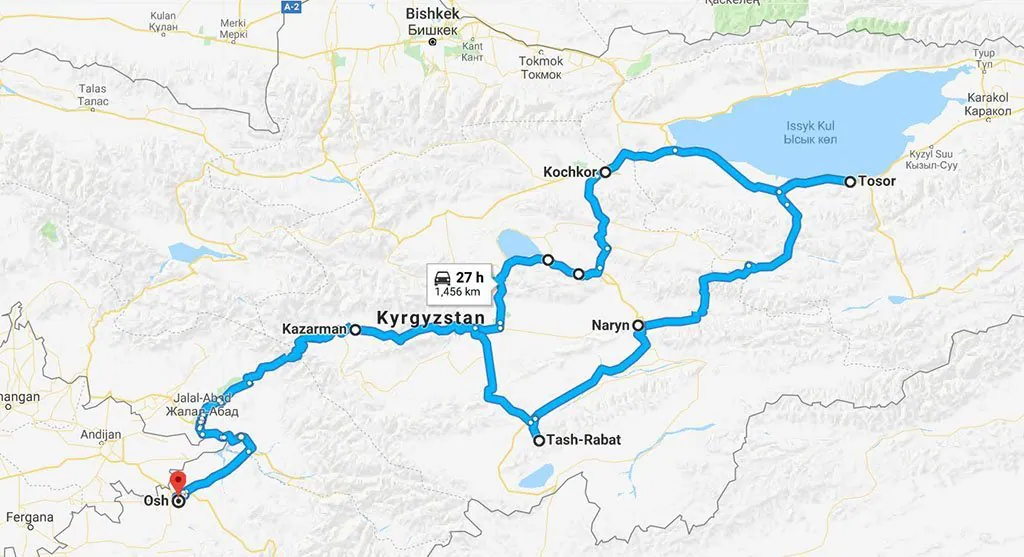 Top tips
If you're stopped by police, just smile! Don't give them any money, if you feel you must then negotiate and if you're stuck pay a maximum of 10USD. Click here for our guide to dealing with bribes on the road.
Don't be put off by police and bribes, it's a lot less than an on-the-spot fine in Europe!
Watch out for drivers, they're not used to bikes whizzing past. But don't worry about them, we've found the driving in Kyrgyzstan to be better than quite a few Western countries.
Don't take any photographs of official places or borders. Be super relaxed at borders, smile and it'll all work out.
Plan your route and pack food and water, there are long stretches with no shops – make sure you install the Maps.Me app on your phone and download the country map you are going to (it's all free). This will work offline and show you where petrol stations and towns are as well as act as a sat-nav and GPS.
If you're heading to Kyrgyzstan, you should also plan a trip to Tajikistan too. MuzToo allow cross border riding and the Pamir mountains should not be missed!
Be respectful of Kyrgyz customs. Two things Kyrgyz people mention that peeves them about tourists are walking around half naked in hotels and farting in public.
Tell me a little more about Kyrgyzstan
It's a small, landlocked country in Central Asia bordering China, Kazakhstan, Uzbekistan and Tajikistan. It was once part of the USSR and became fully independent in 1991. It's one of the 'least known' about countries in the world and many of its people still live a nomadic way of life, living in yurts in the high mountain pastures during summer and the plains in winter. It's a phenomenal place to explore and you're going to love it!