Portugal Motorcycle Rentals and Tours
Portugal is one of the most beautiful and versatile countries in Europe. It has it all from stunning coast to beautifully laid asphalt and insanely good enduro riding.
Recommended Motorcycle Rental and Tour Companies in Portugal
Please contact the companies listed on this page directly for more information.
"Freeride Spirit is a company built by a team of great riders who are as passionate about motorcycles as they are about adventure travel. We will show you nature's most beautiful hidden gems and provide unique adventure memories!"
Services: All-inclusive motorcycle tour riding experiences on 2-6-day tours all-year round. The Portugal bike tours are split into Enduro Tours and Motorcycle Adventure Travel Experiences. The company also provide a rental bike service.
Tour prices: There are 2,4 and 6-day Enduro Tours. Prices start from £685 and go up to £2,000. There are also 2,3,4,5 and 6-day Moto Adventure Travel Experiences. Prices start from £800 and go up to £2,050. The tours are all-inclusive and include bike, GPS, motorcycle, gear, hotels, meals, airport transfers and medical and third-party liability insurance.
Tour and rental bikes: The rental bikes on offer are the KTM 1290, KTM 70 Adventure and KTM 790 R. They only rent the models used on the adventure motorcycle tours and not their dirt bikes.
Rental prices: The rental price is £160 per day. The price includes GPS, gear, luggage, border crossings, unlimited mileage and transfers.
Insurance: Medical and third-party insurance is included in the price. Additional motorcycle insurance can be purchased for £26 per day for off-road tours and £70 per day for adventure bike tours.
Kit availability: Motorcycle clothing and helmets are included in the rental and tour price.
  www.freeridespirit.pt
   João Roxo
+351 228 329 148

+351 960 473 233 
  info@freeridespirit.pt
"Offroad-Offcourse is a small operation that provides unforgettable off-road/adventure experiences to small groups and individuals. As a guide and instructor, my passion is to help my guests become more confident, faster and safer riders, and of course, to show them why Portugal is known to be an off-road paradise and a prime gastronomic destination."
Services: Motorcycle rental (CRF300L and others), off-road instruction (training days, workshops, training tours), guided tours (1-8 days with mostly everything included), self-guided tours (you're rented the bike and given off-road tracks to explore on your own).
Rental bikes: Honda CRF300L, WR125 R (in Portugal you can ride a 125cc with a normal car license).
Rental prices: Average day price is £73/day + fuel
Tour prices: Average all inclusive price is around £265/day (inc. motorcycle, hotel, lunch and dinner). 
Typical 3-day tour: £508 + £218 (bike). Typical 5 day tour: £930+ £363 (bike)
Insurance: All bikes have a mandatory third party insurance. The bikes are meant to be used off-road so there's a high tolerance for smaller damages. Everything that can't be ignored will be charged at a fair price
Kit availability: All protective gear is provided. There is a £4 a day charge for helmets.
"MotoXplorers is a motorcycle tour and rental company based in Lisbon, where riders from all over the world feel welcome. You'll find the latest BMW GS motorcycles, guided and self-guided tour packs and a professional and passionate team committed to providing customers with unique and exclusive travel experiences."
Services: BMW GS motorcycle rental, self-guided tours including bike rental, 4*/5* accommodation, curated tour itineraries with GPS routes, worldwide motorcycle tours and customised tours for groups or individuals.  
Rental bikes: BMW R1250GS ADV, BMW R1250GS, BMW F850GS, BMW F750GS.
Rental prices: Rental prices start from £75 (€89) / day.
Tour prices: Self-guided tours including bike rental and 4*/5* hotels, 4 days/3 nights in Southern Portugal (Sun Escape Tour) starts from £1,000  (€1,190).
Insurance: All tours and rentals include insurance and 24h road assistance.
Kit availability: One helmet is included with rentals and tours, extra helmets are available for €5 / day. No clothing is available to rent, although MotoXplorers always have some gear available for riders to borrow if needed.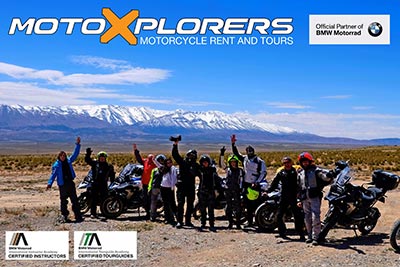 Lisbon, Portugal
  www.motoxplorers.com
  Carlos Martins and Ricardo Azevedo
(+351) 210 143 101
  mail@motoxplorers.com  
Worldwide Tours: This company provides tours in: Portugal, Spain, Europe Grand Tour, Alps, Iceland, Morocco and Southern Africa. 
Bianchi Prata Off-Road Centre
"With 11 Dakar rallies and 31 years experience under his belt, Bianchi Prata has set up an off-road school and tour company in Portugal to take your riding to the next level."
Services: Off-road classes, bike rentals, tours and private events in Portugal and Morocco ranging from 1 hour, 1/2 day, 1, 2 or 4 days. You can rent enduro, race and rally specced bikes from BP for riding at their venue and track or even have them delivered to your home or location in Portugal.  
Rental bikes: A range of Honda CR bikes from the CR 125R and 250R Enduro all the way up to a CRF 450RX Rally spec. 
Rental prices: Full equipment rental is £22 (€25) and the bike rental ranges from £110 (€125) to £310 (€350) per day.
Tour prices: A half-day tour is £75 (€85) and one day £140 (€160). A 4-day tour in Portugal costs around £1,755 (€2,000) and a 5-day Morocco tour is £2,280 (€2,600).
Insurance: All tours and rentals include insurance.
Kit availability: Full gear and equipment rental costs £22 (€25).
  Lisbon, Portugal
 www.bianchiprata.com
Bianchi Prata
+351 912 257 882
  info@bianchiprata.com
Worldwide Tours: This company provides tours in Portugal and Morocco. 
FAQs on Portugal Motorcycle Rentals and Tours
Read more on Motorcycle Travel in Portugal and Europe
Thanks for checking out our Portugal Motorcycle Rental and Tour Companies post. We hope you found what you were looking for. Here's a few more articles on motorcycling in Portugal and Europe that we recommend you read next. 
Click here for all of our Portugal Motorcycle Travel Guides
Motorcycle Rental and Tour Companies
Planning a Fly and Ride bike adventure? Here's our recommended motorcycle rental and tour companies from around the world. Check out the page, click a country and see what's on offer!
Read More