Pakistan Motorcycle Rentals and Tours
Here's our recommended motorcycle tour and rental companies for Pakistan.
"Gilgit Bikers has been bringing riders from all over the world together for over three years. We provide adventure fuelled motorcycle tours and rentals in Pakistan with a deep passion for making memories, friendships and planning exciting trips. So come and explore the Himalayas, Hindukush, Karakorum Highway and more with us!" 
Services: Short and long-term motorcycle tours and rentals/ Mountain trekking/ Culture tours/ Jeep Safaris/ Four Seasonal tours. Based in Gilgit near the airport. 
Rental bikes: Suzuki 150SE, GS Suzuki 150 and Honda 125.
Rental prices:
Suzuki 150SE – £14.50 per day
Honda 125 – £11.50 per day
4×4 Jeep – £30.50 per day 
Mini Car – £23.50 per day 
Each price is reduced for rentals longer than 14 days
10 day Astor, Deosai Plains, Skardu Tours – £1,250
12 day Fairy Meadows, Hunza and Shandur Top Tour – £1,450
14 day Karakorum Valley tour – £1,550
18 day Himalaya, Hindu Kush and Karakorum Tour – £2,050
Customisable trips also available
Insurance: Full motorcycle insurance is included.
Kit availability: Rental and tour bikes include helmets, gloves and protection.
"We are a down to earth, grass roots company with a deep connection to the mountains, local communities and culture. We were born riding and motorbikes are a part of our very existence. We will provide a true and quality-assured experience when riding in Northern Pakistan."
Services: Guided short and long tours (motorbike, car, trekking, culture, city)/ Motorcycle rental in Northern Pakistan/ Homestay accommodation in Danyor/Gilgit where the bikes are based/ Visa support and travel planning advice.
Rental bikes: GS Suzuki 150SE, GS Suzuki 150 and Honda 125. 
Rental prices: 
GS Suzuki 150 – £12 per day with reductions after 14 days
GS Suzuki 150SE – £13 per day with reductions after 14 days
Honda 125 – £10 per day with reductions after 14 days
13 day Classic Karakoram Highway tour – £1,800
19 day Pure Pakistan fully immersive loop – £2,300
Custom group trip options available. 
Support packages for overland riders from £135 – £605 
Insurance: All bikes have comprehensive motorcycle insurance included in the hire price, covering loss, damage and third party. Personal injury and travel insurance is the responsibility of the hirer.
Kit availability: Rental includes helmet, gloves, knee and elbow pads.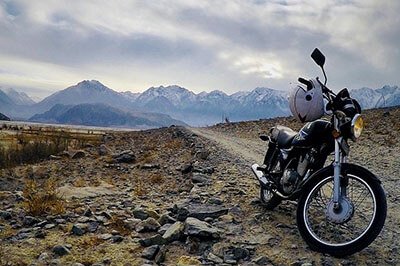 Read more on Motorcycle Travel in Pakistan and Asia.
Thanks for checking out our Pakistan Motorcycle Tour and Rental Companies post. We hope you found what you were looking for. Here's a few more articles on motorcycling in Pakistan and Asia that we recommend you read next. 
What's next? Check out these resources to get started on your adventure!
Motorcycle Rental and Tour Companies
Planning a Fly and Ride bike adventure? Here's our recommended motorcycle rental and tour companies from around the world. Check out the page, click a country and see what's on offer!
Read More
We'd love to hear from you! Let us know about your Pakistan motorcycle tour experiences and ask any questions in the comments below.