If you use soft luggage on your motorcycle and want to keep it secure then this is the best (and only) option on the market. Read on for our PacSafe Review.
PacSafe Review
Snapshot
Price: £60 – £72.00
Time tested: 4 months +Testing conditions: RTW ride
Durability: 5
Ease of use: 3
Value for money: 3
Where to buy: amazon.com
Features
The Pacsafe is simply a stainless-steel net. You place your bag inside the net, tighten the steel cable draw-cord and then lock the net in place using a padlock through the pacsafe locking device. It protects your bag from people walking away with it or slashing your bag with a knife to steal the contents. It's relatively light at 0.66kg for the 85-litre net. The net comes with a padlock and a neat storage bag.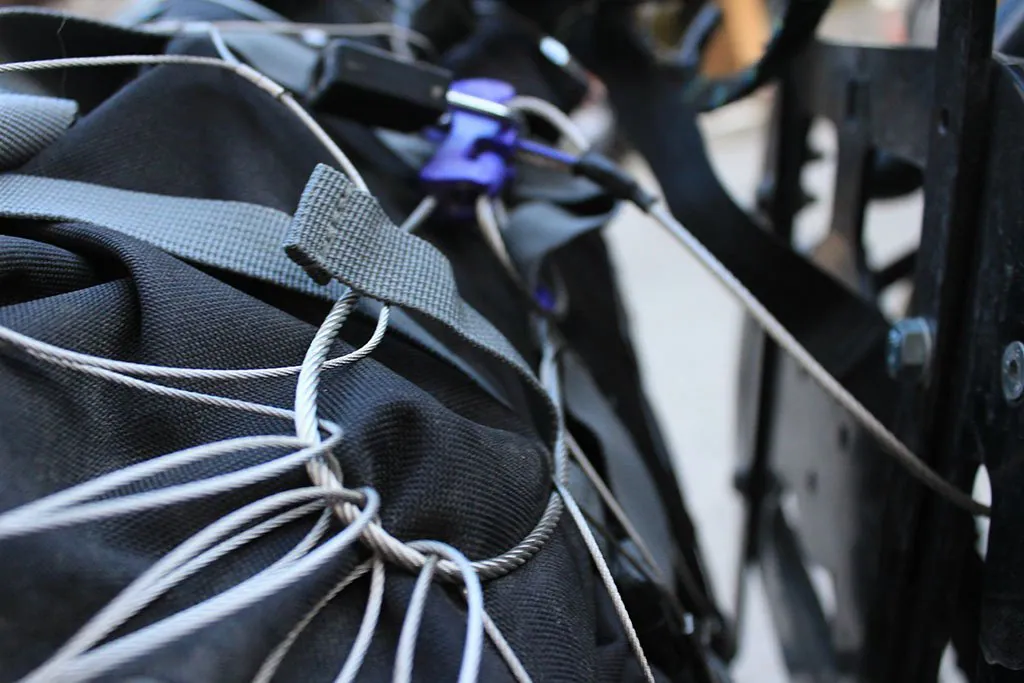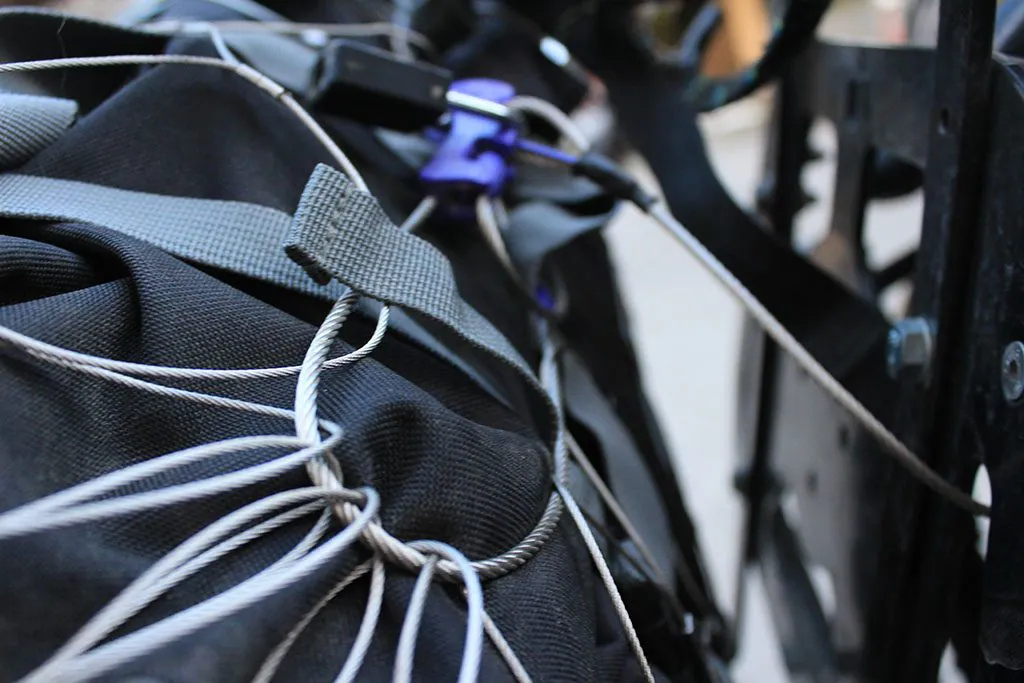 What's good?
Our luggage system is split up into three sections. I use a hard top box to store my valuables, one soft side luggage bag to keep all my camping gear and another soft bag for clothes and toiletries.
If I'm going into a hotel for the night, I grab my valuables bag from the top box and take the soft clothes bag. I don't want to unnecessarily lug a heavy camping bag in with me as well. As I don't camp every night, I needed a way to lock the bag to the bike and the best option I could find is the Pacsafe Exo Mesh net.
In four months of travel through Europe and Turkey I haven't had an attempt on the luggage. I can't say whether or not that's because of the deterrent it offers or if it's good. I'm sure time will tell though. (Check out our Top 10 Tips for Keeping Your Bike Safe While Travelling). I also believe that if someone really wants that bag then they'd be able to snip the wire and take it. And I'm leaving my bag out there fully aware of this. It is after-all only my camping bag, and I hope the mesh net acts as more of a deterrent to opportunistic thieves than anything else.
At first I thought I wasn't going to get on with the net. It's fiddly and you've got to push your bag inside a metal net, wrap the cable around the frame and then squeeze it through the lock and then padlock it all together. By day three I had mastered it and am now happy with the process.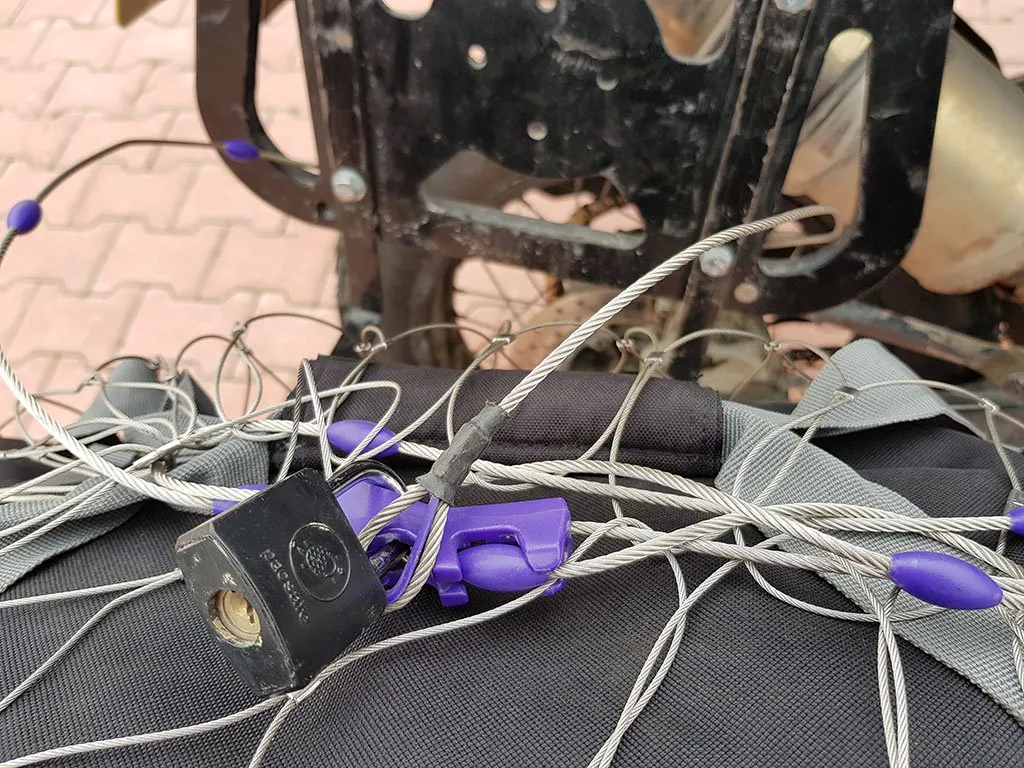 I use a 40l Lomo dry bag (read the review here) and opted for the 85l mesh. I chose a bigger net for two reasons. Firstly, I don't have to squeeze my bag into the net, and secondly I can also chuck my bike jacket and trousers inside the net with the bag and keep the lot secured if necessary. The system is pretty simple. Place your bag inside the net and pull the main cable to act as a kind of drawstring to tighten the entire net. Then loop the main cable through the bike or your pannier rack and place the end of the cable loop over the locking mechanism. Simply padlock the lot together and you're good to go.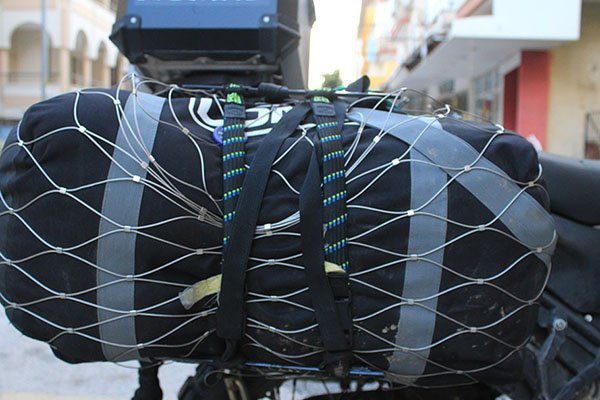 What's not?
It's pretty expensive for a steel net, probably because there aren't any competitors on the market. Pacsafe have a good reputation though and their equipment is well regarded. It's also a bit of a faff if you take your bag on and off every day. As that's not the case with mine I don't mind it. If you do though, then you can always look at their single cable option here.
Round-up
The Pacsafe Exo Mesh net is expensive and a bit fiddly at first. However, it's a decent deterrent for most opportune thieves. If you use soft luggage and want to leave stuff on your bike overnight or while you wander round with peace of mind then this is a worthwhile investment.
Pacsafe Review Total score: 11⁄15
More PacSafe Motorcycle Security Options
ps. We may receive a small commission, at absolutely no cost to you, if you purchase any products using the links on this page. We're not sponsored by anyone, are completely impartial and don't run ads. So this helps us keep the site running. Thank you for your support.
Read more on Adventure Bike Gear 
Thanks for checking out our Adventure Bike Gear Review. We hope you enjoyed it! Here's a few more articles on motorcycle clothing and kit that we recommend you read next. 
We'd love to hear from you! Please leave your comments below.